Ray's Indoor Mountain Bike Park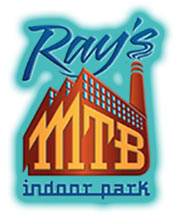 With over a foot of snow on the ground, 20 degree temperatures and nothing but doom and gloom on the television, I just had to get away from reality for a day. Thankfully my good friend was way ahead of me and called me with a great alternative to another dreary January day in Cleveland. He invited me to join him and his crew at Ray's Indoor Mountain Bike Park, which is only five miles from downtown Cleveland and only about a half hour from my house. How convenient is that?
I got there somewhat early, about 9:30am on Saturday. I parked my car next to a typical-to-Cleveland ten foot mound of snow and made my way to the door. As I approached the entrance I knew this place was better than I originally thought when I walked past eight out-of-state license plates.
After checking the place out I had to get the camera out and share how cool Ray's is with you. As they say a picture says a thousand words, so check out the photos over the next few pages. If you're the least bit interested in mountain biking, you'll want to schedule a day or two and ride Ray's MTB Indoor Park for yourself.
There's over 100,000 square foot of indoor cycling amazement. There are obstacles you've probably never heard of including the elevator on the right. You can pedal on to it then try to balance without putting a foot down while the platform drops to the lo
There's a little something for every rider, from Ray's Endure Room for beginners to perfectly formed jumps for experienced riders.
If you're looking for a fun way to get in shape during the off season, look no further.
It's easy to spend an entire day at Ray's especially when owner Ray Petro makes it so comfortable. In this shot you can see the computer station, pool table and Pro Shop in the background. There are also video games and lots of friendly people to hang out
Here's a small portion of the Gary Fisher cross country area.
Want to sky some air? Have at it!
If you're a beginner or average rider, don't let the photos intimate you. I saw riders of all skill levels having fun together.
It's easy to kill a few hours in Ray's foam pit. Ray even went the extra mile and hooked up a video camera that lets you view your jump. There's a twenty second delay, just enough time to get out of the pit and check the monitor out.
Ray's has plenty of quality rentals available like this Gary Fisher "Mullett". You can rent one of Ray's bikes all day for just ten bucks!
Here's the guy that has brightened many dreary Winter days for many bicyclers. Ray put his idea to work about five years and hasn't seemed to let up ever since. You would think the enormous 100,000 square feet of indoor trails would be enough, but Ray has
Foosball, fireplaces, televisions and places to have lunch make spending multiple days at Ray's a blast.
The BMX area wasn't my thing but watching talented riders do theirs was entertaining to say the least.
For you cross trainers out there, I suggest making a track and doing a few long motos. You can incorporate tricky obstacles and speedy sections like this area.
Doesn't this shot make you want to ride?
You really can't help to become a better rider after just a few hours at Ray's.
Ray and his staff have done a tremendous job on and off the track. Here you can see a few fireplaces and a wide screen television that plays killer mountain biking videos. Well kept bathrooms, changing areas and lockers are also right around the corner.
My hat's off to owner Ray Petro and the people that have helped him make his dreams reality. Ray is not only a hard-working and smart business man, he's also a fantastic carpenter. He designed and created all the obstacles at Ray's MTB Indoor Park. I was extremely impressed with the workmanship and time he must have spent putting all this together.
I really liked the atmosphere at Ray's. I spent most of the day there and not once did I come up on anyone unpleasant.
Keith, one of the regulars, was launching off this big Kenda jump.
The trick here is to keep your speed up then brake hard in order to slide the platform all the way to the other side.
That's one big banked turn huh? In the background you can see a trail that leads upstairs. Yes, you read that correctly, there's an upstairs at Ray's!
This area is a big hit for BMXers. Ray's is mainly for mountain bikes but BMX bikes are permitted during special hours.
Ray doesn't ask for much, just be 16 years old, stay on the trail, don't ride the track backwards, be courteous to other riders and wear a helmet and gloves.
This guy didn't miss very often, but if he did I'm sure he appreciates the rubber padded landing area.
Many riders spent hours trying to master one section of the many areas at Ray's.
I didn't think I would see many elevation changes in the middle of a warehouse. I was wrong.
Check out these rolling whoops. What a blast!
Here's a view from the trail above.
A mountain bike trail that winds through roof rafters, only at Ray's.
Here's a downhill trail back to the warehouse floor.
Charging down hills is a blast on a mountain bike. Ray, an avid mountain bike rider himself, knows this and incorporated fun sections like this into his masterpiece.
During a weekday, when there are less riders, you can kick it up a gear and ride a little more aggressively.
Check out this off-camber figure eight.
Have you made your travel accommodations yet?
This shot is one of my favorites. Check it out, four fast lanes all in frame at the same time. Hopefully my helmet cam photography has showed you what it's like to ride at Ray's, better yet come check it out for yourself. Pictures say a thousand words but seeing and riding this place for yourself is much better.
The best part for last…. It only cost about twenty bucks to ride all the sections in the photos and hang out at Ray's. The park, located at 9801 Walford Ave. in Cleveland, OH, is open Monday through Friday from 5pm to 10pm and Saturday and Sunday from 9am to 10pm from October 18th to April 26th, 2009.
For more info, videos, current prices, hotel package deals and much more check out raysmtb.com
Comments
comments