Suzuki King Quad 450 4X4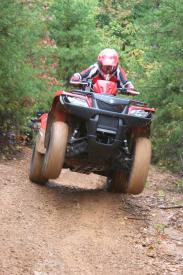 By Jorge Cuartas
When Suzuki announced that they were introducing a new 450 King Quad, I was honestly not thrilled. When they mentioned that they'd be introducing it in Rome, I perked up like a priest at a cub scout sleep away. After all, what better place to visit during the off season than Rome, and if I know Suzuki it would be a "red carpet" affair. "Sign me up," I replied confidently to Pellan, "I'm definitely in!" The paperwork was soon on its way, and I was ready to embark on my globetrotting mission. Days prior to departure, I was so excited that I had to call and thank my "main man" Pellan. "I might even stay a couple of extra days, and see the sights" I said, "After all, how often do you get flown to Rome? I heard the food is amazing, and I can't wait to see the Sistine Chapel in person. How long is the flight anyway?" The statement was met with an uncomfortable silence. It made no sense at the time, "Dude, you can just drive there, hey, I have to take this other call ……………… click" ………. dial tone.
"Oh that crazy Pellan" I thought, "He's just jealous that he's not going to Rome."
Two days later I anxiously waited by the mailbox for my "ticket to luxury" to arrive. The mailman (who I'm pretty sure is Italian, or Mexican) was obviously impressed as I greeted him in his native Roman tongue "Ciao Signor Mailman" I yelled loudly (because that's how foreign languages are spoken). He was obviously impressed, so I threw in what I call "Roman Dazzlers" that he would surely understand; "Calzone, Soprano, Rigatoni, Primavera, Zapato!" The look on his face confirmed my predictions; he was blown away by my skills. " His response was what I believe is a Roman hand gesture of some sort (surely a salute of some kind) and the word "Idiota!" which he mumbled as he drove away. "Idiota indeed, Signor Mailman."
The next few moments were not among the favorite times in my life.

Suzuki's "Press Ready" fleet of King Quad 450s
Picture perfect styling, and the King Quad doesn't look bad either"Damn you Pellan!" I screamed loudly, for effect I even threw in what I like to call "American Dazzlers" which are probably a bit inappropriate for this forum. Lets just say they rhymed with "Lock Hucker" and "Luckin' Grass Pole". It's hard to describe what I felt when I read the words on the Suzuki welcome letter, so I'll share my pain with you.
"Suzuki invites you to the introduction of the newest member to the rapidly growing "King Quad" family Monday October 16th at the Suzuki ATV plant in Rome, Georgia."
"Georgia? Rome "Luckin' Georgia?" (Insert more dazzlement). Trust me, it gets worse.
"Please confirm……..Blah, Blah………accommodations…..Blah, Blah…….RSVP……Blah Blah……ATV Scene.com…..Blah, Blah……….(2) guests: Jorge Cuartas, Donny Banks." Donny Banks? Not only was I stuck in Rome Georgia, but I was being sent there with Donny Banks? Don't get me wrong, I like Donny, but…..Donny, really? Is that the best Pellan could come up with for me to photograph and write about? I mean, no disrespect to Donny, but he's like 87 years old, and just plain weird to look at. Have you seen the guy? He's like nine feet tall with seven feet worth of legs. "Ciao Rome, Ciao Vacation, Ciao Sistine Chapel & hot Roman women." Hello hell.
Days of rain preceded the intro, making my general outlook on day one even bleaker, but I'm a trooper (not to mention I was starving), and day one always starts with a free meal.
Upon arrival I crossed my fingers as I noticed there was no Donny in the room "Please let him be flipped over in a ditch somewhere" I said to myself over and over in my head, or at least I think it was in my head, but the looks I received from my peers, and the fact that they all left quicker than OJ at a crime scene has me second guessing myself. Either way, the food was great, and the mental picture of Donny in a ditch combined for a great evening. "Ciao Day one."
Day Two started early as I scrambled to pack a gear bag just in case my wishes had come true and Donny was actually in a ditch somewhere. To my dismay, two minutes into the technical briefing, Donny strolled in, healthy as a horse. "I made it" he said as he sat next to me. "Luckin' Grass Pole, I mean, it's good to see you." I said as my luck was once again turning towards the worst.
Pre Ride Hype

The "Pimped Out" version of Suzuki's King Quad 450 complete with Yoshimura and ITP goodiesI was ready to write the day off as a total loss, when Suzuki's Rod Lopusnak started his presentation. As Rod's words started to sink in, things started to change for the better. It was quickly becoming apparent that this was no ordinary ATV that we were getting ready to test, and that Suzuki wasn't taking this intro lightly. How serious were they? They were apparently serious enough to bring in the main man from Suzuki Japan, the company president Mr. Kato. In addition they brought in a handful of top brass which included Suzuki's director of business planning, Mr. Oyama, as well as engineers Mr. Masaki Ono and Mr. Tsuyoshi Nagano of engine development and chassis engineering respectively. Why is Suzuki so serious about a low displacement (by today's standards) Utility quad? Because that segment has been experiencing a tremendous growth spurt (11% from '04 to '05), and Suzuki is not about to be left behind. In order to keep up with increasing demand, the King Quad 450 will be produced 100% domestically. Where as in the past the Japanese assembly lines were shared with other models, and required lengthy shut downs to switch tooling, this ATV will be produced entirely at the Rome, Georgia plant. Unlike most manufacturers, Suzuki doesn't warehouse units; they're pretty much made to order, which in turn keeps the value up.
"We don't want to be a Wal Mart." Stated Lopusnak. With sales goals exceeded by over 35% for the new model, it's safe to say that the entire 16-18,000 units will be consumed as soon as they pop off of the assembly line.
Riding the scaled down King
Enough about the business end of things, it was now time for me to work my photographic magic and make Donny look as though he knew what he was doing aboard the new Zook. Being that racing the quads around the hotel parking lot probably wouldn't go over too well, the "thinkers" at Suzuki arranged for a private ride day at the Highland Park ATV Resort. The rainy conditions made simply arriving at the resort a challenge, but upon arriving we were greeted by the "Red Carpet" treatment, which I spoke of earlier. Sure it wasn't exactly the Rome I had hoped for, but it was impressive nonetheless. Big rigs, a fleet of King Quad 450 4X4s, staff photographers, top brass, and all the food you could stomach.
The thousand acre ATV Resort had trails for every skill level, so finding a place to shoot was no problem. Being that I have absolutely zero faith in Donny's riding skills I somehow managed to talk the Suzuki folks into letting me borrow their "fully accessorized" unit, which came complete with ITP's new SS Alloys, & Mud Lites, Suzuki rack extenders to keep my camera bag safe, and best of all a Yoshimura exhaust. The only catch was that I was required to suit up in riding gear, which I haven't done in over fifteen months (more on that later). I reluctantly suited up, put my valuables, and last will and testament in the handy 2.8 Liter waterproof storage compartment (a carry over from previous Suzuki models) and headed out on my modified 450. For starters, we found some safe trails with minor elevation changes, which the King Quad handled with no problems. The ergonomics were dead on, the floorboards really are the best in the business, and the controls are user friendly. A cool feature, which I never really got to utilize, was the rev limiter override button. No matter how hard I tried to get myself into a situation which would require wide open reversing, the situation just never presented itself. Following Donny was challenging at first, as he has no real sense of direction or real ATV skill set to speak of. The random high speed brake checks were a carry over from his Pro Motocrosser days, luckily the King Quad's large 200mm front disk brakes were more than enough to keep me from punting him into the woods. The sealed multi plate rear brake system ensured that we didn't encounter any brake fade once we hit the wet stuff. The rear brakes on this machine are truly bullet proof, and should eliminate the pricey brake jobs that just about every utility quad owner is accustomed to. Speaking of braking, the engine braking on the King Quad is phenomenal and helps keep the load off of the brakes. Best of all, unlike other manufacturers (rhymes with Solaris), engine braking isn't considered an option, it's free, as God intended it to be.
The innovative gas tank placement (it's under the seat) gave the quad a nice low center of gravity. If not for the technical briefing, I never would've found the gas cap (on the side). The tank holds a whopping 4.6 gallons of fuel, which is nearly half a gallon more than it's closest competitor. Besides lowering the center of gravity, the lowered tank also allows more airbox room, as well as the highest possible intake point, which in theory increases performance. The lower center of gravity was most apparent when the elevation changed rapidly, the machine just never felt "tippy". As shocking as this may sound, the King Quad 450 actually feels quite nimble, the liquid cooled, four valve SOHC engine has just enough power to make you second guess yourself while blitzing obstacles on the trail, and the independent rear suspension soaks up everything. The electronic fuel injection guarantees that the ATV will move when you want it to, and eliminates the sluggish feel usually associated with utility quads. Realistically it's no rocket ship in stock form, but the Yoshimura exhaust really woke it up. I was the envy of the editorial fleet, as my King Quad sounded (and more importantly rode) as if it was ready for competition. The chassis, which the 450 shares with the King Quad 700, is already a proven winner. The suspension (another carry over from it's older sibling) soaked up everything we threw at it. This is where Donny's expertise (or lack there of), came in handy. DB bounced the King Quad off of everything on the trail, (including myself, and other riders), and the quad never bottomed, bucked or catapulted him off (as I wished it would have). The beauty of the 450 is that it can be made considerably lighter with little effort or financial strain. You see, the Japanese ATV manufacturers have a "Gentlemen's Agreement" that no ATV will exceed 606 pounds. So while the King Quad 700 is decked out in lightweight aluminum parts, the 450 is equipped with heavier steel. The up side, the 450 is virtually indestructible and even with heavier items such as steel wheels, it's nimble. If for some reason you crave a lighter machine, there are plenty of weight saving options.
My thoughts on the newest king
With an MSRP of $6499, the King Quad 450 4X4 is easily $600-$700 dollars cheaper than it's competition. According to Suzuki, it's geared towards the enthusiast who wants all the bells and whistles without having to load an absolute cow into the bed of the truck. I know the utility world tends to have a bigger is better mentality when it comes to motors, but the 450 has enough power to do just about anything that you'd want to do on an ATV, for everything else you can pick up a King Quad 700, or a tractor for that matter. Even when it seemed we were in trouble, a simple push of the four-wheel drive button got us out. Eventually we were seeking out potential problems, and to our dismay nothing in the ATV park was much of a challenge for the 450.
Other cool features which I can't say that I necessarily experienced, but can certainly appreciate include a winch ready chassis, lightweight conduit tubing for easy to install winch wiring, and a selenoid spot under the seat. The tool kit includes a spanner wrench for trail-side suspension adjustments on the five way preload adjustable shocks. The quad will not only start in gear, it'll even start with a dead battery thanks to an ignition capacitor.
The best part of this ATV was the fact that it somehow tricked me into putting on riding gear again after what can best be described as a career ending injury fifteen months ago. Fifteen months of absolute misery had made me swear off riding, and the King Quad 450 somehow brought me back. All kidding aside, Donny and everyone else who attended the intro can probably attest, that I abandoned my journalistic duties within minutes of hitting the trails. The King Quad was an absolute blast to ride, and I can't sing it's praises enough. As cliché as it'll sound, I actually have two of these on order.
In my humble opinion, Suzuki has done what they always seem to do; they studied the market and proceeded to make the best possible ATV to fit the niche. They obviously believe in this segment as Mr. Kato stated "I think the King Quad line up will be the biggest family in our future."
Disclaimer: I would like to apologize to Donny for wishing him dead in a ditch. DB actually tried to get me to work, but I wasn't having it. I do however, still think that Suzuki and/ or ATV Scene.com owe me a trip to the other Rome (please don't let there be a Rome, Nebraska).
Ciao retirement.
Specs
Engine:
454cc, SOHC, four-stroke, single cylinder, liquid-cooled
Bore Stroke:
84mm x 82mm
Compression Ratio:
10.0:1
Fuel System:
Fuel Injection
Lubrication:
Wet sump
Ignition:
CDI
Transmission:
V-belt CVT automatic with high/low range sub-transmission, 2WD/4WD/4WD front differential lock
Final Drive:
Shaft drive
Overall Length:
2120mm (83.5 in.)
Overall Width:
1210mm (47.6 in.)
Overall Height:
1220mm (48.0 in.)
Seat Height:
860mm (33.9 in.)
Ground Clearance:
260mm (10.2 in.)
Wheelbase:
1280mm (50.4 in.)
Dry Weight:
275kg (606 lbs.)
Suspension Front:
Independent, double A-arm, oil-damped, five preload settings
Suspension Rear:
Independent, double A-Arm oil-damped, five preload settings
Brakes Front:
Dual hydraulic disc
Brakes Rear:
Sealed hydraulic disc
Tires Front:
AT 25 x 8-12
Tires Rear:
AT 25 x 10-12
Fuel Tank Capacity:
17.5 liter (4.6 gal.)
Color:
Black, Green, Red
More at suzukicycles.com
Comments
comments