The 2012 Team Media Allstars ATV Racing Team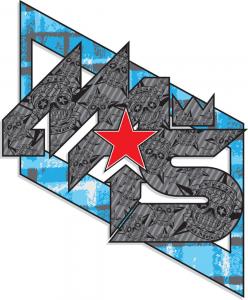 With the ATV MX National season about to kick off, we decided to check in with our friend (and occasional employee) Jorge Cuartas of the Media Allstars team to see how things are coming along, and to bust his chops a bit about the lack of information about the 2012 team…
So what's going on Jorge? We haven't seen anything yet about the 2012 season, or your plans. You do realize that we're under two weeks away from the kick off right?
I know, I'm a little swamped right now trying to get the last minute details together. I was honestly hoping to have a huge announcement, but it looks like it won't be until after round one. I held off on PR stuff in hopes that we'd have something really news worthy, instead this is what you're getting, an unprepared phone call right in the middle of assembling our pit façade.
You do realize we're not exactly going to let you get away with a vague mention of a big announcement without at least attempting to get you to give up the goods.
I honestly wish I could leak something, but it would probably be a deal breaker. Corporate stuff is tricky, and I'm not about to shoot myself in the foot.
Now you don't expect us to not make the token one-footed joke right now do you?
Yeah, I guess I did leave myself open on that one. But in all seriousness, I've been putting in more work than ever before in trying to secure something non-endemic, there's very little money left in the off-road industry in general. We can't keep bleeding ourselves, so I've been working triple time trying to land something from outside.
So how's that going?
It's honestly really tough, the series itself has really stepped up their efforts to keep us on TV, but the truth is, it's a really tough time everywhere, and despite having a good TV package, we're having a hard time competing with anything two wheeled. The upside though, is that I think I've kind of cracked the code so to speak. The ATV demographic is pretty identical to that of several other industries, and if we're reasonable, we can tap into those budgets, as opposed to our own.
Like who?
Come on, you really think I'm going to spend years to crack it, and hand it over? I'll let you know soon enough.
All right, so outside of your top-secret mission, what do you guys have going on?
Smart-ass. I guess I am coming off kind of douchey, and mysterious. This has been my busiest off-season in years. The team as a whole has been in constant communication since right after Loretta's, and it has really made for a more cohesive package for this season. We've really worked together in order to make sure we're ready, and focused for round one. Chase [Cunningham] and I had really specific goals, and I think we've kind of nailed them.
Like what?
I was about to get there, be patient, I'm building suspense and anticipation, it's all part of my "Mysterious Guy" character that I'm developing. The biggest thing we did, hands down, was to partner with Joe Byrd, and his Riding School. We want to help our riders for the duration of their careers, not just the years they're with us. If you look on the line of the Pro Class, you'll see a lot of graduates of his school, his goal is to build champions, and so is ours. Our other goals were to keep our 2011 roster pretty intact, and add a few key riders to fill in some gaps. It was really important for us to keep our number one plate holders (Jake McGraw, Dylan Tremellen, Nick Lepkoske, and Chase), plus guys like Dan Hoisington, Brandon Benlien, and Bailey Howard which had bad luck last season, and never really got to show their true potential. We were pretty adamant about keeping everyone who contributed to earning us the "Race Team Of The Year" award this season; our mini riders the Holley Brothers (Matthew & Josh), our vet riders/ token grumpy old men the Batson brothers (Mark & Dale), plus guys like Calen McGinty, Ryan Wheeler, & Austin McGraw who won races, and regional Championships.
| | |
| --- | --- |
|   |   |
|  Jake McGraw | |
|   |   |
|  Austin McGraw |  Dylan Tremellen |
Our other goal was to keep the same sponsor package, which we also kind of pulled off, with the exception of two companies we kept them all.
We've been with Maxima since day one, and can't fathom moving forward without them, they're family at this point. Maxxis is the same deal, we've been together for a long time, they're located right down the street, and they're definitely part of the reason we consistently nail our starts. Lonestar pretty much keeps us afloat; they help us out, promote us, and back us in every way they can. They honestly all play huge roles in our performance. Some are really hands-on like Moto-Xperts, while some just hook us up with deals.
Either way, we couldn't do it without them, we managed to keep them, and we're stoked. We added SSI Decals, which has been great, our look has changed a lot, it's more complete, and I think it'll be pretty apparent that a lot of thought was put into the end result. We also managed to get in with Novik Gloves. Do you want me to rattle them all off, or can we list them at the bottom?
We can list them
Cool, the last couple of goals were to recruit Brett Musick, Kelsey Dyer, Josh Rager, and Kaitlyn Bushey; they're all going to add a ton to an already stellar roster. We also kind of re-invented/ re-tooled our approach, improved on our presence, and are really hammering on the DIY approach. We're enabling the riders to participate in various fundraising programs, which could really offset th
eir racing expenses.
That's different for sure. So are we talking about bake sales? Telemarketing?
They'll be selling some pretty badass tee shirts; the proceeds go in their pockets, as well as to support the Challenged Athletes Foundation (which sponsors me personally). We're also working on some other stuff like belt buckles, and possibly a fundraiser graphics kit. Jake Brattain is helping me work out the details; he's fast becoming the consigliere to this crime family. He's a Media Allstars Alumnus, and among the brightest people I know.
I was about to ask you if it was Jake "The Snake" Brattain.
Yep, mini-rider extraordinaire turned business student. He'll be on the Shark Tank before we know it.
He's actually part of a new project that I guess I need to mention: Alumni. It's an offshoot of the main team comprised of all ex-team members. It's funny, we've got the original Media Allstars all reunited; Zac Willett, Mark Kendall, myself, plus Caleb Moore, Casey Martin, Brittany Snider, Dustin Shuler, & Jake [Brattain]. It's low-key, and fun again. We actually could've named it "Team Has Beens", but our egos are too sensitive.
It sounds like fun, and there are some heavy hitters in there. Didn't Casey just about win the Pro Am class last season?
Yeah, he's almost too qualified for this. But then again, Kendall and Caleb are no slouches either, but who knows if they'll even make it to a race. That's the point, low key, no pressure, race when you can. Come to think of it, it's the complete opposite of the high pressure, slave driving, and beat you if you don't win philosophy of the Media Allstars team. We're slave drivers you know.

Jake McGraw
We've heard. Is there anything else you want to be mysterious about, or promote?
Yes, in keeping with the Grass Roots/ DIY theme, we're backing Austin Wilson (another Media Allstars Alumnus), and Pake Shinn at the TQRA races, plus trying to get involved in the SE Quads series, which is local to me, and run by Glenn Turner of X-Plicit Motorsports. It's truly a grass roots series, and we'll try to be at as many races as possible. I missed the first one today, but I'm too busy to do anything but get ready for Aonia. Speaking of which, I've got to go, I've got 900 rivets to put in.
Rivets?
Yeah, chalk it up to mysterious guy, you'll see, it's sick, and I'll send you pics as soon as I can. I'm emailing you some quotes from Joe Byrd, Austin Wilson, and my right hand man "talent scout extraordinaire/ team manager/ and all around backbone of the team" Chase Cunningham.
" I am very excited to be supporting Team Media Allstars Racing. I am honored to be working with Jorge as I have known him for most of my racing career, and I look forward to seeing his talented group of young riders excel at the races. 2012 will be an exciting year for Team Media Allstars!" – Joe Byrd #7

""Joining the Media Allstars was the highlight of my racing career. The Media Allstars are supported best companies in the industry and the team puts together an amazing program.

The TQRA is where I first started racing, without this great organization I would not be where I am today. This series consistently produces top-level racers that have gone on to win many national championships. I would have never been able to race nationally with the Media Allstars at a pro am level without the TQRA

A big thanks to all the Media Allstars team members and sponsors. We are truly honored to be apart of such an amazing program and we are ready to add to the long list of Media Allstars wins and championships!!" -Austin Wilson

"After the season we had in 2011 I'm pumped to get this one started. I think the talent on our team this season is just going to amaze people.  We got a lot of great resumes in the off-season and picked up a few new riders, we've even diversified ourselves some, as we'll be supporting a few fast ladies in 2012. All in all I'm happy that both myself, and Morehead Motorsports can be involved in the lives and racing careers of so many talented riders and their families.  I fully expect this season to be our best to date!" -Chase Cunningham
Comments
comments