Tionesta Trikes Quad to Trike Conversions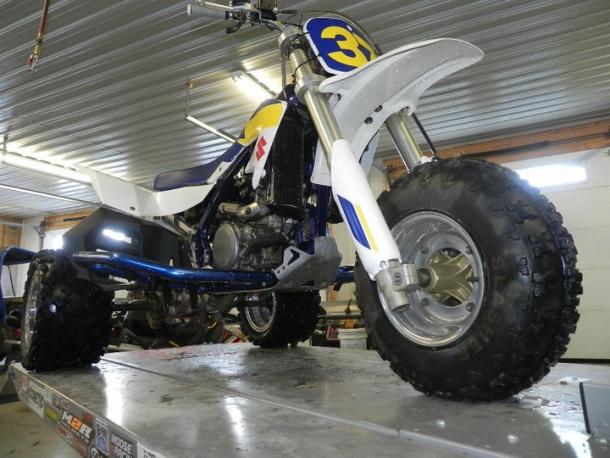 Photos by MXFreakspix.com and CJ Davis
I recently attended an annual indoor motocross event promoted by my old friend Wayne Phillips of Patriot Promotions, (who we teamed up with to promote the ATV TT National at Wayne County Speedway in Orrville, OH).
While at Wayne's annual event at the Summit County Fairgrounds, which was the tip off of the mighty 2011 CRA (Competition Riders of America) season, I met cousins Tim Keister and Jake Keister. The Keister cousins seemed to be leading an Ohio/PA 3-wheeler racing brigade with some of most innovative trike equipment seen since the days that Curtis Sparks and Stevie Wright won championships in the 200cc Pro 3-wheeler classes with their heavily breathed-on 200X and 200R one-of-a-kind three-wheelers.
Thanks to the open minded moto enthusiasts at the CRA, for the first time in over twenty years 3-wheeler riders will have the opportunity to compete in a recognized points-paying ATV racing series. The news that 3-wheelers will be included at eight stops on the CRA schedule has several 3-wheeler die-hards in the Ohio and PA area pretty excited, but none more than Tim and Jake Keister, who own a 3-wheeler fabrication business in Tionesta, PA called Tionesta Trikes.
Among the twenty-some ATC 250Rs, Tecate 3s and Tri-Z 250s a few of Tim and Jake's Tionesta Trike conversion projects got my attention. As I got a closer look in the cold pre-staging-area, I felt like I had time-warped into a second version of reality, one without the 60 Minutes ATV massacre led by Barbara Walters in 1987, one without frivolous lawsuits and one with no record of three wheelers being "unsafe" and banned. There before me was Tim and Jake's brand new shiny and clean Honda TRX450R and Suzuki LTR450, but in three-wheeler-form. In the second version of time, the one with no ban, I got to see what the manufacturers would be offering as part of their ATV line ups. That's how well done these conversions looked. With that, I felt that ATV Scene definitely needed a Tionesta Trikes feature. So, here it is, I'm happy to introduce two cousins that are passionately dedicated to keeping 3-wheeling alive, Tim and Jake Keister of Tionesta Trikes….
How did Tionesta Trikes get started?
Tim Keister: It started back in 1999 when my brother Bill and I were getting "back to our roots". At the time we were into off-roading our Toyota pick-up trucks. All the sudden it got very expensive doing upgrades and repairs, so we decided to fix up our 1985 ATC200S that we had from childhood, and beat around the woods with it instead of the trucks. I then purchased a few more trikes, that year. A few years later I got married and my wife caught the 3-wheeler bug as well. I then started my website tionestatrikes.com back in 2003 and my wife and I set out to own one of each and every Honda ATC models ever produced. I'm proud to say we accomplished that about two years ago! That is really where Tionesta Trikes got its name. We have since sold off about seven machines from the collection so it is no longer complete – but the website reflects what we worked so hard for so many years to accomplish.
And now Tionesta Trikes is all about conversions correct?
Tim Keister: For the most part yes, Tionesta Trikes is now mostly known for our quad to ATC conversions and the name remains the same. It should be noted that we are not really a "business", not just yet anyways. But equally as important – we're a family race team having a blast together in the sport. We still ride and collect old ATCs though – the old ones are why our 3 wheeler roots run so deep and we plan on riding both old and new 3 wheelers for years to come. Alongside my cousin Jake and myself, my brother Bill Keister also races and so does my wife, Shelly Keister.
 Tionesta Trikes conversions look fantastic, almost like something the manufacturers would have built if there wasn't a ban. With that, I would think a lot of fellow three wheeler enthusiasts out there are wanting a Tionesta Trike of their own. Am I right? How's business?
Tim Keister: You are correct, we are getting tons of people asking about them, inquiring about prices and even have a few guys who have went ahead and bought brand new quads for us to make the conversion. We have really been on the fence about whether we want to build them to sell them, but as it looks right now we may convert and sell a few more then see how it works out and go from there. A lot of 3-wheeler fanatics are very "old school" and like their machines from the 80s – they have zero desire for a quad conversion. There is something to be said about the new technology, but like everything else in this world, with new technology comes a larger price tag. That is what is turning a lot of guys away at this point, (especially in this economy). You can buy a really nice 1986 ATC250R for roughly $2500. For a conversion trike you are looking at roughly $6000 and that's using a used quad in the $2500 – $3000 range. Different strokes for different folks I guess.
What was your first ATV?
Tim Keister: I got my start back in December of 1984 on a 1985 ATC200S that my parents got me for Christmas. To me that was best Christmas ever. So I blame my parents for this obsession I now have.
Jake Keister: My first ATV was a 1983 ATC 200. I bought it in 1996 for $400, I was the second owner of the machine. Before that, I was riding dirt bikes.
 Why are you guys still so into three wheelers today?
Tim Keister: I guess I am into them so much because I don't like change, and I have met some of my best friends through this sport. I have always rode 3-wheelers and have never really ridden quads that much. When I have ridden quads they feel so big and bulky, they just don't feel right to me. I know that sounds so odd to most people but it is all what you are accustom to I guess. Take a bike guy and throw him on a quad, or vice-versa – you will most likely get the same reaction from both of them as well. I also like the nostalgia of these old machines – they are what started the entire ATV industry we all know today. There is a certain feeling you get when cruising around on a 1972 US (ATC) 90 that you can not get from any other ATV. It puts a smile on my face five miles wide!
Jake Keister: Three wheelin' is just a good feelin'. I have more fun, and believe it or not, feel safer on a three wheeler. I just think they are down right neat! How often does your average person see a group of three wheelers? Being part of that group, I love when people come up and say "Man I didn't even know those things were even around anymore". Then to tell them that we race them and are building new three wheelers its just an awesome feeling. Three wheelin' isn't a hobby, its a lifestyle.
As a former ATV racing promoter myself I know many insurance companies won't insure an event if the promoter allows three wheelers on the track. Maybe something has changed recently, but I'm assuming more and more race promoters are no longer insuring their events and this is why we're starting to see a three wheeler class at more local events. What do you think? Am I right? Why do you think we're starting to see three wheeler racing comeback in the last couple years?
Tim Keister: This is a tough one. I think you are partially right. It seems odd to me that insurance writers are still denying 3 wheeler use on tracks today. I mean it is not like there are that many of us, and statistically if they would update injury happening on trikes vs bikes vs quads in a current up-to-date study they would see that we are a pretty safe group. Considering all the facts, actually I bet we are the safest. 3 wheelers got such a black eye from the media circus that went on prior to the CPSC ban back in 1987. So many biased news articles and TV features, all of them one sided. Even false reports had been made up to try to bury the ATV industry back then. We still get turned down from many tracks in the area today, – mainly because of what people remember of what they heard back in the 1980s and not so much insurance reasons. The AMA is still a positive NO on 3-wheeler racing and dead set against them. I would say the biggest reason why we are seeing more and more trike racing, dates back to the early 2000s when Tim Stefanko Sr. of Rittman, Ohio was still running his Tri-Z in some local hare scrambles. Tim gathered up some local 3-wheeler enthusiasts and started beating down the doors of local track promoters to get a foot in the door. He and a few others (I would name names but I am sure I would leave too many people out) began racing in what they called the OTC (Ohio Trike Crew). Once they had their foot in the door with a few promoters and tracks and they started showing them that 3-wheelers are not as dangerous as many assumed – things just started falling together for us. Without a large group of dedicated followers that showed a good set of values and sportsmanship on and off the track it would not have ever happened. My wife and myself started racing back in 2006, when we started seeing a big surge of new racers 3-wheeler racers. We ran until this year as a non-points "exhibition" class. The CRA (Competition Riders of America) approached Tim Stefanko Sr. at the end of last season and he helped them put together an eight-race series for 3-wheeler racers this year. Needless to say we really appreciate the CRA for doing this for us.
Before we get into a little more into your conversions, do you have the details on the points-paying 3-wheeler classes that the CRA will run?
Tim Keister: Yes there will be three classes, Vintage A is for experienced racers. You can race the usual 250cc two stroke and Honda's 350X. Trikes don't have to be stock, but modifications are limited to those typical of the era. You can overbore the cylinder but big bore kits, modern engine transplants and inverted forks are not allowed. The B class is for Beginners. 250 and under for two-stroked and under 350 for four-strokes. And last is my class, Open A where experienced racers can compete on 450cc custom conversions. You can use big bore kits and highly modified vintage trikes are allowed.
Has the CRA announced a schedule for dates that allow 3-wheeler racing?
Tim Keister: Yep here it is…
Points Paying Races:
Jan 22 Summit Indoors – Tallmadge, OH
Feb 26 – Summit Indoors – Tallmadge, OH
May 15 – Big Game Raceway – Hubbard, OH
June 4 – Malvern Raceway – Waynesburg, OH
July 2 – Lightning Raceway – Tippecanoe, OH
Aug 28 – Lorain Co. Fair – Wellington, OH
Sep 25 – Lightning Raceway – Tippecanoe, OH
Oct 22
– Malvern Raceway – Waynesburg, OH
Outlaw / Non Points Races:
May 30 – Smith Rd Raceway – Medina, OH
July 4 – Smith Rd Raceway – Medina, OH
Sep 5 – Smith Rd Raceway – Medina, OH
Okay let's talk more on your creations. Tell us about each of your rides.
Tim Keister: Well, the newest one is a 2008 TRX450ER. I bought it brand new with the sole purpose of cutting it in half. Once we had the frame all together and had it rolling, I had somewhat of an odd idea. My last TRX450 conversion had some performance work done to it, with a full Yoshi exhaust, a CRF cam, some carb modifications and an Elka on the rear. Anyway, it occurred to me after watching several videos that I was never using all the power it would make on the track, so mechanically, I decided to leave this one pure stock this season to see how I do with a more ride-able machine. It worked awesome at round one of the CRA 2011 season at the Summit Indoor in Akron, Ohio, but that is a really short, tight track. I will re-gear for longer tracks, but all and all I am surprised at how well it does in stock form. I added Fasst Co. Flexx Bars and a Vapor Trail Tech computer to log my hours on the motor and keep an eye on engine temp. At this point I am loving it, and I can even trail ride it around my house because it is so quiet. I would never do that with my old one because of the loud exhaust. I respect my neighbors too much for that kind of thing.
Jake Keister: The first TRX450 we converted a few years back was a real learning experience for me. The newest bike, a 2008 TRX450 has a completely redesigned frame. With the new inverted fork front ends, it changed the frame a lot. On the 2008 I pulled the rake angle in a couple of degrees to make it steer faster. And instead of an extended swing arm I added two inches into the main frame to make it longer. The addition of an extended rear axle or rear wheel spacers are a must. Everything on that bike works great. I couldn't be happier with it.
I noticed that the 3-wheeler racers at the recent Akron, Ohio indoor seemed to be having more fun than most that freezing cold day. Would you agree that there's a bigger sense of comradery than the quad guys and bike guys have with one another? It's almost like you guys are a bunch of giddy school girls having a fun-filled weekend slumber party.
Jake Keister: Oh yes, Defiantly! The quad and bike guys are out for blood. The whole group we run with gets along with everyone really well. The OTC is nothing but a great big family. We're all so happy to be out there racing a CRA sanctioned three wheeler class. Yes we have our fights and feuds once in a while, but we get over it. What family doesn't?
You have to know many say that 3-wheelers were unsafe and no matter what you do to them they still are. Does the ban and the many scary warnings you've heard over the years ever have you second guessing yourselves? Do you get a little nervous pulling into the gate and looking out to turn one?
Tim Keister: We constantly hear it from so many people at each and every event. "Those things are dangerous" and "You guys are crazy riding those death traps", and the one that we as a large group always chuckle about, "Aren't those things illegal?" But I never second guess myself, if you do, you loose confidence in yourself which is what makes you excel in the race scene. I always have a stomach full of butterflies prior to a race, but once the gate drops it is all okay. We have a very good trust among fellow 3-wheeler racers. We are not going to kill each other out there for a five dollar first place plaque.
Jake Keister: I agree. It's not that the machine that's dangerous, it's the inexperienced rider on it. I never second guess myself. I know my limits and respect my machine. With these new 450 trikes you have to respect them or they with stomp you into the ground. I get nervous at the gate, but I think everyone does. And [Laughing] turn one is no problem when you get there first.
Do you guys even have a quad? You have to admit, you can go way faster on a quad and they're far more predictable. So why chop the front end off of a perfectly good ATV and make it handle worse?
Tim Keister: I do have a quad. I originally bought it to convert it. It is a 2001 Honda Recon 250. I liked having it around for non-trike friends to ride and did not have it in my heart to murder the little fellow. I now mainly use it to plow snow. To me quads are not predictable at all because I have so little time on them. I feel right at home on trike.
Jake Keister: I had a Suzuki LT-R 450 for about a day until I cut it in half. I'm not so sure about going way faster on a quad. When you shave fifty pounds off the front end and only have one wheel for drag you can go faster on the trike. In my personal opinion I think we make them handle better than when it was a four-wheeler. Quads don't turn well.
I noticed your conversions come with nerf bars. This is something that you just didn't see very often back in the three wheeler racing days. Why do you suppose riders never went this route? It seems like a great idea.
Tim Keister: We get that question a lot. Many of the other trike racers hate them. They hate how they feel and look. We use them for protection purposes only. It only takes one time for a guy to stick his front tire on your leg in a turn before you realize, "hey, I should really put a set of nerfs on here". Some of our other conversions, like the TRX250EX, do not have them. I think back in the day some of the flat track guys did use them, but they were not common place. I believe Missile Engineering made sets for Tri-Zs and 250Rs that were used by a few flat track riders.
What's an average project for Tionesta Trikes? How does a customer go about getting the final product? Is it turnkey, or is it up to him to drop the quad and motorcycle parts to you for fabrication?
Tim Keister: At this point the only ones w
e have sold were turnkey. We are still thinking about letting the customer assemble themselves if they want to. Right now as it stands, it is up to the customer to supply the quad and all of the bike parts. Some guys may want all new parts, others may want to scour eBay for good deals on used stuff. Being so new to this game we are still up in the air about a lot of these decisions. We then do all the frame fab work and supply the custom triples.
The finished Tionesta Trikes conversions look really factory-like. Are those special graphics you're using on your conversions? Does a customer's bike come this complete when you're done with it?
Tim Keister: The graphics on our bikes are just some that we made out of some left over vinyl we had laying around. Our sponsor is actually in the process of getting us some graphics kits made up as we speak. A customer's bike will be a blank canvas – just like they would get from Honda. Stock 2002-2004 CRF450R graphics fit the front and stock TRX graphics fit the back. It is pretty much up to the customer as to what they want.
Are you guys creating jigs and templates for mass production yet? Or is this stuff pretty much hand made for each application?
Tim Keister: After building the last one we did, a 2004 TRX450 model, we decided we were not going to do any more without a jig for the frames. That is what we will be doing next, before any others are built. We want them to all be the same, and it will be so much easier than building them a piece at a time. We have used the same gusset templates for the last three projects that we've built. This however will limit us to pretty much one model, the TRX450R, which is fine with Jake, because he wants the one and only LTR450 out there, and I can't blame him, it's a holeshot machine for sure!
Jake Keister: Yes, like Tim says that is the next thing that I will be building. Not only for the same product every time but mostly for turn over time. Although there will still be some little things added by hand it will still make fabrication much faster.
What is the fork assembly from? Is this the same for all of your conversions?
Tim Keister: All of our TRX450 models use 1997-2003 CR125 front forks and brake assemblies. They can be easily and inexpensively re-valved for rider weight and rider style. We are playing with different settings up front all the time. We could use different forks in the future, but for now these things seem to work really well. Not much re-tooling would be required really to use different forks.
| | |
| --- | --- |
| Non needed parts are known as "junk" at Tionesta Trikes. | A sawzall, grinder and hammer are the Keister family's weapons of choice. |
I noticed you change the tires and wheels. Why is this?
Tim Keister: Most of us in the circuit run 18″ tires on 10″ wheels on the rear. The reason for this is you get almost zero tire-flex in the corners. This makes it ideal to pitch it sideways in the corners and keep it predictable every time. As many don't know – you actually steer a trike with the rear tires – especially on the MX track. We also use a shorter 21″ tall front tire rather than the stock 23″ – 24″ ATC tires. This provides quicker steering in the corners. For trail riding and sand dunning, we swap up to whatever works best for the specific application, but for motocross racing this seems to be a winning combination.
Have you followed ATV racing all these years?
Tim Keister: Unfortunately for me, I never really got into following ATV racing until I started racing myself. I would go out and watch my friend race quads at local tracks when I could but that was about the extent of it. Now that I do follow it I love reading old magazine articles and watching You Tube videos from 3 wheeler racing back in the early 80s. Currently at the tracks, I love watching the quads and bikes race when we compete.
Do you have childhood 3-wheeler heroes?
Tim Keister: I guess my childhood 3-wheeler heroes were all the older local guys in the area I would watch the older guys riding in the local strip mines on their 250Rs and wished someday I could ride like them. Me being a pre-teen on my non-suspended ATC200S, I could not even attempt to do quarter of what they were doing back in the day. As far as a current hero in the sport, that would have to be Malcolm Smith. He has done so much for the industry as a whole, and I love watching the movie "On Any Sunday". I bet I have watched that movie five times this year already. I am really grateful and impressed by what Malcolm did recently with the CPSC (CPSIA) "Kids Love 2 Ride" www.kidslove2ride.com That was an outstanding case of standing up for what you believe in. He really gives a lot back to the off road community and he's a really stand up guy. I would love to meet him someday.
Have any of the legend 3-wheeler pros of the past seen your conversions? What's their reaction?
Tim Keister: Recently at the Imperialnvasion dune ride at Glamis Tommy Gaian and Mike Coe checked out our newest conversions. They were pretty intereste
d and seemed really happy to see that there are still people making advancements in the 3 wheeler world.
How was Glamis? First time? Did you beat any quads up Comp Hill?
Tim Keister: Glamis was incredible. It was a really fun time this year. This was my second time out to there, but I can assure you it will not be my last. We went during the week and during the weekend it was not really very busy at all so no racing any quads. However it made for some of the smoothest sand ever. It was just simply incredible riding. We rode roughly 550 miles in four days.
Tell me more about the Imperial Invasion weekend? What's that all about? With legends like Jimmy White, Tommy Gaian, Brett Driscoll and Mike Coe showing up over the years it must be a pretty special gathering.
Tim Keister: Yes, it is basically a large gathering of mostly 3-wheeler guys, although everyone is welcome weather they ride 2, 3, or 4 wheels. We all join together in the desert. It is a chance for East Coasters to enjoy the West Coast. This year I personally got to meet Tommy Gaian and Mike Coe. It meant a lot to me to meet these guys, they're the heroes and pioneers of our sport. It was awesome to hear some of the stories they shared with us. Tommy and Mike went out in a sand rail with us for a bit. It was an awesome sight to see – fifteen 3-wheelers all riding along side those two guys. Talk about a special treat!
I'm picturing you guys gathered around a campfire listening to Mike Coe and Tommy Gaian tell about the days they raced ATCs for factory Honda?
Tim Keister: They came out during the day and left before night set in, so other than the campfire you nailed it. Between meeting legend racers and hearing their stories, all the great riding and meeting new people the entire trip was kind of a blur.
| | |
| --- | --- |
| Tim Keister seen here with former factory backed Honda rider Mike Coe, who was one of Honda's aces in the 250 Pro 3-wheeler ranks. | Tim seen here with Tom Gaian who was also a factory backed Honda rider. Tom raced the 200 Pro 3-wheeler class. |
Did either of you get to check out our Legends 2000 event in Ashtabula, Ohio?
Tim Keister: Unfortunately we did not know about it until shortly after it happened, otherwise we would have been there for sure.
What are some of your favorite 3-wheeler events?
Jake Keister: My favorite event is Trike Fest for sure. Summit Indoor is a blast. Lightning Raceway is a great track also and so is Malvern Raceway. We practiced at a place called Ram Jam in Lorain, OH it's awesome, but as for an event Trike Fest is a must attend as far as I'm concerned.
I would imagine you guys will be answering a ton of questions at this year's Trikefest. What 3-wheeler enthusiasts would pass your pit by without stopping in right?
Jake Keister: Oh I'm sure that it will be non-stop. With three new bikes there this year I'm sure everyone will be stopping by to check out the future in three wheelers. We can't wait to talk with people, so by all means come by and say hello.
Where can someone contact you guys to learn more on your incredibly cool conversions?
Tim Keister: At this point the best way to contact us is via email tionestatrikes@gmail.com we check it often and answer questions for people. Another way if you are local Ohio and PA rider is to head out to the track for some one-on-one conversation with us.
As avid three wheeler riders and racers. What words of advice would you guys give to a new three wheeler rider/racer?
Tim Keister: I would say to stick with it. You are bound to mess up a time or two and that is all part of the learning curve, just keep at it and you'll get the hang of it. Riding three wheelers is very much different than riding a quad.
Thanks for keeping trikes alive and well. And thanks for talking with me today.
Tim Keister: Thank you for the opportunity. We would also like to give a special thanks to Chip's Cycle Worx of Shippenville, PA for letting us use his shop for pictures and supplying us with parts.
Jake Keister: Yes, thank you and long live three-wheelers!
www.tionestatrikes.com
Comments
comments