Yamaha's 2007 Big Bear 400 4×4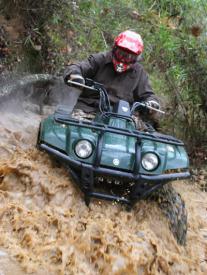 By: Jorge Cuartas
Photos: Jorge Cuartas
Test Riders: Donny Banks and Jorge Cuartas
I've been somewhat of an elitist when it comes to ATVs, more specifically utility ATVs. My motto has always been, "If you can't jump it, I don't want it". I remember pulling into gas stations and seeing landscaping trailers loaded down with "Muddin' Machines", complete with snorkels, gun racks, and/or coolers strapped to the racks and thinking to myself "What a waste of time and resources".
Little did I know that the owners of these machines probably get twice as much enjoyment out of their ATV investment, than I ever would out of mine. Unlike most ATV enthusiasts, I've been a one trick pony for the majority of my ATV career. Outside of the now defunct ATV Olympics events (where you race MX, TT, and Cross Country all in one weekend), I never really strayed too far off of the motocross tracks, or competition for that matter. Little did I know the amount of fun I was missing out on.
My eyes were finally opened shortly after receiving an invite to yet another non-sport-quad press intro, this one, for the 2007 Yamaha Big Bear 400 IRS. Being that my last intro was such a blast, I tried to come in with an open mind, and actually looked forward to the opportunity of building on my utility ATV experience.
The days leading into the intro (which was set to take place right outside of Columbus, GA) were filled with torrential downpours, each day's rain, a little heavier than the day before. Every drop of rain seemed to extinguish my desire to make the 2.5-hour drive from Atlanta to Columbus. After hours of agonizing over the weather, I finally gave in and made the drive south bound. As is the norm at these events, the Yamaha staff treated the press to an incredible dinner and a meet and greet.
On the eve of the big intro, the Yamaha staff seemed unfazed by the weather, and unlike myself, seemed to look forward to testing the Big Bear's mudding abilities. They reassured us that these were the conditions the machine was designed to thrive in.
The following morning, as we geared up and prepared to head towards the proving grounds, mother nature decided to give us a break. The forecast was calling for cool temperatures with a light chance of rain, and as the morning drizzle began to fade, so did my reservations about riding in these conditions.
 Big Bear 101
The intro started as they always do, a quick meal and an even quicker presentation on the features of the new model. Handling the duties for Yamaha were Steve Nessl, Travis Hollins, & Pat Biolsi of the ATV PR, ATV Planning, & ATV Testing divisions respectively. Also on hand was Yamaha's newest recruit, Chris Gervais. Many of you racer-types may recognize the name as Chris has been in the ATV MX industry for years. He's most known for his duties at K&K ATV, and as Pat Brown's mechanic). Now a days he's one of Yamaha's testing engineers.
The presentation started with a brief overview of the model and its features. The 2007 Yamaha Big Bear 400 IRS is pretty basic as far as ATVs go, outside of the IRS, there's nothing excessively fancy or cutting edge about the unit. It's not that Yamaha lacks the ability to innovate or incorporate the latest bells and whistles, it's that this machine is targeted to a pretty specific demographic that's not necessarily looking for them. Just as the YFZ450 is targeted at the competition market, the Big Bear 400 is aimed at the mudder market, (geographically speaking, anyone South of West Virginia, and East of Texas). This southern region is where the 5-speed / Air Cooled 4×4 market thrives. Roughly 50% of the region is comprised of swampy, muddy areas, and ATVs with tractor-like abilities shine over those with pretty digital gauges. Rather than doll the machine up with fancy features, the Yamaha engineers improved on last year's model, and made it even more mud proof.
The limited list of bells and whistles was comprised of simple, yet proven features like marine grade plugs and connectors for all of the electrics, an analog speedometer, IRS as opposed to straight axles, an incredibly low first gear and 25" ITP Mud Lite tires. Upgraded from 2006 were a number of key features, for starters, ergonomically the unit received 40mm worth of needed seat changes, and full floor boards. The oil cooler received a 30% capacity increase, and new location up in the frame to avoid mud blockage, the front suspension's geometry was changed slightly making for a lighter steering effort and softer ride over the previous models and lastly the new Big Bear received a little more adjustability in its new five way preload adjustable shocks, which should allow you to compensate for the added weight of a winch should you choose to use the new winch mount. In order to better judge the machine's abilities and features, we headed to the "Dirty Dog Mud Park" in Phenix, Alabama.

The Yamaha Big Bear 400 felt right at home in even the deepest water holes.

Yamaha's Pat Biolsi successfully helped design the Big Bear. He's seen here unsuccessfully trying to destroy it.
 Muddin' 101
The drive into the park itself was my first glimpse into what we would be going up against, as 200 acres of mud, trails, trees, puddles, rivers, creeks and more mud unfolded before my eyes. Yamaha provided us with all of the tools necessary to not only survive, but also thrive in these conditions. The list was pretty basic and consisted of nothing more than a fueled up stock Big Bear 400, and chest high waders. That's it. The press fleet geared up and headed out on a tour of the property, and within minutes I was questioning the group leader's judgment, either he knew something we didn't know about the Big Bear, or he was just plain crazy.
The direction in which we were headed seemed better suited for a jet ski than an ATV. Days of rain had turned the Dirty Dog Mud Park, into the Dirty Dog Collection of Fast Moving Water. And for some reason, we were headed straight into the middle of it. After all, what better way to justify the marine grade plugs and connectors they had told us about than putting us in marine-like conditions. The 25" ITP Mud Lites (made especially and exclusively for the Big Bear) coupled with the tractor-like 1st gear made traversing even the nastiest terrain possible. Being completely new to this facet of riding, it took me a couple of minutes to get comfortable with the incredible amount of body English required to keep the machine hooking up. Mudding is almost an art form where standing on the front or rear racks, or completely off the side is commonplace when searching for traction. I was in awe of the stuff the Big Bear 400 was going through and climbing over without so much as a hiccup. 45 minutes into the ride, I got a bit stuck on a downed tree when Yamaha's Steve Nessl suggested I engage the Big Bear into four-wheel drive. To my utter disbelief, the tires and low gearing had been enough to keep me going for nearly an hour without even engaging the 4×4. One push of the button, and the logs were no longer an obstacle.

Round 1: Mud Park vs. Big Bear…. Winner: Big Bear

Round 2: Mud Park vs. Big Bear….. Winner: Mud Park
Bells & Whistles
Here Donny Banks navigates over a huge tree all while traversing through water.Unlike other models, the Yamaha Big Bear 400 IRS comes equipped with an "on command" Differential lock, making the machine a true 4×4 as opposed to 3×4 like most other models. The system was first introduced back in 2001 on the Yamaha Grizzly and is now one of Yamaha's most valued features as well as an absolute must for the serious mudder. With the diff lock engaged, there wasn't much that could stop this machine.
The only down side was the fact that it made steering a little difficult, which was easily corrected by slowing down and disengaging. The Independent Rear Suspension (IRS) performs flawlessly, and the added ground clearance gained by not having a rear axle is invaluable in mud conditions. The overall ride of the Big Bear 400 is good and predictable. It rides pretty much exactly as you would expect it to.
Nearly a week of monsoon-like weather turned the trail system into a water park.The ITP Mud Lites offered on the unit are different from the run of the mill model you can buy yourself; they're produced specifically for this machine with more compliant (soft) sidewalls, which keep the quad from beating you up. At high speeds they give a little too much feedback, but overall they performed well in pretty much all conditions.
The sealed wet brakes are impervious to everything and an absolute must-have on any machine that wants to not only "mud" long term, but be able to stop after doing so. They don't require any additional maintenance besides your routine oil changes, and are designed to live the life of the machine. Not having to worry about expensive brake jobs is a huge bonus for any utility ATV owner. Not only are they economically feasible, they outperform non-sealed brakes hands down. They don't fade, they don't get hung up and as I said, they're pretty much maintenance free.
Now that we've covered the technical stuff, lets get to how the all-new Big Bear 400 IRS rides.
Mudding 101.2
Yamaha's ATV PR Man, Steve Nessl has serious mud skills.Once the bare minimum of journalistic duties was completed, it was time to go on a ride for riding's sake. Eight of us (including Steve, Pat, & Travis from Yamaha, four other journalists, & myself) took off on what would ultimately become a five-hour adventure that I'll surely remember. The Dirty Dog Mud Park offers more than just mud puddles. The trail system was mentally and physically challenging, and among the most technical I've ever seen or experienced. Downhill off cambered turns with steep drop offs on both sides were not uncommon. You really had to be on your toes at all times. The water level in the area had risen to the point where our chest high waders were being breeched at times. Streams were now rivers, and what are normally relatively easy water crossings were now challenging exercises in coordination and buoyancy. During our five-hour trek, the fleet of Big Bear's performed almost flawlessly. There was one documented roll over, and a single opportunity to use our winch, both can be credited to lapses in rider judgment.
My personal opinion is that if Yamaha set out to build a great mudding machine, then they nailed it with the Big Bear 400. The demographic that they've targeted likes their machines strong and simple and the Big Bear has that easily covered.
In the past, muddy conditions pretty much meant sure death for my race machines, two inches of rain usually translated to two hours of mud-proofing, and a thousand dollars worth of replaced bearings, top ends, etc., — not to mention hours of stress. Now, two inches of rain only opens the door for great riding if you've got a Big Bear 400.
Thanks to Yamaha, this incredible ride and the tank-like maneuverability of the Big Bear 400, I can honestly say that I've never had more fun aboard an ATV! I now have a new respect for the utility market and the fun that it represents. If you're a die hard sport performance rider like I was, try a Big Bear 400 on for size, I think you'll discover a whole new world of ATVing adventures.
Specifications: 2007 Big Bear 400 IRS 4X4
Engine Type – 386cc, 4-Stroke Single, Air/Oil Cooler w/ Fan, SOHC
Bore x Stroke – 83mm x 71.5mm
Compression Ratio – 8.6:1
Carburetion – Mikuni 33mm BSR
Ignition – DC – CDI
Starting System – Electric w/ Auxiliary Pull
Transmission – 5-Speed Automatic Clutch w/ Reverse
Engine Braking – Fr. & Rr. Wheel
Drive Train – Yamaha On-Command push button 3-way locking differential, 2WD, 4WD, locked 4WD; Shaft
Suspension/ Front – Independent Double Wishbone, 5.8" w/ 5-way Preload Adjustment.
Suspension/ Rear – Independent Double Wishbone, 7.6" w/ 5-way Preload Adjustment
Brakes/ Front – Dual Hydraulic Disc
Brake/ Rear – Fully Sealed , Oil Bath, Multi Disc
Tires/ Front – ITP Mud Lite 25×8-12
Tires/ Rear – ITP Mud Lite 25×10-12
LxWxH – 79.4"x 43.9"x 46.7"
Seat Height – 35.2"
Wheel Base – 48.4"
Turning Radius – 126"
Ground Clearance – 10.5"
Fuel Capacity – 4.0 Gallons
Dry Weight – 593 Lbs
Rack Capacity – 88 Lbs.Fr. / 176 Lbs. Rr.
Towing Capacity – 904 Lbs.
Instrumentation – Speedometer / Odometer & Fuel Gauge
Lighting – Dual 30W Krypton Multi-reflector Headlights & 21/5W Brake light
More at yamaha-motor.com
Comments
comments