Yamaha's 2008 Special Edition Sport Quads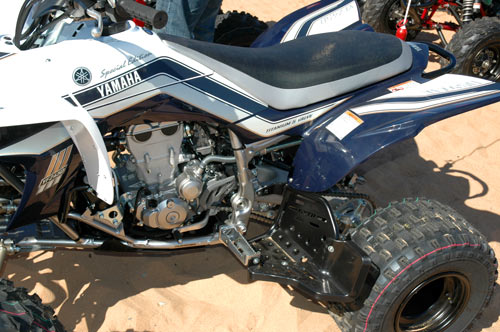 By Ray Larez
photos by Adam Campbell and Ray Larez
video by Byron Goggin
Once a year after new models are released, some ATV manufacturers decide to release a few special edition models. For several years now, Yamaha has chosen to go the extra mile with their cutting edge limited edition special edition sport quads. And every year magazine guys like us make out on the deal, as we get to ride Yamaha's sexy new sport quads in the greatest ride spot on earth – Glamis baby!
When we arrived Yamaha showed us all their new SEs and told us of all the upgrades that went with each SE model. Right off the bat, I fell in love with the new graphics package and cool color scheme of the YFZ. I really liked how well the very dark blue rear fenders went with the white fronts. The YFZ shined in all-Yamaha-fashion.
Also gleaming in the sunlight was the new Raptor 700 Special Edition, with the black color scheme, deep red frame and tribal graphics it looked like it owned the entire Southern California quad scene. They explained they both had some accessories like aluminum front bumpers, heel plates and of course the limited edition graphics packages.
Yamaha likes to give the SE owner more than just a decal kit. You might recall that last year SE YFZ owners got an upgraded shock package along with their not so ordinary looking quad. This year, since all the 2008 YFZs already got the upgraded shocks, Yamaha added a nice set of Pro Taper aluminum handlebars to this year's 450 SE. A nice addition to snazzy looks for sure.
After lunch it was time to hit the fresh dunes on Yamaha's newest equipment. Life's good! All geared up and snug in the saddle I slipped the clutch and smiled happily as I set out on my long overdue ride. I hadn't been on an ATV in some time and it was great to get in some seat time for a change. The first thing I noticed was how comfortable I felt aboard my borrowed YFZ. Soon after this I also noticed how out of shape I was.
Being out of shape actually turned into a good thing however. It really helped me feel the difference between the high-revving YFZ and the electric-like Raptor 700R. The YFZ wanted to be raced and was way more aggressive, which I'm embarrassed to admit, wore me out in no time! As for the Raptor 700 the suspension was way plusher and the gears were a lot wider. There was far less gear banging and way more of a relaxed cruising ride. Also the fuel injection was smooth and power seemed effortless. If you ever get the chance to ride a Raptor 700 in the dunes, go for it. If you ask me the Raptor 700R at Glamis is absolute ATV ecstasy! And along the way – boy did we look good!
We'll let the photos do the rest of the talking. Check out Yamaha's bad-to-the-bone new 2008 Special Edition sport quads at your local dealer and remember they don't call them SEs for nothing – Yamaha is only making a limited amount.
Comments
comments