2009 KTM 450 and 505 SX ATV Ride Review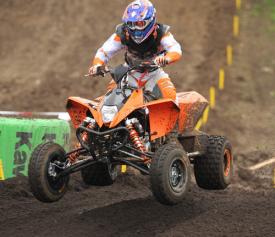 photos by Kinny Jones and Barbara Miller
video by Brad Phillips and Joe Tolle
Wow! After a year with KTM's first ATV, the 450 and 525 XC, we've certainly confirmed that KTM is accurate when they say "Ready to Race". Tim Farr won the Open Pro National Championship on a prototype cross country KTM before they were even available to the public. Once ready, Farr's FRE KTM sponsored team of Adam McGill and Taylor Kiser, have been proving the point equally as well in this year's GNCC Series. The duo tore up the first half of the series, where McGill and his 525 won three rounds in a row and currently sits in third place, while Taylor Kiser hangs in the elite top ten in seventh respectively. ATV Scene's own, John Pellan, recently took KTM up on their "Factory for a Day" opportunity and raced the Millfield, OH GNCC on KTM's newly released white 525. Pellan, who hasn't raced in several years, finished up with a respectable finish of his own — top five in the +30 class – confirming that the bone stock KTM can make even slow guys fast.
And now it's time for KTM's second installment to their recent success story in the new 2009 SX 450 and SX 505 "Ready to Race Motocrossers". We originally figured that KTM's new SX would be a tweaked version of the already successful XC machine.
You know the drill, widen it up, suit it up with motocross tires and call it good to go for moto in 2009. Once we heard this was far from the case and that KTM's new SX would be built specifically for motocross from the ground up, we sat a little more upright in our chairs.
Perhaps what really got our attention however was the fact that we heard the quad would be Pro class worthy from the showroom floor.
With this said we knew we needed the opinion of someone that could tell the difference between an A level machine and one worthy of blue number plate backgrounds.
 Who better than legend Shane Hitt? Hitt has nearly twenty years in the Pro ranks and has raced just about every brand. With 10 Championships, (including a GNC title in 1997), about 50 Pro National wins and an encyclopedia of ATV set up knowledge in his head, we would surely get the low down on just how Pro class worthy this new KTM really is.
The decision was made; Hitt would represent ATV Scene at the KTM SX Introduction held in conjunction with the Red Bud ATV Motocross National in Buchanan, Michigan.
And now that he has ridden, tested, raced and thoroughly checked out the 2009 SX 450 and 505 Ready to Race ATVs from KTM here's our ride review in the words of arguably the most winningest Pro ATVer of all time, Shane Hitt….
Okay Shane, you're pretty stoked about this new KTM, but before we get into why you think it's such a great race quad we need to clear up a few things. You've been wearing orange KTM shirts at a few of the GNCC events this year. Are you employed by KTM in any way?
I helped them out as one of their test riders about a year ago. I came to Ohio for a couple weeks to ride test the 450 SX. They sent the 450 over to the States to make sure it didn't need any last minute changes before it went into production. But to answer the question, no, I'm not employed by KTM. I do help out Tim and Julie at FRE (Farr Racing Enterprises), but I'm not employed by KTM.
So you're completely unbiased here, and you're going to give us your honest opinion correct?
Absolutely. You know me by now. I always say just what I think. (Laughing) even though it's gotten me in trouble a few times.
There are a lot of new ATV enthusiasts out there that might not know that you were quite a good motocross rider. With all the TT Championships, many might think that's all you've ever rode. Can you educate some of our newer readers with your past moto accomplishments a little?
When I started racing the MX Nationals and TTs were combined into one GNC Series. I was always a little better at the TTs, but I was always in the top 5 at the end of the year and that went on for pretty much ten years even though the competition was pretty stout. I mean you had Gary Denton, who won it eight times. Then there was Tim Farr, who was probably the best that there has ever been. And Gust was always up front and still going strong today. And Joe Byrd was always right there. Then Jeremiah came along….. It goes on and on. To say the competition was stacked was an understatement.
 And you won a Grand National Championship in '97 too, don't forget about that.
Oh I won't ever forget about that. Actually I missed the MX championship by two points that year as well. All in all I've always loved both, and certainly have a lot of motocross history.
Okay now that we've established that you've got plenty of motocross experience let's get down to business on this new KTM. What do you like most about the new "Ready to Race" KTM SX Motocrosser?
It truly is fully ready to race as is. I know that's their slogan, but it's definitely accurate. You really don't need anything but numbers and maybe a steering stabilizer. I mean it comes with nerfs, beadlocks, shocks, a strong-running engine…. Just pull the headlight off, put the nose cone on and you'll be competitive in any class just the way it comes. You don't even need to screw around cutting and splicing wires for a kill switch, it comes with one. It's really pretty incredible. I didn't think we would ever see the day, but this thing isn't just ready to race the B or A class, or whatever. This quad is ready for the Pro class, just the way it is!

Wait a minute. You just said Pro class. That's a pretty huge thing to say. You, more than most, should know that the Pro class is a whole other level. Are you sure?
Yeah, I guarantee it is. It's way better than anyone might think. It was heavily tested by top pro riders. Whatever input we told them it needed, they went and did it.
Come on! In a day and age that every Pro rider uses expensive aftermarket shocks, you're saying that the KTM's stock shocks can be used in the Pro class? Are you sure?
Yeah. The WP shocks have high and low speed compression and rebound adjustment, dual rate springs with adjustable crossovers and they're already long travel. At the most a Pro rider might have them revalved to suit their own weight and style, but that's about it. There's no reason to ever buy shocks for this bike. It would be a waste of money even for the Pro class.

I don't mean to make you keep repeating yourself here, but it's hard to imagine a future ATV race scene, especially in the Pro class, without aftermarket shocks. Do you think other manufacturers will step up to shocks of this level and thus eliminate the aftermarket shock builder?
Yes, I think some day you'll see other manufacturers offer shocks of this level. As for right now, let's say if KTM were to field a professional race program, they would use these shocks and win races with them. I know they would. As for other brands and teams in the future, I think a lot riders are used to going out and buying shocks and many of the top riders already have good shock sponsors that are a big portion of their race programs, so I think they're likely to swap out their stock shocks regardless of how good they really are. Like me for instance, Wayne at PEP has been doing my shocks for years. I would probably have Wayne build a set of shocks for me because I know he would be glad to be a part of my program and want to out. So as good as stock shocks become, I think you'll still see some guys put different shocks on. But let's put it this way, the guys that don't have shock sponsors and don't get free shocks, won't have a disadvantage by not changing them. At least they won't with this quad.
| | | |
| --- | --- | --- |
| | | |
| No cheap steel found here. KTM uses a powdercoated Chromoly steel frame that places the engine low for a low center of gravity and optimal swingarm pivot to countershaft placement. | Extra wide serrated footpegs are angled on the outside edge and bolt up to the aluminum nerf bars with nets. Heel guards with large holes to allow mud to pass through help keep your feet out of harm's way. | An Ohlins Steering Stabilizer awaits you in the KTM Hard Equipment catalog. We highly suggest a stabilizer and wonder why everything needed for Pro level racing is included except this. |

I would think they would have chosen Ohlins, which also work very well, like they did with the XC. Why do you think they switched to White Power shocks?
Years ago I think they went by the name White Power. Now they're just called WP. Actually KTM purchased the company, and that's probably a big reason that they chose this shock for the new SX. And yes, you're right the Ohlins shocks are very good shocks. In fact I was a little leery at first. I would have rather seen the Ohlins brand name on there, but the WPs are just as good.
The #5 KTM that you rode at the recent media introduction was a little different than the rest. How was it different?
It was kind of a free for all. Each magazine guy was able to pick a quad. (Laughing) I quickly walked up and grabbed the 505 with all parts on it of course. Mine had a bunch of bolt on products from what KTM calls their "Hard Equipment" catalog.
You can get a ton of accessories in the catalog to kind of personalize your quad. It's actually pretty amazing how much stuff they have in there. You can get colored master cylinder caps, different glide plates, handle grips, sprockets and all kinds of stuff. They also have the only two products that I feel you really need to race this thing in the Pro class, a steering stabilizer and a slip on exhaust.
Not a full exhaust, just a slip on?
You don't need it. All you need is a slip on.
Talk about the KTM industry race at Red Bud. What was is this all about? Who were you competing against? How did you do?
Anyone can sign up for the Industry class at the Nationals I guess. But on this day KTM pretty much took over the class. There were 12 of us and some pretty fast guys; Farr, Mitch Reynolds, John Ragon, Hunter Miller and a guy out of Canada that went really well. He even had a fast name, Chad Reed. There were other up and coming fast guys too, but I'm not familiar with everyone anymore.
Anyway, Farr, who raced the +30 class, and all the Pro and Pro-Am riders in the class had been riding the track all weekend. I had a total of four practice laps and the track has really changed since the last time I raced Red Bud. It's a beautiful track and a lot of fun, but I wasn't 100% comfortable hitting jumps wide open and not knowing exactly which jump I was about to launch off of, so I was a little nervous at the start gate, but I had a good plan. I knew when the gate dropped Tim and I would be out front leading the race. Whether I pulled the holeshot or not, I knew I could tuck in behind him and follow his lines and gauge his speed.
It pretty much happened just like I thought it would. I pretty much had the start, but felt someone slipping past me on the right. I didn't even have to look, I knew it was Timmy.
I knew that he knew where all the good lines were so I just followed him. A little later I got crossed up in the whoops and Chad Reed got past me. My arms pumped up a bit and he pulled away. He was definitely fast. On the last lap I ran him down some and even had a chance to try to make a pass but I never went for it. Everyone had a blast. That's really what the Industry race was all about — getting to experience the new SX on one of the best tracks in the world.
Nice ride! It's nice to see you still have your motocross speed. After all the time you've spent riding, (and now racing) the new SX, what do you like best about it?
It handles amazingly with no body roll whatsoever! As much as I like the handling and suspension, the most impressive thing about the quad is the motor. For as fast as it is, it's still really smooth. It doesn't have a hard hit anywhere – just good consistent solid power. I really like how it makes power. They put a lot time and effort into this quad and it shows.
| | | |
| --- | --- | --- |
| | | |
| No tools are needed to clean the air filter. And the specially design snorkel allows for increased air intake from the highest point on the quad to reduce intake of mud and water. | 20X6X-10 front and 18x10x-8 Maxxis Razr soft compound tires are mounted to DWT powdercoated wheels with beadlocks. The wheels are designed exclusively for KTM. | As with the XC, KTM paid close attention to maintenance. Check out this beefy, easy to get at oil filter. |
Talk more on the engine. This isn't a borrowed version of the XC corect?
No the SX is a new generation engine. And it's completely new from the cases up. It revs way more than the cross country one. I think the rev-limiter is way up there, like 12,000 RPM, while the XC revs out at around 10,000 RPM.
It uses an electric start. It's got a double overhead cam with four titanium valves and 12:5:1 compression verses the XC that has a single overhead cam and 11:1 compression.
The motor in the XC makes a lot of torque to help get up hills, through winding tight turns in the woods, through mud and over rocks and stuff. They're both built well for what they're using them for. On a motocross track you need an engine that revs quick to get you over jumps and through turns quick and this new engine does just that. I really like the way the power comes on. It's really smooth – it feels almost efortless. It wont yank your arms out but still rips.. No one wants power that wears them out before the moto is over. I think people will like the way it makes its power for sure.
| | | |
| --- | --- | --- |
| | | |
| Two overhead camshafts and DLC-coated finger followers drive four Titanium valves. | KTM's chrankshaft design maximizes the centrifugal mass thus allows more power from below. | A maintenance-free, automatically adjusted Magura clutch with stainless steel braided clutch line and quick change cover is used. |
 Were you bummed about not seeing fuel injection on this quad? I mean come on it's 2009, why is KTM still playing around with a carburetor when so much fuel injection technology is available these days?
They stuck with the carb because the average guy can dial it in. It will be years before fuel injection takes off in the ATV race scene. These guys are still camping out in tents at the races, how do you expect them to take their lap tops to and figure out how to get the best mapping for their quad? Besides KTM has a proven rock solid fuel delivery system in the massive 41mm flat slide carburetor. It's got a throttle positioning sensor and it's equally as responsive as a fuel injected system. I know I couldn't find any dead spots in it. I like that it's not fuel injection to tell you the truth.
Then why are most other ATV manufacturers offering fuel injection in their 450s?
I don't care what they offer. And I don't care what they say about having a fuel injection advantage. Suzuki seems to have their fuel injection and electronic mapping dialed in with their race bikes, but I don't see the average guy getting their secrets. A good carburetor like this one is simple, lightweight and proven to consistently work well. There's certainly no disadvantage having this carb over a fuel injected system.
You're probably one of the pickiest riders I've ever seen. And your race machines have always been what the competition wished they had. So surely there's a list of things you didn't like about the machine.
(Laughing) Usually I have a lot of stuff to complain about, but it's really hard to find anything wrong on this quad. I think my biggest gripe was the thumb throttle. It was just too far away for my liking. And it seemed a little stiff too but I think that's because it was too far away. Apparently they've heard this complaint before me, because they've changed the design for all their 2009 units, the XC models too. These first 12 units that we tested at Red Bud had the old 2008 throttle assembly, but all the new ones to follow will come with the better thumb throttle upgrade. The new design moves the lever forward 10 degrees. It works a lot better and your thumb doesn't get fatigued after a long moto.
What did you think about the Brakes?
It's got better brakes than anything on the market today, especially the front. One finger will lock up the front brakes. That's the first thing a lot of people will notice. The brakes are the most powerful Magura's has ever made.
 How about Ergonomics?
It's really comfortable. They did some things different than the XC to suit a motocrosser better. It's got a smaller tank, it sits lower, has a lower center of gravity and it has a different seat. I thought the seat was a tad soft for my liking, but others really loved it. All in all, it's very well thought out and fits a motocrosser's needs very well.
You're able to adjust quite a few things for different sized riders, correct?
That's an understatement. Just like the shocks and width of the bike, everything is adjustable; the bars, stem, levers… everything. The levers also have integrated break points so if you crash and break a lever only the end breaks off and you can still finish the race. It's really designed well. The factory bars and stem are especially nice. You can flip the bracket on the stem and move it forward or backward. I think it's a little taller than the XC, but it has four positions for height, so you can shorten it up if you like. And it's got a place at the bottom all set up and ready for a stabilizer.
Here you can see the 50 inch width and the body style lines in the high profile plastic. On the right is a shot of the belly pan available in the KTM Hard Equipent catalog.

Have you ever rode with an aluminum steering stem? Does that type of thing make you nervous?
No it doesn't make me nervous. The stem is not built in a typical way like our old stems. It's away better design. They do a lot of testing for this type of thing. The bracket is not welded on either – it's bolted. It's really strong yet really lightweight. KTM spent a lot of time and effort to get the weight of the machine down for Pro-level racing. And this stem is an example of that.
Speaking of weight, let's talk more on that subject.
It's already lighter than anything in the class. You take a full race-ready LTR, and you're looking at about 415-420 pounds. This one, with a tank of gas isn't much over 370. Some manufacturers advertise their machines at 350 or 360 pounds dry, I have run just about everything out there and I've never seen anything even close to 350, so that's a crock if you ask me. This is a true 370 pound quad and that's a wet weight.
You're known for always having the lightest race quads in the business, bar none. Is there room to reduce weight on the new SX?
Oh yeah, there's always things you can eliminate. There's no doubt I could make this quad really-really light, especially if I were going to race it on a TT track.
Okay now you've gone and done it. You know our next question…
(Laughs) No no, I'm probably done. This new KTM makes it tempting, but I've had a great career. Obviously if it was a full factory effort I would probably go do it, but I really don't see that happening. I'm pretty happy with what I've done. I mean, I started racing four wheelers because it was fun to do. It was pretty much a dream to get to ride in the pro class and line up with the guys that I pull up next to. I don't have any regrets that's for sure. (Laughing) I wish back then I had this quad and competition didn't.
How do you think it would do on a TT track?
It would do very well for sure. The good thing about this bike is it turns. They put a lot of time into making sure it handles well and turns on a dime. For TT you have to get through the turns fast. That's where you make up time. If you can get through the turn faster –you'll be a lot faster at the end of the straights. Because it's so light, turns so well and delivers such good useable power, there's no reason this quad won't be outstanding on a TT track.
Why all the trouble to make a 477cc "505"? Wouldn't it be easier and more economical to offer just one SX ATV?
Well I think there's a 505 because they wanted two options for riders. They already had a 505 dirt bike. The motor for the ATV is different but they already had something similar so it wasn't too much of a big deal to offer something a little bigger than the 450. There are a bunch of classes that you don't have cc limits, so why not offer a 505?
Okay with that said, why just 477cc? Why not offer their big bore quad at 525cc at least? I know a lot of dune guys out there that would have appreciated something more than 477cc.
I'm not certain, but my guess would be that they wanted to utilize this new SX engine design. I mean they could have used the 525 XC engine instead. It's bigger, but it's not faster than their new 505, that's for sure. It's a new generation design. It's a higher revving motor that makes probably the same amount of torque and lot more horsepower.
Fair enough. Let's get to the question that we think a lot of people are concerned with; the hefty price tag. What do you think of the $11,600 retail price?
There's no doubt it's a big chunk of change all at once for a lot of people. But in the long run I think this is an absolute steal. You'll pay seven grand easy for a new stock bike, then you'll need to buy shocks, arms, an axle, a stem, bars, tires, wheels and on and on. You can barely get the quad, Douglas wheels, beadlocks and a set of Maxxis tires for this price.
I think more important than that is it's all engineered together. They built it as one product. Sure you can go into Wal-Mart, buy a 4-wheeler magazine, flip through to the ads and order A-arms and a swingarm then flip through some more and order some cool shocks, but this stuff isn't engineered to work together like the KTM is. Plus you'll probably wait 6 months for the stuff to arrive. And when it finally does come, who's to say it's even going to fit! Then when you call and tell them it doesn't fit they say that's the first time they've ever heard that!
It sounds like a big number, but in my opinion it's worth every penny of it.
You've done these projects many times. Let's try to add it up. What would it take to make say a 450R as capable as this new KTM?
Well, you can get one for about $7k. You'll need some PEP shocks at $3k, a new front end from Walsh or JB will be about $2k. There's $12k right there. Now you've gotta buy a swingarm and rear linkage for about $1500, you still haven't got an axle. There's another $400. There's easily $1200 worth of tires and wheels to buy. Now you need nerfs and handlebars… There's about $17k. Then if you want to run in the Pro class you'll need to spend about $3k for engine modifications. After you're all done spending money it is going to cost about $20k easily. You even see these guys at the end of the year selling their Pro level race bikes on the Internet that are a year old and beat up for $15k. This is brand new with a frickin' warranty! I mean come on! If you break something you can go to the KTM dealer and get it in a couple days. And you don't need to build anything in your garage. To me it's an easy decision.
So how many of these bad boys do you see in starting gates next year?
I think they'll sell quite a few of them. I think most will go right to the race track. Then again there are a lot of loyal diehards out there. They like their Hondas and that won't switch brands. But if you really step back, put that aside, and you just want to go racing – you'd be a fool not to go with the KTM. You can go buy it today and race it on the same day. Try that with a Honda.
Let's talk about the non-racer for a minute. Which will be a bigger seller, the XC or the new SX?
It's hard to say. I don't know exactly what percentage of bikes go to the track and which ones go to the trail. I know the race scene has picked up a lot over the years, but I would think there are still more guys out there that would like to just go riding. For me, being in West Virginia, if I just wanted to trail ride I would pass on this quad and get the KTM XC. But if I wanted to motocross too I would get the SX, (Laughing) which is exactly what I plan to do by the way. I already have the XC, but I still like to go out to my local motocross track on Wednesday nights and ride a little to stay in shape and have fun.
It's nice to hear that you still have fun with the sport away from racing.
You know with racing once you get to the level that I was at the fun kind of goes away to tell you the truth. It's all about being serious and getting good results. There's a lot of pressure to perform every week. The weeks that you win are great, but the weeks that you run a third or fourth are long and depressing. I can even see this in the younger guys. After the Industry race John Ragon, Hunter, Mitch and some other guys were standing there laughing saying that this was the most fun they've had in years. It wasn't just because the KTM was a blast to ride; it was because there was no pressure on them. It's true, once you get to the level that they're now at a lot of the fun goes away because people expect you to win and you expect to win, and it wears on you.
For the last few years or so Timmy and I have had way more fun away from the race track. I'm looking forward to getting the new SX, putting it in the back of my pickup and just simply going riding.
A Chromoly steel singarm is used. As is an adjustable Chromoly rear axle that lets the rider choose widths from 47-50 inches. The hub uses high quality tapered roller bearings that are easy to lubricate by the cutout in the swingarm. A single piston floating caliper paired with a 200mm disc is fed via an integrated brake reservoir. Both front and rear brakes are exceptional. Also seen here is a self locking axle nut and the eccentric chain adjustment system. The linkage-less rear shock is completely adjustable and features dual rate springs with adjustable crossovers. No linkage means less maintenance, more ground clearance and less weight.
Speaking of the guys that you raced in the Industry class, what were some of the conversations about the KTM?
They all seemed to like it quite a bit. It's hard to say though, right after the race they were more into talking about how much fun they just had battling with their buddies than going into specifics about the quad. What I did gather however is how well they liked the brakes, handling and front end. I did catch Mitch Reynolds saying that he wasn't sure, but he thought that the KTM might have worked better than his race bike. It probably did. And the KTM is bone stock! They're all good riders and good kids too. We definitely had some fun with them.
Before we wrap this up, let's make this real specific in order to really make you think about your answer. Imagine you're eight years younger and you're planning on chasing points in the Pro Motocross Nationals with this new KTM. What would you change about it?
I know it's hard to believe a stock bike can be raced in the Pro class; I'm a little blown away about this too. There aren't many changes needed though, I promise. As I have just about my entire career, I would have Curtis Sparks take a good look at the motor and see if he could dig out a little more power. I think you can always find a little more power if you really look for it. And Curtis is the best for doing that kind of thing. They [KTM] have built one really strong running engine, but they also need to build in reliability. It needs to last and be reliable for the average rider. But my race motors were always built to just get through the weekend. There's a difference. You can get a little more power if you're willing to let go of reliability.
Other than trying to get a little more power, I would definitely put on a steering stabilizer, probably a PEP unit, but KTM has a nice looking Ohlins stabilizer in their Hard Equipment catalog. And lastly I would put a slip on. That, and the number five on the plastic and I would be ready to go.
It's a great time to be an ATVer isn't it? Thanks for being ATV Scene's test rider and reviewing the new KTM SX. Any last words?
Thanks for letting me ride it. It was a lot of fun and a day I won't forget. I can't wait to get my own.
| | |
| --- | --- |
| Engine type | Single cylinder, 4-stroke, DOHC, 4-Valve, liquid cooled |
| Displacement | 449 cc |
| Bore x stroke | 97 x 60,8 mm |
| Compression ratio | 12.5:1 |
| Starter | Electric starter / 4 Ah |
| Transmission | 5-speed |
| Carburetor | Keihin FCR-MX 41 |
| Lubrication | Dry sump, pressure lubrication with 2 Eaton pumps |
| Engine lubrication | 10W50 |
| Primary drive | 31:78 |
| Final drive | 14:38 |
| Cooling | Liquid cooling |
| Clutch | Wet multi-disc clutch, operated hydraulically |
| Ignition | Kokusan digital |
CHASSIS
| | |
| --- | --- |
| Frame | Chromoly |
| Subframe | Aluminum 7020 |
| Handlebar | Magura tapered aluminum, Ø 28 mm |
| Front suspension | WP fully adjustable, twin A-arms |
| Rear suspension | WP PDS mono-shock, fully adjustable, swingarm |
| Suspension travel front/rear | 244/258 mm (9.61/10.16″) |
| Front brake | 180 mm (7.08″) floating WAVE discs, 4-piston fixed caliper x 2 |
| Rear brake | 200 mm (7.87″) disc, single piston floating caliper |
| Rims, front/rear | 5.0″ x 10.0″; 8.0″ x 9.0″ Douglas |
| Tires, front/rear | 20″ x 6″-10″; 18″ x 10″-8″ MAXXIS Razor MX Soft |
| Chain | 520 X-ring chain 5/8 x 1/4″ |
| Main silencer | Aluminum SX Racing w / Spark Arrestor |
| Wheel base | 1280 mm (50.39″) |
| Ground clearance (unloaded) | 265 mm (10.43″) |
| Seat height | 795 mm (31.3″) |
| Tank capacity | approx. 10.3 liters (2.72 gal) |
| Weight (no fuel) | approx. 165 kg (363.8 lbs) |
KTM 505 SX
ENGINE

| | |
| --- | --- |
| Engine type | Single cylinder, 4-stroke, DOHC, 4-Valve, liquid cooled |
| Displacement | 477 cc |
| Bore x stroke | 100 x 60,8 mm |
| Compression ratio | 12.5:1 |
| Starter | Electric starter / 4 Ah |
| Transmission | 5-speed |
| Carburetor | Keihin FCR-MX 41 |
| Lubrication | Dry sump, pressure lubrication with 2 Eaton pumps |
| Engine lubrication | 10W50 |
| Primary drive | 31:78 |
| Final drive | 14:38 |
| Cooling | Liquid cooling |
| Clutch | Wet multi-disc clutch, operated hydraulically |
| Ignition | Kokusan digital |

CHASSIS

| | |
| --- | --- |
| Frame | Chromoly |
| Subframe | Aluminum 7020 |
| Handlebar | Magura tapered aluminum, Ø 28 mm |
| Front suspension | WP fully adjustable, twin A-arms |
| Rear suspension | WP PDS mono-shock, fully adjustable, swingarm |
| Suspension travel front/rear | 244/258 mm (9.61/10.16″) |
| Front brake | 180 mm (7.08″) floating WAVE discs, 4-piston fixed caliper x 2 |
| Rear brake | 200 mm (7.87″) disc, single piston floating caliper |
| Rims, front/rear | 5.0″ x 10.0″; 8.0″ x 9.0″ Douglas |
| Tires, front/rear | 20″ x 6″-10″; 18″ x 10″-8″ MAXXIS Razor MX Soft |
| Chain | 520 X-ring chain 5/8 x 1/4″ |
| Main silencer | Aluminum SX Racing w / Spark Arrestor |
| Wheel base | 1280 mm (50.39″) |
| Ground clearance (unloaded) | 265 mm (10.43″) |
| Seat height | 795 mm (31.3″) |
| Tank capacity | approx. 10.3 liters (2.72 gal) |
| Weight (no fuel) | approx. 165 kg (363.8 lbs) |
More at ktmnorthamerica.com
Comments
comments