We Ride KTM's First ATV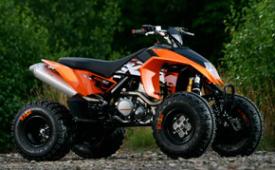 Photos: KTM and Joe Tolle
Video: Joe Tolle
Words: John Pellan
Test Rider: Lance Schwartz
We all knew it was just a matter of time before KTM added an ATV to their already impressive two-wheeled line up. With their strong commitment toward competition, we pretty much knew their first four-wheeled effort would be a high performance quad worthy of the racetrack. Since KTM's involvement with the youth market is so big, we thought they just might release a youth quad first and see how sales go before committing to the expense of a top of the line sport quad capable of winning race events.
Boy were we wrong. Figuring that KTM might dabble in the ATV industry a while was way off. Austrian/American KTM just knocked our socks off with not one but two incredible new high performance ATVs that truly are cross country race ready right off the showroom floor. What's more is the fact that KTM announced yet another high performance ATV designed specifically for motocross applications as well. Their calling this model their 450SX, but this particular machine won't be available for another year. Until then, let's look closer at what will be available this Fall and what will surely be on the line of many cross country race events for years to come, their new KTM 450 and 525XC ATVs.
First and foremost, we're lucky enough to be good friends with KTM's product technician John Maley and KTM's hired guns, Tim Farr and Adam Clark. After plenty of testing, you may recall the exclusive interview that Adam gave us about the then rumored KTM nearly a year ago in September of 2006. What's more, John, Tim, Adam and the KTM Headquarters are all within 45 minutes of ATV Scene's Mayfield Village, Ohio location. So we've been following the birth of KTM's first ATV closely and with much interest.
In order to get a completely unbiased opinion on the machine, our test rider extraordinaire Lance Schwartz got the nod to ride the machine. Lance spent some time on and off KTM's new 450 and 525XC ATVs during their recent press launch and dealer meeting in Rhode Island.
Like we did, we're sure you have many questions about KTM's newborn four wheeler. Is it truly ready to race? How much will it cost? Can it compete in other ATV racing disciplines? Are there any first year bugs? We'll answer these questions and give you the low down on the newest quad on the scene in the pages ahead.
First Impression
The first thing you'll notice is the abundance of Chromoly included in the frame, swingarm, A-arms and rear axle. This shows that KTM means business and didn't cut corners with lower cost alternatives. "I was most impressed with KTM in the way that they used traditional aftermarket-like components but also thought outside the box," says our rider Lance Schwartz. "The airbox design comes to mind. It's second to none and includes removable and replaceable flaps that allow more air to enter the airbox while also keeping water out. It's really an ingenious design. It's things like this that got my attention and impressed me before even swinging a leg over the quad."
Seeing that ATV legend Tim Farr has had a real voice in the production of this ATV also excites us. Farr's resume must have floored the Austrian decision makers. 11 ATV Championships, a near lifetime of ATV riding, he's local to the North American headquarters in Amherst, Ohio, comes with an engineering background and worked on an engineering team at powerhouse Timken Bearing Co. It goes without saying, when his contract with American Honda expired KTM snatched him up faster than Mark Baldwin can adjust a chain. In the end, the new XC and soon to come SX quads have Farr's expertise throughout. As for the current XC model, Farr's opinion has directly effected many elements including the brakes, suspension, ergonomics and more.
Here Tim Farr rounds the off camber turn at his hometown track, legendary Pine Lake in Ashtabula, Ohio. Farr has been spending his weekends leading the Extreme Dirt Track Nationals Open Pro-Am class aboard this KTM 450 XC. On the weekdays he has been playing an integral part of the KTM ATV research and development team.
It's important to mention ATV Product Technician John Maley in regards to our overall first impression of KTM's first-ever four wheeler as well.
A first year effort always raises skepticism. Many wont even buy something first year because of this. It's this thought that brings us back to Tim Farr. It was Farr who suggested that KTM hire John Maley to help with research and development in North America.
Farr suggested Maley for many reasons, one being his meticulous attention to detail. John is a former dirt bike racer, who raced under factory privateer backing from Honda. He made the switch to the ATV scene in the late nineties and joined Farr's Pro Quad Stadium program utilizing Leager-framed 250R-based equipment. Over the years he's been an essential part of several ATV programs including Matt Coulter's, Kory Ellis', Shane Hitt's, Honda's Baja 1000 team, Canondale's ATV Race Team, among others. "My experience with KTM has been absolutely outstanding," recalls Maley. "The Austrian engineers have been fantastic to work with. Not knowing the quad market initially, they've been very receptive to input from Tim [Farr], John Hinz [ATV Product Manager] and myself, about making the changes needed to assure that their first-ever ATV can handle the demands that North American riders will put it through. A true sign of their commitment is the fact that the entire Austrian engineering staff has traveled to America numerous times in the effort to make their first ATV the best it can possibly be."
Knowing Farr, Maley and Adam Clark well we're sure they didn't go easy on the new KTM. Plus with KTM's vast cross country racing history, we're assuming that typical first year concerns might not be such an issue.
All the above combined makes our first impression of the new KTM even sweeter.
Engine
Choose your weapon, a 450 or a 525? We liked the 450 for tight woods racing and the 525 for long open fields. Either way KTM delivers an engine made for their high performance ATV. In other words this is not a dirt bike motor fabricated to work in a quad frame. Before we let our rider Lance Schwartz tell you his thoughts on the powerplant, let's take a closer look at what's under the hood.
This is no ordinary engine borrowed from one of their dirt bikes. KTM started fresh and built this engine specifically for the abuse a high performance ATV can dish out.
Actually two versions of the same engine are available, a 450 and a 525. The difference between the 450 and the 525XC is the cylinder. Both include a single
overhead cam four valve liquid cooled engine with an 11:1 compression ratio. The 450 is 448cc with an 89mm bore and a 72mm stroke, while the 525 is actually 510cc with a 95mm bore and a 72mm stroke. As you can see only the bore is different so parts can easily be swapped to fit one another. In fact both engines will fit into the same XC frame with nothing additional needed whatsoever. The well thought out design provides easy access for valve adjustment and inspection, and you can swap out a spark plug without removing anything from the quad. Maintenance on this quad should be extremely easy!
It comes with electric start, which starts in any gear, and uses a five speed tranny with its reverse gear located below first gear.
With no frame braces, beams or gussets in the way, the Chromoly steel frame allows plenty of room for maintenance and quick pit stop access. Not to mention it should be easy to wash. The clutch system is very impressive and expensive. It uses a Magura hydraulic clutch with a stainless steel braided clutch line and comes complete with a quick change clutch cover. The end result is a maintenance-free clutch with automatic adjustment and effortless pull. Hat's off to KTM for this!
Lubricating the powerplant is just as well thought out. An optimized dry sump design offers increased oil capacity for ATV use and utilizes two oil filters, two oil strainers and a magnet all located in an easy access spot. Since there's no external oil tank there's less clutter, less weight and a lower center of gravity. KTM also uses 100% synthetic oil, another sign that they imply nothing but race-winning performance right from the start.
To make sure there would never be a cooling issue even in the muddiest conditions, KTM went the extra mile when they designed their ultra lightweight curved aluminum radiator. Its unique curved shape helps improve air flow for optimum cooling. The curved shape combined with its well designed mud louvers completely guard the radiator fins from loading up with mud from other rider's roost. "After extensive testing in Southern United States we've proved that this design won't allow any overheating issues. It's the best radiator and design I've ever seen," boasts KTM's John Maley. The radiator is fitted with an electric cooling fan and a thermostat helps maintain constant engine temperature. The fan worked so well the grass under the machine blew over when it fired up.
KTM says you wont need to replace the stock exhaust system. Hopefully KTM can start a trend and change many rider's opinion that loud equates to fast.
Here you can see the quick change clutch cover, high-flow header pipe and impressive rear brake pedal. All are high quality products usually associated with high dollar aftermarket purchases. While other manufacturers are eagerly switching to fuel injection, KTM opted to go the old school route and sips fuel via carburetor. While we're not completely sold on their explanation of using proven technology obtained from the eighties and nineties, we are impressed with the actual carburetor they chose for the job and how they attached it to their design. "Besides cutting weight from the machine, KTM wanted to stick to the basics of race proven technology and stay clear of high tech computer systems, electric fuel pumps and relays." says KTM's John Maley about the decision to not use a fuel injected system. The XC quads use a Keihin FCR-MX 39mm flat slide with acceleration pump and TPS. No skimping going on here. This is a high dollar ultra-responsive carb and indeed top of the line.
Speaking of sucking air, a nifty high flow airbox design, as mentioned early by Lance, is used and we must say we're pretty impressed with the ingenuity KTM used here. Air is drawn from the highest point on the machine to help reduce the chance of bringing water and mud into the box. Getting to the air box couldn't be easier as no tools are required to remove the seat or the filter. In addition, the entire air intake system can be left attached when removing the rear fenders.
The new KTM may be the most waterproof carbureted ATV ever. Exhaling air is done with just as much attention to detail as its inhaling procedure. KTM fits the quad with a high-flow performance-tuned header pipe and a trick aluminum silencer with a USFS spark arrestor. What's more is the exhaust emissions meet the California Green Sticker standard and barks at a mere 94 dB. Even though KTM sells an impressive upgrade exhaust system for the XC in their new Hard Equipment catalog, they swear you wont need an aftermarket exhaust system to win races. In fact, they're out to prove that a strong running thumper doesn't necessarily need to be loud and obnoxious to win on the track. "We have proven through endless hours of testing and dyno runs that we can indeed deliver the amount of torque and engine horsepower needed to compete in today's most popular race events with this stock exhaust system. It doesn't need to be loud to work well," explains KTM's John Maley. To continue on this "loud doesn't always mean fast" issue, Tim Farr recently raced the Snowshoe GNCC, where he finished 's 7th in the Pro Am class using KTM's aftermarket exhaust system (more details on this exhaust later), which is also quieter than most exhaust systems found in today's race quads. After the race, fellow competitors labeled his shiny new orange KTM "The KTM Stealth Bomber", after he silently slipped passed riders during the race.
Lastly, most ATV Scene.com staff members are also the personnel and promotional team behind the Maxxis 12 Hours of ATV America event, so we're especially pleased to report that KTM was crafty enough to include a stator worthy of 200 watts, so fitting high powered aftermarket lights to the XC KTM wont be so difficult and costly. Way to think beyond the GNCC box KTM!
"Both the 450 and 525 engines are absolutely phenomenal," says our Lance Schwartz. "The power they make is electric-like with torque from the bottom to the top of the RPM range," He adds, "I actually preferred the 450's tamer engine to the 525 for tight woods racing. The hydraulic clutch is also an excellent compliment to this machine."
Body and Ergonomics

It was the biggest media ride we've ever heard of. KTM had 50 of their new XCs at their first-ever ATV Media Introduction / Dealer Meeting in Rhode Island. In order to endure long cross country race events, rider comfort is critical. With an emphasis on cross country racing, perhaps this is KTM's strong point. The new KTM offers a sporty yet soft seat. Meanwhile, the tank is contoured for optimum rider movement. Adjustable top-of-the-line tapered aluminum Magura handlebars as well as Magura levers are used. High quality one-bolt hinged-mounts, like the ones used on their bikes, are a dead giveaway tha
t KTM is serious about offering their finest material and products to their new quad riders.
A heavy duty large diameter (1.375 inch) aluminum steering stem is used with four position handlebar clamp adjustability means you'll be able to perfectly set up all the controls to your exact specs. The stem is designed with an optional steering stabilizer in mind. This (possibly nerf bars and Tire Balls) may be about the only thing you might consider buying after you get your new KTM home. If you're wanting to stay on par with KTM's quality components, we're assuming KTM's Steering Damper, made by Öhlins, will do the trick, we also highly suggest a Precision Racing Products stabilizer. The Precision unit is quad championship proven and simply the best money can buy.
Sure footing is important in cross country racing, so KTM provides their new quad riders with two extra wide serrated foot pegs with angled outside edges, just like the expensive aftermarket units used by serious racers. The pegs are pre-drilled for bolt on nerf bars. Now that's thinking ahead! In accordance to code, heel guards are used. They feature large areas to allow mud to release. They're also designed to flex slightly to prevent breakage.
KTM's distinctive orange plastic is high quality and obviously designed to allow the rider to move throughout the machine. The plastic is somewhat easy to remove for chassis and engine service, but not quite as easy as the old Honda 250R design. "We feel that we have enough mounting points to adequately secure all body parts yet offer quick and easy accessibility since all the bolts use the same 8mm size. I can get the rear plastic off in less than a minute," explains John Maley. Up front KTM's front hood is removed with just one 8mm bolt. When removed you can easily access components like the programmable CDI, the electrical system, the fuse panel, the headlight bulb and access the wiring harness organizer.
An oversized 3.5 gallon fuel tank is used and offers a quick release ¼ turn fuel cap for fast mid-race fueling. As you can see, this quad is made specifically for race savvy riders as well as their team counterparts waiting for them at the pits. KTM will score major points from endurance quad riders all over the world with this one. Once again, thanks KTM for going the extra mile.
Since KTM promotes their first ATV as "ready to race", a wired from the factory kill switch comes stock. Did you ever think you would see the day?
Lastly worth mention is the ease of reverse. A one finger lever near the clutch is used to engage the engine into reverse. Just pull it and click the shifter down to find reverse. The rev limiter does kick in while in reverse but allows for more revs per minute than any ATV we've tested. This means you'll have the power you need to get unstuck and quickly on your way.
Suspension and Handling
We'll start this subject off with the frame. Like their choice of a traditional carburetor vs. fuel injection, KTM ignored the opportunity to build an aluminum frame and opted for a traditional lightweight Chromoly steel design, which weighs in at only 32 pounds. The frame is not only built with top of the line material, but it's built in a never-been-done-before octagonal shape, which KTM tells us increases durability. "Not only does the frame shape and Chromoly material offer a stronger more durable frame, it also provides additional space due to the use of smaller diameter tubing and less need for gussets, braces and beams," says KTM's John Maley. He adds, "This allows the owner to easily remove and install the engine if needed in no time at all."
Their chassis design places the engine low for a low center of gravity and an optimal swingarm pivot position. An aluminum subframe is used to cut weight. A removable rear grab bar incorporates a flag holder and reminds us that this quad might tear up the dunes just as easily as it races cross country events.
It looks as though they've really done their homework doesn't it? The stock KTM frame looks more like something you might see from Laeger's or Walsh Racecraft – nothing cheap, no cutting corners and designed specifically for racing, quick pit stops and ease of maintenance. Even with all the Chromoly steel components, KTM happily reports that their quad weighs in at 357lbs wet.
Here's a small detail that we find interesting. Check out the cutout that allows you to grease the tapered bearing inside the axle carrier without taking anything apart. KTM tells us that they paid a lot of attention to detail here. So much so that if you overflow the grease it's designed to exit out the sprocket side as to not contaminate your rear brake rotor.Up front the KTM's A-arms are also made of Chromoly steel. Its A-arm width is designed for cross country racing, but if motocross or TT is more your style and you don't want to wait a whole year for the KTM 450SX a Motocross / TT A-arm kit, which includes tie rods is available in their Hard Equipment catalog. This kit will widen the front of your new KTM to 50″. If you're a cross country racer however, don't change anything on the front end! In fact, we're pretty sure you won't need to change anything and still be extremely competitive in any class. Like pro level A-arms should, both the stock XC lower arms, and the wider ones available in the Hard Equipment catalog, use a swept design for increased ground clearance. The upper arms are fitted with adjustable and replaceable Heim joint bearings. Lower needle bearings and upper / lower ball joints are also replaceable. The end result gives the new KTM owner extreme durability, ease of maintenance and provides him with adjustable camber and caster. Pardon the interruption, we're applauding KTM here. Fine job gentlemen!
While still at the front of the machine, let's talk a bit about the front shocks. Get this, premium Öhlins shocks are used and KTM promises us that expensive aftermarket shocks are not necessary – even in the Pro ranks! "Tim Farr has told me these shocks are as good as anything he's ever used," says KTM's John Maley. The Öhlins fronts feature a lightweight aluminum body and "piggyback" reservoirs. They're fully adjustable with preload, compression and rebound adjustment. They use triple rate springs with adjustable crossovers and offer 10.1" of travel. In the end, you get a high quality, race ready, completely adjustable front end.
"Where the KTM excels compared to other quads on the market, is the fact that they come stock with fully adjustable Öhlins shocks and the ability to adjust both caster and camber on the front end," explains our test guinea pig Lance Schwartz. "On any other cross country quad, that detail requires you to seek the aftermarket industry for a su
itable replacement."
Out back the KTM's Chromoly steel swing arm with eccentric chain adjuster is the first thing you'll notice. A variable width (45.5″ – 48.5") Chromoly rear axle slides through a high quality carrier that utilizes tapered roller bearings and offers a cutout area with an exposed zerk fitting. KTM even installed a single lipped grease seal on the sprocket side to assure that over greasing will not cause the seals to be pushed out of the carrier or leave contamination on the brake rotor. A self locking rear axle nut that needs no cotter pin is used for quick tire changes.
As for the rear shock, once again, KTM splurged and proudly offers its riders an Öhlins (PDS) "Progressive Damping System". The system uses a single shock with preload, rebound and compression adjustment. Its a dual piston no linkage design for reduced weight, maximum ground clearance and easy maintenance. Suspension travel ends up being 10.4", and ground clearance measures in at just shy of 11.5 inches.
"Although I didn't get much time to tinker with the suspension settings, (since I was busy playing photo monkey for QUAD Magazine's John Howell), there is no doubt in my mind, [with all the adjustment opportunity], we could get this thing dialed in to really thrash in the woods," reports test rider Lance Schwartz.
We asked KTM's John Maley if he thinks the new XC KTM will be attractive to non cross country racers. He answered, "I think it will. We believe that our suspension, chassis, frame design and engine are more than capable of racing many different ATV racing disciplines. For instance Tim Farr recently won the Dixieland Speedway EDT [Extreme Dirt Track] National in Elizabeth City, NC and leads the Open Pro-Am points in that series. He's pretty much doing this with a stock KTM 450 XC. Since the KTMs have not been in production this season, under ATVA rules, we're allowed to compete in the Open Pro Am class, but not the 450 Pro class . If we were allowed in the 450 class, I feel we would be right there battling for the championship as well. So I wouldn't say it's strictly a cross country racer at all."
Tires, Wheel and Brakes
KTM decided their new XC quads should come stock with the best tires and wheels available so they opted to mount Maxxis Razr's on black anodized DWT wheels both front and rear. Does it get any better than this? We don't think so. Also seen here, or should we say not seen here are cotter pins. KTM uses special nylon locking nuts and says you don't need the cotter pin. That should make tire changes fast, but we're still a little skeptical. "Go to any GNCC and you'll see Maxxis Razr's on the majority of the cross country machines," explains Lance Schwartz. The stock Maxxis Razrs come with an aggressive cross country tread design. The rubber is four ply and ready for as much extreme terrain as you can find. Up front a 21x7x10" is used, while a 20x11x9" is found in the rear.
KTM took top of the line one step further and wrapped the Maxxis tires around black powder coated lightweight Douglas wheels with rolled edges. The black tires mounted on black wheels with the orange Razr logo that matches the orange plastic looks absolutely killer! Bolt patterns are 4/110 rear and 4/156 in the front. In other words Yamaha rims will work up front while Honda rims will fit the rear.
Stopping the KTM is just as impressive as getting it rolling. No skimping to be found in this department either. The KTM uses high-dollar extremely powerful Magura Brake Systems all around. In the front, four piston fixed calipers are used on each wheel with 12mm vented discs that float on their mounts. The rider can control the front brakes effortlessly with one finger via the Magura adjustable lever that has an integrated break point and lightweight parking brake built in. In the rear stopping is handled equally as well with a single piston floating caliper that allows a large 200 mm brake disc. A master cylinder with integrated reservoir and stainless steel braided brake lines are used for ultimate performance. KTM engineered the rear brake system so a pit crew could easily remove the entire brake system and swap out a new one in mere minutes. Magura designed this brake system exclusively for the new KTM. Lance Schwartz reports, "The four piston Magura front discs are as strong as any I've ever used. Even after relentlessly abusing them, they never seemed to fade. The rear Magura brakes worked really well also and my tendency to sometimes overheat the rear brake never came into question. The brakes are top of the line."
Maintenance
"It's obvious that a lot of thought was put into this machine. The star fasteners with welded to the frame nuts come to mind," says Lance. "It looks like just about every bolt on the whole quad can be loosened or tightened with pretty much the same tool." Schwartz adds, "I could go on and on about maintenance on this baby. The Twin Air air filter that comes on this machine as standard equipment is an industry first. The only thing better than seeing that big beefy Twin Air unit tucked nicely under the seat was how easy it is to swap it out for a fresh one with no tools in a matter of seconds. Very impressive."
It's easy to see by now that KTM has built their new quad to perform well for the rider, but also with major emphasis on the the rider's pit crew in mind. From the ease of tire swapping, brakes and complete front assemblies to adjusting the valves, installing a new spark plug, swapping oil and air filters to quick clutch access and more, KTM has definitely done their homework and designed a well thought out race ready machine that should certainly make KTM pit crew members happy campers for several race seasons to come.
KTM Hard Equipment
KTM's Hard Equipment catalog encompasses their Powerwear and Powerparts accessories and apparel. They seemed very passionate when describing what's available in this catalog. They tell us all the products available are race tested and completely compatible for the exact KTM model they're made for. As you can see, KTM is serious about this division of their brand.
We got the chance to leaf through their 2007 Spring Hard Equipment catalog and we're here to tell you we've never seen an OEM with more to offer. You can order just about anything with the KTM logo on it; from special tools, stands, covers to games, toys, school book covers, to mouse pads, clocks, jackets, gear bags, and much more.
As for Hard Equipment Powerparts specific to their new ATV lineup, as mentioned earlier, KTM offers nerf bars, both with or without heel guards, and MX / TT A-arms kits, which include tie rods. These are available immediately. They're also offering an Akrapovic (pronounced "Ack-rap'-o-vich") exhaust system available immediately as well. German-made Akrapovic has been making high performance racing exhaust systems since 1990. Their top of the line exhaust systems are especially hot in the Superbike scene. In fact, every single Japanese team in the '99 Superbike World Championship ran Akrapovic exhaust systems. Fast forward to present time and Akrapovic enters the ATV scene impressively by delivering KTM with a very lightweight high-flow performance-tuned titanium exhaust system that isn't too loud.
There aren't too many things on the new KTM ATV that require a special tool, but there are a few available, and we know there are plenty of hardcore ATV racers out there that will want to make their maintenance jobs and pit stops as easy and fast as possible. For them the following special tools are available from KTM; an upright ball joint separator, a chain adjustment spanner, a shock adjustment spanner, a ball joint installation tool, among others.
 Conclusion
We are extremely impressed with KTM's first-born-quad. We're told the price of the KTM will be sub $9k. Adding up all that you get and all that you don't have to buy, and frankly we think the price point is an absolute bargain! If you price out your favorite 450 sport quad, add a Chromoly frame, swingarm, A-arms, axle, bolt on a hydraulic clutch, add Maxxis tires and Douglas Wheels, swap out the steering stem and pegs, modify the airbox, add a high flow air filter, add a tether cord then fork over another $3k for a set of Öhlins shocks, — it doesn't take a genius to figure out this KTM is an absolute steal! Not to mention, all of these aftermarket-like components are covered by the factory warranty and you don't have to devote countless hours of your free time bolting this stuff to your quad in your garage.
As for those of you who are skeptical about buying a first year product from anyone, we can't blame your concern. However with KTM's long cross country racing history, hundreds of hours of durability testing in Europe and North America, combined with the use of many components similar to those in the proven ATV aftermarket industry — we're predicting that this quad should indeed offer years of fun-filled problem-free ATVing and possibly win several championships along the way.
We think you'll agree, the quad racing scene just got very interesting with the inclusion of KTM's first-ever ATV.
more at ktm-atv.com
Comments
comments