2016 Suzuki KingQuad Review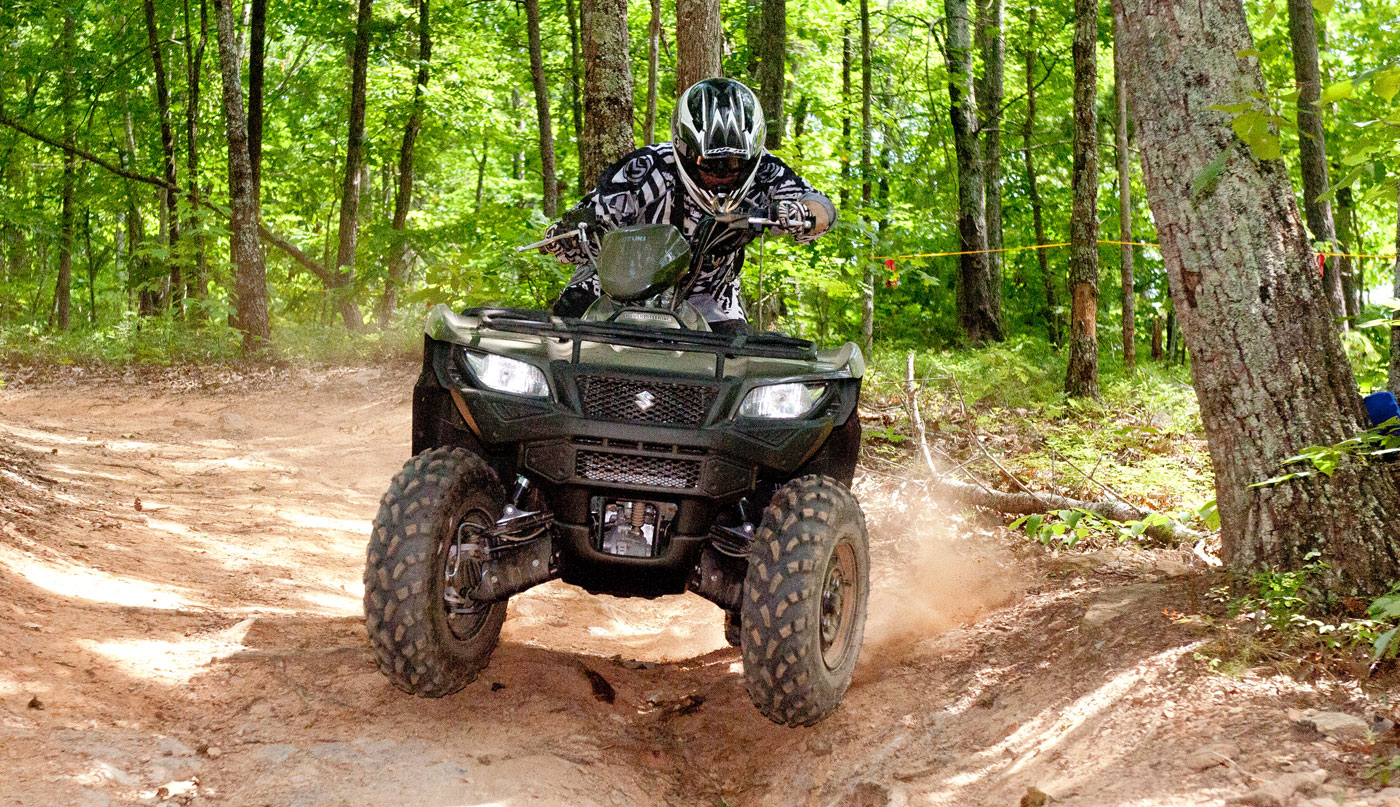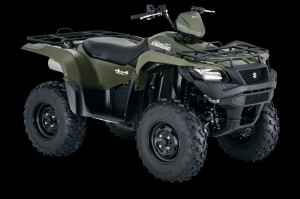 The 2016 KingQuad 750 AXi
Three decades later and several revision and we've arrived to the latest version of Suzuki's crown jewel, the KingQuad 750 AXi. None of the three available 2016 KingQuads (400, 500 and 750) received major updates, but I'm somewhat appreciative that they didn't mess up a good thing. As I said I've always loved this machine and I'm happy to report, with its 722cc fuel-injected engine, independent rear suspension, locking front differential and lowest seat height in class, the new 2016 machine handles and performs just as well as last year's. Speaking of last year's model, if you're into making the KingQuad even better than stock, I highly recommend reading our Project King Kong by Lance Schwartz, the machine that won the last 12 Hours of ATV America.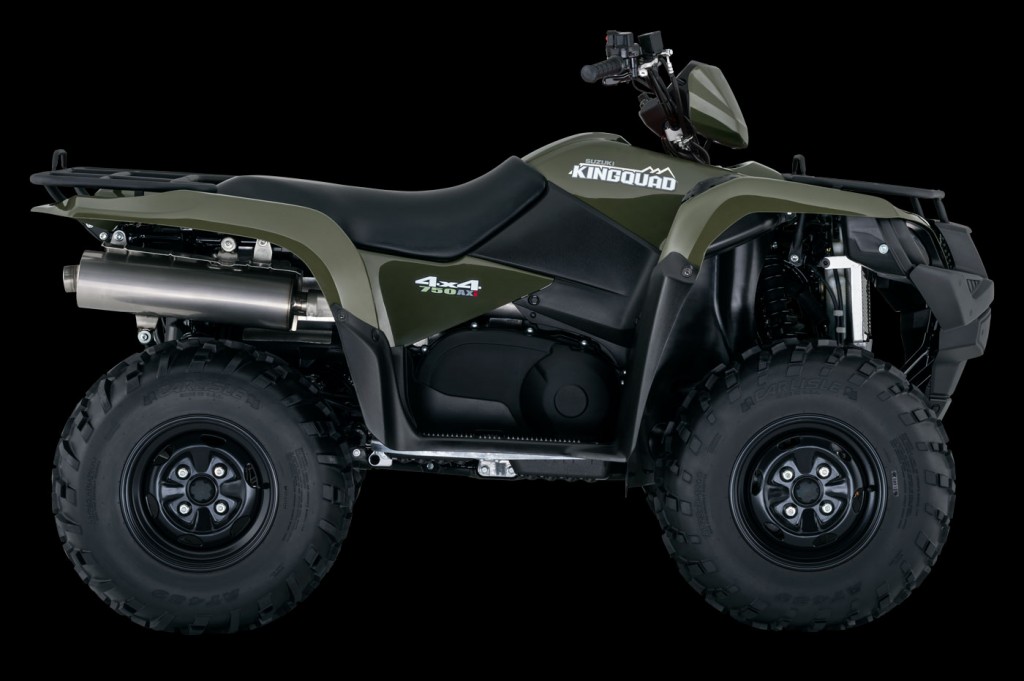 Topping what's new for this year is what has been removed — the handlebar mounted headlight. After talking with Rod as to why, I'm impressed with the effort Suzuki is putting forth in the name of making the KingQuad as affordable as possible in these tough economical times. Rod told me that they wanted to knock $300 off the price tag and make this year's KingQuad 750 AXi Power Steering model the lowest priced ATV in its class. After some market research and a few focus groups it was decided that since two front grill-mounted headlights remained the handlebar mounted light could be sacrificed. Speaking of the grill, the front bumper/grill and speedometer cover are new for 2016. As are the made in America Carlisle tires, which replace the Dunlops of past. Also an updated side cover that eases access to the oil-level check is new for 2016.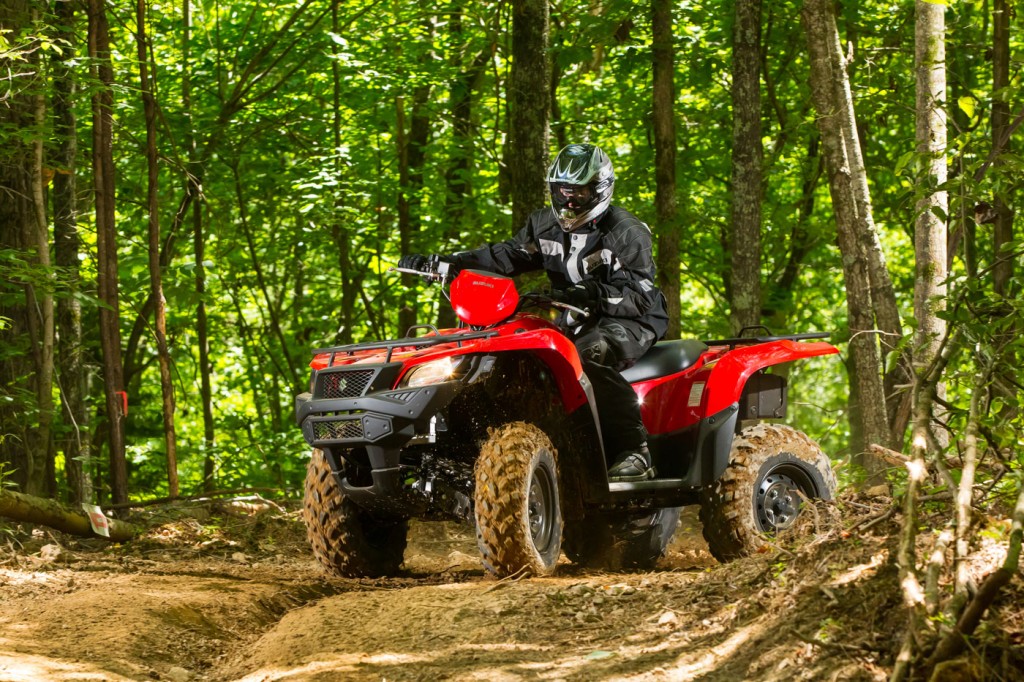 Available in standard and Power Steering models, the KingQuad 750AXi comes in Red, Black, and True Timber XD3 Camouflage finish. A Special Edition model for 2016 features Matte Black body work along with Power Steering and the rest of the KingQuad's top-grade features.
Warning for Non Power Steering Buyers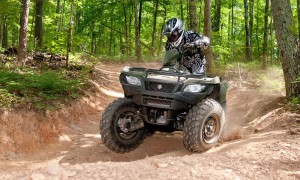 As well mannered as the KingQuad is, past models including this new 2016 version, can badly misbehave if ridden hard. I'm talking about a pesky bump steer problem that we refer to as "Turn-In" issue. Unexpectedly, especially while charging down hill, the bars can go from straight to a full lock left or right turn in milliseconds and this can yank the bars from your arms which usually leads to an over-the-bars crash. I know this issue first hand. This "KingQuad Turn-In Issue" sent me over the bars and head first into a tree at speed. Thank God I only broke my nose. This problem is the result of a trade-off. In an effort to make the non-power steering version of the KingQuad steer as easy as possible it has nearly no caster angle, 1.6 to be exact, while most ATVs have four or more degrees of positive castor. If your considering a new 2016 KingQuad or perhaps a used model built after 2009, you can spend the extra money and get the power steering version, which provides 3.3 degrees of caster and eliminates this potential problem altogether, not to mention greatly diminishes rider fatigue by reducing steering effort.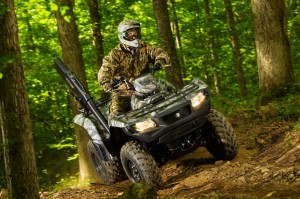 If you're still wanting a non power steering model and would like a fix to this problem read on… Like I said, this near-zero caster angle allows easier steering but this comes at a price if you ride aggressive at high speed. This solution is great for the majority of people purchasing the KingQuad to tool around the trails or do chores around the property, but not-so-good for the aggressive trail rider or Utility-class racer. The easy-to-steer trade-off is a twitchy feel at high-speed and this is amplified when the front tires hit obstacles at speed. This issue is even worse if you install larger tires or a wider offset stance.
If you opt for the non power steering model and you are an extreme rider and plan to try to keep up with your sport quad friends or perhaps race the KingQuad you will want to install a set of aftermarket A-arms that allow four to five degrees of castor to the front end. Steering wont feel as easy but not having to worry about crashing because the machine unexpectedly decided to yank the bars out of your hands is well worth the trade off in my opinion. A steering stabilizer can somewhat mask the problem as it can dull the abrupt shock from the wheels, this just might keep the bars in your hands so you can correct the wheels and not end up flying through the air like Superman. If you can afford both, this combination would be ideal in helping to make the KingQuad more predictable at high speeds.
In the video below, Doug Meyer of ATVTV.com explained the KingQuad Turn-In issue quite perfectly. If you're an aggressive rider that plans to push the KingQuad to its limits I highly advise watching this video and making the suggested changes.
Comments
comments