Coal Creek OHV in Oliver Springs, TN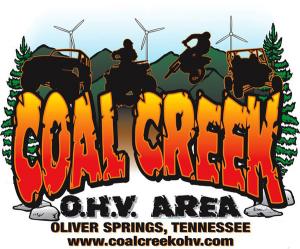 By Casey Warren
If you like riding four-wheelers or any other off road vehicle, consider a trip to Coal Creek in eastern Tennessee.
I kept hearing so much fuss about this place located in Tennessee's eastern mountains and in the middle of nowhere; how peaceful and serene it is, how there are so many trails to ride and so many sites to see that it would take days to cover all the ground and see all the spectacular views.
As one who enjoys the outdoors and an entertaining four-wheeler ride, I finally decided to take off on a journey with a few friends to see what all the fuss was about.
We loaded the ATVs, plenty of clothes and some food to grill on the campfire and off we went to Coal Creek in Oliver Springs, Tennessee for a full weekend of four-wheeling.
Holding the 800-pound ATV, our truck pulled the trailer around some of the windiest roads, up the steepest hills and through some of the smallest towns I have ever seen. Finally, we arrived at the big red barn, yes barn, which would be our shelter for the weekend.
Beautifully situated on a pond across from a campground of motor homes, our weekend getaway was what seemed to be an old horse stable that had been converted into several accommodating rooms, some with bunks and lofts. Ours was a comfy three-bedroom unit equipped with television and a full kitchen. I could get used to this kind of camping, I thought to myself. Once we unloaded our belongings and riding machines, I was ready to hit the trails of mysterious Coal Creek to see what it had to offer.
Fresh Air and Freedom
Thousands of people come to this little town every year to enjoy the fresh air and freedom of trail riding on this enormous mountain. This 72,000-acre hot spot may be tucked away in the hills, but you can visit seven days a week, 365 days a year. The trails never close and the mountains never sleep.
After several hours of riding, which of course included stops to take in the breath-taking mountainside views and capture a few snapshots, we reached our destination. As I stepped off the four-wheeler the tall grass swept across my feet. The sun was beginning to set behind me as I peered down at the tiny city below. I was standing on top of a mountain surrounded by nothing but silence, floating clouds, and the smell of fresh, country air.
Reveling in this moment, the sun was too quickly meeting the hills so we said goodbye to the twinkling city lights below and started back to camp. With a couple of hours to travel ahead of us, we were lucky enough to enjoy a night ride. You'll be amazed at how many people are still riding trails long after dark.
The Coal Creek Off Highway Vehicle (OHV) area is owned and managed by Coal Creek Ventures. You'll find various types of terrain and more than 170 miles of trails to enjoy. The trailhead will accommodate your large group and RV parking and also offers primitive camping and several choices of trails. At the trailhead you'll find The Snack Shack which, along with its convenient hours of operation, has the juiciest cheeseburgers and plenty of Coal Creek memorabilia to choose from.
Along with endless out-of-this-world scenery, there are trails for all types of vehicles and adrenaline levels. The ATV trails range from small gravel and dirt roads to intense mountainous terrain. Trails are marked "easy," "moderate" and "hard." Most are "moderate" and include lots of mud and rocks and small hill climbs.
The "difficult" trails include rougher hill climbs, larger rocks, and even more mud. Unless you're an experienced rider, you may want to steer clear from attempting the difficult trails.
ATVs, Jeeps, dirt bikes, trucks, bicycles, and any other off road vehicle you can think of, are all welcome with a Land Use Permit that can be purchased at The Snack Shack.
The next morning we were off to see the windmills. You'll be amazed at the sight of 392-foot windmills. The soothing roar of their gust is like no other. The Tennessee Valley Authority's windmill farm sits on 210 acres and is home to 18 of these mammoth windmills. It's a sight you won't soon forget.
A Bit of History
After the Civil War, prisons in the South were overcrowded. Southern states enacted the "convict lease system" which turned prisoners from problems into assets by hiring them out to work in mines and on plantations and railroads. The only three ways one could escape the convict labor system were self-mutilation, escape or death. By the 1880s, business owners and politicians were using convict laborers to replace striking
mine workers in order to abolish labor instability.
Free miners from Coal Creek found a way out by going to war with the State of Tennessee in 1891 – 1892. Tennessee put an end to the state's convict lease system and the rest of the South soon followed with similar actions.
Mine disasters in 1902 and 1911 took the lives of many who survived the Coal Creek War. Close to 300 men and boys were killed at Coal Creek.
These disasters helped increase public awareness and knowledge of the dangers of mining. Safety reforms, brought about in response to the disasters, have helped save thousands of lives in mines throughout the country.
Enjoy it All
After a long day of big hills and big hollars, the convenient campgrounds and nearby hotels will provide a comfortable evening. You also can enjoy Coal Creek's fall and spring jamboree events which include night rides with bonfires, the Windrock Mudsling, rock crawling, drag racing, and scavenger hunts for the kids.
Whether you ride for adventure or leisure, this is definitely the spot for an off-road rider. Anytime you're looking for some off-road fun join the hundreds of off-roaders who have found their way to Coal Creek and get ready to ride. The Creek's Southern hospitality awaits you.
Directions:
Traveling I-40 east from Nashville
Take Harriman/Rockwood Exit and turn right on Highway 27/61. Follow Hwy. 61 to the first traffic light in Oliver Springs. Go 200 yards, turn left onto Windrock Road and travel .8 miles to Windrock Park Lane on the right.
Comments
comments