Who Invented the 3-Wheeled ATV?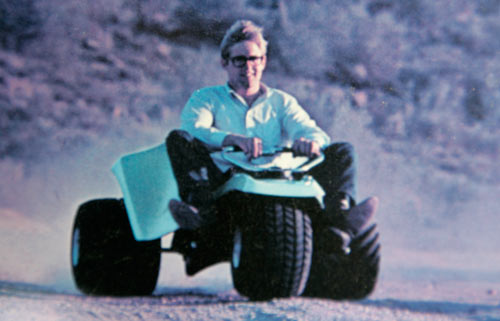 6×6 amphibious ATVs and 3-wheeled ATVs are the ancestors of the 4-wheeled and Side by Side ATVs that we enjoy today. While at the Pine Lake 6×6 40th Reunion in Ashtabula, Ohio I met many people that had a direct hand in the creation of our sport, one person in particular is John Plessinger who in fact invented the first three wheeled ATV called the Tricart.
The mission of John's 1967 college project was to create a motorized tricycle capable of traversing all terrain. His "Project Tricart" was a success, not only did he get an A on his school project but his Tricart ended up being a big part of his life.
Okay John fill me in on the early years.
Well Tricart was a graduate project I did while going to school at Cranbrook Academy of Arts and Science in Bloomfield Hills, MI. It started as a one semester project but ended up being a two semester project. After I graduated we ended up selling the patents and design rights to a company called Sperry Rand, which is now known as Unisys, a division of New Holland.
They were more known for building farm equipment weren't they John?
Yes they set up a Special Products Division of New Holland and opened up a plant near me in Lebanon, Ohio and that's were we started making the Tricart in 1968. I was under contract with them for three years.
So the first manufactured three wheeler was built in my home state of Ohio, I like that! Further proof of my theory that Ohio is indeed the heart of ATV racing.
Yes, (Laughing) I guess you could say that. They came in and looked at my hometown and discovered it was a good industrial area. I-70 and I-75 offered good trucking ability, and nearby Dayton was second in the auto industry for tooling so anything we needed tooled would be nearby. So they built a 60,000 square foot plant with overhead conveyers and everything you could ever want.
Did you shop it around before selling to them?
Yeah I went around to the farm machine companies, Harley Davidson, AMF and some others, but Sperry Rand was the most interested and the best fit for me.
It sounds like you were a great fit for them. Was it love at first site for them?
Yeah, I guess you could say that. One of the key things Sperry Rand liked is the book I created that listed all the mistakes I made along the way. We had already hand built about ten different prototypes so a lot of the work was already done before we even sat down and talked about a purchase. They said they were essentially buying a lot of my mistakes. Since it typically takes two years to get a product to market they looked at it as a two year advantage over anyone else.
I can imagine how excited they must have been when you look at the big picture. At the time snowmobiles were selling well but they were seasonable and you couldn't really ride a dirt bike in the snow.
Absolutely snowmobiles were a gigantic business in the late 60's. They were selling over a million per year. The Tricart offered year round riding fun, it was the first year-round ride-able vehicle capable of traversing all terrains. So yes they were very excited about bringing the product to market, and wanted to do it as fast as possible.
So how many did you guys make.
We made 50-60 units per day. It was going great. It was one of the highest volume ATVs ever made. We ended up making five models under the Tricart name, including the Tricub (a smaller 5HP unit for kids), and the Two Track machine, which was a 6-wheeled and 4-wheeled amphibious machine.
I take it they employed you after the purchase?
Yes I signed a three year contract with them after I sold the three-year rights to them. I was involved in a lot of things. I did a lot of promotional work, worked with the media and raced the machine for them. Plus a lot was already done before they purchased it from me. I had already got the license for the name, designed the logo, did all my own photographs, printed the photographs did all the patenting, created a ten minute movie on the product – all this was already done as part of the project in school.
It looks like you got the best of both worlds. You got to cash in on the sale of your baby and still play with it.
Absolutely, they flew me and all over the country and flew in machines for me to ride too. I was on television shows, magazine covers – you name it. It was great. How many can say they got to go play after college?
Let's talk a little on the design of the machine. It looks like the foot peg location could help you steer. And with your design I would imagine it was less tempting to put a foot down. I know that was a big problem with anyone taking a ride on the three wheelers I grew up with. Everyone seemed to want to put a foot down and ended up running over their leg.
Yes you're right, you actually steered with both your hands and feet. And my design was way more stable due to the Tricart's lower center of gravity. Also the frame and body combined weighed only 35 pounds. You could even pick it up and put it in the trunk of a car. It was also the only three wheeler that was a two-seater. As for riding the Tricart, it was a blast. They were very stable and predictable. You flat-tracked the rear end around. It was nothing to pitch it sideways at 60mph.
How does the frame and body work weigh only 35 pounds?
My background was also in fiberglass and composites. The body on the Tricart was a one piece monocoque structured composite piece of fiberglass. The body and the chassis was all one piece and the gas tank was built into it as well. It was like an Indy car is now days. They make all the chassis and everything out of carbon fiber. Mine in '67 wasn't carbon fiber though, it was fiberglass.
Do you think you and your Tricart had anything to do with Honda's first ATV?
Oh yeah, I do. They wanted to try to use as many of their motorcycle components as they could. That's why they sort of stuck the thing together as quick as they could. It sat up in the air and wanted to tip over all the time.
You mentioned that Sperry Rand sent you to race the Tricart. Was racing the machine in your contract? If so I guess I've been mistaken all these years, you may be the first factory-backed ATV racer of all time.
I guess you can say I was, and I was the only racer Sperry Rand ever had as well.
What was ATV racing like back in the late 60's?
At first we just raced with other Tricarts because that's all there was at the time. Later Allied Pacific Engineering made the DuneCycle three wheeler. It was similar to the Tricart but it was a little smaller and they used a smaller McCullah engine, but it was still pretty quick and competitive. We had a big advantage against individual owners and dealers so they set up a Factory Class for factory sponsored teams. I guess you could say this was the first professional ATV class.
Okay so it was only a matter of time until Honda's ATC 90s started lining up next to Tricarts and DuneCycles. How did that go over?
It went over fine by me. We smoked the Hondas. We lapped them all the time so Honda went and threw some weight around and got their own class so they didn't have to race against us.
What are some of your early memories at Pine Lake?
We came here in '70, '71, '72. We would bring two semi truck and trailers. We had about 20 machines with us each year. Sperry Rand was pretty serious about racing. Pine Lake was always a great time. I remember the big parade they used to have through downtown Ashtabula, we must have had a hundred Tricarts in the parade. ABC's Wide World of Sports was there one year. The Good Year Blimp was there, it was a big deal for sure.
How did it end? I take it Honda out marketed you guys?
We were cranking units out then all the sudden within one or two months it was all done. There was a political problem, someone wanted to get to cooperate and soon after the whole thing was gone. Essentially I never sold them the patents, I leased them the patents. So when they wanted to get rid of it they had to buy me out again. So with that money I started my own company.
What was that?
It was called Design Evolution 4. It was a design / engineering firm specializing in advanced composites. We did one of McDonald Douglas's first stealth missiles. They came and designed and manufactured it with us it at my plant. I used to get a kick out of those guys. We had 10-15 of the top weapon engineers from around the country here, but all they wanted to talk about was the Tricart I had sitting in the corner.
Are you still working in business?
No my wife and I ran it for about 30 years, we retired four years ago.
It was awesome to get to meet you and thanks for the very interesting interview. Last question, any regrets?
None. It was great to be able to start with a cooperation and be at the top the first day you sign with them. And how many kids get a chance to come out of school and play like I did? I got to travel all over the country, I rode in the sand dunes and mountains. I was on television shows and magazine covers, I was paid well, I won a lot of races. It was fantastic.
 Tricart 50 Series Specification
Engine
Manufacturer: Rockwell JLO
Cylinder: One
Cycle: Two
Horsepower: 11
Transmission
Type: Automatic Torque Converter
Primary Drive: Heavy-duty V-belt
Secondary Drive: #35 British Standard Roller Chain
Body: Monocoque, Fiberglass
Fuel
Type: Gas/Oil Mix 20 to 1
Tank Capacity: 3.5 Gallons
Performance
Maximum Speed: 45 mph
Climbing Ability: 45 degrees
Sidehill Stability: 30 degrees
Fuel Consumption: 3 Hours / Gallon
Turning Radius: 4 Feet Minimum
Dimensions
Length: 62.5″
Width: 52.5″
Height: 31.25″
Wheel Base: 45.75″
Dry Weight: 225 lbs.
Tires:
Front: 16 x 11.5 (2 ply tubeless)
Rear: 16 x14.5 (2 ply tubeless)
Optional Equipment
Light Kit, includes head and tail lights
Gun Rack, holds two guns
Saddlebags, with side pockets, pouch and mountain straps
Spark Arrestor, forestry approved.
*The Tricart is not designed for use on public roads.
Comments
comments