Quad Riding on the Road 101
The rivalry between three and four-wheeled riders and two-wheeled riders is a lot like the divide between snowboarders and skiers, in that while both sports use the same terrain for a similar purposes, enthusiasts of each may not always see eye-to-eye. Back in the day, many motorcyclists refused to associate with ATV enthusiasts, but over the years ATVs have become just as popular as their two-wheeled counterparts thanks to their impressive abilities and relative ease of use.
Now days it's more common to see ATVs out on the trails than dirt bikes. As for public roads, we would highly recommend you buy a motorcycle if you want to feel the open air as you ride to and from work or to the park. However there are some diehards out there that ignore the Off Road Use Only warnings from the manufacturer and modify their ATVs so they're street legal. With the interest in street riding, we figured we would voice our opinion on the subject.
A Brief ATV History Lesson
Before we dive into what we think about converting an ATV or Side by Side for street use, a little history of the ATV is in order.
The ATV turns 50 next year in 2019. In case you didn't know, 50 years ago ATVs sure weren't referred to as "quads" or "quad bikes" like they often are today. In the early days of our sport ATVs came with either six or three wheels, never four.
Believe it or not, before Honda even thought of making an All-Terrain-Vehicle there was over one hundred different 6-wheeled ATV manufacturers like Attex, Scrambler, Rupp, All Sport, Argo, Gotcha just to name a few. More on the 6-wheeler movement here

In the late 60s Sperry-Rand launched 3-wheelers into the public eye, with a nifty little vehicle called the Tricart. Learn how the Tricart came about in our feature with the inventor John Plessinger
Tricart didn't last very long, it was overtaken with the arrival of the first Honda branded 3-wheeler in 1969. Honda was tired of lacklustre sales in the winter and wanted a product that could be ridden in any terrain regardless of the weather. Since it was specific to the United States market it was called the US90, and later became the ATC 90 when Honda purchased the rights to the All-Terrain-Cycle nomenclature.
Honda did well in marketing their new creation, it was even featured in movies and television shows like the James Bond movie Diamonds Are Forever, The Banana Splits television program and later on shows like Magnum P.I. Honda's All-Terrain Cycle became increasingly popular – they sold all they could make and dealers begged for more. The ATC was designed solely for recreational use, they had balloon-style tyres – no suspension – and came in 70cc and 90cc models before later boosting the power with a 110cc version. Originally they were made just for fun, it didn't take long before Honda's ATVs were adopted for farm use and hunting due to their easy off-roading capabilities.
Fun rec riding and utility use aside, hard core riders started modifying the little three wheelers and demonstrating that they were good for one additional use – ATV racing!
Three-wheeled ATV racing took off in the eighties, and the manufacturers (especially Honda and Kawasaki) supported it to the fullest.  In 1987 the US government banned three-wheeled ATVs, but thanks to Suzuki's QuadRunner 125 effort in 1983 riders were able to switch to easier-to-ride four-wheeled ATVs. More on the first quad ever made at this link, Suzuki's QuadRunner 125.
The four-wheeled ATV segment took off with utility quads leading the way in unit sales. It's no wonder, besides being useful for chores a utility quad does double-duty since these machines are quite capable, they can conquer rough trails, mud, rocks and whatever terrain waits ahead. What's more, utility models are generally automatic, which is part of the reason they're so suited to beginners.
It's this kind of 4×4 go-anywhere fun that spawned the sport-utility hybrid segment. These ATVs are still capable of work-duties but since they're quicker than a traditional utility quad and have more suspension they have become a hit for die hard trail adventure riders.
Road Riding
From amphibious 6-wheelers to modern day sport and utility quads, the all-terrain vehicle has come a long way in the last 50 years. We hope the brief history and purpose of today's ATV has you excited about using yours for off-road use. Though most of us understand that ATVs are not designed to ride on paved surfaces, there are some that feel this is indeed a legit fourth use of the machine.
We highly advise that you choose another vehicle for road use but if you insist on making your ATV street-legal (by installing street tires, front and rear turn signals, brake lights, a speedometer and a horn) we can look to the UK as an example of how it can safely and legally be done. In the UK, and some other places throughout the world, riders can take their vehicles on public roads provided they have the proper licence, the machine is registered, street legal and they have the appropriate quad bike insurance.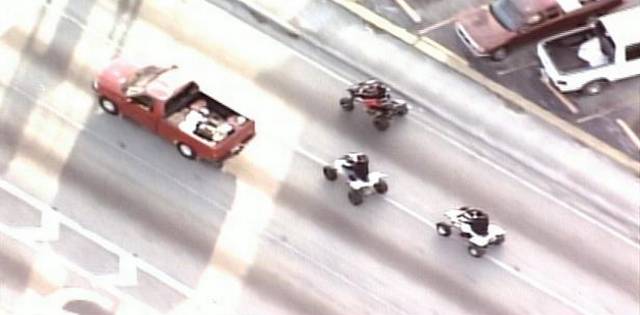 In the US laws on road riding vary from state-to-state, with some areas much more flexible than others, this is also mimicked in Australia where some regions have banned ATV use on public roads completely while others simply require them to be registered.
While we are all for using the road to get to a trail system, we hope that the latest trend of using our public roads as an ATV playground ends. Inner city ATV road riding is not how you have fun on your new ATV, instead use it how it was originally designed and we will all be better off.
While it may not be legal (or safe) to drive your quad on the road, you can always ship your ATV with a service like https://www.a1autotransport.com/atvs/. This way, you know you aren't putting you or anyone else in danger when transporting your ATV.
Comments
comments