Joe Byrd's CRF 250 Racer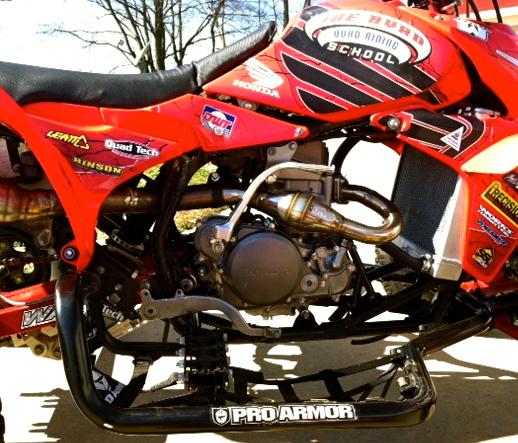 Always the die-hard ATV racing advocate, Joe Byrd recently called up a few of his sponsors and persuaded them to create what many might call the world's best CRF250 ATV.
Don't bother looking for this incredible machine at your local dealer, that is unless you live near Live Oak, Florida and consider Walsh Race Craft your local dealer.
Walsh took a 2013 CRF250 engine and a production TRX 450 frame and cradled the two with major quad-love. Mike Walsh and crew didn't just jump in and start welding however. Jigs were used for several of the components as Walsh predicts a big interest in this machine in the future and now offers a conversion kit to anyone that wants one.
When the components were finished the project continued at the Byrd Compound where the Byrd crew, which included Joe's current race wrench Bill Micke and former mechanic Todd Shupp, built three identical CRF250s. Joe admits he didn't do much on the project other than give the machine some serious laps on his practice track. He tells us the project turned out better than he imagined and he added that his lap times are only four seconds shy of his 450 times.
Besides the perfectly fabricated Walsh conversion chassis, the mini-Byrd features DASA motor mods, a customized FMF exhaust, a Fuel Customs intake, DWT wheels, Streamline brakes, Pro Armor nerfs & bumpers, LSR hubs axle carrier and spindles, Renthal bars and grips, a Tokyo Mods ignition, a Webcams cam, a Uni Filter foam filter, PowerMadd hand guards, Works levers and of course a Precision stabilizer. Joe's machine also features a handmade aluminum tank and a nifty Walsh Race Craft lowering kit.
"I think we need a strong-running dependable Lites machine like this. A Quad Lites class would be a great stepping stone for younger riders in our sport just like it is in the bike ranks," says Joe.
If you're wondering if this machine is AMA legal for the Nationals, yes it is. You can be incredibly competitive with a Walsh CRF250 like Joe's in the new School Boy Jr Modified class.
No you can't order one from Honda (hopefully you can someday), but with a phone call to Walsh Race Craft you can convert a 450 into a mighty made-to-race 250.
Joe would like to thank all involved in this build; Walsh Race Craft, DASA, FMF, Fuel Customs, Webcams, DWT, Streamline, Pro Armor, LSR, Renthal, Tokyo Mods, Uni, PowerMadd, Works, Precision and Todd Shupp and Bill Micke
Click to walshrc.com for more info.
Comments
comments