Lost Creek Cycles' YFZ450 Rear Reservoir Guard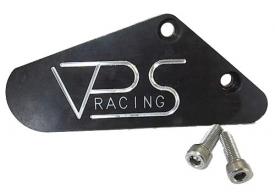 Lost Creek Cycle's rear reservoir guard looks good, is very light weight, and includes all necessary hardware. When designing their new YFZ450, Yamaha did an outstanding job. However, as with any new model, the YFZ isn't without at least a few flaws. One of the YFZ's shortcomings is the location of its rear brake reservoir. Yamaha has the reservoir hanging out in the open between the sub frame and the swing arm, making it quite vulnerable to rocks, sticks, and other track or trail debris. Any good racer will tell you, in order to go fast, you must have a good functioning brake system. Knowing how vulnerable the rear brake is on the YFZ, we went on a mission to find a cure for this problem.
Lost Creek's cure:
Oakland Mills, PA's Lost Creek Cycles is selling a new line of products to cure some of the YFZ's little imperfections. One of these is their rear reservoir guard. The guard is constructed of aluminum and anodized black for long lasting good looks. Of course, all necessary mounting hardware is included.
The reservoir guard mounts to the frame directly over the rear master cylinder. The rear reservoir then bolts to its new safer home on the backside of the reservoir guard.
So does it work?
Before installation, the rear reservoir on our YFZ was undamaged, but since the machine is raced often and DNFs aren't on the agenda, we felt our rear reservoir could use some extra protection. After several months and quite a few races, everything is still snug and there's virtually no sign of wear on the guard. We are glad to report that our reservoir is still in one piece and based on its new location, it should remain that way for a long time.
The bottom line
For $59.95 is available at lostcreekcycles.com. Their new rear reservoir guard offers cheap insurance, is easy to install, and improves the looks of your machine to boot. If you own a YFZ, we strongly recommend that you consider purchasing one of these. If not, just remember we told you so, while your riding back to the truck with no rear brakes.
Comments
comments