Miles by Kory Ellis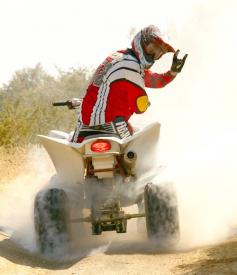 By Kory Ellis
Photos by Adam Campbell and Frank Hoppen
I recently got the chance to go to another Yamaha press intro. This time it was for the Yamaha Raptor 350. When I first received the phone call from Adam Campbell, the newest addition to ATV Rider Magazine, I was pretty excited to go because I remembered the last one we went to was a complete riot.
It was at Glamis for the LE Yamaha Banshee, Raptor and YFZ. This was the time and place that we first got to take a sneak peak at the new Raptor 350. That intro was a blast. Add up the YFZ rides through the many dunes of Glamis, the pimped out luxurious Fleetwood RV's and the campfire shenanigans – and you have a bunch of memorable good times. We were riders and magazine professionals but more resembled a bunch of little kids playing in a giant sandbox. Then Yamaha plopped us in front of a campfire on a beautiful Southern California night to tell bench racing stories – it just doesn't get any better than this. Anyway, remembering all the good times that ensued, how could I pass up another outing with the boys? I quickly told Adam I was in and couldn't wait.
The Raptor 350 offers a ton of fun and performs much better than you might thinkYamaha's ATV PR manager, Steve Nessl, called and hooked me up with the two-day itinerary. He said that I could not come as ATV Rider's guest because they already tapped out their two man editor/ photographer limit. Yamaha was nice enough to invite me anyway. I would simply be on hand as their test rider. And be available if any of the magazines needed another opinion on the Raptor 350, or needed some photos of another rider besides their own test rider.
As I leafed through the itinerary that came in the mail, I saw that they had miniature golf at a natural grass putt-putt course on the agenda. I chuckled to myself when I saw visions of setting this same group of Glamis campfire pyromaniacs loose on a putt-putt course. I thought to myself, mixing stressed out overworked magazine editors with unlimited free cocktails, fresh air and each other should provide more good times. I was really looking forward to this thing. I imagined many scenarios in my head, most involved fire, bent putters, and loads of laughs.
I arrived at the hotel got situated and went down to meet the others. After sitting through the presentation on all of the features and technical specs of Yamaha's newest pride and joy, the Raptor 350, we had a quick bite to eat then it was off to the links. All in all, the group behaved better than I imagined they would. There was one instance of stupidity though. At the final hole the last shots of the day were long drives that might make Tiger Woods take note. One sailed across the busy street and disappeared into the night and the other sliced right past a group with two big guys in it. Of course the Tiger Woods wannabe were in my foursome. Luckily no one was hurt and all was well.
The next day we arrived at Gorman's Hungry Valley Off Road Park via special edition Yamaha Toyota Tundra double cab pickups. Toyota plans to sell the "Yamahauler" with Yamaha graphics soon. I bet the truck sells well in Southern California especially.
As the editors all took off eager to ride, I was left there waiting for a Raptor 350 to be freed up. I guess when you snooze you loose. Next time I'll put my boots on faster.
Anyway, after waiting a unit finally was available and I was on my way and shifting up. I have to admit I wasn't too excited about the quad when I first heard about it. My first impression of the new Raptor 350 was "Warrior with a face lift – woop-de-doo!"
That impression changed after I went out and rode the thing though. I came to realize that it was truly a redesigned quad with a ton of improvements including more power, improved handling and better ride position. It was honestly a really fun quad that performed way better than I ever thought it would.
After riding the piss out of it for hours I wondered how new riders might like it. With that in mind I asked if I could borrow one for a few weeks for further "testing". My plan is to let my girlfriend ride it. She's never rode a quad before – a perfect specimen for my ride review.
Check out a complete ride test from the female's point of view when I get a chance to suit up my girlfriend. We're going to take it to Lake Elsinore. Stay tuned.Look for this as soon as we get a chance to go ride it.
I need to wrap this up. I promise to write to you guys sooner next time. I got a new lap top with the Centrino chip, which means lots of battery time for those many air miles.
Last but not least, congratulations to Doug Gust and Team Suzuki. What a season!
That's all for now. I'm off to El Cajun to hit their night practice. Ride safe!
Comments
comments