On The Fast-Trak 7-8-03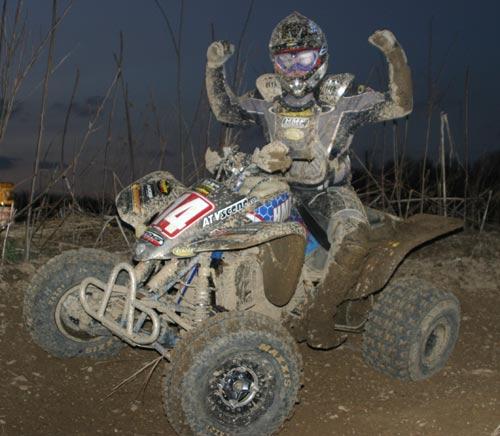 Year 5, Issue 2
Thanks for clicking on my column. You'll be glad you did. Here you'll find what Honda has up its sleeve to counter the new YFZ. Just kidding, sorry. You will find some interesting info however..
In honor of America, the greatest country in the world, as we celebrate our Independence this July, I would like to devote this issue to all the unsung heroes in our nation's defense.
Now, on to the news…
Stop the ban before it happens.
If the Consumer Product Safety Commission restricts or bans ATVs in any way, will you feel guilty that you didn't do your part by sending in this petition?
• petition (PDF – 540k)
The building of a professional freestyle ramp
"Huevos 6, here we come", says Kelly "Steel Rod" Chang, named accordingly since he has a steel rod in his leg after free falling from his ATV during a jump for Huevos 4. Kelly recently finished up the final touches on his pride and joy quad-launcher and just last week he was the first to hit it. "Holy shit is it huge! I swear I was over thirty feet high. It took a bunch of attempts for me to finally leave the throttle on and go for it. It's so intimidating. It really throws you nice though, we made it perfect", said Kelly moments after landing safely from a cell phone in Hawaii. For more information on Kelly's creation e mail him at pinkpong@iwon.com
Cannondale Parts
Salvaging the wreckage
On January 29th of this year, Cannondale's doors closed leaving approximately 650 employees, 6000 quad owners, 2000 bike owners and 400 dealerships in limbo. From what we've gathered the new ownership at Cannondale has no plans to continue on or sell off Cannondale Motorsports. So if you're a Cannodale owner, you've got to be second guessing your investment and wondering where your future parts may come from. Don't get into your Mad Max preparation just yet. There's an alternative to going "Beyond the Thunderdome" in an effort to secure parts for your ride. The alternative's name is Steve Maslanik. His previous position as Chassis R&D and Field Testing Supervisor allowed him the scoop on buying up warehouses full of 'Dale parts.
"What started out as a few favors to old friends turned into much more of a business than I had ever anticipated. Working with dealers, vendors, and industry icons, I was able to find parts, buy unused stock, and put together Cannondale networks that stretched from one ocean to the other", says former Cannondale employee and now boss of his own company, Steve Maslanik – now of Maslanik Motorsports Inc.
"One part after another, I completed inventories for racer support and found the occasional impossible to acquire part or piece, which I've completely reproduced", adds Maslanik. "Kyle Ray, owner of R&S Performance, Carl Moore, owner of ACE Racing and myself began working together and brainstorming to tie up loose ends as far as specific Cannondale parts were concerned. Shortly after that I took a serious look at a dealership in Lomita, CA named South Bay Moto. After a few phone calls to owners Dustin Lundy and Wade Wilcox, I was certain that ACE Racing, as well as anyone that gave us a call, would have no engine woes in 2003 and beyond."
South Bay Moto has spent countless hours and major funds to develop a stronger running, more reliable Cannondale powerplant. They have rethought and redesigned every millimeter of the motor from crankshaft to coil. "ACE Racing and South Bay Moto committed to help one another through Cannondales uncertain future", explains "Maz" about how it went down. "They really did their homework and prepared for the worst, which as we all know happened."
Fast forward to now. Cannondale's motorsports project sadly failed but there is a glimmer of light available for all 'Dale owners. Dealerships such as R&S Performance, South Bay Moto, and Champion Motosports have produced their own upgraded parts and are providing professional service for the puzzling Cannondale powerplant. South Bay Moto has recently introduced their own piston and liner kits, five different stages of performance kits, their own cylinder head design and proudly speak of plans for continued development in the future. R&S Performance in Indianapolis, IN have put 20 years of high performance racing experience into the electronics of the fuel injected machine. Champion Motosports is the biggest service oriented Cannondale dealership in the East. Factory trained technicians have and will continue to tackle and repair any Cannondale machine with friendly professional service and they pride themselves on quick turnaround. And finally Nac's Racing, home of Cannondale's former professional ATV racing team can guide you to outfitting your 'Dale with race winning components.
Back to Mr. Maslanik and his claim of having any Cannondale part you need in stock and ready to ship. "Cdaleparts.com  is a division of Maslanik Motorsports Inc. We are proud to distribute OEM Cannondale and aftermarket parts to dealers and customers all over the world. And we'll continue to produce and test new and improved components and parts for Cannondales", proudly tells Maslanik. The online superstore will go live very soon. According to Steve, they'll carry everything that any Cannondale owner would need for years of trouble-free riding and racing. New products along with factory original parts will be added daily. "We've been aligning ourselves with names like No Toil, Stage 8 Fasteners, Cycra, South Bay Performance Parts, Big Gun Exhaust, Boyseen, PC Products, Tri Star Racing, Hanover Gear Company and Fab Specialties/Diamond Racing Products. They'll all provide quality aftermarket parts for www.cdaleparts.com", boasts Maslanik. "My goal is to do whatever I can to keep the Made In America motorsports project alive and kicking".
http://www.cdaleparts.com
Cannondale online superstore. Mass parts inventory, Tech Help, Innovation and design by two former Cannondale Employees.
http://www.rsperformace.net
(812) 279-5833
Electronics and EFI upgrades, special services, and custom mapping
http://www.optimum-power.com
(800) 727-9520
Diagnostic performance and maintenance kit upgrades
http://www.cannondaler.com
Cannondale Owners forum and news.
http://www.southbaymoto.com
(310) 784-7694
Stage 1, 2, 3, 4, and 5 Engine upgrades and coming soon the monster 460, suspension upgrades and revalves and expert technical help.
http://www.championmotorsports.net
(814) 929-5332
Outstanding service department capable of accepting and shipping Cannondale machines from anywhere in the US.
ACE Racing
(775) 209-6706
Airbox upgrades, performance and racing products.
Fab Specialties
(814) 796-2066
Custom crankshafts and race specific designed parts.
NGR
Nic Granlund Racing. Professional racer, Nic Granlund knows what it takes to keep the Cannondale at the front of the pack.
Sick of Phone-Spam?
The National Do Not Call Registry gives you a five year break from telemarketers and their annoying interruptions of your life. Here's how it works, on October 1, 2003, the National Do Not Call Registry will be enforced, most telemarketers will be legally required to remove the numbers on the registry from their call lists. Get on the Do Not Call Registry here
2003 IMS Fall TT Nationals
East coast TT racers might want to check this out. It's a ten round ATVA sanctioned TT series. More details here:
Fall TT Nationals (PDF – 121k)
Welcome Bonnie Hamrick
Have you been reading Bonnie's GNCC race reports? If not, get to clickin' — these aren't copied press releases from the GNCC, they are her own hard work and come with a lifetime of GNCC knowledge. We're proud to have her as the newest addition to the team. We're not going to post an easy link to her race reports, you need to get used to the race reports menu and how it works. Click on Race Reports then, find the series, the year and the round you want to read about – easy as that. And you wont find that anywhere on the net but here.
Fast-Trak Promo Internship
Are you a tech savvy ATV enthusiast? Would you like to help ATV Scene.com become an even better site and be our right hand man (or woman) at the races, all while earning college credits?
We're seeking a creative, innovative graphic/web designer with experience in illustration and Macromedia Flash. Photography, video, and editing skills are a plus. Office located 20 minutes east of downtown Cleveland, OH.
We're also in search of a new editor. Do you have a way with words? Would you like them to be a part of the Scene? We're looking to expand our qualified editorial team, maybe you're just what we're looking for.
If you're interested in either position, E-mail a resume with work examples to info@atvscene.com
State of the sport update
The ATV industry and (more importantly to us here at the Scene) ATV Racing is growing by leaps and bounds. Here's a few random thoughts we feel worth mentioning….
• A good gauge of the health of our sport is Dirt Wheels magazine. DW is getting pretty thick at nearly 200 pages. We've got issues from the mid-90s doldrums that barely topped 100.
• Anyone notice that the motorcycle apparel companies have finally started to use top ATV riders in their ads these days. Kudos to Xtreme for featuring Yokely, O'neal for a whole slew of Farr ads and SHIFT's Jones/Creech ads. It's nice to see the real ATV deal, not fashion models or two-wheeled MX'ers in the ads. Heck, Fox has pretty much re-branded SHIFT (a Fox sister company) as its unofficial ATV gear brand.
• Motorcycle and Snowmobile oriented aftermarket companies are making big pushes into ATV performance these days. Yoshimura (bike), ProCircuit (bike), PowerMadd (snow) and Team Industries (snow) to name just a few. Yosh for one, has really stepped up supporting top Pro's William Yokely and Doug Gust. Expansion is good for the sport although the increased competition can make longtime ATV hop-up shops a bit nervous. Let's just hope that the new players learn from the PSI disaster of a couple years ago — Bring unreliable junk to the track and get laughed back to the snow.
• Pro Production! If you haven't read our interview with Tim Farr you should. Focusing exclusively on the Pro Production class was a huge risk. Sort of reminds us of when Suzuki took the big risk of releasing the QuadRacer back in '85 at the height of the 3-wheeler popularity. Turned out to be a turning point in ATV history. So will the new pro production class. Tim saw that and put all his eggs in that basket.
Pro ATVers on the net
Here's the newest crop of the most popular names in our sport with their very own place on the net…
http://www.douggust.com
http://www.derisiracing.com
http://www.jjonesatv.com
http://www.shanehitt.com
http://www.walshracecraft.com
http://www.danacreechracing.com
Kudos to Duncanracing.com
Duncan Racing has revamped their website. Check it out at duncanracing.com. The site is 100% professional and features virtually their entire catalog online as well as a complete section on their race team. And it's updated regularly. It's one of the best sites we've seen in the ATV aftermarket business and worth checking out.
Farr races Yamaha Australian ATV MX Nationals
The current GNC motocross champion, Tim Farr (North Canton, OH) will make the journey down under to OZ. Tim and wife Julie will kill two birds with one stone and combine a a fun-filled vacation with the opportunity to race a new Yamaha YFZ down under. Farr will race at the 2003 Yamaha Australian ATV MX Championships, held at Scoresby, an inner suburb of Melbourne on August 30th-31st. A week before the race, Tim, along with Ausie legend, Stephen Gall, will teach a two-day ATV racing school on Aug 23-24 in Cranbourne Victoria. If you are reading this from that side of the world and would like to learn from Farr's championship winning knowledge contact Mark Beechey , the coordinator of this announcement.
White Bros. 4-Stroke World Championships
A little old news, here but this deserves to be in the scene nonetheless…
Duncan Racing's Doug Eichner won both the Pro ATV TT and MX championships at Glen Helen Raceway in San Bernardino, CA on April 12-13th. Eichner, who has competed in the event on a Duncan/Roll Design Honda 400EX the past few years, was mounted on a Duncan/Roll/Elka/Temecula Motorsports Kawasaki KFX400 this year. Second place went to Jeremy Schell (Trinity/LoneStar KFX400) in TT and to Niclas Granlund (NGR/Cannondale) in MX. Third across the finish line was Josh Frederick (Honda) in TT and Schell in MX. Polaris' Daryl Rath struggled on his Predator-finishing 6th in MX and 12th in TT.
What, no qualifiers?
In these days of record amateur entries at the GNC MXs it sure is disappointing to see less than 20 entries in the Pro class. It's a testament to unhealthiness of our sport at the professional level. Being a pro ATV racer is expensive and a money losing proposition for all but a few top guys. With most OEMs releasing or rumored to soon be releasing new sport quads, could you imagine how many factory support rides could be available for the pro production class soon? Now if we can just get to those OEM appointed lawyers to get as excited as we get about quad racing.
Duncan Racing Kawie KFX 700 wins Plaster City, CA 24 Hour Endurance
DRI Team; Doug Eichner, Allen White II, Marc Spaeth, John Gregory, Leonard Duncan and Danny Rudd rode a new Duncan Racing prepped Kawasaki KFX 700 to win the Bi-Annual 24 Hour Endurance Race, (a continuous 24 hour run around a 10 mile course in the desert). Despite heavy southern California desert winds the team was able to cover an astounding 940 miles, and won the event by a comfortable margin. The team riders fought hard to beat their own World Record set in April 2001 of 1097 miles. The team commented with a special thanks to Ricky Stator for lighting up the night. There KFX 700 light system worked outstanding.
ITP Quadcross – Building a West Coast Foundation
The ATV racing action is really heating up in Southern California with West Coast hotshots Doug Eichner, Greg Stuart, Nic Granlund, Kory Ellis, Jeff Anderson, Steve Beilman and Josh Frederick showing up regularly to compete in the ten race ITP Quadcross series at Glen Helen. Could this be the start to a GNC in sunny So Cal? Let's hope so. For now we just have to figure out a way to get these guys to join Kory Ellis back east for the GNCs.
Check out www.itpquadcross.com for more info.
ATV Scene project quads
Did you read about ATV Scene's Kawasaki V-Force 700 project quad? If not, click on it and check it out. We are kicking off another project quad this summer. We are building a Suzuki LTZ400 MX racer built with components that win races. You can count on your ATV Racing leader to give you the skinny on what really works and what really doesn't. Stay tuned for this project quad and many more in the future.
Making History
Sunday July 6, 2003, 2:15PM Central time, Flint Bottom Raceway, Burlington, IA.
Bryan Shipley wins the Open Pro class on a bone stock YFZ. Bryan didn't even have time to put numbers on the quad. He was so rushed he only had time to custom fit one nerf bar on it before his moto went to the line. None the less, he pulled the holeshot (even with the wimpy stock pipe on it) and led wire to wire for what I think just might be the first official victory for the YFZ. If I'm wrong on this please e mail us and include the exact time, place and any other details along with a picture to info@atvscene.com use the subject: YFZ Racing History. While we're on the subject, I would love to know who was the absolute first to win a race with the following production ATVs:
1981 Honda ATC 250R: my guess: Mark Weixeldorfer
1983 Honda ATC 200X: my guess: Curtis Sparks
1985 Suzuki LT 250 QuadRacer: my guess: Brian Fry
1986 Honda TRX 250R: my guess: Steve Wright
1998 Honda TRX 400EX: my guess: Doug Eichner
2003 Suzuki QuadSport Z400: my guess: Doug Gust
2003 Kawasaki KFX 400:my guess: Jason Watt
2004 Yamaha YFZ450: my guess: Bryan Shipley
If you think you were the first to win on any of the above machines or perhaps you have facts telling who might be the first in this piece of ATV racing history, please e mail them to jpellan@atvscene.com – subject: ATV History.
The first aftermarket pipe for the YFZ – The Sparks Racing X-6 Exhaust Kit
Here's some YFZ history that we're a little more sure of. Sparks Racing becomes the first aftermark pipe builder to have their pipe product ready for retail. Sparks Racing tested the YFZ on their Dynojet Dyno. In stock form they claim it put out 37 peak hp. With their new Sparks Racing X-6 Exhaust Kit, air filter kit, jet kit, and Sparks cam mods they boasted the mighty YFZ to 47 peak hp. Their biggest hp gain was on the upper end, which netted a 11.5 hp gain over the stocker. Sparks says the power was also much broader than the stock system. In riding the quad with these simple mods Curtis himself said, "it's awesome! The gain was really shocking and we are very excited about the future of this Yamaha!
The pipe will retail at $449 and from what we believe is available right now.
For more info click Sparks Racing or call them at (661) 872-4343
When the clicking stops
It's sort of funny that a few self-proclaimed leading ATV websites post press releases that have absolutely nothing to do with ATVs. It usually is a press release focusing on two-wheel motorcycle racing or a new aftermarket part that has nothing to do with ATVs or ATV racing. They see it as easy money, a quick and easy editorial piece that is sure to gain them online notoriety. Little do they know they're boring their readers with mundane information that none of their readers really care about. We're not going to name names here but diehard ATVers know exactly what we're talking about. Next time they cry wolf and post something interesting, will anyone click?
DC Racing Mini Quads
Dave Carter of DC Racing has been working overtime with Terry Reynolds on his 90cc modified race quads. He, Jody Bateman of JB Racing and Terry Reynolds of Twin Creek Raceway have logged some serious hours to build the baddest youth quads in the south, perhaps the nation. Mitch Carter, Dave's son says dad's contraption corners very well. The DC quad enables the use of 250R front end components and the 250R radiator. For more info on these one-of-a-kind youth quads, contact Dave Carter
A funny Suzuki story
Quite a few years back, I (George Davis) had the privilege of attending the intro ride for the Suzuki 500 4×4. It was a sweet trip. 4x4ing near Yosemite national park in California and luxurious lodging at the same place where they filmed John Candy's classic comedy The Great Outdoors. A bunch of Suzuki's top execs were there. Being the diehard ATV racing enthusiast I am, I had to confront the factory bigwigs about Suzuki's lack of a sport quad. I was told buy a high-ranking executive that Suzuki spent more money on lawyers defending lawsuits than they made selling the Quadracer and Quadsport. I was told that they would never make a sport quad again. Hey guys, never say never! Long live the LTZ!
Husband and wife duo
Women's class national champion, Traci Cecco and her husband, Rick Cecco (Cannondale pro production front runner) have been teaming up at Fast-Trak Promo's BUCCS (Buddy-Up Cross Country Series). They currently rank second in the A class BUCCS points. At the Crow Canyon round of the BUCCS last year, Traci pulled the fastest lap time out of all of the riders in the A/B Class by 8 seconds! Which was only about 13 seconds off some of the pros better lap times. Most women are completely scared stiff to even enter the trail rider class, and wouldn't hear of racing while the pro riders are racing on the track. Not Traci she even passes some of the pro riders! Traci and husband Rick have won the A class more than once. They finished a very respectable third place overall at round one out of 54 teams!
Speaking of Suzuki – Glenn Hansen goes West
Suzuki got a good one! Glenn Hansen, editor-in-chief of three powersports magazines produced by Ehlert Publishing Group, ATV Magazine, ATV Sport and REV, has joined American Suzuki, as advertising manager for Suzuki's motorcycle/ATV division. Hansen, will be responsible for media planning, coordinating advertising and dealer-support materials, and budget management. Hansen was employed at Minneapolis-based Ehlert for nine years, first as a managing editor on the company's personal watercraft magazines and later as editor-in-chief in the ATV/Off-road group. He is a lifelong motorcycle and ATV enthusiast. Jerrod Kelly takes over as editor at ATV Sport.
ATV Sport – Official Magazine of the Maxxis 12 Hours of ATV America
Speaking of ATV Sport, we're proud to announce that ATV Sport Magazine hugely supports having the World's premier ATV race right here in America. They just recently signed on as the official Magazine of the Maxxis 12 Hours of ATV America.
ITP T-9 mini aluminum wheels
ITP now outfits youth rides with their new T-9 aluminum wheels. Check out ITP's precision-built 10×5 and 8×7 mini-quad wheels! They're specially built for the Honda TRX90 Sportrax, Yamaha Raptor 80, Suzuki LT80 QuadSport and Kawasaki KFX80. The big news is that ITP's exclusive new 10×5″ front T-9 wheel conversion allows a much larger selection of front tires compared to OEM. ITP suggest their ITP Holeshot MX Front. Combine the taller wheel with this light and responsive tire, and junior will be carving corners like never before! Now match this trick front end setup with Turf Tamer tires mounted on ITP's new 8×7″ rear T-9 wheel, and junior will give up nothing to Dad.
Visit ITP's website at www.itptires.com.
Introducing Maxxis Wheels
Not to be outdone in the tire and wheel business, Maxxis now ads wheels to their successful tire line up. For now they're just available for the most popular utility ATVs. They are made from rolled aluminum with a lightweight cast aluminum center. They weight only 7.5 lbs. Both the MaxLite 4-spoke and the 8-spoke wheel come with lug nuts and valve stems. The 8-spoke model comes with a center cap. To add to the wheels overall strength, both are produced with a closed, rolled edge, which acts as a lightweight reinforcement ring. They are highly polished, allowing them to shed mud better than machine finished wheels. They will be available in August at your dealer. Retail price is $84.95. For more information go to www.Maxxis.com
Cody Hurst Ultimate Challenge
Two of the biggest TT events of the season will be back to back in Ohio. First on July 26-27 is the Pine Lake GNC in Ashtabula then the following weekend on August 2-3 is the Cody Hurst Ultimate Challenge GNC at Wayne County Speedway in Orrville, Ohio. This is one you'll want to check out for sure. Because of this stop on the series we get to gather and remember our fallen rider, Cody Hurst. For those that don't know, Cody passed on while racing the GNC series. He being from Orrville, OH helped us make the three years of GNC TT racing in Orrville a huge hit (we used to promote the GNC stop at Wayne County Speedway – more on those events here). Now thanks to Terry Reynolds, the Hurst family, the ATVA and track owner and promoter, Wayne Phillips of Patriot Promotions and everyone else we missed the event goes on in the name of Cody Hurst! We'll see ya there!
With a roster consisting of three professionals and six amateurs each competing in multiple classes at up to 32 different events, the fundraising potential is enormous.
Right on Nac's! Thanks for showcasing ATV racing in such a positive light.
If you would like to help with this program or just read more about it click here.
Nac's Podium Project
The sponsors of the Nac's Race Team make a contribution to the Lance Armstrong Foundation every time a Nac's rider makes the podium at a national ATV event. The Nac's team will be represented at 32 national caliber events in the 2003 season including all ten (MX) rounds of the ITP ATVA GNC Series, the 13 rounds of the GNCCs, the Clear Channel Pro Quad Stadium Series, as well as the Maxxis ATV Olympics, The Maxxis 12 hours of ATV America and the annual Virginia Beach Race, not to mention dozens of local and regional events.
Blocking ATV Scene.com links on other ATV Forums
What's with blocking the atvscene.com url on certain ATV Internet forums? Isn't this the Internet? Aren't forums supposed to be a place to communicate and share ideas, photos and other places on the 'net? It's our opinion that some ATV websites block certain urls because their forums are all they have going and they're worried that their forum posters, – AKA their editors, will go somewhere else if given the opportunity. Basically, forum users make up just about all of their content and their whole show is indeed their forums. It's the only explanation we can think of.
Regardless, as always, post whatever you want in ATV Scene's forums and link wherever you want as well. You'll be blown away with all the informative posts, and thrilled that you don't have to wade through hundreds of useless 13 year old meaningless chatter, like you do in other forum areas.
Check out ATV Rider Magazine
Primedia, the makers of MX Racer, Dirt Rider, Sport Rider, Motorcyclist and Motorcycle Cruiser now have a title that you might be interested in. Enter ATV Rider! It's actually pretty darn good. Ex Kawasaki Team Green ATV racing legend, Sean Finley heads the operation as publisher, Billy Bartels mans the editor position and my good friend John Howell takes the reigns as East Coast Editor. "Doogie", John's nickname from Hi-Torque's 4-Wheel ATV Action days, is also in charge of the magazine's new section called "Racer". This is the part we're most interested in and Doogie does wonders with it. If you're a magazine freak like we are, you need to add this one to your mailbox. You can subscribe right on their website, which is also very sharp: www.atvrideronline.com
Street Track & Trail Matt Bartosek Memorial
This seems like a good spot to plug another deserving event. It's the first annual Street Track & Trail Matt Bartosek Memorial. It will be held July 18-20. The 3-day event will take place at Matt's local track, Pymatuning Holeshot Raceway in Linesville, PA. This is the track where Matt practiced and got good enough to run with top ranked pros like Jeremiah Jones. The event will feature a big pro purse, night time racing, classes for all, but most of all – allows everyone to come together and race in memory of Matt. Debi Bartosek, Matt's mom, invites all to come share the weekend with one another and do what Matt loved most, race ATVs. A portion of the money made will be contributed to the Matt Bartosek Memorial Fund. For more information visit Pymatuning Holeshot Raceway
E Mail of the week
From: John Arens of Arens Bros, Inc [jarens@arensbros.com]
To: John Pellan [jpellan@atvscene.com]
Subject: What do you know about Honda's new quad?
Hello JP!
What have you been riding lately? Any new rumors you care to share? I've been thinking quite a bit lately about the Yamaha and what Honda can do about it. You know what? With what Yamaha did, I think the best Honda can hope for is a tie game.. Here's why:
In the dirt bike world, Yamaha has kind of been the leader in 4 strokes. Lets face it, they started this 4 stroke revolution, and everyone else is playing catch up. I know the CRF is good, but it is my understanding that the YZF motor is considered to be the top dog. Am I right on that? I think the top bike guys consider the YZF to be the best going, at least from the stuff I have read on forums. And now they've dropped that into a fantastic ATV chassis and really started a whole new category. I don't even know what to call it! Pro-performance? That Yamaha is DAMN impressive! And from reading what you guys said about, it looks like you agree with me.
What they did is blow the door off the hinges, not merely sneak it open. To me they have thrown down the gauntlet and said "Screw it… we're going to go top shelf in this ATV market." That is clearly the message of the YFZ, and I can't think of it in any other way. For a dozen years you, I, and a lot of other guys have been begging for something like this, and now it's here. I don't think you can ever close that door now. They have given the riders a taste of the best technology going in motors, and the chassis looks great too. Anyway, back to the point.
Since the CRF motor puts out no more power than the YZ bike motor, wouldn't it stand to reason that IF Honda could find extra HP in the motor they would give it to the bike guys first? The problem is, I don't think they can find any extra HP. About all they can do is try to stay even with the YZF bike motor. To me that means that since they have no extra power in the motorcycle engine, they sure aren't going to find it in any possible ATV motor. They don't have any extra HP to give! If they did, the bike guys would already have it! That leads me to believe that their best effort will only tie the Yamaha but not beat it. If they want to beat the Yamaha they will have to do something really wild, like get the weight WAY down, but I just don't see that happening anytime soon. The YFZ is very light already. Like I said, that Yamaha is REALLY good. It's every bit as much of a sexy supermodel as Carmen Electra, and I'm not sure who I would rather spend more time with. I think it's the best I've seen.
Thought I would pick your brain a little. Let me know what you think of this and please tell me what you know about any new Honda. Should people wait for the new Honda?
John Arens

From: John Pellan [jpellan@atvscene.com]
To: John Arens of Arens Bros, Inc [jarens@arensbros.com]
Subject: What do you know about Honda's new quad?
John,
Without a doubt the YFZ is the best thing anyone has ever made. It's ten times better than an R. Better than a Cannondale, shit, it's better than most aftermarket race quads!
I don't know any details on the new Honda. I think they should start leaking their September news right now though. And it better be good if they want to play ball in the sport performance segment, but with all the heat from the CPSC lately, we might see a 400EX with bold new graphics instead.
People keep saying "man the Yamaha is so damn cool, I can't wait to see what Honda comes up with. I'm going to buy that new Honda as soon as it comes out!" That bothers me a little. Here's an OEM (Yamaha) that did back-flips for them by finally releasing what they've been asking for all these years and they still want to wait for the company that insulted us by releasing a ten year old quad as their new "state-of-the-art" sport quad in '98. I say just buy the Yamaha it's there, the rumored Honda might not even happen.
I read your YFZ feature for ATV Illustrated. Excellent job!
See ya at the next national,
John Pellan, President
Fast-Trak Promotions, Inc.
2-time AMA ATV Promoter of the year!
Quotes of the Week
"We went to Southwick to watch the pro bike national. 30,000 people, great facility, racing SUCKED! Ricky Carmichael pulled the holeshot had a half track lead over 2nd and 2nd had a half track lead over 3rd. Pretty boring if you ask me. Yeah I know the factories are there, TV coverage, the whole nine yards, but I would rather watch an ATV national any day Quad racing is way more exciting. There's nothing better than watching someone like Doug Gust come from mid-pack and contend for the win. The points chase is always a lot closer. There's at least ten quad riders that can win at any event. It's just way more interesting. If you ask me it's time for the changing of the guard!" — Scott Carey, Krank-It Racing via e mail.
"You should have seen how special it is back stage right now. The teamsters are helping Michael Moore into the trunk of his limo" – Comedian, Steve Martin after film producer Michael Moore shunned the US government about the war on Iraq at the 75th annual Academy Awards. (Maybe the Dixie Chics are in there too now.)
"After that I just started picking guys off." — ATV Scene.com's newest go to guy, Santo "DePodium" DeRisi explaining his romp through the woods and fields of McHenry, Maryland during his charge to another GNCC third place overall.
"Yeeeeee Haaaaa" — Joe Byrd from numerous podiums this season. Byrd trails Jones in the MX pro class by twenty points going into Loretta's GNC.
Time to organize the trailer, BUCCS 2 is this weekend in Yorkville, OH. Hey, why not "buddy-up" and race it? See ya there?
Mark Weixeldorfer where are you?
Pix of the Week
Allen White II, Bryan Shipley, Cody Hurst, Doug Eichner, John Arens, John Gregory, Johnny Gallagher, Kelly "Steel Rod" Chang, Kevin Gardner, Kory Ellis, Leonard Duncan, Marc Spaeth, Mark Beechey, Nate Sharrow, Nic Granlund, Santo DeRisi, Steve Maslanik, Traci Cecco
Comments
comments