Project Pro Am YFZ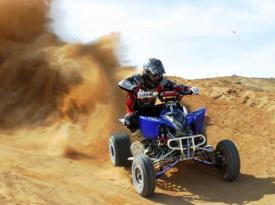 For our Project Pro Am YFZ we built one of the most tricked-out machines we have ever laid eyes on. It starts with our 12 Hours of ATV America Award Winning YFZ and ends by being worthy of winning a pro national! A few years back we loaned our 2004 Yamaha YFZ to Kory Ellis, who used it to race the '04 Pro Production class at the GNC Motocross Series. With Kory's and Lone Star's help we determined that it took a little over $7000 to make the '04 YFZ competitive in the Pro class. We came to the conclusion that Yamaha already squeezed just about every bit of power out of their motor, so you really didn't need to spend too much time, money and effort in the motor department. Back then we simply let Yamaha's potent powerplant breath by adding a pipe and tossing the air filter lid — and it was good to go. Is this still the case as we race into 2006?
Back in the day, pro setups utilizing a heavily modified 250R engine typically made about 48 horsepower. With the new generation of 450cc four stroke machines, we are now achieving the same numbers by simply bolting on an exhaust, so it's easy to see why we first thought that high-dollar motors were a thing of the past. In the years since, all of the motor builders in this industry and beyond have turned their attention to further developing the OEM's new high performance four stroke engine.
Now it's common to see B class racers pulling to the line with full blown race kits in their motors and a full array of both internal and external modifications. Whether you want to admit it or not, chances are you won't find a pro motocrosser sitting on the line without extensive internal motor mods. The fact is competition dictates necessity and times have once again changed.
As always, the foundation of any project is critical in achieving one's goal. Our goal was to build a production based race quad that provided a Pro Am rider with enough amunition to contend with a pro-level ATV. All the while, this bad-to-the-bone racer needed to offer more reliablity than the top level pro rider needs. Our choice foundation was simple, Yamaha's YFZ won our 2006 12 Hours of ATV America Shootout hands down by winning every single category. The decision was a no brainer, the YFZ got the nod.
Why the Pro Am class?
SS Motorsports monster Stage 3 motor kit coupled with ITP Holeshot tires turned our YFZ into a real earth-mover. The motor's power curve is super smooth – making the power explode is as easy as jabbing the throttle.The Pro Am class bridges the gap between the pros and the amateurs. If you are an amateur looking to run in the Pro Am class, you will need a machine competitive enough to run at the Pro level without sacrificing durability. Recently, there has been a big trend in weight reduction in the Pro class. Titanium springs, bolts, exhausts and carbon fiber parts have found their way on the top pro racer's machines.
Racing as an amateur is a bit different. Chances are the average Pro Am rider doesn't have the parts allotment that most pros do, and they're even less likely to have a highly trained mechanic on hand to take care of their machine. And for the guy living on the amateur side of the Pro Am class, he needs a machine that has the speed to win, and the durability to hold together. And that's exactly where we wanted to focus our attention for this build.
We asked, "What will it take to deliver the Pro Am racer all of the performance available to the pros, yet durable enough to last the whole season?"
From The Ground Up

Elka's Pro Series shocks did an outstanding job of floating over or slamming through Echeconnee's deeply whooped out track.Since this was going to be a "from the ground up" project, requiring lots of time and attention to detail, we turned to the professionals at Earlywine ATV and Cycle. Chris Earlywine, also the owner of Earlywine's Indoor Motocross, is a former GNCC pro racer and has years of experience setting up race quads for himself and his customers. We trusted that he could build our machine right the first time and give us valuable feedback along the way.
A Better Frame
After a hard season of Kory Ellis abuse, our '04 YFZ was carefully examined. We observed that it had developed some cracks in the frame near the upper stem mounts. Since we were going to pull the motor anyway, and this quad would be abused harder than most, we opted to tear our brand new YFZ down to the frame for some strengthening.
One call to Lone Star Racing and we had a frame gusset kit and six point subframe on the way. Lone Star's Gusset Kit was extremely complete, filling in many key angles, adding more strength and rigidity to the stock frame. All of the kits plates and tubing were pre cut for proper fit, however we spent several hours machining a lot of the parts in order to make the various plates and tubes line up just perfectly. All in all installing the gusset kit took us several days, but reducing the chances that we will have to tear the machine down early on in the season for a frame swap made the process well worth the effort.
Chris Earlywine thought the suspension was perfect right out of the box, but W.L wanted the rear stiffened a bit. With plenty of adjustment in reserve on the high and low speed compression and rebound adjustable shocks, making the final adjustments should be a piece of cake. The YFZ's light weight stock subframe is fine for most. Yamaha's Ellis, Spader and Brown even use their stock subframes, but since they replace their race quads evey few months maybe they aren't subject to the abuse that ours will undertake. Yamaha went to great lengths to make the YFZ's subframe light weight; however the reduction in weight came with a reduction in strength, even when being compared to the stock subframe on the TRX 450. In order to make our YFZ survive repeated hard landings and the moderate unforeseen rollover, we installed a Lone Star chrome plated 4130 chromoly subframe.
Adding a six point subframe to your YFZ requires that you weld two additional mounts near the bottom of the frame behind the engine. With the additional support from the lower mounts and the extra strength offered by its tig welded chromoly construction, Lone Star's subframe offers vastly superior strength at the expense of a few additional pounds. While adding the chrome finish drove up the price, the beauty of the finish will be well worth it to the pilot for whom standing out is as important as performance.
With the gusseting and welding on the subframe mounts complete, it was time to add a new finish to our beefed-up chassis. To apply the new finish to our frame we turned no farther than Precision Powder Works, located on the same property as Earlywine's Indoor Motocross and Earlywine's ATV and Cycle. One stop shopping couldn't get much easier for us. We wanted to go with a neutral color that would lend itself to any future color scheme, so we settled on an Extreme Chrome powder coat, with a clear coat overlay. The Extreme Chrome color will yellow over time so it is necessary to clear coat it to maintain its good looks. With the clear coat in place the finish is more metallic than the YFZ's stock grey color and is an almost perfect match for aluminum components such as grab bars or handlebars.
More Chassis Goodies
Our Pro-Am YFZ could cut a reasonably tight line. However, the machine was most at home railing with the power on. Whether you were on an inside or outside line, the +2 ¾ inch long travel A-arms and Lone Star Axcaliber axle made our YFZ rock-steady-stable.The only bad news in this article is the demise of a high quality chassis component manufacturer, Metal Craft Racing, who supplied us with extremely trick chromoly long travel A-arms and swingarm, have decided to hang it up in the ATV business to pursue manufacturing Rhino hop up parts.
Since we started with Lone Star parts on the frame, if we were doing the project again, we would have just stuck with the proven Lone Star components for the rest of our chassis needs, however, with the Metal Craft parts in hand and our shocks already built, we decided to continue on.
In order to allow our suspension builder the ability the make the most of the wheel travel on hand, we went with +2 ¾ inch long travel A-arms up front with a standard length Metal Craft 4130 chromoly round housing swingarm in the rear. While many pros are starting to run light weight stock swingarms, not everyone carries around replacement parts and fewer change them before a failure occurs, so we were willing to run a bit more weight to help prevent an undesirable DNF. Taking care of the axle housing duties in the swingarm was a Lone Star Axle carrier.
To widen the rear of our machine, we installed a Lone Star Axcaliber Racing axle. The four inch overall wider axle spaced the rear out with the front and added considerable strength to the rear of the machine. Of course, if you have any issues, Lone Star's Axcaliber axle is covered under an unconditional lifetime warranty against bending or breaking.
Shock Absorption
Elka Elite Series shocks with an Elka Linkage out back deliver 10.5 inches of front wheel travel and a whopping 12.5 inches out back. Streamline steel braided brake lines and extreme duty pads front and rear were installed for better braking.In order to make our machine competitive, we knew there would be no cutting corners when it came to choosing suspension. Elka Suspension has played a big part in the progression of technology in the ATV market. In 2002 they were the first ATV shock manufacturer to introduce high and low speed compression damping on their Pro Elite Series shocks. By splitting out the high and low speed compression damping, the rider has the ability to fine tune his suspension for smaller quick impacts and large hits separately. While this can be overwhelming for beginners, it opens up another level of tune-ability for riders familiar with tuning their suspension settings.
For a Pro Am level machine, we felt the rider should have as much adjustment available at his disposal as possible, so we ordered a set of 18 ¾ inch Elka Elite Series shocks for the front and an 18.1 inch shock for the rear. Both shocks feature 33 way high and low speed compression adjustment and 60 way rebound adjustment. Outfitted with the new suspension package our YFZ now delivers a whopping 10.5 inches of suspension travel up front and 12.5 inches in the rear.
To achieve such long rear wheel travel numbers, Elka set up our machine with their rear linkage. Elka's linkages are made of CNC machined aluminum and are designed to increase wheel travel and provide smooth progressive rear suspension action. All the while they also allow the machine to set lower.
The final and equally important part of our suspension package is a steering stabilizer. As the shocks protect the rider and machine from vertical impacts on the track, the steering stabilizer is essential in preventing fatiguing horizontal impacts from reaching the handlebars. When we went shopping for a stabilizer, we were equally interested in durability and adjustability. 9 of the top 10 Pro class finishers at the Big Buck GNCC in South Carolina finished with Precision Racing Product's Stabilizer. If this stabilizer can hold up to top-level cross country abuse it should work great for our project.
Precision has a history in producing extremely hi-tech components for military use. So building a steering stabilizer for an ATV should be a piece of cake. Company owner George Athanasiou tells us, "I remember Mike Hallock told us that he was hearing complaints from pro racers that there wasn't a good enough steering stabilizer on the market, so we spent over nine months and over 30 revisions developing our steering stabilizer and now the number of top pros running it speaks for our results."
We were intrigued by the stabilizer's unique design plus its incredible range of adjustability. This is one of a few units that we are aware of that gives the rider the ability to stiffen or soften the damping in specific areas of the unit's range of motion. If you are on an extremely rough track with lots of braking and acceleration bumps, you can tune the stabilizer for more damping in the middle third of the stabilizers range of motion, the position it would be in while hammering down a straight. At the same time, you can make the range of motion at each side of center as stiff or soft as you like for different damping characteristics in the corners. This extreme adjustability allows for more precise setup for different track conditions and makes things less fatiguing for the rider by allowing you to lighten the units damping for parts of the track where heavier damping isn't necessary.
Pro Am Power
While we retained our YFZ's stock rev limit for more reliability, SS Motorsport's built us a 450cc class legal motor with the power characteristic of an open class machine. While it's blindingly fast, SS created one of the smoothest fully-built race engines we've ridden to date. When it came to finding a motor builder, we wanted to look outside the box of five or so engine builders most commonly used on the GNC circuit and search for some new not-so-famous talent. On a tip from ATV Scene test rider Brit Mansell, we contacted SS Motorsports out of Hueypown, Alabama. We spoke at length with SS owner Scott Salter about our hopes and ambitions for our YFZ and Scott was confident they could deliver.
If you want to win in the Pro Am class your machine is going to have to be competitive in every way possible, and now days that includes the motor even though in stock form it performs well. As with the rest of the machine, we wanted a motor that was capable of running a pro race, while trying to maintain some reliability. We wanted them to wring out all of the power possible without the use of a higher rev CDI box, in order to keep from building a machine that would soon be revved into shrapnel.
We mailed our entire 2005 YFZ450 engine off to SS and they immediately got to work tearing the motor apart. To start, SS inspects all of the engine's stock parts and any items showing wear must be replaced in order for SS to proceed with the engine build. Scott explained, "No matter how good a motor builder is, a motor producing more horsepower will put more stress on almost all of its moving parts, that's why we make sure no worn parts go back into a motor we build. We are especially concerned about parts in the lower end such as transmission components."
At the heart of the transformation in our motor is a Falicon 1.45mm stroker crank. The Falicon crank brings our '05 YFZ motor displacement up from 439cc to 450cc. The mild stroke increases horsepower minutely across the board but is most noticeable in the bottom end of the RPM range. Aside from the mild gains in performance, the crank is blue printed and balanced, helping minimize vibration and increasing reliability. Owners of '06 YFZs don't need to stroke their cranks, however SS recommends having your stock crank modified with balancing and a new knife rod to work with their specially cut pistons for riders looking to wring out every bit of available horsepower.
Back up top, SS installs a specially cut 13.5:1 JE piston kit. The higher compression piston increases power throughout the RPM range and its lighter weight allows the motor to rev quicker. To flow more air, SS Motorsports installs a new exhaust cam and ports the cylinder head. Port work includes their National port and polish of the intake and exhaust ports, their three angle valve job and machining of the valve guides.
When it comes to the carburetor, SS pulls out all of the stops by performing some serious carb modifications. To start, they install a complete Power Now and Power Plus kit on either side of the carburetor. The Power Now components are designed to better regulate air flow at lower RPMs giving better throttle response below one quarter throttle. From there, SSM modifies the carb's accelerator pump for better fuel flow, installs new jets in order to get the jetting in the ball park before the consumer finishes dialing in the jetting in at home and replaces the carburetor's hard to reach air screw, with an easy to access knob, allowing for fine tuning by hand.
From there SS Motor Sports turns their attention to reliability. Some YFZs have had top end issues due to a lack of oil reaching the bottom of the piston, resulting in the piston pin breaking, thus grenading the entire engine. To help prevent this extremely expensive problem, SS performs their Crankcase Oiling Mod. They do this by cutting a new oil journal which shoots oil from the lower crankcase to the bottom of the piston helping reduce wear on the lower part of the piston and piston pin.
Yamaha's oil vent system routes the air that is vented up and into the air box. This, according to SS, has two negative effects, the first is that you are sending hot air back into the air box which effects jetting and engine performance, the second is that small amounts of oil are occasionally blown up into the air box contaminating the air filter. SS eliminates this mess by simply running a tube to the bottom of the engine, venting the hot air and any oil blow off onto the ground, rather than back into your air intake.
When SS reassembles the engine, they replace all of the engines gaskets, seals, o rings and timing chain for reliability. They also perform their wiring harness modification, where they clean up the machine's wiring by eliminating all unnecessary plugs and wire in labeled plug ins for a kill switch and start button. This kit includes a Pro Design kill switch and start button with the price for the mod. This is an extra step we don't see many other motor builders offering and this extra thoroughness left us impressed with SS Motorsports even before we had a chance to fire up the machine for the first time.
More Motor Performance and Reliability
Hinson Racing's billet aluminum clutch basket helps prevent fade and lets your clutch live longer by allowing more oil to reach the clutch. The extra strength of the unit means longer life before the basket starts developing grooves. We're proud of Hinson's incredible legacy in the moto world and added Hinson's clutch cover for better looks and bragging rights. We never experienced even a hint of clutch fading during our stress test in Echeconnee's sandy surface. Before installing our motor, we asked SS Motorsports if they had any other suggestions for components we might want to use with their engine package to increase the motor's reliability. Scott told us, "With all of the extra power this motor will be putting out, you might want to look into beefing up the clutch. Also, all of the 450s seem to run hot, especially the '05 and older YFZs. These are key areas that a lot of people want to overlook because of the extra expense, but if you want your motor to last they are pretty important." That's all we needed to hear.
A quick call to Hinson Racing, and we had a Hinson Racing's clutch basket and cover on the way. Besides being far stronger than the stock clutch basket, the Hinson unit allows more oil to reach the clutch, resulting in better cooling for less fade and a longer lasting clutch. While the clutch cover is more for looks, we were plenty proud to let everyone know what was lurking behind the cover.
For additional cooling, we contacted PWR. PWR makes radiators and oil coolers for ATVs as well as many other applications. We were in luck. When we contacted them, they had just finished developing a new larger capacity radiator with built in oil cooler. Designed to lower operating temperatures, this radiator holds 700cc more water than the stock YFZ radiator, which PWR claims will lower water temperatures between 28 and 30 degrees. The radiator's oil cooler, which resides in the water tank, is claimed to lower oil temperatures by 25 degrees!
Installation of the unit was a snap. The PWR radiator bolted right up to the stock mounting brackets in minimal time with the only difference being in how the motor's oil lines were routed. There was even a place for the stock radiator guard to mount. This unit was extremely well thought out.
Air Filter and Exhaust
In order for our SS Motorsports motor to flow adequate air for maximum performance, we installed a GYT-R air filter with billet adapter and a Big Gun EVO-X exhaust system.When it came to choosing an exhaust for our machine, SS Motorsports recommended that we go with a Big Gun unit. SSM is currently working on developing their own pipe; however it was unavailable at the time of testing.
Mike Young, owner of Big Gun, sent us one of their EVO X series exhaust systems.
We were a bit concerned that this exhaust was not their top of the line system, not that we were being picky, we just wondered if it would fit in with our goal of ultimate performance and reliability for the serious Pro Am racer. Mike explained, "Many people think of this series of pipe as being below our EVO R (Stainless Steel) or EVO Carbon series pipes. In fact, the ceramic coating on the EVO X (non stainless steel) system offers a performance advantage by helping to dissipate heat away from the cylinder, promoting better cooling." That's all we needed to hear. Thanks Mike!
The Big Gun exhaust did a great job of enhancing the motor's broad and fast-revving powerband, all the while, dispensed heat away from the motor. The Big Gun exhaust has the option of being run with its Vortex quiet insert and spark arrestor installed, or fully open for closed course applications. When we were breaking in the motor we got a chance to hear the exhaust with the Vortex core installed. However, before break in was complete, we had taken it out and tossed it. We really like the option of being able to run the system with a quiet configuration, especially for machines that are used in multiple environments. After all the average Pro Am rider will probably need to practice on his race quad and he might be doing it where sound is an issue.
SS recommends K&N style filters for maximum air flow. While we were at our local Yamaha dealer, we picked up a Yamaha GYT-R filter and adapter plate. We prefer dual stage foam filters in dusty conditions, and we were disappointed to see that Yamaha does not offer a foam filter for their GYT-R billet aluminum adapter plate. We will just have to really stay on top of keeping their K&N style unit clean for now. The unit is similar to a Pro Design Pro Flow setup and installed easily in less than 30 minutes.
The Brakes
To bring our machine down from speed, we contacted Streamline for the extended brake lines that were necessary for our longer A-arms as well as some other goodies. We ordered +3 steel braided lines for the front as well as a standard length steel braided brake line for the rear. In addition, we ordered a set of Streamline's Extreme Duty pads. We had also wanted to install a set of their Blade Rotors to complete our brake system, but they were currently out of stock, so we bolted up the stock rotors.
Drive Train
When we were building this machine on paper, one of the last things we worried about was the drive system. While ordering a bumper from TAG Metals, they asked us if we wanted to try their aluminum rear sprocket. We had some concern about using an aluminum sprocket on an ATV, but they assured us that it would hold up. They said in fact "It's as strong as a steel sprocket." So we agreed. Not to spoil the ride portion of the test, but by the time the test was finished, our newly moded YFZ's torque wasted the aluminum sprocket. We wound up installing a SideWinder Ti-Moly chain and sprocket setup.
The Ti-Moly sprockets combine titanium with chromoly to achieve a product that is lighter and stronger then conventional steel sprockets. SideWinder claims its Ti-Moly sprockets are more than twice the strength of conventional steel sprockets and weigh 35% less. We combined the Ti-Moly sprockets with SideWinders Ti- Series chain to ensure that we had a drive train that would hold up. SideWinder's Ti- Series chain's tinsel strength is rated at a whopping 14000 lbs.!
To keep our drive train on track we outfitted our YFZ with TM Designworks's complete Slide and Glide kit. The kit came complete with both upper and lower chain slides and rollers, case saver and a rear chain guide. The chain guide can be ordered with either rollers for motocross, or with a solid chain slide for applications such as desert or cross country where a rear skid plate is necessary.
Wheel and Tire Package
For strength and looks, we chose Hyper Technologies trick carbon fiber beadlocks front and rear. To make sure we were able to get our machine to hook to the track, we installed a set of ITP Holeshot MX tires front and rear. When we tested the transition wTo get the power to the ground, we wanted to shoe our YFZ with components off the top shelf. You never saw Michael Jordan wearing Buddies did you? To start, we ordered a complete set of Hiper carbon fiber wheels. Hiper wheels have proven to be plenty strong, and weigh in close to other comparably priced aluminum bead lock wheels available on the market. Since this project has been in the works for some time, our rear wheels feature Hiper's proprietary hubs. We like the overbuilt beefy looking hubs. However, due to issues with different axle manufacturers tolerances in spacing of their axles spines, Hiper has decided to now offer their rear rims with a standard bolt on hub design, allowing you to use your machines stock hubs, or any other aftermarket rear hub you choose.
The only issue we had with these wheels was when one of the front tires wouldn't hold air. Hiper's modular design has a rubber seal that sits between the rim and the aluminum center of the wheel. One of the seals was pinches when we received the wheel, allowing air to leak out. After about 15 minutes, we changed the seal and were good to go. Installation of tires is as easy or easier on these than any other wheel we've used. Oh yeah, they look sick too!
In the rubber department we went with ITP's Holeshot MX front and Holeshot MXR-4 rear tires. ITP's Holeshot MX tires have a history of performing well on all types of track surfaces. Their MXR-4 rear tires weigh in at just 1.5 lbs each, making them ideal for maximum horsepower transfer to the ground.
Controls and Ergonomic
Yamaha's GYT-R Blue Strobe graphics kit was used as a base for the machine's decals. We think you'll agree, this YFZ's performance is equaled only by its good looks. Having a machine with comfortable ergonomics is important if you want to be able to push hard for an entire 20 minute moto. If your machine has an uncomfortable riding position, you will become fatigued much faster, resulting in slower and slower lap times. To revamp our machine's ergonomics we started with a +2 inch taller +1 inch forward steering stem. Remember, ergonomic setups are subject to the size and style of the rider, so our stem length may not be ideal for you. We recommend you sit on as many different machines as possible to figure out what fits you correctly.
Atop the stem, we installed a set of Fasst Company Flexx handlebars. Fasst Co. offers around eight different bar bends of which we took the lowest to complement our taller stem. In case you aren't familiar with these bars, they are constructed of aircraft quality aluminum and feature a hinged design, which allows the bars to actually flex when hitting bumps. The bars come with three different densities of elastomer bumpers, so the rider can make the bars shock absorption characteristics stiffer or softer for different tracks, riding applications, or personal preference.
To deck out the machine's cockpit, we chose a set of Fasst Co. Flexx handlebars to minimize rider fatigue. For our machines controls, we ditched the stock Yamaha clutch perch and replaced it with a trick blue anodized Works Connection Elite Clutch Perch and Lever. The Elite clutch perch setup features their "on-the-fly" adjustment system, with a large adjuster that can simply be rotated either direction, with no lock ring like the stock clutch setup, allowing for quick clutch adjustments during a race. The perch also allows you to adjust the reach of the lever for different hand sizes. The latest version of this lever features a grooved adjuster surface for more accurate adjustments. The Elite Clutch Perch also features a nylon sleeve inside the perch clamp, allowing it to rotate, rather than break, in the case of a rollover.
On the other side, we left the stock brake perch, lever, and master cylinder in place, but replaced the clamp with a matching blue anodized Works Connection perch clamp. As we mentioned before, SS Motorsports supplied us with a Pro Design kill switch and start button. To finish off the controls, we installed a set of Scott grips.

The stock clutch perch and lever were replaced with a blue anodized Works Connection Elite perch/lever and to the stock front brake perch clamp was replaced with a matching Works Connection perch clamp.

TAG Metals front bumper and AC Racing Glide Plate protect the front and underside of our machine. An AC Racing Grab Bar was installed as well, to replace the stock unit and came complete with number plate mounts and all necessary hardware. To protect our expensive powder coat from boot wear we installed a set of Works Connection aluminum frame guards.
Aluminum Bolt-Ons
Starting up front, we installed a Tag Metals silver aluminum bumper. The bumper is very light and extremely good looking. GYT-R aluminum nerf bars installed easily with a very precise fit and GYT-R heel guards were added for additional protection. We protected the underbelly of our machine with an AC belly skid and we also installed an AC racing grab bar which came complete with number plate. To protect our newly powder coated frame, we installed a set of Works Connection aluminum frame guards. The frame guards cover the frame next to the pegs where boot wear is most commonly found. Their weight is insignificant compared to the price of having your frame re-coated.
Numbers, Graphics, and Carbon Fiber
For cosmetic purposes, we installed a GYT-R graphics kit followed by a plethora of sponsor stickers. Taking care of our number needs was a set of GYT-R number plate backgrounds, with CEET Racing black and chrome numbers. You need to be careful when installing the CEET numbers. While they look good, it is easy to make the chrome border look a bit rough from placing the sticker a few times to get it straight. Mist the number plate background or fender with some slightly soapy water before applying for easier movement. Then squeegee the extra water out. Also be careful, scorers don't like reflective numbers like this.
Just before this project was finished, we were contacted by Mickey Spegal, president of Vyp air carbon fiber components. Mickey had just released his 450R carbon fiber hood on ATV Scene, and wanted to know if we wanted to feature his new prototype carbon fiber hood on our YFZ. Vyp Air's hood features a unique design. Looking like a snake head, the hood gives the YFZ a mean and aggressive look and the lines of the hood flow more naturally with the shape of the YFZ than some other hoods we have seen in the past. With the final part installed, our machine's transformation from high strung stocker to full tilt monster was complete. Now on to the track!

VYP-AIR's carbon fiber hood is as well made as anything on the market and features a unique snake head design. VYP-AIR did a truly artistic job of making the serpent head mold into the shape of the YFZ. This is a unique look that will make you stand out from the rest.
Ride Test
Since we were building a no compromise race machine, we wanted to test it at a no compromise race track. So we headed south to Echeconnee Motocross Park in Lizella, Georgia. When we arrived the track was rougher than your grandma's old wash board, as it hadn't been touched since the race the previous weekend. Our Elka suspension would certainly be put to the test. In addition, we knew heading in that the track's sandy surface was sure to show any weaknesses in the motor and the constant load on the motor was sure to put PWR's new radiator to the test.
To make sure we pushed the machine hard, we invited Chris Earlywine and W.L. McCarley to come out and thrash our Pro Am YFZ. W.L. is a talented young Pro Am level racer, who has beaten some pretty well-known pros in the past, and nearly won the 2004 Open Pro-Am championship. Both riders are fast, but with different backgrounds and riding styles, perfect! We felt they would give us a well rounded view of the machine's performance. Scott from SS Motorsports also showed up to help us finalize the machine's jetting for maximum performance.
Motor Performance
PWR's new large-capacity radiator with built-in oil-cooler did an outstanding of keeping our fully-built motor running cool, even with the constant drag of Echeconnee's deep sandy surface. Scott from SS felt that while it's pricey, the PWR radiator would definitely help extend the engine life.Both test riders came away extremely impressed with SS Motorsport's Stage 3 Motor package. When you first get on this machine you want to start riding it in a conventional manner, rev to the moon, shift, rev to the moon, shift etc. Riding in this manner works on this motor because it has arm pulling mid to top end power, with an emphasis on a super strong midrange. While we had our machine set up without a high RPM rev box for reliability purposes, neither of our testers ever complained about hitting the rev limiter. As we hoped, this motor gets the job done before you hit the rev limiter, which should help it last an entire race season.
What is unconventional about this motor's power is just how incredibly strong the bottom end is. You probably wouldn't even notice it was there, unless you tried to explore the machine's low RPMs, or until you got tired and stopped shifting as much. Either way, this is a pro-level competitive 450cc motor with the easy to use power characteristics of a big bore. Scott from SS felt that the Big Gun exhaust would be a good match for the power characteristics we wanted in this motor. Man, was he ever right! Although we knew we were benefiting from the extra air provided by the GYT-R filter, we couldn't help but want to install a foam filter with all of the dust we were kicking up. Please Yamaha, make a dual stage form filter for your GYT-R aluminum flange setup.
Both of our test riders were over 6 foot tall, so they liked the +2+1 stem with the Fasst Co. Flexx bars. While this set up seemed to be perfect for our tall test riders, we recommend you sit on as many machines as possible before choosing which stem length and bar bend is right for you. Both riders felt the SS Motorsports engine package would be competitive against any other motors in Pro-Am or even Pro class. W.L felt that, "While the machine has smooth power which makes it easy to ride, the amount of power on tap definitely makes this a motor package for a rider with lots of experience. Chris Earlywine said, "This motor's throttle response is incredibly crisp at any RPM level. Further more, the motor pulls from bottom to top with no weak spots. Its competitively fast yet its seamless power delivery make the motor less fatiguing than many other fully-built YFZ motors out there.
Aiding in the machine's consistent power was PWR's new radiator and Hinson's clutch basket and cover. We have seen many 450s come boiling off Echeconnee's track, but no matter how hard we pushed the machine throughout the day, we never caught one whiff of antifreeze. This radiator is worth its weight in gold, and just may wind up saving us money in the long run on costly engine repairs. Scott from SS commented, "I really like the design of PWR's new radiator. The unit works so well, I wish I could convince more of my customers of the benefits of this thing. It really did a good job of keeping things cool during our testing." As far as the Hinson clutch components go, we can only report that clutch action and engagement remained smooth and fade-free throughout our resting.
Whether we were hammering down a long whooped-out straight, or hitting a huge hole in the middle of a turn, the Precision Racing Products did an amazing job of isolating the hit from the handlebars. When things were smooth, you almost completely forgot the stabilizer was even attached. Overall, this motor absolutely exceeds our expectations. From its fast and ride-able power delivery to SS Motorsports' extra attention to detail, we believe that SS has all of the right philosophy and tricks to become the next big name in motor builders.
Stopping Power
The YFZ had outstanding brakes stock, but with Streamline's steel braided lines and Extreme Duty pads installed, braking power seemed to be mildly improved. Riding in the sand, you don't have to work your brakes as hard, as the heavy track surface helps your machine scrub off speed, so we really didn't get to punish the brakes as much as we would have liked. We do know that back in 2004, Jeremiah Jones had some issues with brake fading due to too much heat build up in the brakes. Switching rotors cured his problem for him, so as a precautionary measure, and for additional performance, we would definitely recommend adding Streamlines Blade Rotors for the Pro Am ranks.
Handling
It's amazing how a machine of this caliber can attack the roughest parts of Echeconnee's whooped out track with reckless abandon. Both our test riders felt that the long travel Pro Elite series shocks did a good job absorbing all that was thrown at them. Hammering through the uneven whooped-out track, our test riders were encountering some of the roughest conditions imaginable. Chris Earlywine felt that, "No matter how hard I pushed the shocks, they performed flawlessly through the track's deep whooped-out straights and on hard landings. With the 12.5 inches of rear wheel travel, thanks to Elka's Pro Elite rear shock and linkage, the rear wheel travel felt nearly endless" W.L McCarley commented, "The shocks worked well on all of the whooped-out sections, but I would have liked to have the rear end stiffened up for the big hits off of jumps. The front shocks felt right on. They were plush through the rough stuff, but never bottomed on big hits.

SideWinder's Ti-Series chain and Ti-Moly sprockets had the strength it took to hold up to our machine's incredibly strong engine. To keep things straight, we installed a TM Designworks Slide and Glide kit. The kit is very complete with rollers and chain glides. It's available with rollers for MX or a solid slide for use with skid plates. It also includes a case saver.
There is no other high performance product in all of ATV racing that has been so widely accepted by the sport's top pros in both the motocross and cross country scene, as the Precision Racing Products' steering stabilizer and for good reason. The stabilizer's center travel can be independently tuned from its side travel, giving you the ultimate in tune-ability for different track conditions. Yes, W.L did manage to bottom the rear end out from time to time, but nothing harsh of punishing. Well maybe a little, but that was when W.L was soaring over an 80 foot double. Overall, we felt that Elka's setup was definitely in the ball park. We had plenty of adjustment to work with on the Elka Pro Elite shocks, and both of our test riders felt they could dial in the suspension in for their specific riding styles, without any valving or spring rate changes.
Aiding in the suspension department was Precision Racing Products steering stabilizer. Neither of our test riders complained about the steering being stiffened by the stabilizer, but both of them felt that it did a tremendous job of sheltering the rider from any horizontal impacts that would try and jar the bars out of their hands. As a XC racer, Chris is extremely familiar with the other steering dampers on the market. Chris commented, "There were times when I saw a real rough section coming, so I would instinctively tighten my grip on the bars, each time, I was amazed that none of the hits were transferred to the bars. The steering remained very light, I kept forgetting the Precision stabilizer was there until I hit something rough."
All of the chassis and suspension parts combined to make this machine a nearly flawless handler. With suspension that worked surprisingly well right out of the box, and a Precision stabilizer that aids in control and greatly extends rider longevity, this YFZ has all of the handling necessary to clean up in any premiere class.
Small Details – Big Performance
If any part of this machine performed less than satisfactory, we felt it would have had a major impact on the machine's overall performance. Looking first at the ergonomics and controls of the machine, both of our test riders felt that the YFZ's +2 taller +1 forward stem helped the ergonomics of the machine considerably. The Fasst Co. Flexx bars were extremely comfortable and did a superb job of filtering any remaining hits that made their way to the handlebars. Works Connection's Elite clutch perch with its quick adjustment and brake clamp added to the looks of the machine. More importantly the perches operated smoothly and precisely and this added to the machine's smooth clutch action and allowed us to tune the clutch on the fly. It's a small detail that makes a big difference in the heat of battle.
ITP's MXR-4s did an outstanding job of hooking up on Echeconnee's deep sandy surface. In spite of the sandy conditions however, the tires were still showing wear by the end of the day. For soft conditions we would definitely choose ITP's MXR-4 or new MXR-6 line of tires, but for harder packed conditions we would go with ITP's Holeshot SX for longer lasting tread life. The Hyper rims performed flawlessly as expected and continued looking good even after being W.L abused them with his big-air landings. And see how your powder coated bead locks look after being sandblasted all day, they won't be nearly as pretty.
As we said earlier after several hours into our testing, the monster motor, combined with sandy conditions caused several teeth to break off of our TAG Metals aluminum rear sprocket – resulting in the chain derailing and wasting the finish on our brand new swingarm. Apparently, some sand got stuck under the chain's rollers, slightly lifting the chain from between the sprockets teeth while under power, resulting in the teeth being broken off. This might not be an issue on hard-packed tracks, or those with less sandy conditions, but for a machine with this amount of power, we will find other ways to lighten the rear end of the machine in the future.
Just when we thought we were heading to Capitol Cycle to pick up a new rear sprocket for our machine, Scott from SS discovered that he had a complete new set of SideWinder Ti-Moly sprockets and Ti-Series chain in the tool box. After installing the new SideWinder drive train, we were back on track with no further issues.
Final Conclusion
The fully-modded machine flew straight and true off of almost everything we launched it off. If mid air corrections were necessary, the machine was easy to maneuver through the air. Things have changed since we mounted Kory Ellis to our '04 YFZ test quad a few years back. While high-dollar motors are once again needed for Pro or Pro-Am racing, companies like SS Motorsports have really worked out what it takes to dramatically increase the machine's overall power output while building a motor that is considerably easier to ride. Our machine truly benefits from the step forward in the components and technology available for the YFZ. Only time will tell how well we did at building a machine that a Pro Am rider can use all season, but we do know that we took as many steps as we could think of to make it achievable.
Both our test riders who were on hand, as well as test rider, Aaron Meyer, who rode the machine after the initial test, feel that the machine would be highly competitive in the Pro Am class. W.L McCarley even felt that it was capable of placing high in the pro class.
Thanks to Yamaha's award-winning YFZ foundation and all of the reputable aftermarket products we installed, we were able to create a machine that exceeded our expectations for performance and is absolutely worthy of winning a Pro Am or as W.L said, Pro Championship. Mission accomplished!
Project ProAm YFZ Prices List
Machine:
2005 Yamaha YFZ450
$6,899
Motor:
Motor Build
SS Motorsports Stage 3 Motor kit. Includes wiring harness mod with kill switch and start button
$3,125
Exhaust
Big Gun EVO X
$549.95
Filter
GYT-R filter, GYT-R aluminum adapter plate and GYT-R pre filter
$154.85
Clutch Basket
Hinson Racing Billet
$230.00
Clutch Cover
Hinson Racing
$200
Radiator
PWR Factory With Internal Oil Cooler
$599

Total

$4,858.80

Chassis Mods
Frame Gusset Kit
Lone Star Racing
$200.00
Gusset Kit Installation
Earlywine ATV and Cycle
$150
Sub Frame
Lone Star Racing six point chromed
$730
A arms
Metal Craft Long Travel Upper Chrome Lower Powder Coated
$1,200.00
Swing Arm
Metal Craft Standard Length w/carrier
$850
Steering Stem
Metal Craft +2+1 Chrome
$289
Axle
LSR Axcaliber
$410

Total

$3,829

Suspension Mods
Front Shocks
Elka Elite Series 10.5in travel
$1,675
Rear Shock
Elka Elite Series 12.5in travel
$1,045
Linkage
Elka
$265
Steering Stablizer
Precision Racing Products
$485
Brake components
$258.83
Brake Lines Front
Streamline +3
$93
Brake Line Rear
Streamline standard length
$42.99
Brake Line Clamps
Streamline Billet
$34.99
Brake Pads Front
Streamline Extreme Duty
$57.90 set of 2
Brake Pads Rear
Streamline Extreme Duty
$28.95
Tires/Wheels
$1,035.80
Front Tires
ITP Holeshot MXR-6 18X10X8
$139.90 set of 2
Rear Tires
ITP Holeshot MXR-6 20x6x10
$137.90 set of 2
Front Wheels
Hiper Technology Beadlock 10×5 4+1offset
$364 set of 2
Rear Wheels
Hiper Technology Beadlock 8×8 3+2 offset
$394 set of 2

Total

$3,470

Aluminum Bolt Ons
Nerf Bars
GYT-R
$219.95
Heel Guards
GYT-R
$159.95
Front Bumper
TAG Metals
$99.95
Grab Bar
AC Racing MX
$64.95
Chassis Skid Plate
AC Racing Glide Plate
$109.95
Frame Gurads
Works Connection Aluminum Frame Guards
$65

Total

$719.75

Drivetrain
Chain/Sprockets
Sidewinder Ti-Series/Sidewinder Ti-Moly 14/37 gearing
$309.97
Chain guides and rollers
TM Designworks Slide and guide kit
$109.95
Controls
$469.85
Handlebars
Fasst Co Flexx Bars
$299
Grips
Scott Comp II ATV
$10.95
Clutch lever
Works Connection Elite Perch
$134.95
Front Brake lever
Stock lever and perch w/ Works Connection Rotating Bar Clamp
$24.95

Total

$419.92

Miscellanious
Hood
VYP AIR Carbon Fiber

$199

Graphics/seat cover
GYT-R Blue Strobe
$104.95
Number Plate Backgrounds
GYT-R
$26.95
Numbers
Ceet Racing black/chrome 10in
$9.95
Oil Fill Plug
Works Connection
$22
Powder Coat Frame

Precision Powder Works, strip frame and apply two coats. Chrome w/clear coat

$290

Total

$652.89

Total Cost

$22,613.80
Tags:
Comments
comments