Ride Testing Yamaha's All-New 2016 Grizzly EPS 4×4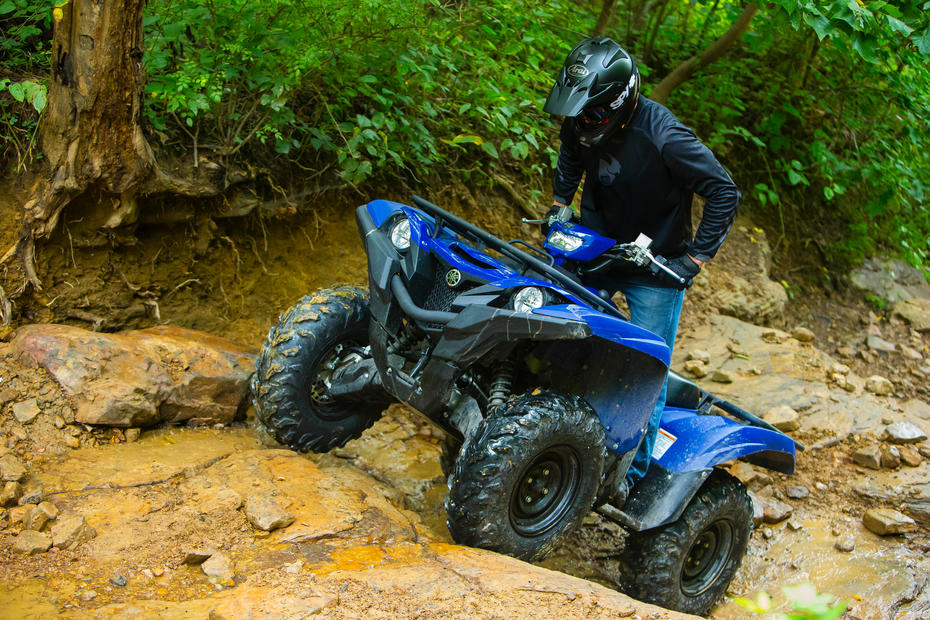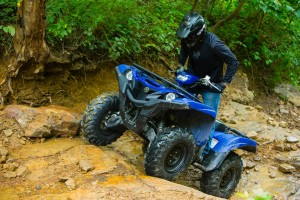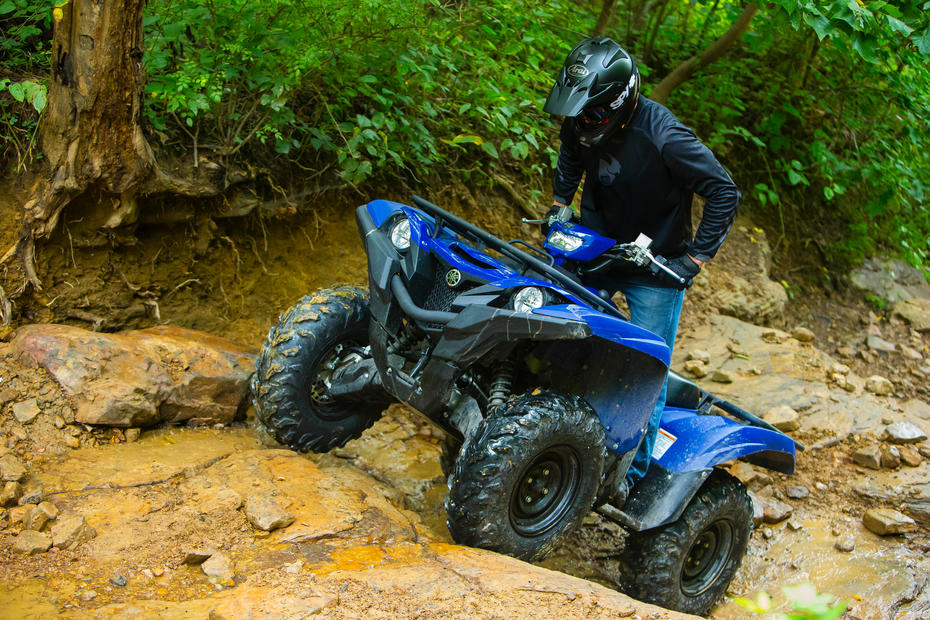 I'm back from Windrock Park in east Tennessee, where I put two days of serious seat time on Yamaha's all-new Grizzly and Kodiak ATVs. Windrock is the largest privately owned trail system in the country. I raced the UTV Rally Raid through its rugged terrain, so I know the rock-infested trails quite well and this helped me thoroughly test the Grizzly. I feel thoroughly testing a machine is important and appreciated in providing an educated review.
Model year 2016 marks Yamaha's 60th anniversary, with this Yamaha decision makers have determined it is a perfect time to let a couple new bears loose on the scene, so both the Grizzly and Kodiak have been completely updated. I highly encourage you to keep reading because I think you're going to like the changes that have been made.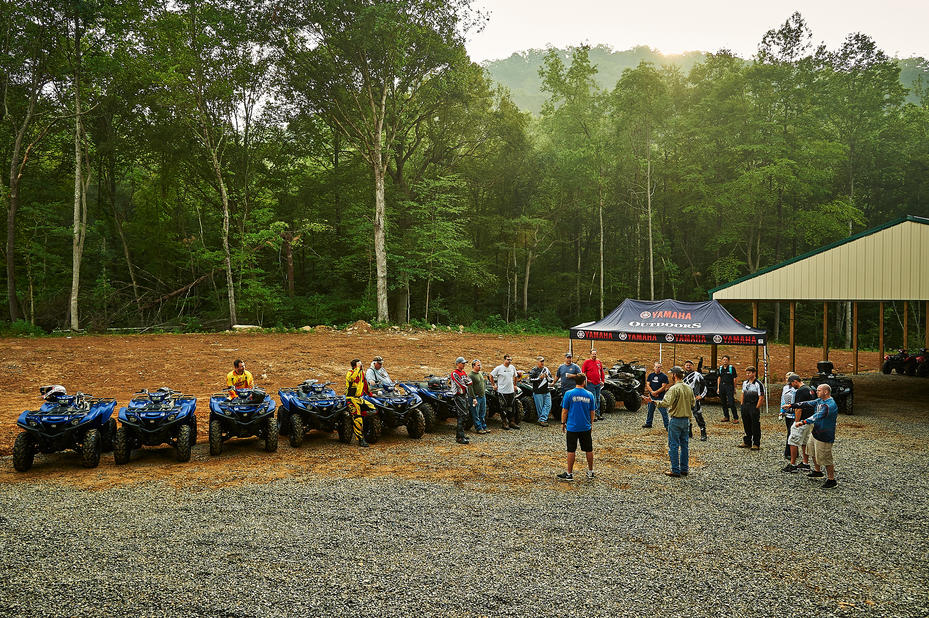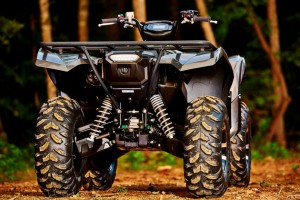 Upon first glance of the 2016 Grizzly, especially the EPS Special Edition, which sits stout in bad-to-the-bone Carbon Metallic, you'll notice fresh and aggressive new styling. The lines of the redesigned front and rear fenders are sharp, crisp, flowing and more sporty than "worky" if you ask me, but even more fresh and new is the 2016's redesigned front grill and blow-molded grab bar, which not only looks better, but is strong enough to yank the machine out of the mud if you get stuck. Also new in the looks department is a handlebar-mounted halogen headlight to add to the new aggressive-looking LED headlights incorporated into the hood.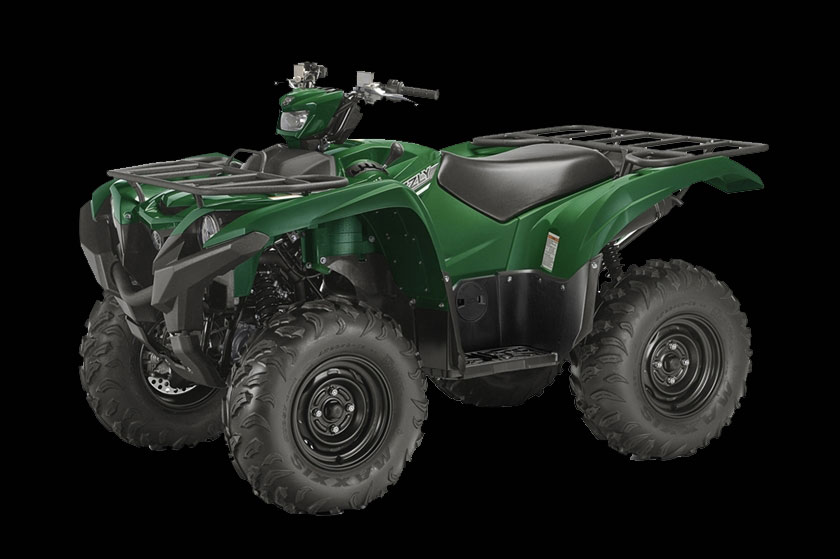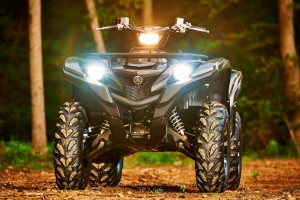 Other not-so-obvious-at-first-site updates are numerous. All combined they make the new Grizzly a much better machine without taking away the trustworthy characteristics that have made it such a respected staple in the ATV scene. New improvements include the following; a new DOHC 708cc engine with six percent more power and nine percent more torque than the previous model Grizzly 700, a new chassis, a newly designed seat, 26-inch Maxxis tires (up from 25" meats in prior years), newly designed front and rear racks with increased load capacity at 110 pounds in front and 198 pounds in the rear, a new tank-area storage option, new suspension (definitely more on that later), a new digital LCD meter with fuel gauge, speedometer, odometer, dual trip meters, hour meter, clock, 4WD/Diff-Lock status, transmission gear indicator and EPS warning light, a new under-the-seat larger diameter no-tools air filter system, a new dual overhead cam, new gear ratios, a lighter more aggressive clutch weight, new larger front and rear CVJs (constant-velocity joints) and new forged wheel hubs.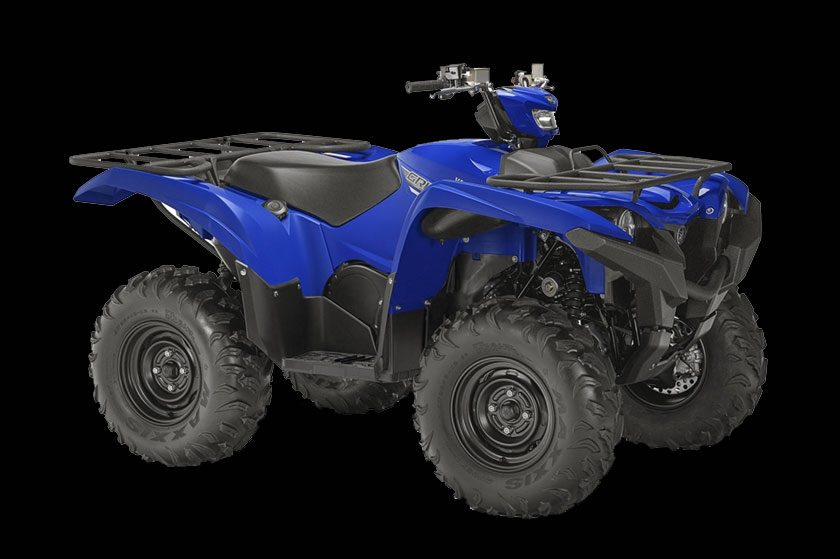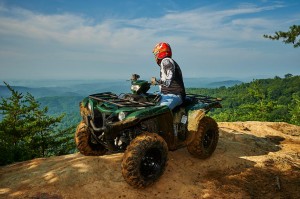 As you can see, that's a whole lot of new! if you're thinking of getting a 2016 Grizzly, you will undoubtedly be pulling one of the most modern-day high-tech 4×4 ATVs available into your garage! The Grizzly offers the most torque and power of any Yamaha 4×4 ATV ever, it's the only big bore 4×4 ATV with twin piston disc brakes on each corner, it features the best EPS system in the business and Yamaha's durable Ultramatic CVT transmission, which everyone knows is top shelf stuff – it's no wonder the Grizzly has been the best selling big bore utility ATV in America, and I can't see that changing after riding the latest and greatest bear.
Ride Review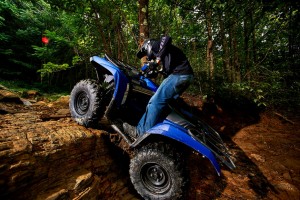 You may have quickly scrolled down to this point to get the run-down on how I liked the new Grizzly. I'll spare you anymore scrolling, it's my favorite new 4×4 on the scene!
A stab of the start button brings the new 708cc engine to life. Thanks to its 44mm bore Mikuni fuel injection system, starting is easy, as is fuel delivery in nearly any condition. Shift to high and an easy right thumb push of the On-Command button and you're in 4WD and ready to roll out. The first thing I noticed was the comfy seat and how easy it was to maneuver around. At first I thought the newly located gas cap would hinder me when aggressively turning right since I tend to move around on a machine more than most. It's nice to report that wasn't the case, and speaking of this new gas cap location, I didn't do this but I would assume lifting a heavy five-gallon container and pouring gas would be much easier in the new location.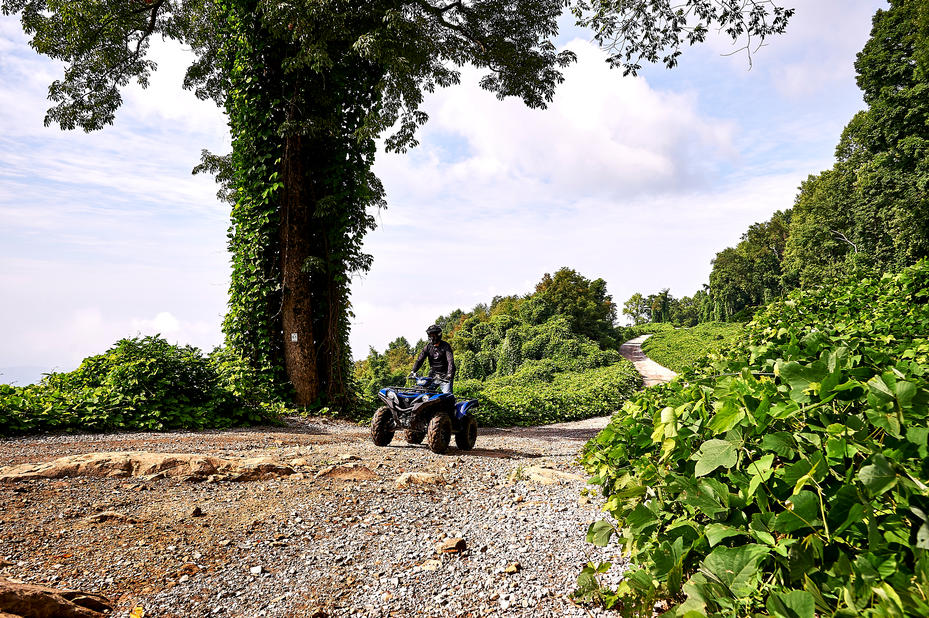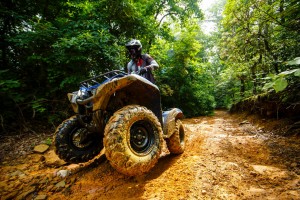 Dropping the hammer on the new Grizz is fun and addictive! Not only does the new DOHC 708 offer more displacement but gulps more air thanks to a completely redesigned intake and airbox which was brilliantly relocated under the seat where it belongs. Yeah, its new location is a little lower than the old spot, which was in the traditional gas tank area, but air intake is still high on the machine and the no tools air box is sealed quite well so wet riders have no fear. Another plus in this air filter move is a bigger filter. Also, in the first-impression-power-category, delivery is smooth yet snappy and fun thanks to a new lighter clutch setup.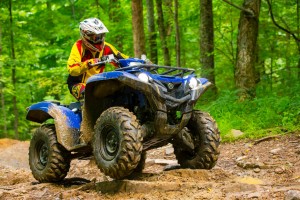 There were times the racer in me wanted a harder hit to muscle up an incline, but I promise most of the day there was no other stock 4×4 I wanted beneath me. That's mainly due to the precise handling and nimble maneuvering that the new 2016 Grizzly offers. Combine this with its excellent suspension, which features 7.6 inches of travel in the front and 9.1 inches in the rear and the ride is pure joy. The shocks seemed to be catered to my size, weight and riding style. Of course they're 5-way preload adjustable so a softer more plush ride for tooling around the farm or work area only takes a few minutes to accomplish. The new Grizzly took on the gnarly terrain much better than previous model years. It was especially fun to effortlessly float over the many rocks and ruts on Windrock's advanced level trails. And since Yamaha's EPS is one of the best in the industry, providing a perfect balance of assist and positive feedback, it doubles as a steering stabilizer. Trust me, this greatly helps make navigating through the many rock-mines less fatiguing and way more fun! So save the extra money and make sure your new Grizzly is equipped with power steering.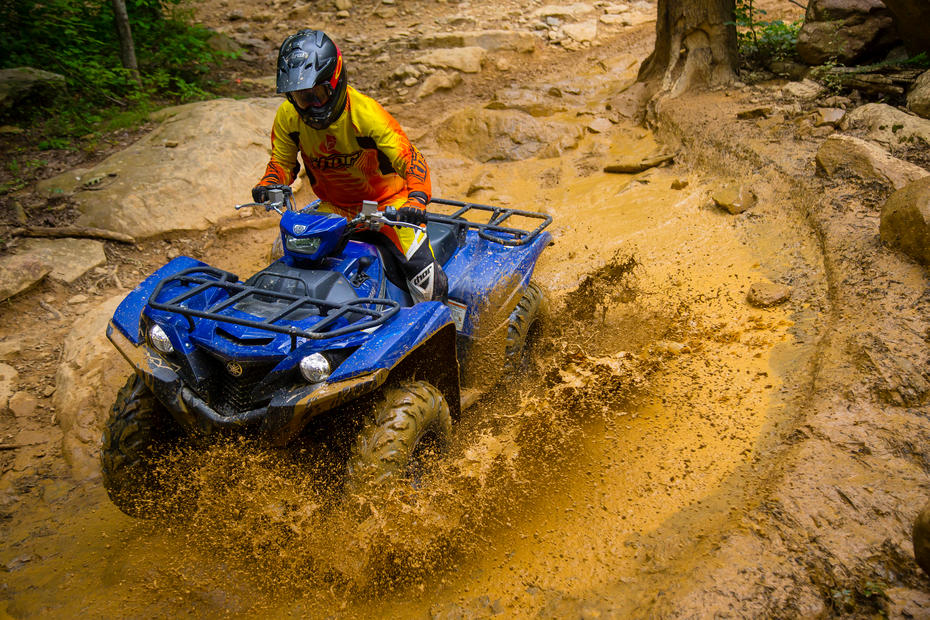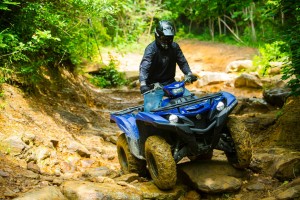 Overall ground clearance is an impressive 11.3 inches, this is thanks to new 26" inch Maxxis tires. The taller tires not only improve ground clearance but help the machine crawl over terrain a little easier than year's past. I know it sound like a small difference, but I appreciated the change. And consider this, of the 13 media outlets in attendance none of the Grizzlies came back with flat tires, and only a few reported even bottoming on a rock, but thanks to full coverage skid plates rock-bottoming shouldn't be much of a problem anyway.
You know you're on a quality product when everything seems to flow and work as one. Yamaha has taken great pride in this and it shows. As I said the 2016 Grizzly handles very well, it does exactly what you think it's going to do, without any pushing, bump-steering, bottoming or power lag. What's more pairing the increased performance from its DOHC 708cc engine with Yamaha's Ultramatic transmission relentlessly delivers meaty usable power regardless of the situation. There's no hiccup or lag, no wishing you could feather a clutch or click a gear down — power is always ready at your disposal. In short the Grizzly makes smooth, predictable power that lets you tackle the terrain all day without tiring. In fact, after two days of hard core ride-testing I went home without any aches and pains, not even a blister.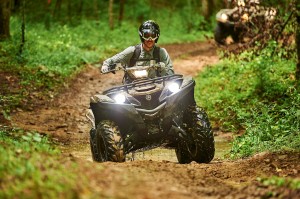 Another thing about Yamaha's durable Ultramatic CVT system. It provides natural-feeling engine braking that never hinders your decent like many machines I've ridden in years past have. You might recall the experience, you're greeted to an unexpected slow-down-jolt that throws you into the handlebars? Yeah, there's none of that going on with the Grizzly, this kind of engine braking is welcomed not tolerated.
Continuing with one of Yamaha's all-time gems, it's transmission system, is the On-Command four-wheel drive system that lets you shift from 2WD, 4WD or 4WD full diff-lock with a fool-proof push of a button near the right grip on the handlebars. As I've said in the past, the racer in me just wishes it could be located on the left bar so I could shift without losing time by taking my thumb off the throttle.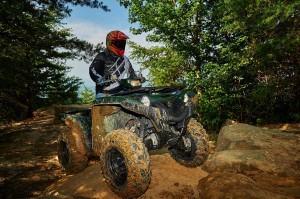 As well as the new Grizzly performs, its stopping-power is equally impressive. The 2016 Grizzly is the only big bore ATV with a twin piston, four-wheel disc brakes. What's more the reservoirs are located right at the levers so brake feel is superb! And finally, front and rear brakes are controlled separately, front on the right and rear on the left, anything short of this is sub-par shoddy workmanship as far as I'm concerned. All this combined gives the Grizzly the best brakes in the 4×4 ATV industry, and this is extremely appreciated as braking is a very important part of an ATV for me.
As you already know, the old Grizzly offered an impressive platform for educated buyers that weren't easily swayed by one of the new large displacement monster-quads that seem to gather a lot of attention. Yamaha could have chosen to inject its Grizzly with home-run-hitting-steroids and turn it into a fire-breathing 1000cc A-Rod Grizzly, but opted to build from the same true-blue, time-tested, reliable 700-size platform. Whether you think that's a pro or a con is up to you, all I can tell you is the 2016 Grizzly is near-flawless, performance is first-rate and it seems to fit me and my riding style like an old glove. I love it!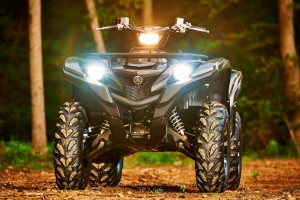 Special Edition and Limited Edition Models
If the 2016 Grizzly EPS isn't quite enough ATV for you, Yamaha has something special that's sure to turn heads. It's their finest-dressed Grizzly bear offered in sleek Carbon Metallic painted plastics. Click to enlarge the photos and really check out this looker. Beside its killer looks and all of the great features of the standard model, it boasts machined aluminum wheels and a 2-inch receiver hitch that's rated to haul 1,322 pounds.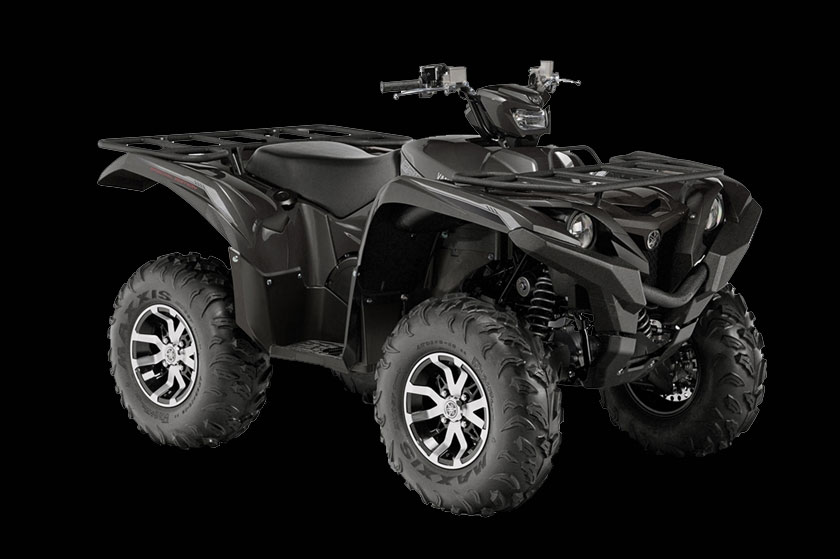 The Crimson Metallic painted Limited Edition (LE) model also features painted plastics, special graphics and new machined aluminum wheels, plus a removable fairing with windscreen, heated grips, thumb warmer and heated seat.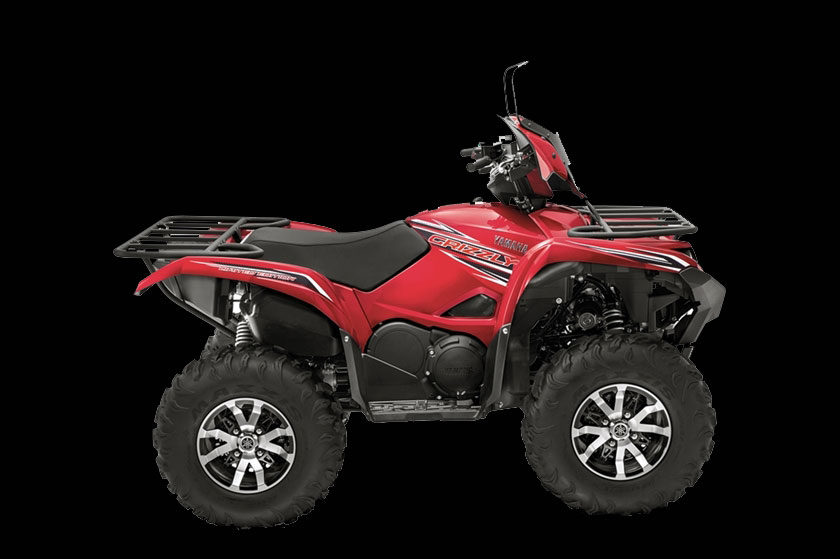 Grizzly Models and Costs
The all-new Yamaha Grizzly comes in Yamaha Blue, Hunter Green, Red and Realtree Xtra® camo. MSRP starts at $8,899 for non-EPS and $9,699 for EPS models. The SE model's MSRP is $10,299 and the LE's MSRP is $10,899.
For more information on Yamaha, visit www.yamahamotorsports.com
Comments
comments