2016 Yamaha Kodiak 700 4×4 Ride Review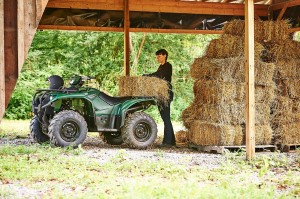 When I first heard that Yamaha planned to use their 708cc engine in nearly all of their ATVs and Side by Sides I thought it must be some sort of April Fools joke, but it was only a few months ago, April had already past, low and behold they were serious – every machine in Yamaha's 2016 line, except the YFZ450R and their new Raptor 90 would indeed be powered by the same 708cc DOHC engine.
After listening, and later ride testing the all-new Kodiak, I have to admit they might be on to something here. This never-been-done-before idea is actually a pretty good one the more you think about it. Mass producing the same engine has to cut cost, plus putting that same engine to work in so many platforms gives me a pretty darn good feeling about the R&D that must have went into the mighty 708. I don't know about you, but it makes me feel like they have a lot of trust in it. Yamaha's engines have always been tops in the reliability department, but can you imagine how well the developers at Yamaha must know this engine inside and out? I have to assume their new 708 is more tried and true than any engine they've produced in the company's 60 years of building engines. What's more, I would think that companies in the ATV aftermarket performance industry would make the 708 engine kit their priority performance kit since they could sell the same kit to so many Yamaha ATV and UTV owners.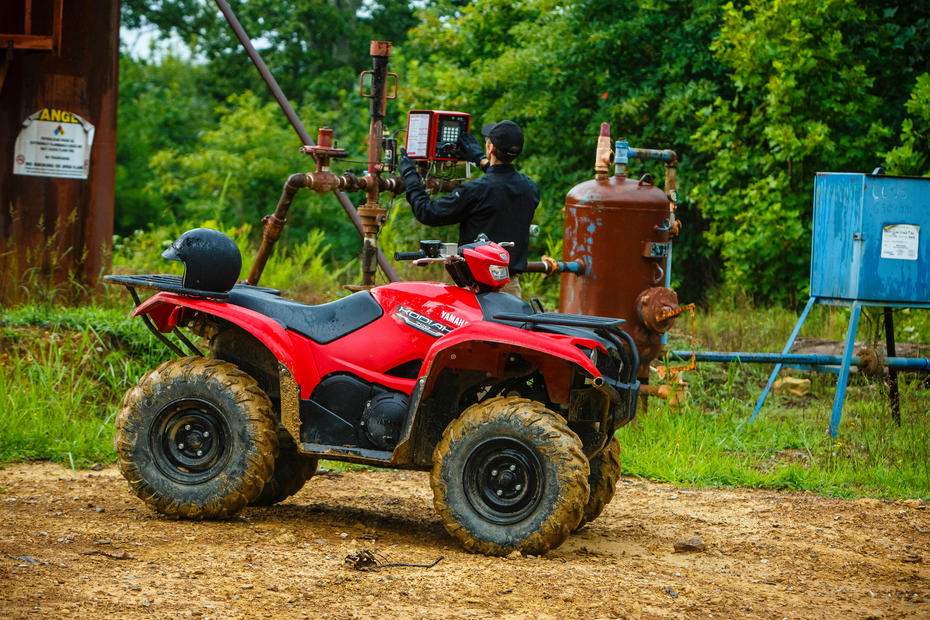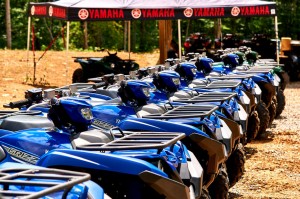 I can easily accept that the Raptor 700R, Wolverine, Viking and Grizzly all use the same engine but their entry-level mid sized 4×4 Kodiak as well? This is where at first I figured they might lose the entry level demographic that might freak out at the sound of actually swinging a leg over a big 700, especially when they went to the dealer with thoughts of a simple 400-550cc machine.
Well if that happens to be you, I'm here to ease your concern and provide some big bore engine logic that might help you to be less intimidated, thus help you to reconsider the Kodiak as your new ATV. Having more horse power doesn't necessarily mean you're going to end up way over your head when you give it some gas coming out of a corner. On the contrary, the Kodiak, which makes more horse power than any mid sized 4×4 in its class, is more apt to get you out of trouble than put you in it. Having enough power on tap if needed is rest assuring when you need that little extra grunt to get over the last part of a hill, get you out of the mud and not stuck in it, push a mound of snow completely out of the way or pull a heavy trailer up a wet incline. This is where I think the Kodiak just might offer the most bang for your buck in this mid sized category, and perhaps of any ATV available. For under $7k your brand new mid sized ATV has the capability to out muscle all in its class and does so with smooth, controllable ride-all-day comfort. And since you wont need to constantly wind up the RPM to get at its power your Kodiak is sure to last longer as well. This is a pretty impressive thing to consider when shelling out thousands and thousands of dollars.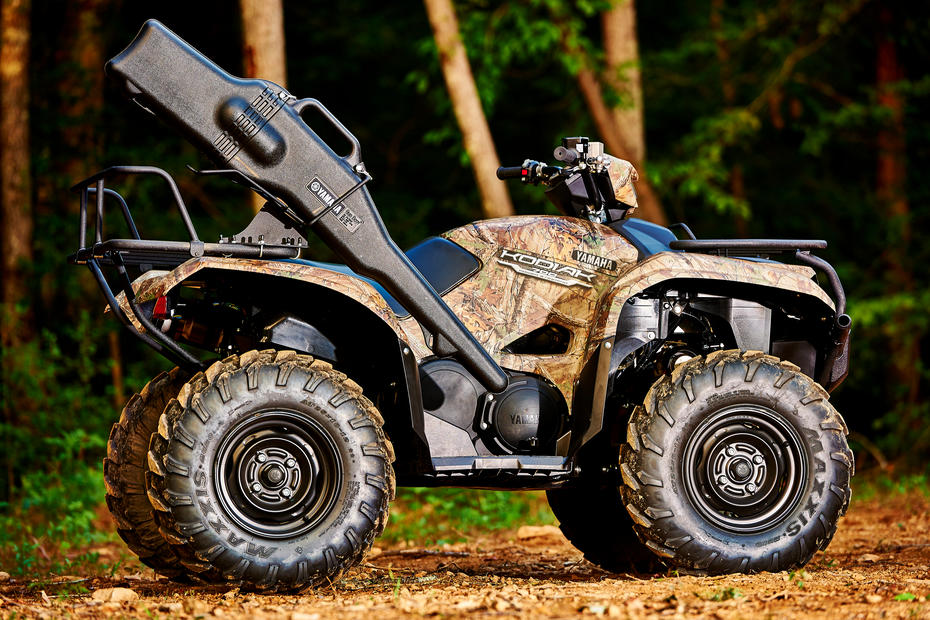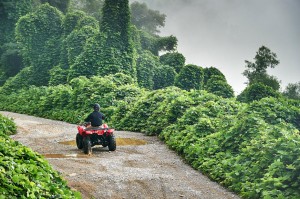 I could probably end my review right there, but this sleeper quad packs a lot more bang for the buck so let's continue. Besides the engine's bonus displacement, that's fed with fool-proof easy-to-start fuel injection, it's driven by Yamaha's trusty Ultramatic transmission. This durable CVT system is the same as the Grizzly, except it uses heavier roller weights. The Kodiak's 30 gram clutch weight compared to the Grizzly's 18 gram gives the Kodiak its relaxed non-intimidating engine feel. But, if you're perhaps a budget minded 4×4 sport enthusiast like myself, you will be putting your new quad to work, but you aren't necessarily interested in buying the Kodiak as an everyday work machine. Fun trail riding adventures await, and keeping up with your buddies that spent more money than you is the whole reason you clicked onto this review in the first place. Can a lower priced Kodiak bear run with the higher priced big Grizzly bear? I say YES it can! The Kodiak already dishes out the exact same horse power numbers, with minimal dollars you can have a harder-hitting more responsive feel by converting the clutching to the same specs as the Grizzly.
Your next question should be, "how does the mid sized working man's 4×4 perform out on the trail? Can it actually keep up with a Grizzly? Yes, the Kodiak enjoys non-working days just as much as you do and does indeed handle itself quite well. In fact, there were times I would actually prefer the nimble easier to dart around Kodiak than the bigger Grizzly.
First and foremost the two machines are built specifically different for different uses. Kodiak buyers are more likely to want a reliable work machine than a bells-and-whistles go-fast 4×4, like the Grizzly. But even though this is Yamaha's mid sized entry-level worker bear, I feel the need to provide a comparison to the Grizzly so you'll know just how far you can maximize your purchase. You can save $1900 by buying a Kodiak instead of a Grizzly. If you're contemplating on which of Yamaha's 4×4's is right for you I would highly suggest you read my 2016 Yamaha Grizzly 4×4 Review after you read this Kodiak review.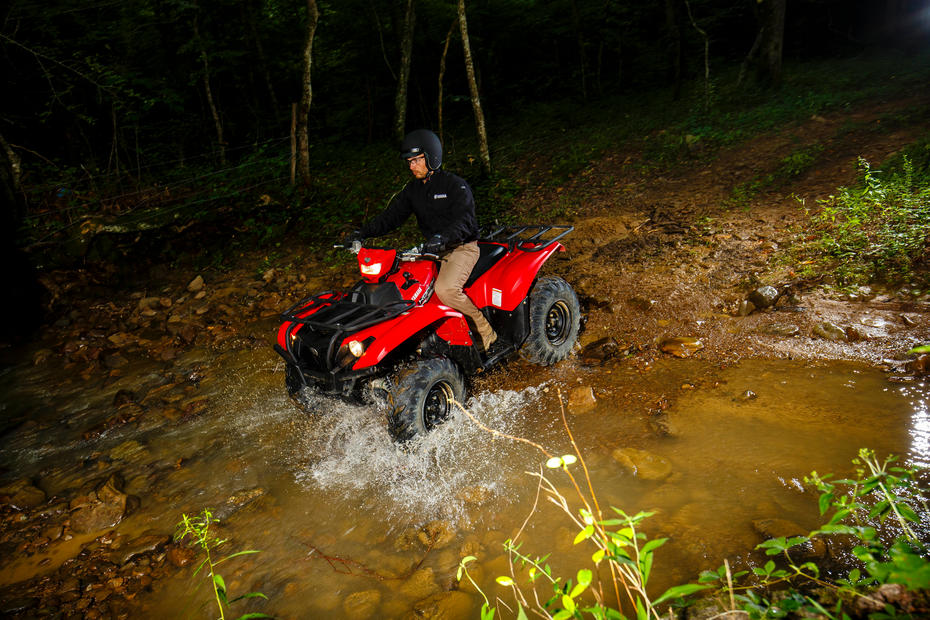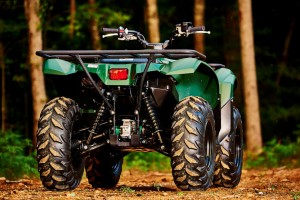 The new Kodiak 700 incorporates independent suspension with 7.1 inches of travel in the front and 9.1 inches of travel in the back. The seat, which is interchangeable with the Grizzly, is over an inch lower and the total seat height compared to the Grizzly is over two inches as is the width of the machine. It's smaller size also allows it to have a much better turning radius. All in all, it's a mighty little work machine that seems to handle hard core trail riding way better than you might originally think, at least it sure did for me. The Kodiak provides the rider with a lower center of gravity feel than its bigger brother. The entry level or casual rider will enjoy the fact that the Kodiak allows more of a secure sit-in, stable I-got-this feeling while tackling obstacles.
None of us pulled a trailer, or hauled any weight, but the13 members of the media that were invited to ride test the machine the day after the Grizzly intro at Windrock Park in Oliver Springs, TN, had nothing but smiles going. Maybe they were just smiling because I was, but I couldn't help it. I had so much fun on the Kodiak. Affordable worker 4×4 or not, the sure-footed Kodiak comes with a bonus helping of off road performance. My Kodiak may have somehow been smiling too, as it felt nimble and eager to lead the way. It especially carved sharp turns quite well without pushing or any tipping feeling.
Suspension was good, as were the brakes, especially up front. Even the base model Kodiak comes with real man's brakes up front, dual hydraulic discs! In the rear, since the mission is to keep costs down for many years of use the Kodiak is equipped with a sealed rear wet brake that's said to not need any maintenance for the life of the machine!
With its 25" Maxxis tires the Kodiak delivers nearly 11 inches of ground clearance and if that's not enough to straddle a big rock front to back skid plates are stock equipment. Traversing those rocks is easy with the world's most fool-proof 4 wheel drive mechanism. Flop the handlebar-mounted lever and you've just engaged 4 wheel drive.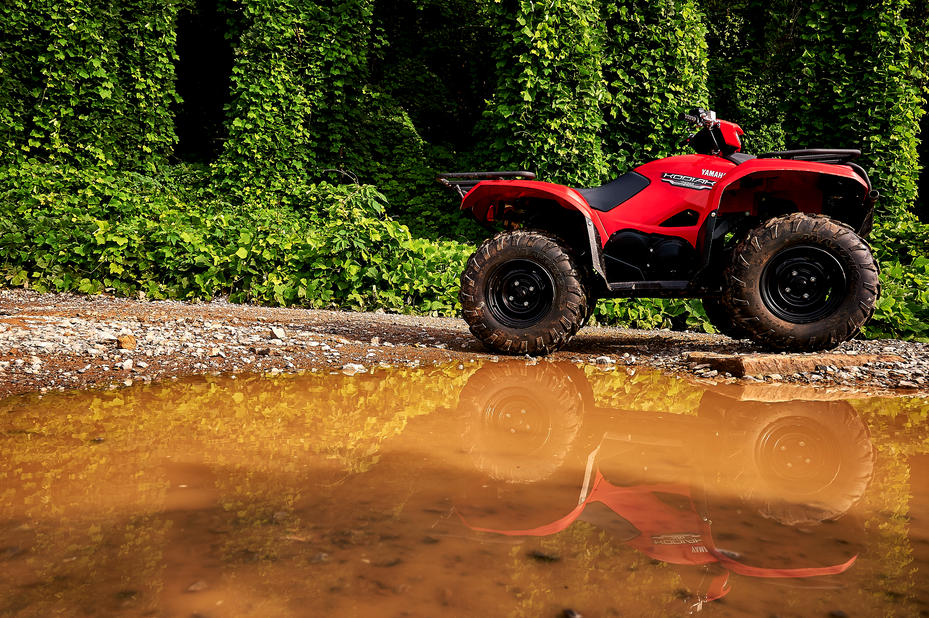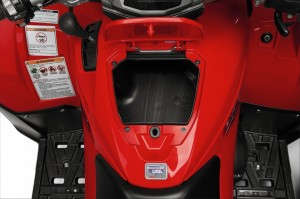 Even though the Grizzly and Kodiak brands cater to two separate needs within the ATV scene, besides sharing its same engine, the Kodiak benefits from a few other Grizzly niceties, including its new under the seat sealed no tools airbox, which allows for a very handy compartment that couldn't be easier to get to right front and center between you and the handlebars. You also get the same rugged steel front and rear racks that can carry up to 110 pounds in front and 198 pounds in the rear. And Yamaha didn't skimp as it also offers the same newly designed 4.76-gallon fuel tank for all day working or trail riding, plus a standard 12V DC outlet for powering accessories and personal items.
You can get the 2016 Kodiak 700 for under $7k. As you can see, you can pack a lot of bang for your buck with this purchase.
2016 KODIAK 700 EPS 4×4 ATV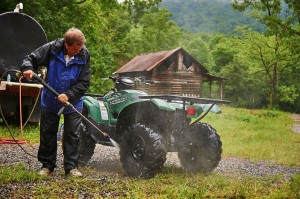 The 2016 Kodiak 700 EPS model combines all of the great features of the non-EPS version that I've described above with increased functionality and performance at an $8,199 MSRP.
Additional features on the Kodiak 700 EPS start with Yamaha's Electric Power Steering (EPS) that provides the best balance of assist and positive feedback from the trail, providing maximum comfort and confidence, especially on long days and during hard working situations.
A key feature in the new EPS model styling is the all-new center handlebar-mounted halogen work light that provides additional illumination while following the rider's movements. Set directly behind the handlebar light, a new digital LCD meter displays fuel gauge, speedometer, odometer, dual trip meters, hour meter, clock, 4WD/Diff-Lock status, transmission gear indicator and EPS warning light. Out back, the EPS model features a 2-inch receiver hitch rated to haul 1,322 pounds.
The all-new Kodiak 700 and Kodiak 700 EPS models come in Yamaha Blue, Hunter Green, Red and Realtree Xtra® camo.
2016 SPECIAL EDITION (SE) KODIAK 700 EPS 4×4 ATV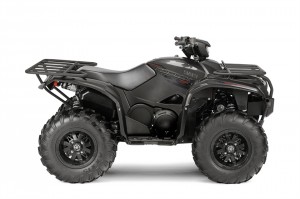 The all-new 2016 Special Edition (SE) Kodiak 700 EPS 4×4 ATV comprises all of the great features in the standard EPS model Kodiak, plus Yamaha's legendary On-Command® four-wheel drive system. The On-Command system puts the rider in control of 2WD, 4WD or 4WD full differential lock with push-button control conveniently located on the handlebar.
The SE Kodiak 700 EPS also gets all-new 25-inch cast aluminum wheels, painted Carbon Metallic plastics, and special graphics for $8,899 MSRP.
Learn more about the new Kodiak at www.yamaha-motor.com
Comments
comments