Ship Your ATV with Haulbikes.com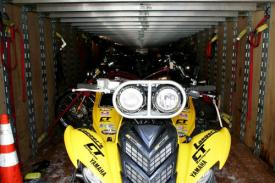 No crate needed and door to door service make Haul Bikes.com a cost effective way to ship your machine. We recently shipped our pro-level 12 Hours of America Yamaha Raptor from CT Racing in Southern California to Indianapolis for the Dealer Expo. Since many of you readers also have similar transport needs, whether you're buying, selling, racing or needing your quad for that annual "fly and ride" trip to the dunes in Glamis, we figured we would inform you of a simple and cost effective way to transport your machine.
Our Special Edition Raptor needed to arrive on time and look its best as it was scheduled for display in the Laeger's booth at the Indy Trade Show. "What a hassle," was our original thought. Drain the fluids, remove the battery, build a crate, arrange for loading docks to and from, confirm fork lifts… the thought of shipping this thing had us thinking twice about the whole ordeal.
A Better Way
"Shipping it is easy. Just go to haulbikes.com," quickly interrupted Allen "Knowles It All" Knowles of CT Racing. We did just that and found that Allen was spot on. The Haul Bikes.com ideas looked like a winner.
For almost twenty years now, Daily Direct LLC, better known as Haul Bikes.com, have been exclusively shipping ATVs, motorcycles, jet skis, snowmobiles and trailers across the country. We were sold when we found we were able to ship the CT Raptor door to door with no fork lift needed, no crate or pallet, no need to drain fluids and absolutely no hassles — all for about $600.
We called Ken Durik at Daily Direct/Haul Bikes to get more info for this news piece. Ken informed us that it's a pre requisite that every employee and every driver is a motorcycle and ATV enthusiasts. Ken said our quad would be shipped by people who also own and ride ATVs and motorcycles themselves so they understand our shipping concerns and handle them accordingly. Ken also informed us that our Raptor would be fastened and secured in one of their many enclosed trailers which have been designed and tested to protect against damage and wear. And Haul Bike.com is hip with modern day technology. For logistics and security, every Haul Bikes truck is satellite tracked.
Other Options?
For the sake of this news feature we shopped around and found a slightly better price. But with the better price we needed to crate the quad, drain the fluids, transport it to and from loading docks and surrender to the fact that our precious special edition Raptor would be transported with heavy machinery, somebody's furniture, livestock, or who knows what else. So in the end saving a hundred bucks actually would cost us a lot of time and hassle. And would our Raptor get to Indy on time without a scratch?
Check out the video above for more on this cost effective way to ship your quad and surf over to haulbikes.com to learn more. They even have a handy chart that shows the exact cost according to where your machine needs to be sent to.
As for our verdict? Five stars! We'll definitely use this service again.
Haul Bikes.com Benefits
• Experience – A veteran motorcycle and ATV shipping company that ships nothing but motorcycles and ATVs. Drivers and all employees are motorcycle and ATV people.• Convenience – Your ATV is picked up and dropped at the location that works best for you, whether it's your residence, a hotel, campground or maybe even right to the trail. Your quad is delivered with fluids and battery intact; no need to crate or palletize. Haul Bikes trucks are equipped with hydraulic lifts to carefully load and unload.

• Safety – Enclosed trailers and special strapping system designed for smaller vehicles.

• On-Time Delivery – Delivery 24/7 right to your door with average delivery times of two weeks.

• Tracking – The ability to check on your shipment at any time.

• Insurance – A licensed shipping company that includes $15,000 of insurance with a $500 deductible right in your quote

• Quick Quote – a FREE instant online quote No hidden fees and no extra cost for race quads.
Comments
comments