Bully Dog Technologies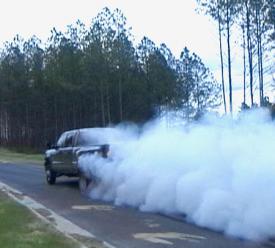 We wanted more power to pull our massive Weekend Warrior and better gas mileage from our 2006 Chevy. Were we being greedy? Read on to find out. If you think you need to blueprint, port, bore and hone your truck's head and cylinders in order to see any significant horsepower increases, you really need to get with the scene and read what we did in this feature. Now days there's a much easier and more reliable way to tap into your truck's performance potential. Thanks to Bully Dog Technologies, you can simple download a program to your truck's computer system and claim the unused performance your truck holds within.
Not only can you look forward to very significant performance increases, you'll also be rewarded with added fuel economy after simply uploading a new "tune" to your truck's onboard computer system. This is very apparent if your truck happens to be diesel powered.
Bully Dog #1 In Diesel Performance
Enter Bully Dog Technologies, home of high quality performance products and electronics made especially for today's diesel powered trucks.
We heard about all the hype and seriously looked closer at what Bully Dog could offer after towing our new 44 Foot Weekend Warrior trailer with our 2006 Chevy Silverado 4×4 3500. With 360 horsepower at 3000 rpm and 650 lb.-ft. of torque at 1600 rpm, the stock LBZ Duramax already packs a pretty impressive punch. Soon after Bully Dog confirmed that we could indeed raise the roof on the new Chevy to 500 horse and 1000 foot pounds we were on our way to their headquarters in Aberdeen, Idaho.
Choose Your Weapons
Even though the performance goods that Bully Dog suggested would only take a few short hours to install, they spent the day with us explaining every detail associated with each portion of their products. After listening to our needs and checking out the monster Weekend Warrior we would need to tug across the country they put together a package that would really wake up our Duramax — yet maintain its "like-a-rock-longevity". The package was actually pretty simple; a chip, pipe and a dash mounted monitor.
Rapid Flow Exhaust System
The first thing we tackled was installing Bully Dog's 4" Stainless Steel Rapid Flow Exhaust System. Bully Dog builds their pipes with the absolute minimal degree angles on bends. With this they create less restriction and allow a faster free flow of exhaust. This also allows the turbo to move air more freely and reduces exhaust temperatures.
Bully Dog claims their Rapid Flow Exhaust is the most free flowing low back pressure system in the industry and have the dyno results to prove it. The Rapid Flow Exhaust System alone would boost us an instant 10-20 horsepower. Not bad, but this gain would end up being just the tip of the iceberg.
Outlook Monitor
Next we installed the pillar-mounted Bully Dog Outlook Monitor. Installing the high-tech little monitor was pretty simple. First we drilled a hole in the exhaust and installed the sensor wire then we swapped out the driver's side pillar with the one in the Outlook kit. Next we wired it to the fuse box and watched it come to life.
The Outlook Monitor is definitely necessary. It monitors exhaust temps several times per second, adjusts the truck's fuel delivery instantaneously, takes priority access of the truck's engine and gives complete control over power levels with the press of a button. It also allows you to set emergency de fueling points based on exhaust temperatures. When temperatures reach your set levels, the Outlook Monitor will automatically engage and de fuel to prevent excessive exhaust gas temperatures. In other words, it's got your back and wont let you burn up your engine. In addition, the Outlook also monitors and displays various diagnostic and performance functions within the truck.
What Does Bully Dog's Outlook Monitor Do?

On The Fly Adjustability
Adjust Tire Size
Pyrometer Defuel
Transmission Temperature defuel
Display and erase DTCs
Boost Pressure
Dual Pyrometer (2)
Accurate Speed Display (MPH)
Engine RPMs
Throttle Position
Coolant Temperature

Transmission Temperature
Injection control pressure
Horsepower and torque
0-60 times (MPH)
1/4 Mile time
Peak Boost
Peak Pyro
Peak Horsepower
Peak Torque
Fastest 0-60
Fastest 1/4 mile
This is how you get serious ponies out of your truck. An additional benifit rarely mentioned to having one of these bad boys is the fact that you'll be able to diagnose and clear your own trouble codes without taking your truck to the dealer.Triple Dog Downloader
Now it was time for the biggest mod of all. It's hard to believe that installing the biggest improvement to the truck would be the easiest. It just doesn't get any easier than sitting in the truck and pushing a few buttons on our new Triple Dog Programmer and realizing an additional 130 horsepower. That's right over 100 horse without popping the hood!
There's three modes to choose from; Stock, Performance/Tow and Extreme. The Stock setting returns everything to stock. This is the program you use when you need to return your truck to the dealer. Performance/Tow is the mode you want to use when you tow. You'll get your best fuel economy and impressive power gains here. Extreme is just that. Hold on and enjoy the ride. The truck turns into a sports car with the Extreme setting. We should probably mention one more mode, but it's not without some hesitation. It's called "Crazy Larry". Dump this to your truck and be ready for insane power! Don't get excited like we did, as did Bully Dog, we're here to talk you down as well. You'll need some extensive tranny mods to run this program, and even after that Bully Dog can't guarantee a long-lasting reliable truck as they can with their Performance and Extreme levels. Our word to the wise, is to probably forget we mentioned ole Crazy Larry in the first place.
With other performance downloaders on the market you need to choose one program and pretty much live with it. Of course you can always pull over, turn the truck off and download another setting, but what a hassle. That's not the case with Bully Dog's Triple Dog Downloader. You can now switch levels on the fly! That's correct, the Triple Dog Outlook combo allows you to do what no one else can, adjust from three modes on the fly inside your cab with the Outlook Monitor while you drive. When a new mode, or "tune" is programmed to the truck there's a lot of changes going on from fuel injection to shift patterns and lots in between. The fact that Bully Dog figured out a way to make all these changes happen on the fly is pretty impressive if you ask us.
We have to be honest, we did encounter one problem with the Bully Dog system. The fuse tap that Bully Dog includes in their Triple Dog Downloader / Outlook Monitor Combo ended up causing some problems for us. As you can see in the photo of the fuse tap on the left, one prong ends up being twice as wide. If you like to tinker like us and find yourself pulling fuses, whether for observation or whatnot, then do yourself a favor and use the add-a-circuit system on the right. Apparently the fuse tap system we initially used widened one side of the prongs on the fuse circuit we were using. Over time, after pulling the fuse to inspect, the fuse ended up getting inserted in the reverse direction. Now the single width portion of the fuse was inserted into the widened side which didn't allow a consistent connection. This confused the computer and sent all kinds of trouble codes and glitches throughout the truck, including bouncing gauges, non working accessories and system shutdowns. Of the thousands of systems sold, no other Bully Dog customer has reported this problem. Nonetheless, Bully Dog informed us that they will more than likely switch to the more professional add-a-circuit system, but if your new system ends up with the old fuse tap, do yourself a favor, toss it and replace it with an add-a-circuit fuse system. They're sold at most auto parts stores. We got ours at Auto Zone.
As you can see in this case, the Outlook monitor certainly isn't just displaying your truck's temperatures. The monitor actually allows you to change settings on the fly for dynamic control without using the downloader.
Lastly, using the above combo we easily installed a few Bully Dog upgrades that we downloaded from Bully Dog's website. Isn't high tech cool?
Our Testing and Results
Yeah baby! Now that's more like it. Thanks to Bully Dog we added 150 horsepower and picked up 2+ miles per gallon. We really put Bully Dog's products to the test this past race season. Our 2006 Chevy Silverado 3500 with the LBZ Duramax Diesel was worked and worked hard. The truck was equipped with nothing more than a Bully Dog Triple Dog Downloader a Cat Back 4" Bully Dog Rapid Flow Exhaust and it repeatedly towed our 44 foot Weekend Warrior trailer.
All tests were conducted during trips to and from race events in 2006 at 67 mph. Although it's tempting to get on it, we refrained when testing in an effort to be consistant and log the best fuel mileage possible. You'll find this is the hardest part to getting your best fuel mileage. We'll admit, when not logging fuel mileage it's hard not to romp on it and feel the brute power Bully Dog extracts. It's truly outrageous power, and very addicting we might add.
We now have 25k miles on the truck. It takes this long to break in a diesel, so our best fuel economy is yet to come. As you can see in our chart below, Bully Dog not only provided us with a bunch of additional ponies to tow with, they also saved us money.
Pulling our 44 foot Weekend Warrior 5th Wheel trailer…


Stock
Averaged 7.1 mpg
after 6 tanks of fuel.

Bully Dog
Averaged 9.4 mpg
after 21 tanks of fuel

No trailer, nothing in the bed of the truck…


Stock
Averaged 17.3 mpg
after 2 tanks of fuel

Bully Dog
Averaged 19.8 mpg
after 5 tanks of fuel
Notes:
Mileage was calculated manually. Chevy's on board computer logged even better numbers. Almost all of the above mileage reports were obtained from freeway driving at 67mph.
Summing It Up
Bully Dog Triple Dog Downloader with Outlook Monitor $949.99. Bully Dog 4" Rapid Flow Stainless Exhaust System $469. State of Ohio Speeding Ticket $120… Look on GT Mustang owner's face after roosting him in a cloud of black smoke, PRICELESS! Our best fuel mileage while towing measured in at 11.4 mpg. Interestingly enough we reached our highest fuel economy while adding Lucas Diesel Additive to the fuel tank. To be consistent in our testing we only used the additive on two tanks of fuel, but now that the testing is over, we plan to utilize this impressive product in the future. Not long ago, during a road trip from Cleveland to Atlanta we logged our best mileage ever, a whopping 21.2mpg! Thanks to Bully Dog, our near 7000 lbs pick up truck sipped fuel at about the same pace as a luxury automobile.
The last thing to report on is our favorite. It's called the wow-factor. We got plenty of it with this package. The first thing you'll notice is the deeper throatier sound that the Rapid Flow exhaust provides. Hammer down and it's all smiles. As ATV enthusiasts, we all enjoy the thrill of performance. Stand on the accelerator and we were pinned to the back of the Chevy's leather and loving every second of it. Like a sports car, with the truck in Bully Dog Extreme mode, the challenge is not to spin the tires. Passengers are in shock after a ride in our Chevy. We truly feel this truck will easily log 15 or better seconds in the quarter mile. Bully Dog's Triple Dog Downloader paired with their Rapid Flow Exhaust truly is something to experience. And based on our testing the package will more than pay for itself at the pump. If you're pulling a trailer and want more power and better fuel economy, it's time to wake up your truck and get a Bully Dog package for yourself.
More at bullydog.com
Comments
comments