2011 ATV Riding Gear Guide Part One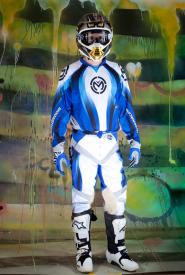 By: Jorge Cuartas
We recently got our hands on eight of the newest riding gear offerings from some of the best Companies on the market. As luck would have it though, shortly after wrapping up our shoot and video, another batch arrived. The late arrival, coupled with the Thanksgiving holiday travel plans put us in a bind, as we want to make sure we give every set of gear the right amount of attention. Rather than push back the entire thing we've decided to just split our gear guide into two equally impressive parts.
SHIFT
The Recon is Shift's lower end "over the boot" line, but you'd never know it. The relaxed fit is both comfortable, and as much as I hate to admit it: stylish. The pants are constructed of heavy-duty polyester, which makes them damn near bullet-proof. The adjustable waist tabs allow you to fine tune your fit. Best of all, they have zip off lower legs which convert these monstrous pants, into monstrous shorts. The jersey is honestly fairly similar to the Faction jersey with mesh and poly panels, except they're intended to be worn outside of the pants as opposed to tucked in. The gloves are damn near identical to the Faction gloves with reinforcements in all of the right places, and stretch in all the others.
The SHIFT Riot Helmets are flat out awesome, they're comfortable, lightweight, well ventilated and cooler looking than just about any other helmet on the market. As with their gear, Shift's helmets push the visual envelope into places where most gear companies wouldn't venture. Technically speaking, the injection molded polycarbonate outer shell has an EPS inner shell, multiple air vent channels offer superior temperature and moisture control. The removable Nylex® cheek pads and comfort liner allow for a superior fit and moisture wicking ability, and the integrated roost guard offers superior protection. Exceeds Snell and DOT safety standards. The Shift Agent helmet line is nearly half priced, but almost as impressive. From a technical standpoint, they're nearly identical to the Riot.
Recon Pant Camo MSRP: $99.95
Recon Jersey Camo MSRP: $34.95
Recon Glove Camo MSRP: $29.95
Agent Helmet Checked MSRP: $99.95
Smith Optics Intake Sweat-X Goggles MSRP: $60 www.smithoptics.com
* Shown with AlpineStars Tech 10 Boot MSRP: $579.95 www.alpinestars.com
SHIFT
When it comes to stylish gear, Shift resides at the top of the heap. Long known for superb quality and style, Shift is unafraid of trying new looks, and is often rewarded with visual home runs.
The Faction is Shift's premier line of traditional style (in the boot) riding gear. The pants offer an aggressively articulated design in the waist, and the knees conform to the rider while in the "ride" position. The X-Stretch™ 4-way stretch panel in the crotch increases unrestricted riding mobility, while the flex-zones in the knee panels increase mobility and provide a great fit over just about all knee braces and guards. The full-grain leather inner knee panels offer more than enough resistance to heat and abrasion. Multiple stretch-zones include a hidden rear flex panel and Lycra® insert liner gusset which ensure mobility and a comfortable, contoured fit. The Jersey's multi-panel construction is also designed with increased comfort, and optimum ride position in mind. The combination of polyester, and mesh offer both moisture wicking and ventilation for the ultimate in performance. The Faction glove is equally packed with features, including a Single layer Clarino® palm and thumb reinforcement (for ultimate control and responsiveness),
Airprene™ stretch knuckle panels (which provide both airflow and flexibility), premium breathable and flexible top of hand materials, "pre-curved" finger sidewalls (which provide superior grip), and silicone fingertips for increased lever control.
Faction Pant Suicidal MSRP: $159.95
Faction Jersey Suicidal MSRP: $49.95
Faction Glove Suicidal MSRP: $32.95
SHIFT Riot Helmet Suicidal MSRP: $179.95
Smith Optics Intake Sweat-X Goggles MSRP: $60 www.smithoptics.com
* Shown with AlpineStars Tech 10 Boot MSRP: $579.95 www.alpinestars.com
FLY Racing
Fly Racing's Kinetic line offers many of the same features found in FLY's "High End" Evolution line. Fully loaded with race performance technology, and features, the Kinetic line is the choice of many top pro riders on dirtbikes, and ATVs alike. The Kinetic line offers pro level technology, features, and benefits at an everyday rider's price.
The Jersey is constructed of TPR, Lycra and stretch-rib materials for increased function and great fit. There are mesh panels integrated into the jersey design, which help keep you cool, the collar has a printed tag, and the "Shorty Cuffs" have elastic sleeves designed to help reduce unwanted arm pump. The extended tail helps keep the jersey tucked in. The Kinetic pant is a rider's dream. High-end materials, leather knees, and multiple stretch panels create a performance part—full of comfort and function—at an affordable price. The Kinetic glove boasts a four-way stretch, multi-directional construction, which offers increased support, feel, comfort, and grip.
F2 Carbon Systematic / Split Helmet is a lightweight carbon fiber/Kevlar® design that flows plenty of air and has a fit that's unsurpassed for a helmet in its price range. Returning for 2011, the Split graphic showcases its classic lines and go-with-anything style. Regardless of your taste, the F2 Carbon Systematic and Split helmets are pure race at a reasonable price. SNELL 2010, DOT (USA), (Other Country Standards Include ECE, and Australia Approved). They meet and exceed all of the toughest standards. The Multi Port Air Induction Cooling System has an Industry exclusive 11 intake vents coupled with 4 exhaust vents which circulate mass amounts of air to keep your head cool even in the hottest of conditions. The Composite Construction Shell is built with Carbon Fiber, Kevlar®, and fiberglass components which not only make it light, but extremely comfortable. Other cool features (literally) are the three air intake vents above the goggle eye ports, which draw air from the goggle in order to help clear away fog. The Dual Density EPS Liner is designed to help reduce the shock of impact by creating a more progressive impact absorption, and the EPS and Comfort liners align to maximize airflow.
Kinetic Line in Flash Yellow/ Purple
Kinetic Jersey MSRP: $29.95
Kinetic Pant MSRP: $89.95
Kinetic Glove MSRP: $26.95
F2 Carbon Systematic / Split Helmet MSRP: $259.95
SCOTT
Scott's 250 Series collection is intended for riders seeking performance and quality from a mid-level apparel line. High quality materials that add comfort, mobility, and durability are what define the 250 Series. The 250 pants feature dual leather knees for improved connectivity to the motorcycle and contribute to overall durability of the pant. Venting and stretch panels throughout the pant allow for adequate movement and air circulation. The 250 jersey features a comfortable neck line by using a special variety of spandex material and is well ventilated, allowing adequate air flow and circulation. The 250 Series re-defines what's expected from mid-level motocross apparel. The 250 gloves feature Spandex on the top portion of the hand, and a dual layer, Poly blend on the palm side, the cuff is Neoprene with a hook and loop closure, and the "lever fingers" have a nice silicone pad to keep things tacky. For an even higher end product, you can check out the 450 Series.
Scott's goggles have been around way longer than most of us, and are an industry staple. The Recoil Pro is among their newest releases, and is packed with features including Multi Layer Foam, NoFog™ Anti-Fog Lens Treatment, 100% UV Protected WORKS Clear Lexan® Lens, Durable Silicone-Lined Strap, and an 80 Series Lens that is Tearoff­ Compatible. The Vapor helmet is absolutely awesome; the Alloy injected PC shell is light-weight, and the dual density eps liner combine for an incredibly comfy package. The assault helmet has dual vent intakes, and multi vent exhausts keep you cool, as well as convenience features like a tool-less visor adjustment. On top of everything, it exceeds DOT / SNELL standards, and is AMA Racing approved.
250 Racewear Jersey MSRP: $34.95
250 Racewear Pant MSRP: $99.95
250 Racewear Glove MSRP: $21.95
Recoil Pro Goggle MSRP: $49.95
Vapor Helmet MSRP: $149.95
* Shown with AlpineStars Tech 10 Boot MSRP: $579.95 www.alpinestars.com
THOR MX
Thor's Phase line is their mid priced offering. While not as pricey as the Core, it's a solid line. The jersey is constructed of a 100% polyester micro mesh which wicks moisture, and feels light when wearing it. The sleeves are "Raglan" style with lightly padded elbows, and the collars are knit for less restriction. The pants are cuffless with Spandura stretch panels in all of the key areas. All seams are either double, or triple stitched for durability, and the pants include a full-length inner liner. The gloves are pretty similar to the Moose offerings, and offer the Clarino palm, and printed silicone for increased grip and support.
The Quadrant Bio helmet offers plenty of high end features, at a mid level price point. Removable liners, molded goggle strap holders, and a mesh filtered mouth guard make the Quadrant a great choice for a DOT and ECE 22.05 approved helmet. The Enemy printed goggle is a cost effective offering, and much like any other "gear" brands goggles, do everything you need without spending too much. Are they Oakley, Smith, or Scott? No, but they work great for $30.
Phase Blue Jersey MSRP: $29.95
Phase Blue Pant MSRP: $89.95
Phase Blue Glove MSRP: $19.95
Q1 ATV Boot MSRP: $99.95
Quadrant Bio Helmet MSRP: $159.95
Enemy Printed Goggle – Wht Scribble MSRP: $29.95
MSR
MSR's "Renegade" line may not be as pricey as their "NXT" stuff, but it's certainly nearly as packed with features. This mid price point gear is a great choice for riders wanting to save some nickels, without sacrificing much quality. The pants have a ¾ length mesh liner, ratchet style belt, and ribbed spandex upper knee panels with full grain leather inner knee panels. The jersey is super light-weight 100% spun-poly, and has what MSR calls a "raglan" cut which promotes air flow, and mobility. The extra long tail keeps it tucked in and looking neat. The renegade gloves are comfortable, and snug, with mesh fabric, Velcro wrist closures, and Lycra™ finger slits for optimum flexibility. The thumb panel and synthetic palm are reinforced for comfort, and increased wear resistance.
The Velocity helmet is light-weight, precision molded, and offers a poly carbonate shell with molded-in dome crests for increased structural integrity. The graphics are clean, and glossy thanks to the UV finish, and the air-flow is adequate thanks to numerous inlets, and exhaust ports. Snell 2010 and DOT approved. The MSR goggles are so cheaply priced that you can pretty much call them disposable. The quality is decent, and I've used them for a solid year without issues. They're no Smith, Scott, or Oakley, but they don't claim to be.
Renegade Pants: black/ white MSRP: $99.95
Renegade Jersey: black/ white MSRP: $34.95
Renegade Glove: black/ white MSRP: MSRP: $24.95
Velocity Helmet: MSRP: $149.95
MSR Goggle: MSRP: $17.95
MSR Elite Boots: MSRP $159.95
Moose Racing
The Moose XCR line is about as well built as gear gets. The pants are made of Nylon/polyester with double and triple stitched seams with heat and abrasion-resistant genuine leather inner knee panels, and stretch panels above the knee and seat. The integrated dual waist cinch straps allow you to fine tune the fit. The jersey is comprised of two different types of semi-ventilated polyester, and is constructed with raglan style sleeves for full range movement and comfort, and Lycra micro cuffs. The custom Lycra collar is designed for comfort and mobility, and as a whole the gear fits extremely well. The XCR glove is made from nylon mesh, and offers a comfortable, and durable ergonomic design. The Clarino palm has a padded overlay in the high wear areas, and the fingers are pinched, and pre-curved for optimum fit. Stretch finger gussets provide secure and comfortable fit, and there's tacky grip print on the finger tips for added lever control.
XCR Pant MSRP: $139.95
XCR Jersey MSRP: $44.95
XCR Glove MSRP: $34.95
* Shown with AlpineStars Tech 10 Boot MSRP: $579.95 www.alpinestars.com & EVS Takt Bling Helmet (Discontinued) www.evs-sports.com
Moose Racing
The Sahara line is pretty much an extremely ventilated version of the XCR.
Sahara Pant MSRP: $114.95
Sahara Jersey MSRP: $39.95
Sahara Glove MSRP: $29.95
* Shown with AlpineStars Tech 10 Boot MSRP: $579.95 www.alpinestars.com  & EVS Takt Bling Helmet (Discontinued) www.evs-sports.com
Comments
comments