Introducing ATV Off Road Fury For Sony Playstation 2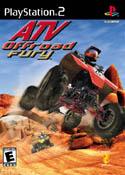 Realistic? By all means yes! The folks at Sony and Rainbow Studios carefully observed hours and hours of ATV racing footage courtesy of H-Bomb Films, (the company behind the Huevos Video series). In fact the opening intro to the game, a look at some extreme ATVing, is H-Bomb's work. After all the observation as to what racing an ATV is all about they've come up with what we feel is not only the best ATV racing game ever made — but the best video game we've ever played!
There are real OEM ATVs from Honda, Kawasaki Polaris and Yamaha. Then there are ATVs like the "Ravage" that mimic the king of all ATV racing – the 250R. Keep selecting and you'll come to the "Havoc" series – a dead ringer for the new Bombardier DS 650. Each ATV offers a different performance package. What's more is you can fine-tune the performance package by taking your choice quad to the "Garage". Don't worry you won't need to figure out gear ratios and handlebar bends for hours before you play the game. This game is hands on for instant fun from anyone! Sound effects are just as accurate as the vividly detailed graphics. Each ATV is correctly matched with its actual exhaust sound! Like we said before the makers definitely did their homework. While we're talking sound, the musical soundtracks for the game include hits from Alice in Chains, Primus, Soundgarden and Anthrax – no crapy digital themes that irritatingly play over and over in the background. Not a heavy metal fan? No problem you can customize the song that plays, turn it down or up – or even off.
Rumors have it that you can type "alloutai" into the name options for extremely advanced play. We tried it but didn't notice a change. If any of you readers know anything about this, let us know — we're curious.ATV Offroad Fury features over twenty well constructed tracks that come in outdoor motocross (The Maxxis Nationals), stadium supercross and cross country variations. They've used Supercross racer, Stephane Roncada to help with their design layout of the tracks. The terrain comes complete with mountainside tracks, sand dune race tracks, snow-covered courses, dry river bed courses and much more. The scenery is incredibly life like, right down to the shadows that accurately form on objects and approaching terrain. The"Waypoint Editor" is available for those that want to construct their very own track, a great option for those creative souls that love to tinker. And feel free to leave all the tracks behind and explore over 2 square miles of uncharted territory – just watch out for nuclear power plants, air ports and moving trains.
You'll definitely want to chase points in the "Pro Career", which is made up of 9 Maxxis National out door tracks and 9 stadium super cross events. Win the championship and you'll proudly display the lucrative number one plate and a brand new state-of-the-art 250R bored and stroked to1000cc! Careful it's pretty fast! The downside to chasing points in the "Pro Career" mode is that you cant turn off the console or you'll lose all your points – thus re "locking" all the tracks that you succeeded to "unlock". The remedy for this is to buy a memory card for your new Playstation2 (retail price is around $100). Or you can simply leave the thing run for three weeks straight like we did. The Sony Playstation2 console only "crashed" on us once. It locked up on round 8 of the "Stadium Supercross" portion of our "Pro Career". A simple push of the reset button on the game unit and the frozen screen problem was instantly fixed. We didn't mind playing all over again at all.
How's it play?
While loading up the mode you selected, the game kindly offers some words of suggestion to help you do your absolute best. "Use the clutch for better starts", and "As the ATV travels faster use less pre-load to jump low and fast" are just a few. Gameplay is just as realistic as the life like surroundings. The ATV actually acts and feels like the one you race and ride in real life. You'll quickly find yourself in deep concentration as you steer through traffic, picking gears off in a quest to get to the first turn or jump first. And that "X" button under your right thumb will suddenly act and feel more like the thumb throttle of your Yamaha Warrior. You'll want to maneuver around on the quad just as you would while jumping your 400EX or pre-loading the suspension of your modified 250R to clear a tricky double. If you don't ride it like an ATV with the needed body English – prepare to crash. And hitting a cliff-like jump tapped in 6th gear will accurately launch you some 250 feet, resulting in a nasty crash. As we said, this gaming experience is as close to real time riding as you can get! You'll want to choose from three different selections (Practice, Single Race and Lap Attack) from six different modes. The DUALSHOCK™ Analog Controller actually vibrates in your hands to give gamers the feel of every bump, turn and crash in the terrain.
You can take out riders that get in your way as you gun it to the finish line, just beware that they don't cowardly go away. If you want to play that game – expect some bar banging in return!
Yet another bonus to the game is its ability to allow you to customize the viewpoint. The right analog stick allows you to swing the camera around a 360 degrees plane. You can then play the game as you look above the player, close in and from far away, allowing for a completely customizable perspective There's also a "Thrill Cam" viewpoint. You can utilize this by pressing the R2 trigger in midair. This will shift the camera to a remote, dynamic point of view – giving you a cool look at the sick air you just busted massive tricks over.
Sony informs us that the game is currently their biggest seller for the Playstation2 console! After playing it (for days on end), we can see why.
Don't just take our word for it. Here's what a few others are saying about the hottest new game on the market…
"This game is definitely the best racing game I've ever played. It makes me proud to be an ATV racer" — Tim Farr
"Looks like they did their homework. I'm impressed." — Shane Hitt
"I wish I didn't just play that thing. I'm hooked on it now" — Travis Spader
"I didn't think I would need to buy the new Playstation2. Looks like I was wrong — Kory Ellis
"It's really intense! My little cousin was playing it while I watched. I slowly felt myself using body English in my Lazyboy" — Jeremiah Jones
"It's a great start for sure. I'm hoping they update it with a second version that has real pro riders and real ATV race tracks — I want to be Dana Creech!" — John Natalie
"It's the shit! That's for sure. Only thing is — I want to be John Natalie". — Dana Creech
"With its state-of-the-art graphics and its incredible sense of realism and gameplay, this is by far the best and most authentic game about our sport ever produced."- Dirtwheels Magazine.
"It's already a thoroughly impressive demonstration of a game that's been crafted with care, and is sure to provide stiff competition for THQ'a upcoming CMX 2002 and other extreme racers." – Daily Radar.com
"Visually, Fury looks pretty sharp with sleek terrain awesome ATV models and some of the coolest lightening yet seen on the PS2. A kickin' soundtrack will pace the action with tunes from bands like Primus, Soundgarden, Alice in Chains, and more." – Game Pro World
Comments
comments