Yamaha YFZ-R Project Quad Build Part One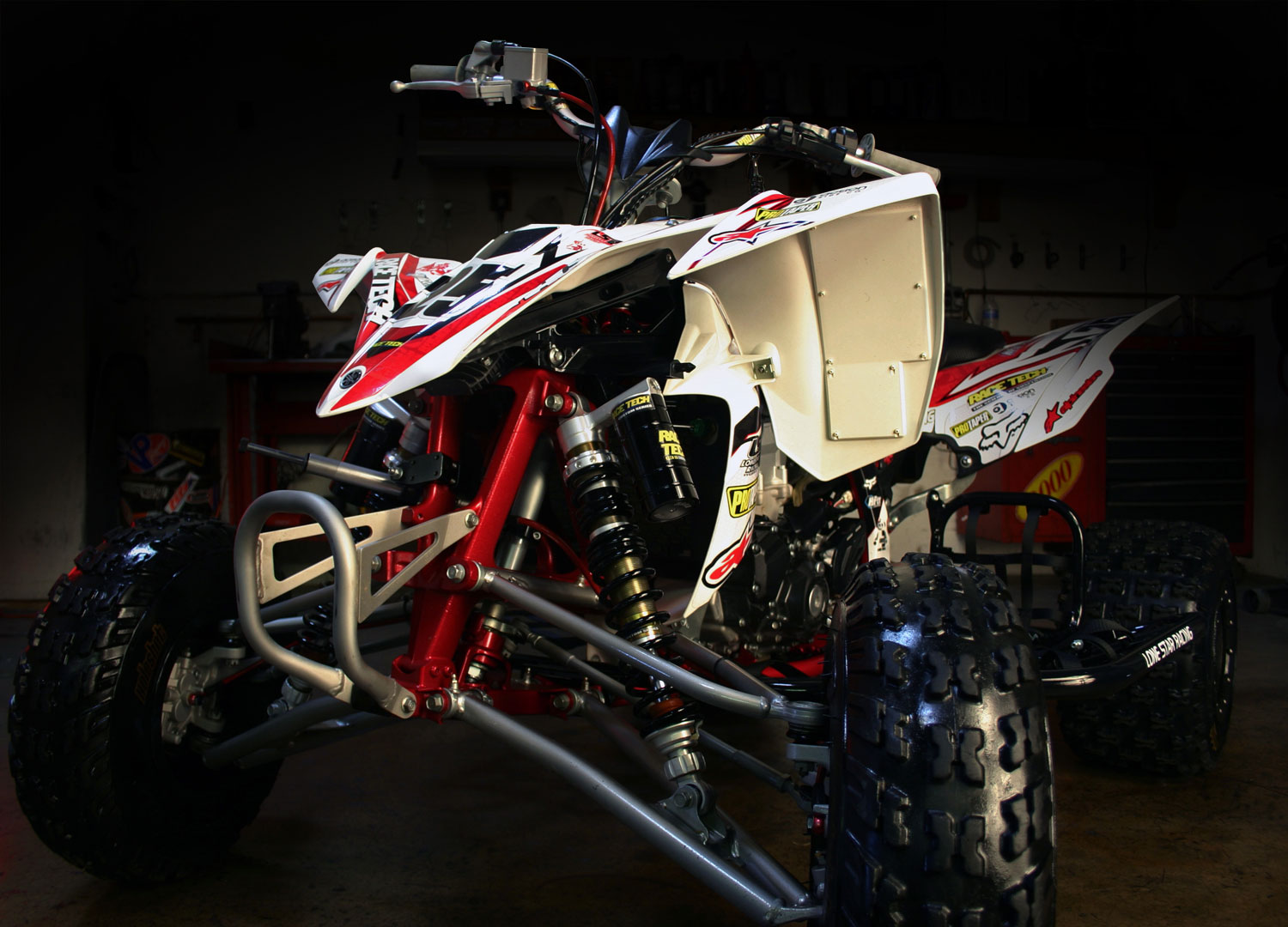 By: Robert Baumsteiger
As the 2013 race seasons get underway around the country the boys at Dirt Fiend Racing wanted to build a new project bike. The idea behind this project build was to create a functional motocross racer without breaking the bank. In today's economy they knew the idea of spending 20 grand on a race bike was out of the question. So with this idea in mind they looked around at what options they had for a stock bike that with minimal modification could be made into a reliable motocross racer. After running all the pros and cons on each model they decided to choose the Yamaha YFZ-R was choosing based on its strong motor and race ready wide stance!
After a few test rides on the quad in stock form it was decided that suspension was an area that needed improvement to bring this beast up to par with other race machines. So after a few phone calls to the team at Race Tech Suspension it was decided that Dirt Fiend Racing would give the G3-S Suspension a rough and ready test. The order was placed and a few weeks later the new custom shocks arrived at the offices of Dirt Fiend Racing ready to be mounted up and put to the test.
Specifications
Part of choosing the Yamaha YFZ-R was Dirt Fiend Racing wanted to keep the project under a certain budget. Having a wide quad to start off would mean that they would not have to replace the A-Arms and Axle and that would be a great overall cost savings.
All of Race Techs G3-S Suspension are built to order. They come with Gold Valves and High Performance lightweight springs selected for each rider's size, type of riding and ability. The shocks that Dirt Fiend Racing choose up front where the piggyback style (includes Hi and Low-speed compression adjustments). The rear shock was a remote reservoir (included Hi and Low-speed compression adjustments).
Standard Features:
RT Hi-Performance Lightweight Springs

Large Diameter Shock Shafts

Stainless Steel Spherical Heim Bearings

Aircraft Grade Billet Aluminum
Installation
Installing ATV Suspension is rather simple for the most part. You are not looking at a great deal of bolts to remove and most of the time they bolt up with little to no issues. The Race Tech GS-3 piggyback fronts bolted up with no issues. Dirt Fiend Racings issue when it came time to mount of the rear shock. The rear shock itself bolted up with no problems but when it came time to mount the reservoir that is where they ran into issues. The directions call for the reservoir to be mounted to the rear grab bar but the rear hose was too short. Normally Dirt Fiend Racing would have made a call and ordered the necessary change to obtain that perfect fit that Race Tech has provided in the past but they were on a tight deadline so a little compromise had to be made. So with this issue in hand some decisions had to be made.
The first thing that Dirt Fiend Racing had to do was figure out the new location for the rear reservoir. The location had to be safe and not take any unnecessary damage but also be sturdy enough to handle the rigors of a motocross track. After a little drilling and customization they decided to mount it to the plastic under the fender. This required a little drilling thru the plastic but the overall location they felt was safer and provided a very clean look. Now this issue in no way was a show stoppers or a real knock against Race Tech and their quality. The quality of these shocks is top notch but every once and a while you run into a an issue and Dirt Fiend Racing just happened to run into them with a limited time frame or else a phone call would have been made and Race Tech would have resolved the issues with no question.
Ride Review
Dirt Fiend Racing knew that in order to put the Race Tech GS-3 suspension they would have to find a motocross track that had everything, big jumps, chopping bumps, tight turns, etc. With these requirements the team knew the only option was Speedworld MX Park in Surprise, AZ. The track is long enough to that they can put in a proper test and push the suspension to its limits.
After unloading the quad it was time to take a few warm up laps and see what adjustments needed to be made. Dirt Fiend Racings own Rudy Gonzales got the honors of being the test rider for this part of the project build While not only being the owner, head mechanic he is also a pro caliber racer. So the motor roared to life and Rudy was off for a few test laps. After about 4 laps Rudy knew what small changes needed to be made. He came into the pits and said that the bike needed to be lowered a bit and the suspension softened up slightly. Now on some suspension systems this type of tuning can take an entire day. With the Race Tech GS-3 each click and turn made a major difference to the characteristics of the suspension. So after lowering the front suspension about an inch to an inch and a half and making a slight adjustment to soften up the springs Rudy was off for round 2.
Wow was that adjustment a just what this bike needed. Dirt Fiend Racings Rudy Gonzales was able to drive this project bike as deep as he wanted into each turn with no front end roll over. With each passing lap the bike just got better and better. The steering characteristics where predictable and the bike was moving around each turn like it was on rails. It ran over the breaking bumps like it was driving on a smooth surface. The suspension was soaking up everything that Rudy threw at it. As the laps ticked off his times were getting faster and faster. Each jump was handled with a smooth take off and landings were plush. When Dirt Fiend was finally able to pull Rudy off the track to see what the next round of adjustments where to be made Rudy said with a smile "None". He felt the shocks where at optimal settings for that type of riding and made not further adjustments throughout the day.
Conclusion
The overall conclusion on the Race Tech GS-3 Custom Suspension is that this is a great set up. The shocks overall quality is high and even though a few issues where found we knew this was not the normal for Race Tech and we would no
t hold this against them. The shocks lived up to a very high standard that Dirt Fiend Racing sets for products that they personally run and/or sell. To have a pro racer and mechanic run your products thru a gambit of tests and say he is extremely pleased is saying something. Race Tech has done their homework and created a product that will help racers get up front and stay up front each race.
For more on Race Tech G3-S Series Custom Front and Rear ATV Shocks click to their site www.racetech.com
In part 2 of our Yamaha YFZ-R project quad build we will be installing and ride-testing Lonestar Racing's DC-Pro Nerf Bars. 
Comments
comments