The Making of KTM's Limited Edition 50 SXS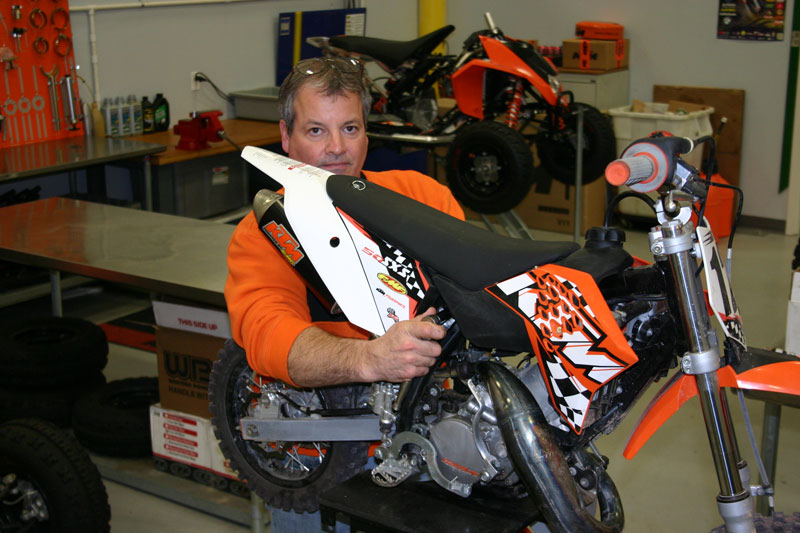 John Maley, you may remember the name. He's the product technician that was assigned to KTM's first-ever ATV project. If you've got some time check out our KTM 450 and 525 XC Ride Review to read just how instrumental John was, and still is, to KTM's successful race quad, and be sure to check out his KTM walk through video on page four, it's a must view for all KTM quad owners and potential owners.
Ok now that I've refreshed your memory on John it's time to better acquaint you with his son Trevor and the father/son summer project that I'm so impressed with. Yeah, I know their project had nothing to do with four wheels and everything to do with two, but this little story is too interesting and I'm too proud of them both to not make note of it here. With that, here's my recent conversation with John Maley….
Are you no longer involved in ATV duties at KTM? It seems like you've been all about this little 50 dirt bike for a while now.
I am still very much involved in the technical support of our ATV product and plan to be in the future, this is something that means very much to me. It was an honor to work with some great KTM engineers and riders like Tim Farr, Shane Hitt, Adam McGill, Taylor Kiser, Adam Clark and others to produce a true Ready to Race ATV.
Okay tell us more about this SXS 50 project that you and your son worked on all summer.
Trevor and I did a lot of the testing on the new SXS 50 over the last 4-6 months as well as another team out of our west coast office led by Mike Sleeter and a young test rider by the name of Carson Mumford. This project was a pleasure to be a part of under the direction of KTM's NA VP of operations Robert Pearce, I was able to start testing with an already outstanding product in the 2011 SX 50 and work with companies like Race-Tech, FMF, WMR and Powersport Grafx to develop the new 2011 SXS 50.
How great is it that KTM pays you to go racing with your son?
It might at first glance look like a paid to race test program but to be honest Trevor and I spent many hours till dark testing and recording data after work and school to get the job done. We used weekend racing to gauge our progress against the competition and keep development cost down. The things that helped the most were having the extra project bike and the use of the R&D truck – not to mention all the parts related to the project. Trevor raced over 65 events this year including MX and Cross Country with no DNFs. Many wins and three track championships describe our year. Trevor has gained so much skill and speed this year during the development of this bike that if all goes well we will be racing it at the Loretta Lynn National in 2011.
Kids don't typically make good test riders because they don't have comparative experience, so they're not able to tell you what the bike is doing like an adult can. How have you worked around this type of thing? And how has Trevor been in helping you guys build this limited edition 50?
Trevor has been a great test rider offering feedback beyond belief for a seven year old about engine performance, gearing and suspension. There are times when he would say he felt this or that or heard a noise at a certain time from one part of the bike and I would have some doubt but more times than not he was spot on. I have gained confidence in his feedback and learned to listen when he is trying to describe a concern. Trevor is just like KTM – he's Ready to Race or ride at anytime. He has taken this project on like a true test rider even when asked to pull off the track when I know he wants to ride with his friends, or sit patiently and wait while I make changes and adjustments. He has been great to work with and I'm really proud of him.
Tell us more about this new 50 SXS. Why is it needed?
The current SX 50 only required a few key upgrades to the engine and suspension to gain the extra performance and handling needed to win at any level of youth racing in the stock class. In Class 2 of AMA youth racing the bike must be a stock production bike so we made the upgrades with the help from our suppliers and our own Power Parts division to give our customers the best chance to win on our new production 2011 SXS 50.
How is it better than the KTM 50 SX?
The SXS 50 has upgraded components everywhere you look with better suspension and more horse-power than the standard SX 50. We focused only on parts that increased overall performance to help reduce the overall cost of the bike. In other words, no bling — just performance.
So is the new 50 SXS legal in the stock class?
Yes, we have met all the requirements necessary to qualify this bike for AMA Stock Class 2 production racing. We also feel that the performance of this bike in stock form will be competitive in any modified class across the country.
How competitive is the 50cc bike market? Is a Special Edition 50 SXS really needed?
50cc Racing is very competitive at a local and national level and growing as we speak. We have had other smaller companies enter the market that hand build to some degree a low number of bikes allowing them to focus on legal production based designs that are targeted for high-level racing only. KTM has always built competitive Ready to Race bikes in the 50 class that appeal to a wide range of customer at a very competitive cost. We decided that it was time to give our customers this limited number production advantage in the SXS 50 by providing them with the performance gains needed to win at any level with the best price possible. Having both models will allow us to better meet our customer's needs.
I'm impressed at how much effort KTM has put forth to make such a competitive 50 for youth class racing. I wish we had this kind of manufacturer passion and commitment in the youth ATV market.
Yes, KTM has always operated this way. We want to win at all levels, including entry level youth classes. We want our customers to have the best performing 50 in the market — giving them the best chance to win at any level on a KTM.
Do you think you have a winner with this new bike?
Absolutely, and recent race wins have proven that the new SXS 50 is Ready to Race and win in 2011. It will be a very exciting and rewarding year for KTM and all the KTM youth riders across the country.
When will the SXS 50 be available? Since it's a limited edition, I'm assuming not many will be made.
The new SXS is now on dealer floors and yes production is limited. We are seeing more demand than supply which will help us forecast the numbers needed in 2012. A SXS kit or individual components can be purchased through authorized KTM dealers within their Power Parts Line. This will take our 2009-2011 SX 50 very close to the SXS performance level.
Not many kids are able to ride test and race a pre-production bike like this. Does Trevor know how lucky he is? He's essentially a factory backed racer, wouldn't you say?
Trevor has a well rounded understanding of how lucky he is and it comes from his own observation of what it takes to race at a pro level compared to how we race as a family privateer team. I believe this understanding comes from the 2008 GNCC ATV technical support that KTM provided for the 450XC and 525XC ATVs. I was a big part of this support program and was able to travel with Trevor and my wife to most of the GNCC events. In all our travels Trevor made friends with both Pro ATV and bike KTM team riders and staff members allowing him to see what it takes to race at a professional level. He sees and hears what his other 50 riders do during the week so he does realize what a great opportunity this has been. We are far from factory-backed racing support but at the same time we are very fortunate for sure.
I can't help but ask, can you leak any inside info? Has all the 50 SXS effort given anyone at KTM ideas of building a four-wheeled version?
As far as I know we are not considering any youth ATVs at this time.
I know you will always have nothing but respect for ATVs and the people who ride them, but I'm curious, has Trevor turned his nose up at fellow quad kids? He's not slowly turning into an quad-hater is he?
Not at all. In fact he has often asked me where I think he would finish as he watches the ATV youth riders compete. Trevor started on an ATV and learned a lot about off road riding from riding four-wheelers. He moved to two wheels because it made sense for us to develop his riding skills on a motorcycle with my current position at KTM. He still has a big passion for ATV riding and continues to ride them when possible. As of now we're racing the new 50 SXS bike, but who knows what he will ride in the future.
How did Trevor do this year? What are his plans for next year?
He had a great year winning three local track championships, a second place in the OH/PA CRA Series in his first year of Sr. 50 class racing. He also advanced to the AMA regionals in two districts on a stock SX 50 but fell short of qualifying for the Loretta Lynn's finals in Tennessee. We also had a great top-five finish against some of the top-ranked riders in the country at the Allegheny Cup in PA.
Speaking of that race, below is a video clip that shows what a fantastic event that was. And it includes an interview about the pre-production KTM 50 SXS. Nice job with that by the way.
Thanks. It was a really good event. They did a great job. I bet a lot of the kids that attended are still talking about how fun it was and looking forward to next year.
What are your plans for 2011? I hope KTM is pleased with the product that you and Trevor helped to develop, but I hope this doesn't mean that they will completely converted you to their two-wheeled projects.
I plan on moving forward with KTM and any project they ask me to be a part of no matter how many wheels it has on it. KTM is a great company with great products so whatever the assignment may be I'm sure it will be exciting and rewarding. As I said before, I have had a wide range of assignments including technical support at the six-day enduro race in Mexico, technician training for dealers both ATV and bike, on-road and off-road testing of various products, customer service support, ATV projects and this latest SXS 50 project . All I can say is I'm blessed to have this job and I can't wait for the next two or four-wheeled project that gets put on my plate. You know what they say, find a job you love and never work another day in your life.
Love your attitude. I think that's another reason you've had so much success in your career, projects and your life. Give Trevor a high five for me. I've watched him crawl, walk and ride (and not particularly in that order), and I'm really proud of him. Let's keep in touch, and let me know if you ever need someone to go riding with.
Thanks! I will. We have worked together many times over the years so I would like to take this time to thank you and ATV Scene for all the quality support you have provided over the years. I truly believe that you were very instrumental in the start of my ATV career and passion which has brought us to where we are today, not to mention all the fun we've had.
Thanks!
More on the 2011 KTM SXS 50 at www.ktm.com
Comments
comments