Trinity Racing's Cannondale ATV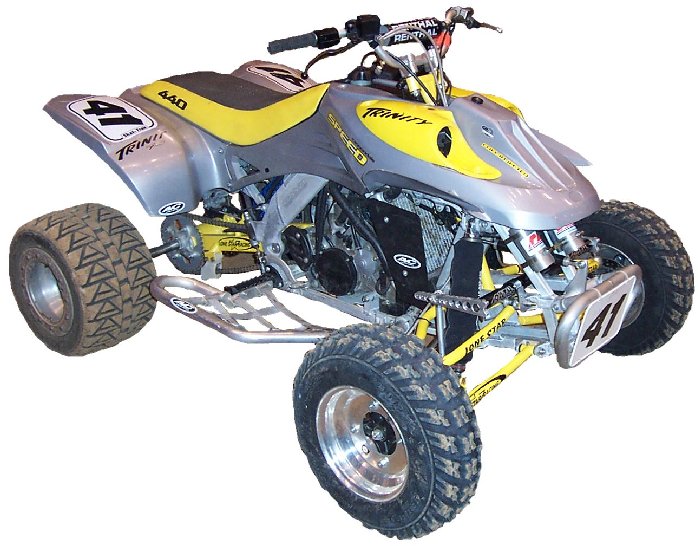 By Jon Andersen
Trinity Racing's Harry McDermott recently discussed his decision to field a Cannondale in the Clear Channel Stadium Series, his selection of pilot Jeremy "The Hick" Schell, a two-time Four-stroke National Champ and his thoughts on the future of Factory support.
McDermott is a legend in the ATV racing scene. Commencing with riding three-wheelers for fun, he quickly moved into the racing circuit. Since McDermott found no sources for high-performance parts, he began making parts himself. Within a short time, prospective customers worldwide were urging him to make their machines go fast. As demand for his high-performance parts grew, Harry found himself in the business of earning money from his love of racing.
Through the years, Trinity Racing has expanded into a full-service ATV center from a small shop. It includes a parts warehouse, dedicated top of the line dyno room, R&D facility and a state-of-the-art CNC department. Naturally, Trinity has moved into the sales end of the ATV business by offering the Kasea youth ATVs and the new Cannondale ATV and motorcycle line of products.
The man the myth – the legend! Trinity Racing's Harry McDermottNaturally, Harry could not walk by his showroom full of shiny new Cannondale ATVs before his genetic code told him it was time to go racing. When considering which Cannondale platform to use, Harry decided to build the Speed model to achieve a more "customized" ATV for a very specific rider. Claims Harry, "This would not be my decision if I were selecting a machine for the average rider. The Cannondale is so user-friendly that most people would rapidly acclimate themselves to the MOTO or any other Cannondale model. However, when you are working with a seasoned professional rider, certain combinations make the rider feel more comfortable — I wanted to match that 'comfort level'."
Selecting the "professional rider" is never an easy process. It is made more difficult when you try to match a rider with a new ATV brand. Harry further adds, "I desired a rider who lived near my shop so that I could obtain quick feedback concerning setup changes. I also required immediate input regarding our new line of Cannondale products. Jeremy Schell was a natural decision and one that was easy for me to make. Schell is a two-time Fourstroke National Champion. Although he has been raising his new family for the past two years, he is hungry to taste victory once again."
"Prepping our Cannondale for a Professional Caliber Race was one of the easiest things I have ever done, the reason is simple. Like any Cannondale, the engine is bone stock factory race ready! Usually, a shop will spend a fair amount of time at great expense building an engine for a race series. On our Cannondale, we added our custom pipe and tuned the fuel injection system using a laptop computer — jetting with a PC is awesome.
Trinity Racing's go to guy, Jeremy Schell, AKA the Hornersville, MO Hick, now lives only an hour from Trinity Racing in Anaheim CA. "The remainder of the race preparation included adding 3" wider a-arms, a steering stem and a chromoly stock-length swing arm. LoneStar's Scott Butler, and his in depth knowledge of suspension components, was an easy decision for our suspension needs. From LoneStar, our Cannondale went to Wayne at PEP for a steering stabilizer and a full set of his top-of-the-line ZPS shocks. Wayne's shock setup was perfect right out of the gate.
"During the current race series, I will be watching the Yamaha-powered machines carefully. I intend to make a number of tests on the Cannondale driveline just to determine if I can make any improvements. The nice thing about the Cannondale is that it is so near "being done" right out of the box. With a number of Yamaha-powered machines on the line in Race 2 at Anaheim, Jeremy still pulled off the holeshot on a stock Cannondale. That is a huge compliment to Cannondale and their powerful machines."
Jeremy Schell aboard the Trinity Racing Cannondale pulled holeshot in the Pro Quad main event in Anaheim. Shell went on to take a respectable third place that day.Hopefully, in the near future we will see more factory teams fielding machines for the races. McDermott's relationship with Cannondale is very strong. Harry adds, "Cannondale has been there for technical support almost 24/7 — they are a great Company with a terrific product. Factory ATV Racing support has been missing since the early '80's. It is nice to see an American made Company leading the way with racer support.
"In the future, Jeremy and I will continue to support Cannondale at as many local events as possible. We even have some ideas in the works for other races. Perhaps we may even visit a few Nationals — you just never know!"
Comments
comments