2016 Suzuki KingQuad Review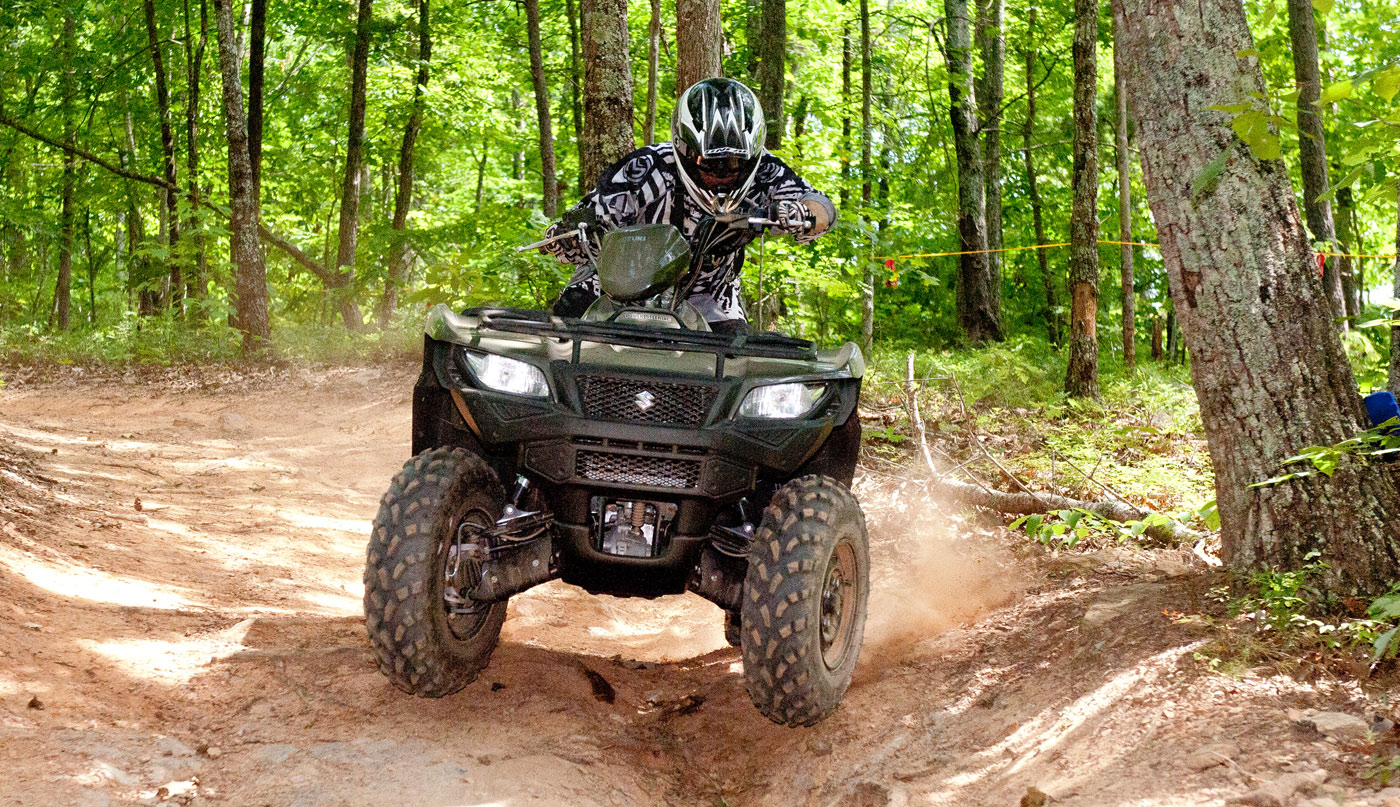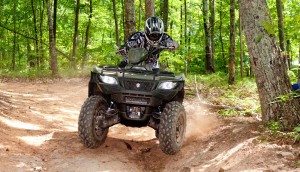 Ride Review
Swinging a leg over the KingQuad, turning the key, firing it up, shifting into gear, mashing the throttle, and conquering the trail in sport-quad-like performance all provide A plus grades as far as I'm concerned. The machine starts easy and routinely. Sitting on the machine at idle is encouraging, there's no quirky hiccups or vibrations, it's a smooth-running well-crafted ATV that somehow exudes confidence before you even shift it into gear. Nail the throttle and acceleration is just how you want it, torquey and fun and with a top speed of 67 MPH it's not slow despite the smaller displacement (when compared to some of today's available big bore 4x4s).
There's nothing worse than a tippy-feeling when you're out trail riding. Having the lowest seat height in its class helps to give the KingQuad a sure-footed planted feel that inspires confidence. Good suspension, adequate braking, good ergonomics, smooth power and long-term proven reliability combine to rejuvenate my love for the 2016 KingQuad.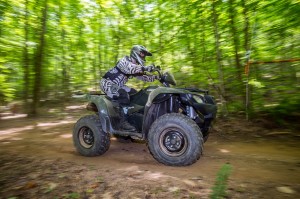 I especially like Suzuki's QuadMatic Continuously Variable Transmission (CVT) and would go as far as to say it's one of the best in the industry. It provides shift options from Low, High, Neutral, and Reverse from a solid-built smooth and accurate shift mechanism. Suzuki also proudly offers an electronic differential lock that can be your best friend if you get the machine stuck in the mud. And get this, a refined reverse and differential-lock limiter monitors vehicle speed to permit higher engine RPM which can then be used to get the ATV out of the mud or free it from a log when in "Reverse" and" Differential-lock" modes. Also, something not found on many ATVs is an over-ride button. Stab it with your left thumb while in reverse and it eliminates the limiter so you have full power to free up the machine.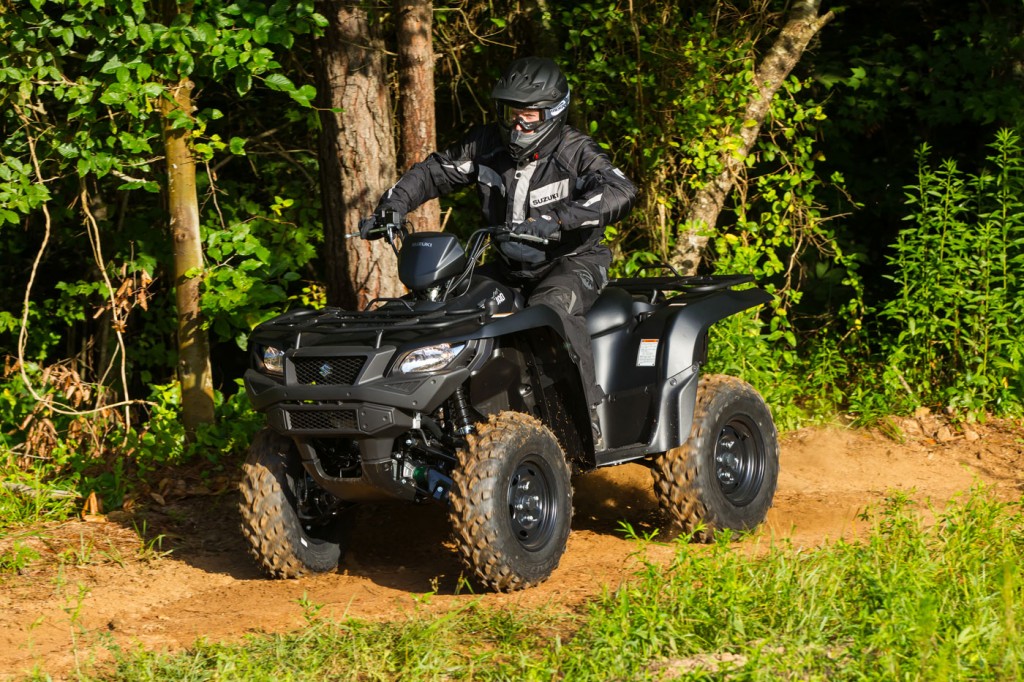 Braking is well done. There's no crazy front and rear brake system that applies both at once like you get on some models. In the front twin hydraulic discs brakes are applied from their very own separate front brake lever. In the back a sealed, wet, multi-disc design is used. I personally prefer the feel of good ole fashioned hydraulic disc brakes front and rear, but I will admit the sealed rear brake did allow me to lock up the rear wheels at will, and I can see where never having to replace rear pads would be nice. Since they're sealed Suzuki claims they're maintenance free for the life of the machine.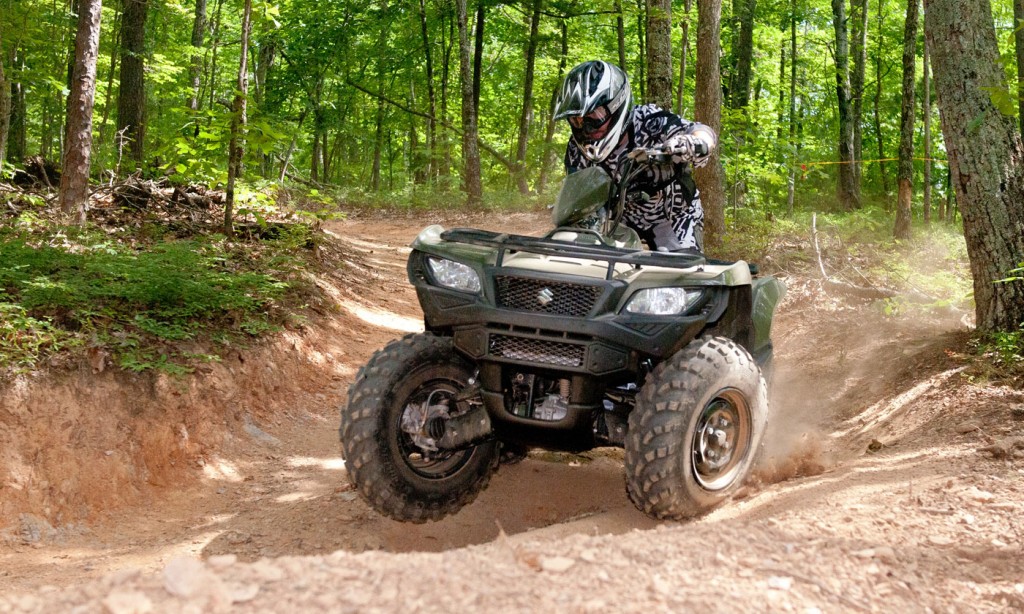 Moving around on the T-shaped seat is also sport-quad-like. You're able to firmly push up against the side of the machine to aggressively power slide and maneuver through the turns. Plus you never slip off of wet plastic floorboards thanks to sharp motocross-style pegs. And it doesn't hurt that the KingQuad is one of the lighter and smaller big bore 4x4s on the market. You don't get worn out from wrestling a tank of an ATV all day.
Worth noting is the kind of build-quality throughout the machine, including the storage areas, instrument display, ratchet-style gas cap, thumb push button 4WD and front and rear cargo racks, which are made from round bar steel, not wimpy plastic, so go ahead and ratchet down your tie straps to secure whatever you need to haul.
All in all, I would have liked to have seen a new from the ground up effort out of Suzuki, but at the same time, the tried and true KingQuad scores well with me in so many ways. It's not like we have to settle for a sub-par machine until they can finally release something that works well, it's quite the opposite, the KingQuad with its small revisions from year to year still offers one of the best 4×4 utility choices in the industry. And perhaps the best reason to consider the Suzuki KingQuad as your next ATV comes from the many current owners that proudly explain all the years of trouble-free dependable ownership they've enjoyed by owning a KingQuad.
2016 Suzuki KingQuad 500AXi $7,399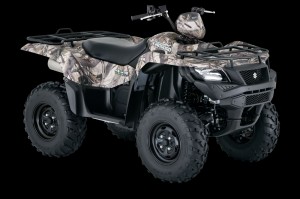 The smaller KingQuad 500AXi also received a few new changes, some of which provides the younger brother to the 750 smoother acceleration, quicker throttle response, and a stronger feel in the mid-high RPM range. The front end of the quad gets a newer aggressive stance while side panel changes allow you to easily check your oil level without removing any body parts.
The Suzuki KingQuad 500AXi ATVs are equipped with many of the same high-quality features as the KingQuad 750AXi. These full-size ATVs run the same chassis, suspension and brakes as the 750AXi KingQuad models, and are powered by a 493cc fuel-injected four-valve engine, delivering highly capable utility-sport ATVs at a lower price.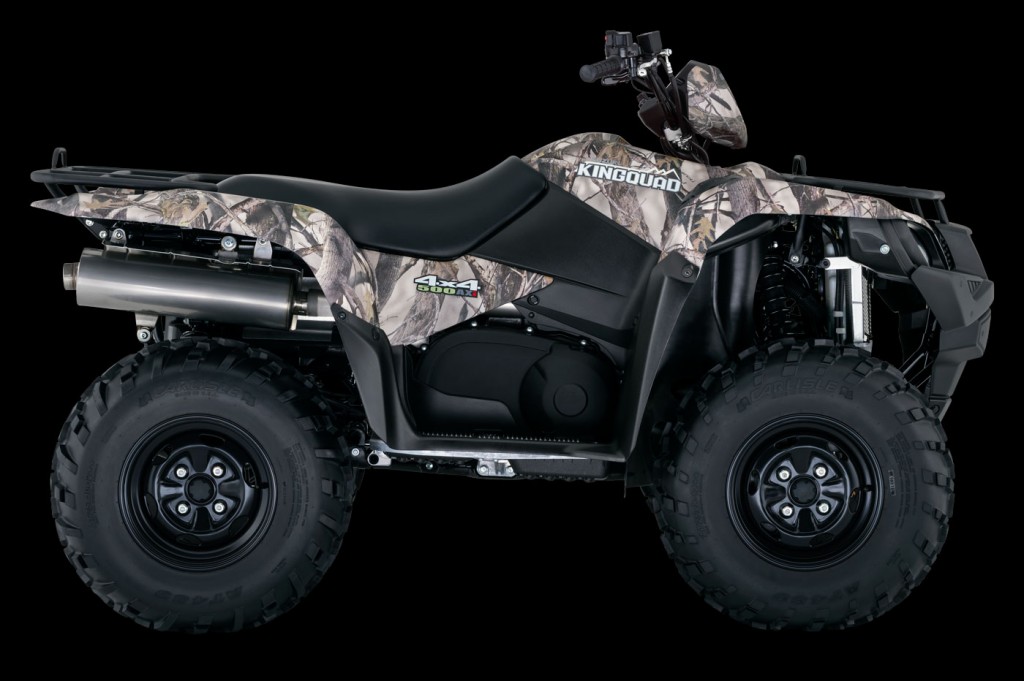 The 500AXi family includes standard and Power Steering models, and all are available in Red, Green, and True Timber XD3 Camouflage finish. A Special Edition 500AXi model for 2016 features Matte Black body work along with Power Steering and the rest of the KingQuad's top-grade features.
Like its bigger brother all KingQuad 500AXi ATVs and their engines are assembled with pride in America at the Suzuki manufacturing facility in Rome, Georgia.
2016 Suzuki KingQuad 400ASi and 400FSi $6499
Both these KingQuad ATVs feature fuel-injected 376cc four-stroke, four-valve engines tuned to produce the right blend of hard-working power and trail-response fun. Suzuki's class-leading fuel injection contributes to smooth power output, especially in the mid-to-high range, as well as more consistent cold starts. The fuel-injection system uses 3-D ignition maps for optimum ignition for crisp throttle response and a clean burn that produces low emissions.
The KingQuad 400ASi uses Suzuki's technically advanced QuadMaticTM transmission. This fully automatic CVT (Continuously Variable Transmission) features high- and low-range settings and reverse. Its advanced engine-braking system minimizes free-wheeling with the throttle off and helps control the vehicle during steep descents.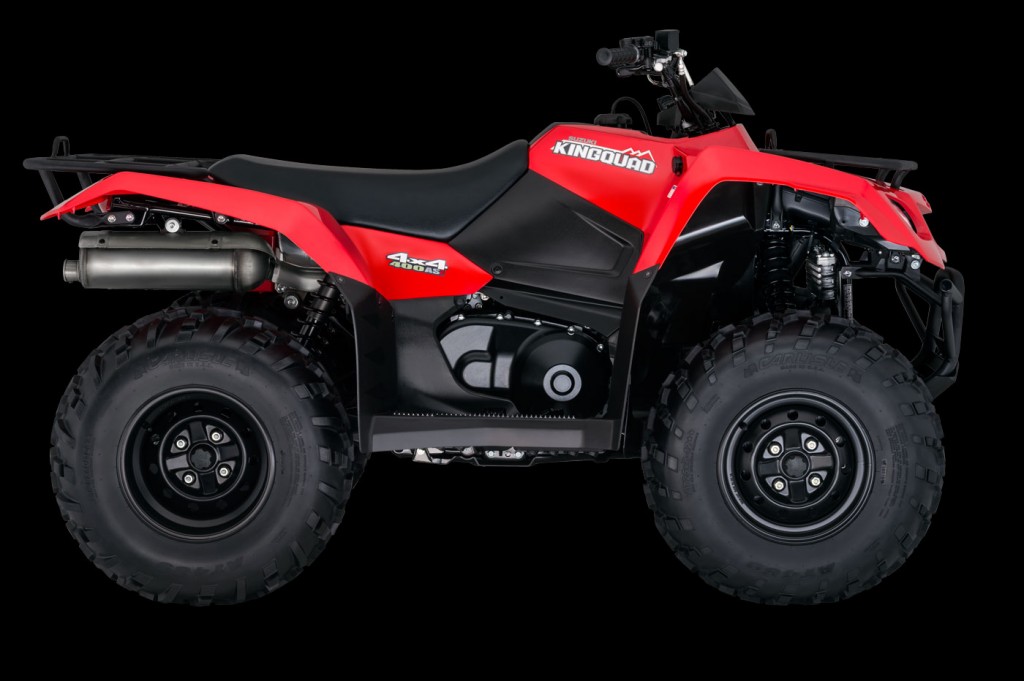 The KingQuad 400FSi gives riders a five-speed manual transmission with automatic clutch, making it the ideal performer for riders who prefer the control of a foot-shift transmission. The Suzuki KingQuad 400ASi and 400FSi models come in several colors: Terra Green, Flame Red, and True Timber XD3 camouflage. A Special Edition King Quad 400ASi model for 2016 features Matte Black body work along with rest of the KingQuad's top-grade features.
Made in America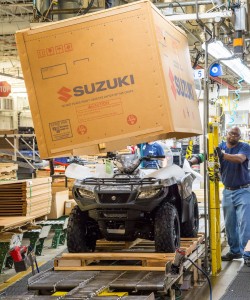 Suzuki says, "nothing's made like a KingQuad". We got to see what is meant with that statement with a guided tour of SMAC (Suzuki Manufacturing of America) in Rome, GA. Impressively all KingQuads along with their engines are assembled from ground up in the good ole USA, just like a Georgia peach.
The 30 million-dollar plus, 35-acre plant employs around 150 employees who turn out over 120 ATVs a day! This location—in the middle of the biggest ATV market on the planet—allows Suzuki to harness real world rider needs for future product development. And since "Just In Time" delivery is crucial, SMAC secures regional parts suppliers wherever possible. This helps improve Suzuki competitive pricing advantage and the local economy too.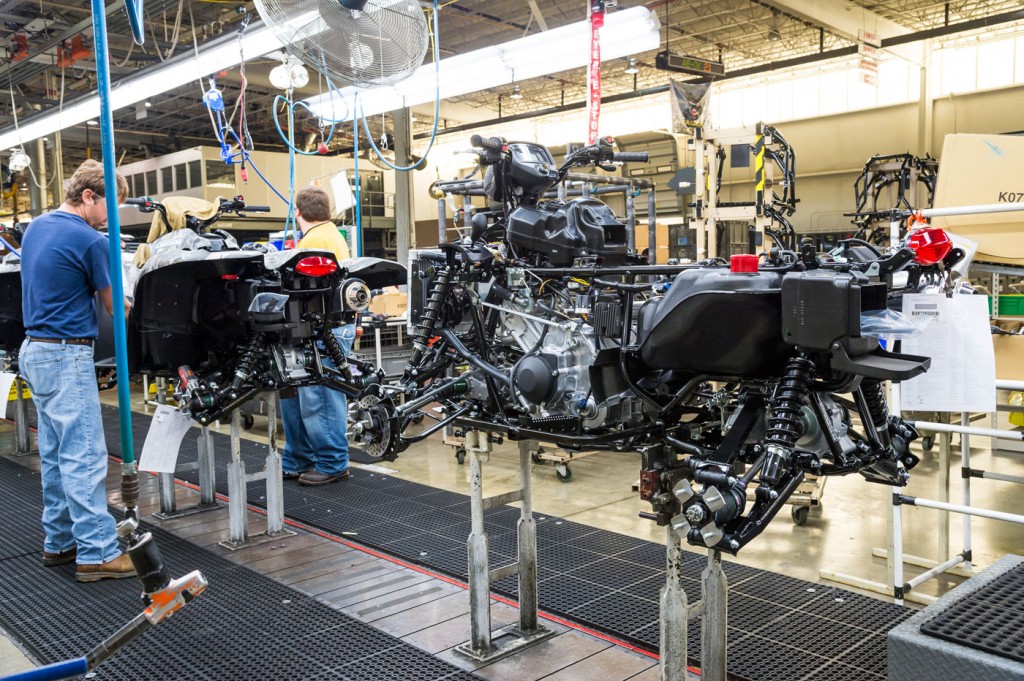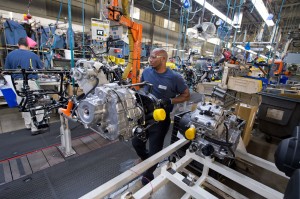 SMAC started production in 2002, and has assembled more than 400,000 Suzuki ATVs since then. Workers there handle metal fabrication, injection molding, and engine assembly in the process of assembling Suzuki's complete line of award-winning KingQuad ATVs.
Unlike other companies who ship in engine assemblies to US facilities, Suzuki's assembly and inspection techniques plus training ensures the highest quality engine and vehicle assembly regardless of the factory location. As a result, these high-quality vehicles are delivered and sold in more than 60 countries around the world, not just in the USA.
Learn more at suzukicycles.com
Comments
comments