ATV Legends 2000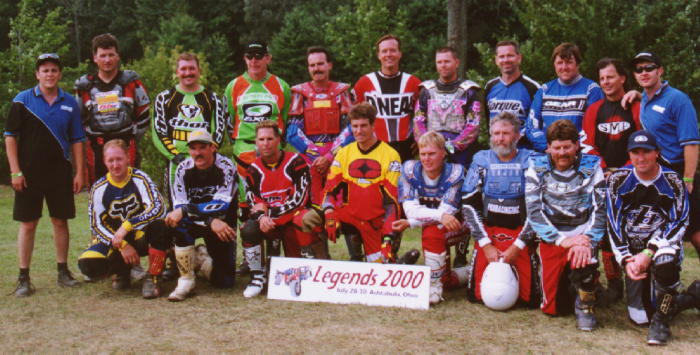 Photos by: John Pellan, Thom Veety and Eric Putter
Event, promotion and text by John Pellan
Repost (originally posted August 2, 2000)
Hero. For some it's sports superstars like Michael Jordan or Mark McGuire. For others it's their parents, a sibling, a president or a movie star. For diehard ATVers like us it's Gary Denton, Marty Hart, Jimmy White, Curtis Sparks and the rest of the factory stars from the late eighties heyday of ATV Racing. Legends 2000, promoted by Fast-Trak Promotions' John Pellan, brought ATV racing's heroes back together for one last high-stakes race. Fittingly, the event was held at America's oldest ATV race, the Pine Lake facility in Ashtabula, Ohio during the GNC TT National weekend.
The pits were a abuzz with excitement. A keen eye during Friday afternoon's practice session spotted many of the legends taking some hot laps with today's GNC regulars. Former factory Honda 3-wheel superstar Marty Hart was turning in some very fast lap times on Travis Spader's Duncan/Roll/Golden West 250R. Hart was reunited with longtime sponsor Duncan Racing for the monumental weekend. Team Honda's ATC200X four-stroke specialist Curtis Sparks was of course riding a thumper – a fast Sparks-tuned 400EX. The real eye-catchers were the custom Kawasaki quads of Jimmy White and Tim Helter. Longtime Factory Kawasaki 3-wheel pro Jimmy White showed up with a prototype Team Green Kawasaki KX250 quad similar to the one currently being campaigned by William Yokley on the GNCC circuit. Team Green fabricator Doug Roll of Roll Design specially designed the chassis for TT and this Legends 2000 race. Former Team Green rider Tim Helter, who we think bleeds Kawasaki green, had a KX-powered quad of his own as well, which featured a Lone Star frame and Works Performance suspension.
In total several ATV legends were selected by a committee put together by Fast-Trak and ATV Scene's John Pellan. Members of the committee are some of the most well known and respected people in the ATV industry including; Jim Naccarratto, Wayne Hinson, Gary Denton, Curtis Sparks, Tim Orchard, Dean Kirsten, Eric Putter, Steve Casper, Wes Miller, Mark Baldwin, John Howell, Bud Fischer among others. Of the many selected 18 were able to make it to Legends 2000 and race one last time.
Saturday afternoon heat race action saw Team Green Kawasaki's Tim Helter claim the win in Heat 1 on his custom KX quad. 8-time GNC 4-wheel champion Gary Denton pulled one of his patented holeshots and led heat 2 from start to finish. But the real excitement of the day was Saturday night's Legends 2000 party at the Pine Lake pavilion. A huge crowd showed up to get autographs and mingle with ATV racing's superstars of the past. Later in the evening, the legends were honored center stage with glass trophies commemorating their contribution to the sport of ATV racing. "Since the AMA doesn't mention ATV racing very often or include our legends in their yearly Motorcycle Hall of Fame inductions, I created Legends 2000 to pay respect to the riders that pioneered my favorite sport," said promoter John Pellan. "Until there's an official ATV Hall of Fame, Legends 2000 and ATV Scene.com's coverage from the history-making event will play the part of officially honoring the best ATV riders in our sport's history," added Pellan. The Saturday night Legends party at the Pine Lake pavilion lasted long into the night and made for some of the best bench racing of all time.
Race faces were back on for Sunday's main event as the 18 heroes prepared to take to the track one last time. As the green flag dropped, Gary Denton pulled the holeshot and led the pack into the first turn, with Marty Hart close behind. The Chino Charger was on the gas and began to pull away from the pack just as he did throughout the late eighties and nineties, leaving longtime 250 pro quad frontrunner John Scott and Hart to battle for second place. Denton took the checkers and the easy win. Scott eventually worked his way around Hart for the two-spot with Mike Coe and motocross specialist Donny "the Bulldog" Banks rounding out the top five.
What happened to Team Kawasaki's Jimmy White? Well, we didn't get to see one last Hart vs White intense battle. White was pushed to the extreme outside on the start and was forced to work his way up from a near last place start. He ended up passing more than half the field and finished with a respectable 7th place overall.
In victory lane the Chino Charger Gary Denton summed up the thoughts of many by saying, "I would like the thank the Fischer family and Fast-Trak Promotions for putting on such an outstanding and memorable event. It's been fun hanging out with old friends like Nac's and Hinson again. It's such an honor to be here with all the past champions. I didn't realize how much I miss racing and the people in this sport. I miss the excitement, I miss it all! This whole event has brought back some memories that I'll cherish forever." Although Denton may have been the winner on the track, everyone in attendance won off the track. From the GNC racers to the spectators to the legends themselves, unforgettable memories were had by all.
Legends 2000 Results:
Heat Race 1
1. Tim Helter
2. Donny Banks
3. Jimmy White
Heat Race 2
1. Gary Denton
2. John Scott
3. Marty Hart
Main Event Top Ten
1. Gary Denton
2. John Scott
3. Marty Hart
4. Mike Coe
5. Donny Banks
6. Curtis Sparks
7. Keneth Delk
8. Boyd Calvert
9. Jimmy White
10. Dean Sundahl
ATV Legends Hall of Fame Inductions….
Dean Sundahl
King Dean has won the Parker 400 11 times in a row, the King of the Desert 11 times and the Baja 1000 seven times! With those accomplishments, he just may be the legend of the legends!
"Dyno" Dean flew into Ohio from his hometown of Santee, CA. Let's see, what quad would suit the king of the desert the most? A kick-ass Banshee, you say? We agree, that's why we hooked him up with Open Pro-Am class point's leader – Bryan Shipley. Bryan has been around ATV racing as long as most of the legends themselves. Bryan was cool with loaning Deano his tricked out Duncan Racing Yamaha Banshee, the same one that Travis Spader won the championship on last year.
Sundahl finished in the top ten overall, but more importantly had a blast all weekend.
---
 Gary Denton
The Chino Charger still has it! Denton backed up his eight GNC titles with the Legends 2000 victory. Gary said he didn't realize how much he missed racing, until he was at the track hanging out with old friends and actually getting to suit up again. George Balhan loaned him a Denton-worthy quad that performed extremely well. In watching Denton destroy the legend competition, we're pretty sure he could have easily taken a top five in the TT events of the current pro class!
---
Marty Hart
Hart-Attack made his way to the legends gig on the Duncan Racing/Roll Design/Golden West Honda 250R of Travis Spader. Marty hadn't rode or raced in 11 years, so he called his long time mechanic, Loren Duncan, for some help in putting together a practice quad. Duncan set him up with strong running engine that he put in a 250R chassis he bought locally. A week prior to Legends 2000, Marty made his way to a motocross track in Arkansas for some last minute seat time before jetting to Ohio later that week. How did he do at the motocross? He won both motos! As they say, just like riding a bike you never forget – literally. Marty pressured John Scott for the two spot in Legends 2000 main event but had to surrender to the younger Scott and finished up with a very respectable third place overall.
---
 Curtis Sparks
The powers that be at American Honda didn't have to think too hard when they went forth with signing Sparks up with a full ride. If you were the decision makers at Honda, what more could you ask for? Sparks was known for his smooth-consistent-precise rides and he always got the most out of his equipment while others only dabbled in the mechanics of their machines. Honda was treated to the best in the business. He not only won just about every race Honda sent him to, but he helped the whole team with his incredible knowledge of three and four wheeled racing and mechanics.
Today, Curtis has fine- tuned his business, Sparks Racing Engines, into one of the most successful ATV Racing companies ever! He and his sponsored riders, whether they've retired or not, will forever be a part of the elite Curtis Sparks Racing team. The combined team has more National Championships and more big ATV race wins than any other team in ATV racing history! How's that for a successful business?
Curtis, since he's always knee deep in building someone a race winning motor, didn't have any time to go out and practice for the Legends 2000 race – while most of the other entries got some early seat time. You would think that would be a big disadvantage. Not for Curtis, he raced on pure talent alone and worked himself through the pack in his heat race, then went on to finish a respectable 6th place in the main! If you get a chance to watch any of the old videos that are around, look for Curtis Sparks in the video and study his style, you'll see he was the smoothest rider on the track. The ATV industry is lucky to have such an incredible legend and asset to the sport as Curtis Sparks.
---
 Mike Coe
Due to severe weather, some flights were delayed, including Mike Coe's. The Team Honda ATC ace, that they called the "Coe Show" missed the Friday and Saturday morning Legends 2000 practice. He arrived ten minutes before the Vet +30 heat races were scheduled to run. Justin Gandy and Ray Howard of the Hollywood Racing Team suited him up on Gandy's Sparks Racing 250R, complete with the number 23 on the fenders.
With barely enough time to sign up, Mike high-tailed it to the starting line. The instant Mike threw a leg over the quad and put it in gear the race was on. Most wouldn't do well in this hurry-up no-practice outing, but most don't have the talent that Mike Coe had and still has. Back to that +30 class, guess who pulled the holeshot and led for three laps? None other than the Coe Show! He hadn't raced an ATV in nine years, but there he was leading 250A and +30 class front runner, David Porter on a quad that he didn't even ride to the starting line–let alone ever practiced on.
His three-wheeled accomplishments were extraordinary in the eighties, some fifteen years later he proved he's still got it, this time on four wheels.
---
Donny Banks
Banks borrowed Shane Hitt's quad for the Legends event. He used number 3 with a slash but no matter the number on the machine – you can always spot the the Georgia Bulldog on a racetrack. Just look for the tall lanky guy with the throttle pinned while he's hovering over his rear grab bar for the maximum amount of traction available.
Donny has been in the scene all year as he promoted his first AMA ATV GNC earlier this spring. He's also been riding the Vet class here and there. Banks was especially incredible on a rough motocross track. The rougher the better for the Bulldog. Between being in tip top physical shape and his aggressive riding style he was always a major threat at any motocross race he signed up for.
"There is only one thing I would want to change about my career, and that's my second place at Loretta Lynn's final moto, I lost the national championship by two points that year," said Banks when asked what he would change about his career.
---
 Jimmy White
Team Kawasaki and Doug Roll of Roll Design should be commended for all their work in delivering a beautiful Kawasaki KX quad to Ashtabula. Jimmy said he needed a bit more top end out of the motor for the long straightaway, but there was no time left to port the cylinder.
JW got the attention of Kawasaki in 1982 when he won the San Jose, CA National as a privateer. In that event Honda had five factory riders on hand. JW went on to win three Mickey Thompson Championships and almost won a fourth on a Tecate-4 quad in 1987.
Kawasaki fielded seven support riders, but JW was their factory guy. They couldn't have found a better guy for the job. His battles with team Honda's Marty Hart were as epic as he was for Team Green's ATV success.
---
 Barry McCarty
Barry is one of a few riders that really should have been employed as a factory rider, but never was. Hard to believe but Suzuki past him up. Thanks to Chuck E Racing, Krank-It Racing, Duncan Racing and RPR Racing, Barry had a successful career without a full-on factory ride.
In 1989, Barry came within two points of taking the national championship from Gary Denton. He remembers himself and Denton waving at each other on the track in the heat of chasing the championship down.
Unfortunately, Barry had to sit out the Legends event do to a shoulder injury sustained while riding a dirtbike. It was tough to see Barry sitting idle while a shiny brand new-looking Suzuki LT 250R Quad Racer (courtesy of Nick Little) complete with the number 20 on it sat nearby all ready to go. Oh well, race or not, we were thrilled to have him at the event and happy to see him enjoy himself bench racing with the rest of the legends and fellow ATV enthusiasts.
---
John Scott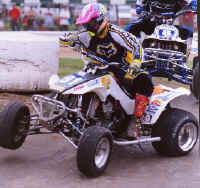 It was hard to tell that John Scott was out of shape and hadn't ridden a quad in years. He was flat out hauling! Scott rode the Hollywood Racing/Sparks Racing Yamaha YZ 400 superthumper.
"Curtis always made my motors go like hell, and after riding this Yamaha, I see he's still got it – this thing is great!" It was appropriate that John rode a Sparks Racing four-stroke since he won the '88 Four-Stroke Pro class on a Curtis Sparks Racing Honda 250X.
---
 Kenneth Delk
Kenneth was a bit underpowered on the fast Ashtabula coarse on his new Honda 400EX.
He started racing on an '83 Honda ATC 250R. We remember Kenneth making the long trip to San Diego from his hometown of Trinity, NC all worth while. He won the race and beat Marty Hart and the rest of the front runner regulars!
Delk won a 250 Pro national at Southwick and was always a Mickey Thompson front runner.
---
Boyd Calvert
Boyd started on an '88 Suzuki LT 500, so racing the open classes was always the norm for him. In '89 he won the Open Pro National Championship! Nac's racing suited him up with sponsorship over the years and came through for the Legends 2000 as well with a tricked out Yamaha Banshee.
---
 Wes Arnold
Wes was the oldest legend to make the scene at Legends 2000.
He was part of the grass roots of the sport of ATV racing. He resides in Gary Denton's hometown of Chino, CA. Wes was a factory support desert racer for Team Honda for about five years.
Currently he's still employed by Honda, he's the Assistant Manager of Special Tools at American Honda. In his racing retirement year, 1986, he won the Baja 1000!
---
 Harry McDermott
Trinity Racing's founder and president was also a member of a very special racing team. Never before and never since has a magazine funded a race team program. 3-Wheeling Magazine debuted a '1981 ATC 250R named The Ghost – it was one of only a few trikes that Honda made white. Dean Kirsten and Tom Chambers made it all happen with the powers that be at Wright Publishing. The team was selected, all expenses were paid and the end results were great. The idea not only pleased Harry, but it made for great advertising for 3-Wheeling Magazine.
After that Harry got picked up as a Honda factory rider! Harry's highlight of his career was winning the Baja 500 in front of his wife, son and mother. This was the only desert race that any of them ever attended, so it was pretty special for him. Harry will always be known for his never-say-die character. He finished every single race he attended! Harry explains his last race, "I really took pride in my career of zero DNFs. I remember my last race – I crashed hard and fractured three ribs, broke my wrist, put the handlebar through the back of my leg, and suffered a concussion. I somehow re-mounted and rode off — but in the wrong direction for God knows how long! Later I got turned around and back on track. Just when I thought it was all over, I seized it up only two miles from the finish. I pushed it for over a half mile! Just as I was about to pass out, it freed up, I was able to start it and I finished the ride from hell".
---
Tom Carlson
Tom is the proud owner of TC Racing Engines. After deciding not to participate in the Legends 2000 race, TC's top gun, Doug Gust reminded him of his long time saying,"Go ahead and just run it Boy!" That's all it took for Tom to put on his gear and race one last time. ATV racing enthusiasts will remember big ole' Tom on his three-wheeled mongo-powered 350X hauling ass and winning many Open Three-Wheel Nationals.
Tom looks back at his most memorable moment. "It was 1984. I had my ATC 200X dialed in and it was running spot on perfect. I was racing in the 200cc Pro class against the factory riders. Some were on lightning fast sleeved down two-stroke 200s. I ended up with one of the fastest heat wins and qualified for a choice spot on the front row! Somehow I pulled a three bike length holeshot on everyone, (including the peppy two-strokes), everything seemed to be going perfect. I pitched it into the big sweeper and spun it right around. Now I'm facing the 19 riders, who are full on-tapped trying to jockey for good position. Needless to say I was the cause of a huge 20-rider pile up, oops!"
---
John Lukos
Wolcott, CT's John Lukos is a good friend of Doug Gust. Perhaps that's why he was as talented as he was? Regardless of who taught whom, Lukos was always on the gas, especially in motocross. His biggest highlight was winning the pro class at the '92 Loretta Lynn's GNC. Now that he's not racing he's putting his time into his demolition c
ompany. Lukos rode Doug Gust's Nac's Racing/TC Racing quad at the Legends 2000 race, the same one that Gust won the '99 National Championship on.
---
 Tim Helter
The former PA resident now lives in Fort Myers, FL and owns a landscaping company. His entire pro career was aboard a Kawasaki. Helter was faster than most and picked up a ride from Kawasaki Team Green on-board a Tecate 3-wheeler.
The 007 of Helter and his Team Green ride was always a concern in the Honda pits. He usually raced the Pro 200 and Pro 250 classes. Kawasaki suited him up with sleeved-down Tecate 250's for the 200 classes. We had thoughts of Helter giving Denton a run for his money in the Legends race when we saw how fast he still was on the legendary Pine Lake track. Helter looked wicked fast in heat race action, he won his heat by a good 10 quad lengths, but unfortunately he got involved in a tangle up in the main event.
Of all the great wins he's had, he says his fondest memories of the sport are the people themselves. Helter says that the people in ATVing simply are the best in all motorsports. We agree.
---
Todd Williams
Originally, Todd was going to use Harold Goodman's quad to race the Legend 2000 race, but after strolling through the pits he just happened to find the very same quad that he used to race! He quickly talked to the new owner and made the switch to his old Honda 250X.
This seemed appropriate since his whole career was aboard three and four wheeled four-strokes – always sporting #11. The 250X was a bit slow compared to the rest of the field. Nonetheless, Williams had a blast all weekend long.
During his career he was heavily supported by Sparks Racing. He wanted to make sure we thanked Curtis Sparks for all the successful years and for the great friendship.
---
Allen Knowles
As most already know, Allen is Mr. CT himself. The extremely successful CT Racing is the pride of Knowles. In case you didn't know, it was Knowles who developed the patent on the mighty 310 and 330 Pro-X cylinder for the 250R.
Unbelievably "Knowlsy Know-It-All" made the journey from Sante Fe Springs, CA with just a few checked luggage items. In cardboard boxes with duct tape handles was the whole quad he planned to race! He and his CT crew assembled the quad Thursday night in his hotel room! Friday morning, they turned it sideways through the door and they were all on their way.
As you can see in the pictures, project-luggage-quad turned out extremely well! Allen sported one of the coolest looking R's at the track! One of the highlights of Allen's career include a fourth overall in the '87 Grand National Championships in the Open Pro class.
---
Dean Kirsten and Tim Orchard
If you asked long-time ATVers what was the best ATV magazine of all-time, the majority would probably say 3-Wheeling magazine. Kirsten and Orchard were the men behind the popular Wright Publishing mag.
Unfortunately, 3-Wheeling went the way of the dinosaur back in 1989. It was cool to see these guys make the trip from California. They came with a bunch of great pictures that they captured back in the day and sported free 3-Wheeling collector's pins and stickers.
They were honored to be invited – we were honored they came.
---
 Steve Casper
"Stick" has been one of the editors of Dirt Wheels magazine for what seems like forever. Many of the spectacular action photos over the past 15 years have been snapped by Casper. He flew in from California for four days and did some fishing while he was in Ohio.
Anyone that knows "Stick" – knows that he's way into fishing. He even carries his collapsible fishing pole wherever he goes. He's also fascinated by all forms of wild life. You won't find a more knowledgeable wild life guy – he's like Cliff from Cheers when it comes to wild life trivia. Don't be surprised if you see "Stick" Casper on the next Survivor Show, he's trying to get on. Knowing him, we think he would win the million bucks for sure.
---
 Eric Putter
Eric Putter got his journalistic start in ATV racing back in the late eighties. He stepped away from the sport for the glitz and glamor of motorcycle journalism.
With the resurgence of ATVing, Putter's back freelancing for ATV Sport magazine. Fittingly, his first assignment for ATV Sport was the Legends 2000 event. Eric worked hard all weekend long digging up pieces for the big Legends 2000 feature in ATV Sport. Come to think of it, we never saw Eric not working. Every moment of the day and night he was extremely busy shooting something the rest of us missed or getting an exclusive quote from someone recalling an exciting moment in ATV racing history. Look for some in depth articles in the future from the "Puttster".

Allen Knowles, Barry McCarty, Bottom Left to Right: John Scott, Boyd Calvert, Curtis Sparks, Dean Kirsten, Dean Sundahl, Donny Banks, Erik Putter, Gary Denton. Fast-Trak Promotions, George Davis, Harry McDermott, Jim White, John Lukos, John Pellan, Ken Delk, Marty Hart, Mike Coe, Steve Casper, Tim Helter, Tim Orchard, Todd Williams, Tom Carlson, Wes Arnold
Comments
comments