The Hurricane GNCC – Round Two
Palatka, Florida
February 29, 2004
By Bonnie Hamrick
At least the weather decided to hold up, but that didn't't stop the black mud from escaping beneath the surface. Walking the track on Saturday didn't't leave many hopes for a sunny dry race. Large pools of standing water dotted the entire course with only small sections of dry road beds. During Saturday practice, many riders were black stained from helmet to tires just after one lap of the practice track. Even a few quads were getting towed in after the gruesome palmetto bushes eat up some chains, a-arms, and tires. The Sunday weather was beautiful as the Florida sun rays tried to dry up the three day rain-fest that arrived earlier in the week. That didn't't stop the pros from prepping their bikes and getting ready for round two in Bike Week infested Palatka, FL.
And the round two professional riders are….
Twenty pros lined up on row one, starting off with Bill Ballance aboard the Troy Yamaha, with sponsors such as HMF, Custom Axis, Maxxis, GT Thunder, and many more, he was looking for a win to take over the point's lead. Chris Borich, with the number two plate was aboard the East Coast ATV Yamaha with an excited grin all over his face. Lots of game plans were running in his mind as he prepared for the two hour event. Round one's overall winner, William Yokley, was his usual fun self sitting aboard the Roll, Yoshimura Suzuki ready to captivate yet another victory for the record books. Chad Duvall, the 2003 Pro Production Champion was mounted on the AM Pro Yamaha with ITP tires ready to grind into the sand. Team Safari's Matt Smiley was riding the number five Yamaha with hopes of making yet another podium finish at round two. Greg Trew, the native Florida racer, aboard the East Coast ATV//Lewis Racing Yamaha was looking for a home-town victory in front of his loyal fans. Santo DeRisi of Team Safari had his number eight Yamaha looking great as he was ready to take on the heat and have some luck thrown his way. Todd Knippenberg, on the HMF Yamaha was race ready and looking for his first podium finish. Rounding out the top ten was Brandon Ballance the 2003 Hurricane overall champion, looking to put his Troy Yamaha up on the podium with yet another FL overall.
Johnny Gallagher with number eleven was aboard the HMF backed Suzuki looking for a great race and early season points to go with it. Four Stroke Tech's Bryan Cook was riding the number twelve Yamaha looking for better luck than last year from the 4 Stroke A Class. Jeff Stoess, on the factory ATK, was looking to put in another great FL event, last year breaking into the top ten overall from 4 Stroke A. Andy Lagzdins put his new Honda 450R aside to get aboard the Yamaha for the Florida event, but was looking for great performance from his number fifteen machine. Jared Gruca had his Yamaha ready for more race action. Rounding out the top twenty overall was Mike Houston, the only Pro rider to debut the Honda 450R. With only new A-arms, shocks, a pipe, and a few accessories, his quad was race ready. Houston was looking for the power of the Honda to out-weigh his 400EX.
Also on pro row was Ohio's Kim Kuhnle aboard the Polaris Predator. Rob Zimmerman was riding the Honda, 400EX. "Ironboy", Jason Sloan was returning last season pro ranks aboard the Suzuki. Paul Rowlands made the ride to Florida to race the Duncan Yamaha. Thomas Barrett rounded out the Pro starting line aboard the Honda 400EX.
Race Time
Sitting on the starting line for nearly an hour so the Racer Productions crew could repair some damage to the ten mile course wasn't what racers expected, but once Ricky Towery yelled 10 seconds, the heat on pro row mounted. Matt Smiley, on a mission to take over the championship took the holeshot with the champ himself, Bill Ballance in second. Todd Knippenberg and Bryan Cook rounded turn one for third and fourth, both taking impressive starts. After a few turns, Cook was held up and Yokley took over the fourth place position and never looking back. An update rang through the pits half way round the course with William Yokley out front and on the charge. At the seven mile marker, another update went out that Yokley was in the lead, but the man to watch was number fourteen, Jeff Stoess aboard the ATK. Smiley was holding on to third and the three had pulled over thirty seconds from the rest of the pack.
Lap one, Jeff Stoess had the lead, by seconds over Yokley, Smiley, Ballance, Chad Duvall, and Greg Trew all within twenty seconds. Just under a minute back in seventh place Bryan Cook worked his way back up to fight in the pack, with Santo DeRisi, Rob Zimmerman, Brandon Ballance, Chris Borich, and the rest of the Pro Class swapping places in the black mud. By one mile, at the pits Yokley had taken over the lead, putting Stoess just seconds back in second with Ballance and Duvall fighting in third.
The leaders were left to deal with lapped riders and a track of deep black mud holes. The leaders swapped positions several times as they dodged the swampy areas, leaving some to get stuck, pulling on their quads for minutes. When the leaders came in with two laps complete, it was Ballance and Smiley wheel to wheel. Trew and Duvall moved up to third and fourth, picking up time as they were just seconds back from Smiley. Stoess dropped back to fifth, just under thirty seconds back. "Once I got up there, those guys came back to pick me off. I just couldn't't hold that pace for the whole race. I let em have it," Stoess said after the race. Yokley came in for sixth just ten seconds back from Stoess, and fighting his way back to the front after having troubles with the palmetto roots. Nearly two minutes later, DeRisi came through with eighth overall and Borich just seconds back. Rounding out the top ten was Jeremy Rice from the Pro Am class.
With the two lap card about to come out, the track wasn't getting any better. Lapped riders were stuck at nearly every swamp and the pros were left to dodge them and keep their own machines running. Three minutes later than the previous lap time, Trew came into the barrels alone. Waving his hands up to let the referee know he was the new leader, he took the two lap card with a thirty second lead over Ballance. Yokley had fought with the Florida sand all winter and was able to work his Yoshimura Suzuki back into third place just twenty seconds back. The crowd was then left to wait as Smiley came through two minutes later. The riders were getting spread out and the true survivor was showing. Just over a minute later Borich came in for fifth place with Cook right on his rear Maxxis tires. Both riders worked their way back into the top overalls after suffering seventh and eleventh overall from the lap before. Nearly a minute later, DeRisi came in for eighth overall with Brian Brinkley from the Pro AM class just seconds behind to put him in seventh overall after adjusted time. Rounding out the top ten was Brandon Ballance, Knippenberg, and Stoess still fighting to keep their tires moving in the swampy sand.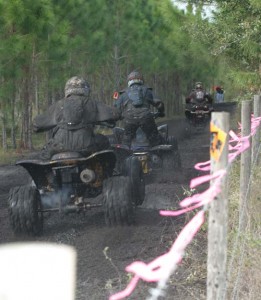 "Home state rider Gregory Trew out front by thirty seconds over Ballance", was the update coming from the nine mile marker. With just over a mile to go to the white flag, Ballance had taken over the first place position after he passed Trew swinging wide to miss a swamp, where he ended up getting hung up for a while. Trew was just eight seconds back from Ballance, but still on the charge on the East Coast ATV Yamaha. Forty seconds back, Yokley came in by himself, stepping up the pace to get to Trew. The track wasn't holding up much longer, with Borich just over five minutes back for fourth place. Moving up to fifth overall, Cook was just thirty seconds back and on the charge for his best pro class finish. Smiley crossed the white flag just under four minutes back. A mile later at the pits, he was no where to be seen with Jathan Seale, the Gilmer, TX 4 Stroke A class winner aboard a new JB Racing 450R, working his way into the pro class times with a sixth overall, but two minutes back from Cook. Brandon Ballance and Stoess were still holding onto the pace just seconds back from Seale.
Checkered Flag
The fans were ready for the 2004 Hurricane Champion. Updates were coming in that Ballance was holding onto a ten second lead over Trew, but could he hold that for the ten miles and not get stuck? Ballance crossed the finish line too tired to throw up his hands as Trew was just twenty seconds back, but pumped about his podium finish in front of the Florida fans. First and second overall mounted the podium as the fans awaited third overall to make their appearance. Would Yokley hold up or would Borich or Cook make their first podium for 2004? Just at a minute and a half, Yokley crossed the finish line with shoulders sagging, truly give out from the Hurricane terrain. Now, the pit crews and fans were left to wait again. Seven minutes later, Borich crossed the checkered flag for fourth overall, the same finish in Gilmer, TX. A minute later for fifth overall, Cook came through to take his best pro class finish. Brandon Ballance made his way in for sixth overall three minutes back from Cook with Stoess ending with seventh overall just under a minute later aboard the ATK. Seale took eighth overall from the Pro Am Class, after finishing just outside the top ten at round one from the A Class. Johnny Gallagher stayed on the gas during the race to be consistent and was able to survive with ninth overall. Chris Jenks rounded out the Top Ten overall from the Pro Am Class, less than a minute back to finish second behind Seale
Up on the podium one of the main reasons for Ballance's smile was because this race was over. "The only time I really got hung up was the first lap. I was in that swamp buried pretty bad and dropped from second to about eighth while trying to dig out my Yamaha." At the seven mile marker he passed Trew for the lead and never looked back. When asked if he enjoyed the day, he simply said "No, exclamation point!" Ballance thanked his crew for the support, and HMF, Maxxis, IMS, Moose, Custom Axis, GT Thunder, Tireballs, Klotz, DP Brakes, Douglas Wheels, Regina Chaines, ArsFX, Rebel Gears, WER, Power Madd, and tons more.
Greg Trew, from Middleburg, FL, put his arms in the air for second overall, a career high for the young, number six, Yamaha rider. The crowd yelled as their native boy talked about his race day. "I never really got stuck, my Maxxis tires worked great digging up this mucky sand. I just kept pushing my way up to get to the front and here I am. I've been waiting for this day for a long time. It's great to finally be at this level!"
William Yokley, round one overall champion, took third overall here in the black soup they call Florida. "Yeah, I got tired, but my Elka shocks worked great to keep things smooth, and my tireballs fought against those Palmetto roots every lap. It was a great day, but I'm beat."
With less than a week to get these quads race ready, everyone is forced to get things home or to a sunny dry place in Florida to wash up. A few calls to sponsors and quad dealerships will be made for parts, and many will be brake pads, shocks, pipes, and so much more!