General GNCC, Washington, GA 2004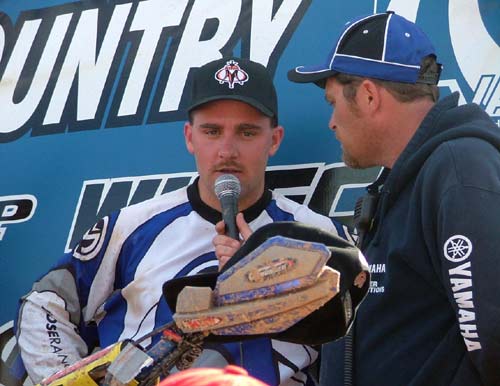 The General GNCC
Washington, GA
March 6, 2004
By Bonnie Hamrick
Round three of the GNCC Series hosted in Washington, GA was home of the Maxxis General. The weather that morning was calling for showers by lunch, but a high in the seventies. By nine o'clock, the sky decided to let loose and a few rain drops fell. The wind started blowing and the racers began to worry. Less than an hour later, the sun popped out and the rain clouds were blown away with high seventy sunshine. Walking through the pits, the racers were excited. "This is great weather. That was enough rain to knock down the dust and make the track tacky," Bill Ballance said. Brother Brandon said, "I am ready. With just a little rain, the dust is settled and it is going to make for good traction. This race will be a test of endurance." Santo DeRisi, for Team Safari admitted to being ready, but as far as the weather, "I want the sun out. There might be a few muddy spots out there that will get bad, but I am hoping for a top three today." Last weekend's runner up, Greg Trew was pumped after getting on the podium at the Hurricane GNCC. "Everything has come together for me. I was used to that sandy terrain. Today, I am less nervous, because I've done it and know I can do it again."
Round Three, the Maxxis General Starting line up
Heading to the start, the Pro riders were gathered near the first turn, waiting for referee, Ricky Towery, to line them up. Point's leader, Bill Ballance, picked his starting position first aboard the Troy Yamaha, HMF, GT Thunder, Moose, Power Madd, Maxxis, tireballs, Custom Axis, Pro Armor, Rebel Gears, Regina Chains, Douglas Wheels, and Klotz machine. Chris Borich, aboard the number two machine on the East Coast ATV Yamaha with Twin Air, Kellner Motorsports, Tireballs, IMS, Custom Axis, Spider Grips, Maxxis, HiPer, and more, was having a tougher season than in 2003, where he is currently in fourth for points. William Yokley, currently second in the points battle after a first at Texas and a third in Florida, lined up second with his Yoshimura, Roll Suzuki along with Elka, ITP, Nacs, Hinson, Lobo, and tireballs supporting the number three rider. Chad Duvall, the AmPro Yamaha, number four rider, was having a string of difficult luck himself, but was looking to pull it together here at Round Three with sponsors like, ITP, IMS, Roll, Shoei, Outerwears, Elka, Badger, MSR, and Lobo. Number Five, Matt Smiley aboard the Team Safari Yamaha lined up fifth, and was looking to return as Mr. Consistency. Number Six, Greg Trew aboard the East Coast ATV Yamaha, was looking for another podium finish.
Number Eight, Santo DeRisi, a Team Safari Yamaha rider was looking to put round one and two troubles behind him. Todd Knippenberg, with HMF, has put in a few good races this year aboard the number nine Yamaha. Brandon Ballance with his Troy Yamaha number ten machine has been trying to put the magic together with the top three overall he wants. Johnny Gallagher, last year's third overall finisher here at the General GNCC, is looking to put his number eleven HMF and GT Thunder Suzuki back up on the podium. Number twelve, Bryan Cook, last year's General GNCC fourth overall finisher from the 4 Stroke A Class is looking to for another top overall finish to top things off. Jeff Stoess, aboard the ATK, is looking to put his quad back out front on lap one like in Florida, but this time stay there. Andy Lagzdins is riding his Dirt First Yamaha, sporting the number fifteen. Jared Gruca, after having rough luck in Flordia, is back on Pro line with his number eighteen Yamaha. Rounding out the top twenty is Mike Houston aboard the new 450R Honda.
Kim Kuhnle is the number twenty-two Polaris. Frank Grimplin is making his first race of the 2004 season in the Pro Class aboard the number twenty-three Yamaha. Rob Zimmerman is on the Honda with number fifty-nine. Ironboy, Jason Sloan is riding the 127 Suzuki. Paul Rowlands is on the 164 Yamaha. Closing out the pro class starting line is Thomas Barrett with the 334 Honda.
Race time
The green flag was up and William Yokley was on the gas to put his Suzuki out front, with twenty pro riders all over his ITP tires, hungry for the front. With eleven miles of woods to deal with, the pros would be making a shorter first lap than rest. Coming around after twenty five minutes was Bill Ballance with just a five second lead over Yokley. Chris Borich was thirty seconds back with young-gun, Bryan Cook all over his Maxxis tires for fourth. Less than ten seconds back, Chad Duvall was moving up the pack in fifth. Just over a mile later in the course, on the supercross track, Ballance was high in the air on the tabletop. Yokley was still just seconds off the pace, but keeping the Yamaha ahead of him in sight. Duvall had made the pass on Cook and Borich, putting him just ten seconds off Yokley. Rounding the motorcross turns, Borich was holding off Cook still in fourth and fifth. Greg Trew was just ten seconds back for sixth. Smiley pulled into the pits to have Team Safari work on a few problems. Brandon Ballance was able to make the pass on Smiley as he went through the pits for eighth. Santo DeRisi was riding just ten seconds back in ninth and rounding out the top ten overall for the first lap was Mike Houston aboard the number twenty Honda 450R, just under a minute back.
"Update: Ballance starting to pull away." Lap two through the scoring tent, Ballance gained just a fifteen second lead over Yokley. Twenty seconds later a pack of wild four-strokes popped out of the woods. Duvall led the pack with Borich, Cook, and Trew all over one another. Based on overall times, Jeremy Rice in the Pro Am Class came in to squeeze out Cook for fifth overall by just one second. Over a minute later Brandon B. came in for eighth overall, holding off Smiley. Just thirty seconds back was Houston holding off Jeff Stoess aboard the ATK.
Coming through the pits, just a few miles into the lap, Bill had pulled a twenty second lead over Yokley and wasn't looking back. He looked in control of the Yamaha as Yokley hammered his way across the pro pits for second. Duvall still held onto third as Borich was just seconds behind for fourth. Cook was the first pro rider to stop for gas on lap two and Trew passed just as Cook was pulling out of his pits. Rice, from the Pro Am Class, was still holding onto sixth overall with Smiley coming through the pits right behind him. Brandon B. was just passed by Smiley for ninth overall, keeping Houston at tenth overall just forty seconds back. Joe Borich, Chris Borich's dad, was gassing Rob Hertz from the Pro Am Class, aboard a Cannondale, when the quad back-fired and actually caught on fire, at the end of pro row. Other racers were forced to slow down and edge close to the banners as thick gray smoke blew across the track. Luckily, Chuck Weir, from Klotz, had a fire extinguisher on had put out the flames. Just sitting there less than a minute, Hertz jumped back on the quad to continue the race.
Lap three and Ballance was checking out. Coming out of the woods just three turns from the two lap card, Ballance held a fifty second lead over Yokley. Just fifteen seconds back, Duvall was holding onto a podium position by just seven seconds. Borich was fighting to keep Duvall in sight as Cook was ten seconds off Borich for fifth. The top pack had broken away from the rest of the pro riders; nearly a minute later, Smiley came through the scoring tent in sixth. Trew had dropped back to seventh, just fifteen seconds back from Smiley. Pro Am racer, Rice, was in seventh overall, thirty seconds back from Trew's time.
On the motorcross track, Ballance got excited and spun a few doughnuts for the cameras, loosing a few seconds he could afford at this point in the race. Through the pits, Ballance made a quick pit stop for gas, and was on his way. Yokley still held onto the second place position, pulling away from the pits while Duvall was pulling in for gas. Borich pulled in for gas, while Cook blew by his pits after getting gas the lap before, moving him up to fourth overall. Smiley was nearly a minute back with Trew pulling in for gas as the Team Safari rider was leaving the pits. Rice came through with eighth overall from the Pro Am Class. In ninth overall, Houston held onto the fight nearly a minute back from Trew. Stoess was just fifteen seconds back rounding out the top ten overall. Brandon B. was twenty seconds back in eleventh overall, not putting in the race he was looking forward to at the beginning of the race day. Todd Knippenberg came into the HMF pits to get a few things adjusted while Jathan Seale, from the Pro Am Class flew by, hoping to get into the top ten overall and catch Rice. In the Pro Am Class, only thirty seconds back was James Wahl and Eric Conner, working their way into a steady top twenty overall.
"Update Update: Cook is moving into a podium position. He is blazing by the competition out here", said the announcer. With the update being called miles before the finish, Santo DeRisi came in for his second lap of racing after having battery problems in the woods. Course marshal, Buren Hamrick took him another battery and DeRisi was moving again. Coming in for the white flag, Ballance pulled out a minute and fifteen second lead over Yokley. All doubts of his four-stroke abilities were washed away, as Ballance aboard his new Yamaha YFZ was back to his 2003 self. Duvall was thirty seconds back for third as Cook popped out of the woods less than ten seconds off Duvall for a podium position. The crowd was screaming for Cook, as the rookie pro Rider was making for an incredible pro season. Borich was under twenty seconds back for fifth, still holding onto the lead pack. Over a minute and a half back was Smiley for sixth who broke away from Trew by two minutes. Behind Smiley's overall was Rice from the Pro Am Class, not giving up on taking his first win of the season, holding a seventh place overall here in Georgia. In ninth overall was Houston, holding onto his best pro class finish, holding onto twenty seconds behind Trew. Thirty seconds later was Stoess not giving up on his tenth overall.
"Update Update: Cook is all over Duvall working for a podium spot."
"Update, Duvall is catching Yokley for second, Bill is gone."
"Update from the eight and a half mile mark, Duvall has passed for second. Yokley dropped to third. Cook is twelve seconds off." The fans and pit crews surrounded the finish line area awaiting the podium finishers for the Maxxis General in Washington, GA.
Checkered Flag
Ballance's HMF pipe was heard before it was seen, thumpering through the trees as he popped out of the woods to make a few lasts turns to take the checkered flag and a back to back overall. Fists pumped in the air, the crowd cheered for the 2003 Champ making his way for a fifth championship overall. Two minutes of waiting, Duvall came out of the woods with his red headlights blazing, making his way for his best 2004 finish in second overall. The crowd waited to see if Cook could make the pass on Yokley as easy as Duvall did. Just five seconds back was Yokley coming out of the woods, wrapping up third overall with Cook twenty-four seconds back for fourth.
"I feel awesome. I could make a few more laps even," Ballance admitted while up on the podium. "I started to loose my clutch on the last lap. I lost a few seconds having to drop into neural to change gears, but I am here. I didn't push too hard, I just set a smooth pace I could handle. I felt good once I got by Yokley." With two overall finishes back to back, no more doubt is left in Ballance's mind about the early season rumors of not being able to handle the new four-stroke. "Don't second guess me anymore guys. Today was my kind of conditions: hard, rough, and fast. I can't complain a bit."
Duvall was all smiles in the second overall as he talked about his ride with Randy Hawkins, through Am Pro. "I have been given lots of opportunities this year, and everything is starting to work great. At the beginning of the race, I was fumbling around after racing a motorcycle this week at an Enduro with the Yamaha bike riders. I just snuck up on Yokley and got around. I could hear Cook behind me. I looked back one time and saw the orange beast. I felt his pushing, and it gave me what I needed to push and get going a little faster."
Yokley had been battling a cold during the week and hoped the after effects wouldn't bother him here in GA, but they did sneak up on him on the last lap. "I got a good holeshot and was trying to hold onto it. Bill got by and the day got longer. Arm pump got me on the end of lap one and I had to deal with that. I am happy with third, and glad to be here after the week I have had. I am happy with my sponsors so far this year for giving me such great chances at all this." After the race, Yokley talked about what held him down today and the future. "Two thirds through the last lap, I was out of steam. Lappers held me up everywhere, and there came Duvall. I am ready to get home and start training. I have a lot of swimming and bicycle riding to do. I am going to train hard these next two weeks and be ready to stay on the podium."
Cook was happy with his fourth overall finish, which felt so much like a podium finish to him and the Four Stroke Tech crew. "I am beat now. I rode hard and I knew I could hold that kind of pace. I just needed to get up there and prove it." Cook thanked all his sponsors for giving a first year Pro rider the opportunity to prove himself in the GNCCs: Four Stroke Tech, Maxxis, Elka, Moose, Badger, Maier, Dura Blue, White Brothers, Ceet, Wiseco, IMS, DP Brakes, AC Racing, Douglas Wheels, GPR, and Houser.
Just under two minutes back was Borich for fifth overall aboard his Yamaha. Borich was also plagued with fatigue here at round three, but will be back in NC for a better finish. Rice, from the Pro Am Class, put in sixth overall finish, only seconds behind Borich's time, taking first place in his class. Rice was strong in the GA track, taking his first Pro Am Class win from Jathan Seale. After a second overall in front of his native FL fans, Trew battled sore muscles at round three, with a strong seventh overall finish, nearly four minutes back from Borich. Houston from Hickory, NC aboard the Honda put in his best overall pro finish at eighth overall thirty seconds behind Trew. Houston battled having bent A-arms after a crash on lap one. He charged hard, letting the power of the new Honda take over and get him to the top. Seale took ninth overall and second place in the Pro Am Class, here at the General GNCC.
Seale was five minutes back from Rice, but after taking round one and two class wins, has no worries about Rice in the future. With a top ten overall finish at round three, Stoess made his way into the top ten overall points. In eleventh overall, Eric Conner put in an impressive race from the Pro Am Class, taking third over thirty seconds back from Seale. Chris Jenks from Pro Am worked hard all day to get his way to third place in the Pro Am Class, finishing over ten seconds back from Conner for twelfth overall. Brandon B and Smiley were separated only by seconds at the finish line as they crossed for thirteenth and fourteenth overall. Duane Johnson from 4 Stroke A worked his way into the top twenty overall with a sixteenth overall finish, taking the class win by four minutes over Chris Bithell who finished just outside the top twenty overall.
With two weeks of resting ahead, the pro riders will be back for battle at round four at Steele Creek in Morganton, NC. ATV Scene will be there to provide all the details but we hope you'll come to see it for yourself as well.
2004 General GNCC, Andy Lagzdins, Bill Ballance, Brandon Ballance, Bryan Cook, Chris Bithell, Chris Borich, Eric Conner, GA, Greg Trew, James Wahl, Jathan Seale, Jeff Stoess, Jeremy Rice, Kim Kuhnle, Matt Smiley, Paul Rowlands, Rob Hertz, Santo DeRisi, Thomas Barrett, Todd Knippenberg, Washington, William Yokley
Comments
comments