John Penton GNCC, Millfield, OH 2004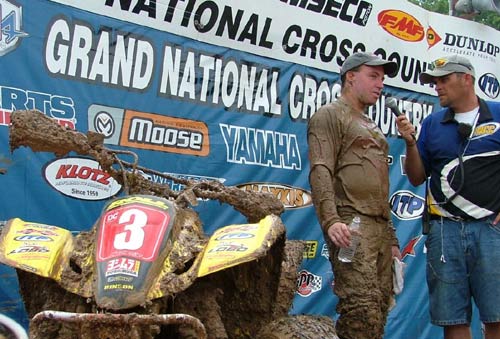 The John Penton GNCC Round 11
Millfield, OH
July 10, 2004
By Bonnie Hamrick
It was shaping up to be a hot, humid race day here at the John Penton, just like two years ago: dry, dusty, and hot. The morning race wrapped up with Stephanie Parton taking the Overall and wrapping up the 2004 Women's Class Championship. The riders coming off the track were tired, hot, sweaty, and exhausted. The afternoon race riders prepared for the heat by drinking plenty of fluids during the morning and most of them dressed in their Moose Sahara clothes. Looking off into the distance, you could see the black clouds rolling in.
The weather predicted 50% chance of scattered thunder storms, would it make it to the John Penton?
The pro riders left for the starting line with pro rider mudders, Johnny Gallagher and Jeff Stoess eager for rain. On the starting line Gallagher started doing a rain dance and saying he loved the mud. .
Just as the GNCC crew was preparing to get the National Anthem under way, the bottom fell out, umbrellas popped up and the track was quickly turning into brown, slimey, slick mud. The rain fell as if an enormous bucket was being tipped over. Pro riders were yelling to either hurry up with the start or let it rain! With just under twenty pro riders, the race was about to begin. When Ricky Towery called "Ten Seconds" the pro riders let the rain roll down their helmets onto their backs. When the green flag finally went up, Yamaha's Bill Ballance and Matt Smiley (Team Safari) took the holeshot. The first and second turn got interesting as the pro class made it into the woods finally. Next the pro am class ripped off in a splash, spinning and dodging one another as James Wahl took the holeshot.
Lap One
On lap one, the leaders popped onto the motocross area with William Yokley holding just a five second lead over Bill Ballance. In third was Chad Duvall just ten seconds behind Ballance, being followed by Matt Smiley and Chris Borich. Seventeen seconds back was Bryan Cook, but pulling into the pits, Jeff Stoess passed Cook as he made a stop for goggles. Greg Trew came around the pits in eighth just seconds behind Stoess and Cook. Twenty seconds later was Thomas Barrett aboard a Honda and in tenth was Brandon Ballance under fifteen seconds back.
With the rain falling hard, few riders made their first lap before the pro's were due in for lap two. The fans and pit crews were left waiting for lap two, which was to be just a mile longer than lap number one.
Lap Two
Ten minutes late, but still out front and definitely wearing a smile was Yokley, jumping out of the woods, coming down the hill to the motocross track. Ballance was within seconds, passing Yokley before crossing the scoring tent. With track conditions worsening, bottlenecks forming every where, and the GNCC course marshals rerouting the track to keep it passable, Ballance and Yokley were able to pull one monstrous lead. Over four minutes later, third place, Duvall worked his way to the scoring tent with Borich all over his rear wheels. Just under a minute later in fifth was Smiley, a rider who was suffering in a bottleneck on lap two. Thirty seconds back in sixth was Cook. Just over a minute back from Cook in seventh was Santo DeRisi. Pulling into the pits, the Team Safari crew washed out DeRisi's eyes and hands to put on fresh goggles and gloves. Just under a minute back was Kim Kuhnle aboard his Polaris with Frank Grimplin holding onto ninth.
Calling out the top ten overall, most of the pro am riders were holding down the top spots. Three of the pro am riders found themselves in the top ten overall. Pro am class leader on lap two was Timothy Gale holding onto an impressive third overall, holding a six second lead over Brian Brinkley, who was sitting in fourth overall. Just a minute later was Adam McGill. Rounding out the top ten overall was Rick Cecco in fourth, just over a minute back from McGill.
Lap Three
Coming onto the motocross track to get the white flag, Yokley was all alone aboard his Yoshimura Suzuki. Holding a three and a half minute lead, Yokley was sitting just where he wanted to be. Hoping luck would be on his side this last lap, he rode hard to see where the last ten miles of the John Penton would put him. Coming around in second was Smiley who was hoping no more bottlenecks would eat him and his Team Safari Yamaha with a fight still alive inside him. Over a minute back a rider just off the injury list, Duvall in third overall. Nearly three minutes back for fourth in the Pro Class was Ballance, not in the position he planned to be in. Four and a half minutes back was Borich, sitting just inside the top ten overall. Moving up to sixth overall, thirty seconds back was Kuhnle and loving the way his Polaris was handling the mud. Kuhnle is a veteran Pro rider and remembers racing in mud as thick and nasty as this for many years. Just under a minute back in seventh was Johnny Gallagher aboard his GT Thunder Suzuki with Cook just less than twenty seconds back. Cook had to pull in the pits to clean out the collection tube full of mud. His quad wasn't running right and not far out on the track he noticed his tether cord wrapped around the chain guide. Luckily a spectator was standing there with a pocket knife and once it was cut free from the chain, it was running great. Just under two minutes at the scoring tent was Todd Knippenberg with Andris Lagzdins in tenth, not far behind.
In the Pro Am Class, Rick Cecco moved into the number one spot holding a top three overall position. Just forty seconds behind was Jason Lewis for second and Brian Brinkley in third, thirty seconds back; all within the top six overall.
Overall
Coming out of the woods, with no other riders in sight, Yokley showed some moves on the motocross track. Crossing the finish line, taking his second overall finish for the 2004 season, William Yokley was nothing but smiles as he cleaned up on the podium and was left to wait. And wait he did. Five and a half minutes later, Matt Smiley crossed the finish line for second overall and the Team Safari rider was glad to see the checkered flag. Just thirty seconds later, Chad Duvall took the checkered flag with the Yamaha pits cheering.
"It was wild out there. There were bottlenecks everywhere. I was stuck forever in one. The last lap I was nervous as a cat. I kept getting stuck in bottlenecks and I as worried that I would loose my position. Next thing I know, I was first. I can't say enough about my bike today, this Yoshimura Suzuki hooked up perfect. My tireballs were awesome and I am stoked. With sponsors like Yoshimura, Suzuki, Roll, Nac's, ITP, Lobo, IMS, tireballs, Outerwears, Hinson, and more, it is no wonder I am up here," Yokley said never loosing his smile.
"I just tried to ride smart. I was in front, then the back, then I didn't know where I was. I was behind everyone in a bottleneck somewhere. I just kept myself out of trouble. My Maxxis tires hooked up for me and I rode smart from then on. I took the holeshot and tried to hold onto fifth. I burned my clutches trying to get up the hills out there. I had to use some guy's bike for traction to get out of one bottleneck, so thanks to him. I had great sponsors behind me today: Team Safari with Jay Gobel and Maxxis, Moose, Big Gun, Klotz, Custom Axis, and more." Matt Smiley worked his way back into top three overall in the points after the eleven events.
"I had fun, yeah it was gruesome. I sure wouldn't have wanted to do another lap! I felt good today. Hell yeah for Joe Kish, who should have been right up here in this spot last year. God Speed. Thanks to all my sponsors: Randy Hawkins with Am Pro Yamaha, Jim Pinkston hooked me up with the perfect ITP tires, Roll, Duncan, IMS, Elka, Tireballs, Hinson, Shoei, Badger, and everyone else I forgot to thank!" Duvall was glad to be up on the podium, supporting local hero, Joe Kish who lost his life over the winter break due to a job accident.
Two minutes back in fourth overall was Bill Ballance, a position he wasn't happy with, but considering the bottlenecks and weather, he was happy to finish at the checkered flag. Taking an amazing fifth overall from the Open A Class, Mike Benson was all smiles aboard his Team Four Stroke Tech Honda. With sponsors like Maxxis, Moose, Cometic, Elka, Maier, Douglas Wheels, DP Brakes, GPR, Wiseco, White Brothers, IMS, Houser, Badger, AmsOil, Outerwears, HydraPak, and more it is no wonder Benson wasn't charged and on the gas. Jason Lewis took sixth overall and the Pro Am Class win by just under two minutes over Brian Brinkley. In eighth overall, Chris Borich was on the gas to take fifth in the Pro Class. Just ten seconds later, Kim Kuhnle was in ninth overall with a season best's finish. Rounding out tenth overall and third in the Pro Am Class was Adam McGill.
Todd Knippenberg worked his way up to seventh in the Pro Class with an eleventh overall finish. From the Junior Class, Jarrod Huffman took twelfth overall. In thirteenth overall, Johnny Gallagher came back to take on the mud after doing his rain dance on the starting line. Gallagher was able to hold off Andris Lagzdins by just twenty seconds. Chris Jenks took on fifteenth overall and fourth in the Pro Am Class. Second in the Junior Class, Bryan Davis took sixteenth overall, two minutes behind Huffman. Rick Cecco and Jeremy Rice battled all the way to the checkered flag finishing fifth and sixth and just inside the top twenty overall. Nine minutes back for second in the Open A Class was Bryan Baker for nineteenth overall and Josh Whitehead rounded out third in the Open A Class over a minute back for twentieth overall.
2004 John Penton GNCC Round 11, Adam McGill, Andris Lagzdins, Bill Ballance, Bonnie Hamrick, Bryan Cook, Chad Duvall, Greg Trew, James Wahl, Jason Lewis, Jeff Stoess, Jim Pinkston, Joe Kish, Johnny Gallagher, Kim Kuhnle, Matt Smiley, Rick Cecco, Stephanie Parton, Thomas Barrett, Todd Knippenberg, William Yokley
Comments
comments