Ironman GNCC, Crawfordsville, IN 2003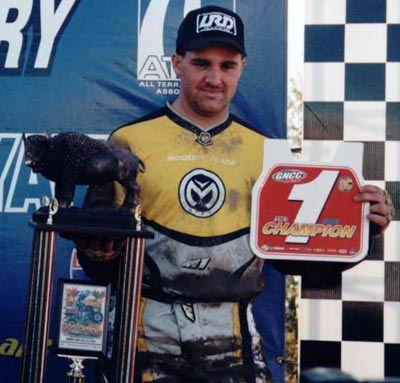 The Ironman GNCC
Crawfordsville , IN
Oct 18, 2003
By Bonnie Hamrick
With the last GNCC race of 2003 before us, the Championship battles were coming to a close. Many classes were tight, but many were sewn up. Champion Bill Ballance was going to take his fourth Pro Championship. Bill was going into this final race in Crawfordsville , IN with enough pressure on his shoulders though, having never won an Ironman event. "Every year, it seems like I am so close, but this year, I am bringing the 2 stroke out of retirement for one more race," Ballance said before the race while signing autographs for fans. Yokley, the 2001 and 2002 Ironman Overall winner said that this was one of his favorite tracks. "I am going out there to ride smart and hard, but have a big smile on my face the whole time," Yokley said. Yokley is pumped for next year, already having his Nac's Suzuki ready for the 2004 season. "I have done so much developing this season; my sponsors have been helping me tune everything in just right. I am ready to rock!" Santo DeRisi was in the pits talking about the last few races that have been bad luck to him. "I want to end this season on a good note. I keep a positive attitude though. Things will work out for the best in the end is the way I see it," DeRisi said.
Many new faces were on the first row of the Top Twenty Overall Pro and Pro Production riders. The Four Stroke A Class Champion and second place, Bryan Cook and Jeff Stoess moved up to the first row to try their hand with the big boys after sewing up their A Class. Michael Houston, a Pro Production rider, made the move into the Top Twenty Overall after Round Twelve, giving him a spot on row one. With the competition tight, the ten seconds call went out with nerves twitching. None other than William Yokley took the holeshot with a cloud of dust and riders on his rear tires. After four miles of racing, they came through the scoring tent for an unofficial lap one. Yokley still held the lead with Chad Duvall, Bill Ballance, and Greg Trew all fighting for the lead. Brad Page was riding his Duncan Kawasaki for fifth with Brandon Ballance less than ten seconds back for sixth. Santo DeRisi was holding off Chris Borich and Jeremy Rice for seventh. Matt Smiley was having a rough lap as he was riding in twelfth. Half way around the lap, Ballance moved into first place, but Yokley was still there fighting for the lead. Duvall was holding onto third.
On lap two, Ballance was basking in the glory of holding that first place position. He was riding his 2 stroke hard, but with plenty of company all over his tracks, he wasn't riding easy. Borich moved all the way up to second with Duvall not letting up for third. Trew worked his way back into fourth with DeRisi less than ten seconds back, moving up in the pack. In the 250 A Class, James Wahl was holding onto first place with Gregg Stewart, from the 4 Stroke A Class, out front and running in a top twenty overall position. At the eight mile marker, none other than the man with three overall finishes this year, Borich moved into the overall. Ballance wasn't giving up in second with Duvall and Trew fighting for third.
The two lap card was out with Borich, Ballance, Duvall, Trew, and DeRisi less than two seconds apart. Page was just seconds back for sixth, and Smiley running seventh. All kinds of changes were happening on the track. The creek was getting deep and rough. The hills were slimy and the ravine was turning into a rutted mess.
Ballance took back over the lead for the white flag lap with Borich all over his Maxxis tires. DeRisi worked his way into third and wanting to top off this season with another podium finish. Page wasn't far behind for fourth with Yokley dropping to fifth. Duvall had to fix a flat tire, putting him back to sixth, but not out of the contention yet.
Less than half a mile before the creek, Yokley took over the lead with Duvall in second, DeRisi in third, holding off Ballance. With less than half the track to go on the fifth lap, Yokley still held the lead with Duvall working his way into second. Ballance was just seconds back in third with Trew making the pass over DeRisi. Less than half a mile from the finish, Ballance made the pass for the first place position. Yokley was holding off Duvall. Over a minute back, Borich and Smiley came up the small hill tire to tire.
With his first Ironman win in history, Ballance crossed the finish line all smiles. "Ending this fourth Championship with a win makes this even sweeter," Ballance said on the podium. Being followed by Yokley and Duvall, all just seconds apart moved Yokley up to take the second place overall finish for the 2003 season. "This was nothing but a battle and it was a lot of fun. Chad and I were all over one another, and I can't wait to do it again next year," Yokley said while signing hats up on the podium.
Up on the podium, Bill took the opportunity to thank his many sponsors: The pit crew, family, LRD, Pro Armor, Maxxis, Klotz, Troy Racing, Douglas Wheels, ArsFX, TAG, Moose, Smith, UNI Filters, Hison, Outwears, and so many more. "This is the best way to retire this 2 stroke machine. Now, it is time to make this thing obsolete and bring out the Production machines. I have been on the Suzuki and had a good race on it. Then I bring out the Yamaha. With the new Honda coming out, I am looking for the factories to come in and make this sport just what we want."
Eric Conner, previously raced a few GNCC's in the Four Stroke A Class, moved up to Pro Production, taking tenth overall for the day. Michael Houston made an impressive overall finish at twelfth and holding top twenty for the 2003 season. Bryan Cook was able to take ninth in the Pro Production and thirteenth overall. After having a flat tire the first lap, he was able to fight his way back up from fourteenth place. Jeff Stoess was running fourteenth overall for most of the race, but had some bad luck on the last lap. Cook got by Stoess on a gnarly hill just before the finish, but Stoess was able to finish in the Top Twenty overall. James Wahl was back in action as he took first place in 250 A as well as fifteenth overall. Gregg Stewart took the 4 Stroke A Class win after battling with John Rowling on lap three. Stewart took a top twenty overall finish and is looking forward to next season.
Which Woman will take the Championship?
There were a lot of Championships on the line coming into the last round of GNCC racing. The most notorious Championship battle was the Women's Class. Just like last year, the Ironman will tell the winner of the Women's Class between Stephanie Parton, current point's leader, and Traci Cecco. When the green flag went up for row one, Parton pulled the holeshot with Cecco in third. Parton was able to lead half of the first lap, but soon, Cecco took over first place. On lap two, Cecco and Parton were right together running in fourth and fifth overall. With the two lap card out, Parton took over the lead just under ten seconds from Cecco, both falling to seventh and eighth overall. The last lap was up and Parton had nearly a minute lead over Cecco. Cecco fans were worried and Parton fans started celebrating. The track conditions were worsening. Who would make it back to the finish first for the championship?
In the Four Stroke Stock Class, Adam Howell had his hands full. On lap one, John Wright was out front and looking for another win. Just ten seconds back was William Howell and A. Howell was just ten seconds back for third. On lap two W. Howell moved into first place taking the Overall spot for the morning, with A. Howell in second and second overall. Wright fell back thirty seconds for third and Travalena was still riding in fourth. The two lap card was out and W. Howell was still out front with Wright moving into second with Doug Henke and A. Howell all over his rear tires. W. Howell was looking for the win with the white flag waving, but what would happen at the checkered flag?
The crowd was taken by surprise when a radio call came out from the ravine just a few miles from the finish. Minutes later, Tyler Lenig aboard the Cannondale crossed the finish line for first place and the overall in the Four Stroke Stock Class. The crowd was taken by surprise, but Lenig was excited as he mounted the podium. He broke the news that the fans were dreading, "There is a major bottleneck with nearly 100 quads just sitting in the ravine. I saw a way around and went for it rather than sit there. Here I am. I think I'll win by five minutes." Well, Tyler sat on the podium all alone for over ten minutes waiting for another top overall finisher to cross the checkered flag. Robert Welsh and Jason Lindsey both from the 2 Stroke Novice took second and third overall as they also were able to get through the bottleneck and surprise the fans. Lindsey's second place finish was enough to hand him the 2 Stroke Novice Championship for the season over Rodney Baker. All three podium finishers hailed from PA. Over twenty-five minutes of waiting, nephew Lenig heard the battle for Women approaching in the woods. Less than fifty feet from the finish it was Cecco and Parton wheel to wheel. Cecco rammed a tree, but left no room for Parton to get by. Spectators jumped the fence separating them from the finish and pulled Cecco back before Parton made a way around. With Cecco free, the two women headed for the checkered flag. Parton tried to dive in the inside but cut the wheels too early to spin out, giving Cecco the first place finish as well as the Championship. The crowd could hear the yelps of "YES, YES, YES" from Cecco as she headed for her husband standing at the finish. Rick Cecco scooped her off the four-wheeler as she screamed for joy over taking another championship. Cecco joined Lenig on the podium where they celebrated their finishes with a hug for the fans. "What a way to take this win. I was sitting a few quads back from Stephanie at the bottleneck and I knew I was going to get up there. Slowly the line was moving forward and I was hooting to get by those guys in front of me. They let me by, putting me right on her rear tires. As she went up, I did too. She fumbled on a hill and I got by her and I never let up all the way here," Cecco said shaking with happiness.
PM OVERALL
| | | | | | | |
| --- | --- | --- | --- | --- | --- | --- |
| Pro | | | | | | |
| 1 | 001 | Bill Ballance | Oakland, KY | LRD | 5 | 2:03:51 |
| 2 | 004 | Chris Borich | Sunbury, PA | LEG | 5 | 2:05:13 |
| 3 | 002 | Matt J. Smiley | Saylorsburg, PA | YAM | 5 | 2:05:17 |
| 4 | 010 | Jeremy Rice | Fombell, PA | PRD | 5 | 2:05:49 |
| 5 | 031 | Chris Jenks | Washington, WV | HON | 5 | 2:10:06 |
| 6 | 033 | Kim Kuhnle | Newbury, OH | POL | 5 | 2:10:26 |
| 7 | 176 | Jeff Stoess | Crestwood, KY | CAN | 5 | 2:11:15 |
| 8 | 125 | Steven Holbert | Mounnt Morris, PA | POL | 5 | 2:11:29 |
| 9 | 015 | Andris Lagzdins | Baltimore, MD | ROL | 5 | 2:12:01 |
| 10 | 027 | Jared Gruca | Massillon, OH | LON | 5 | 2:12:26 |
| 11 | 056 | Jared Huffman | Fleming, OH | YAM | 5 | 2:13:36 |
| 12 | 006 | Santo Derisi | Casar, NC | ROL | 5 | 2:15:39 |
| 13 | 500 | Jason Lewis | London, KY | YAM | 5 | 2:22:20 |
| 14 | 023 | Scott Fleischhauer | Mulberry, IN | GAS | 3 | 1:49:00 |
| 15 | 012 | Rob Hertz | Brookhaven, PA | HON | 2 | 0:40:20 |
| Pro Production | | | | | | |
| 1 | 003 | William Yokley | Tompkinsville, KY | SUZ | 5 | 2:03:53 |
| 2 | 007 | Chad Duvall | Williamstown, WV | YAM | 5 | 2:03:58 |
| 3 | 009 | Gregory Trew | Middleburg, FL | HON | 5 | 2:05:26 |
| 4 | 011 | Todd Knippenberg | Cumberland, MD | HON | 5 | 2:05:53 |
| 5 | 005 | Bradley Page | Tompkinsville, KY | KAW | 5 | 2:07:23 |
| 6 | 742 | Eric Conner | Tompkinsville, KY | KAW | 5 | 2:07:43 |
| 7 | 900 | Joe Kish | Roseville, OH | HON | 5 | 2:07:49 |
| 8 | 296 | Michael Houston | Hickory, NC | HON | 5 | 2:08:51 |
| 9 | 039 | Bryan Cook | Casar, NC | HON | 5 | 2:10:04 |
| 10 | 022 | Travis Hill | Valencia, PA | HON | 5 | 2:10:53 |
| 11 | 019 | Brandon Ballance | Oakland, KY | LRD | 5 | 2:11:55 |
| 12 | 029 | Brad Macri | Wheeling, WV | HON | 5 | 2:17:41 |
| 13 | 067 | James Shepard | Granite City, IL | POL | 5 | 2:19:15 |
| 14 | 847 | Doug Whitmer | Prosperity, PA | POL | 5 | 2:21:26 |
| 15 | 024 | Frank Grimplin | Vanderbilt, PA | HON | 5 | 2:29:20 |
| 16 | 167 | Jason Sloan | Martinsville, IN | SUZ | 4 | 2:04:23 |
| 17 | 014 | Johnny Gallagher | Aurora, OH | LON | 3 | 1:07:18 |
| 18 | 049 | Michael Benson | Bruceton Mills, WV | SUZ | 3 | 1:11:58 |
| 19 | 016 | Tyson Thomas | Sunbury, PA | CAN | 3 | 1:14:44 |
| Open A | | | | | | |
| 1 | 105 | Brian Schmid | Colden, NY | ROL | 5 | 2:14:28 |
| 2 | 026 | Michael Lucas | Lykens, PA | YAM | 5 | 2:15:24 |
| 3 | 057 | Bill Hallenbeck | Harrisville, PA | HON | 5 | 2:15:50 |
| 4 | 727 | Rob Zimmerman | Mackinaw, IL | HON | 5 | 2:16:45 |
| 5 | 038 | Allen Howell | Smithfield, PA | POL | 5 | 2:17:04 |
| 6 | 035 | Glenn Coriell | Wheelersburg, OH | HON | 5 | 2:17:29 |
| 7 | 052 | Cale Clarkson | Minford, OH | HON | 5 | 2:18:14 |
| 8 | 089 | Steve Zapfe | Millhousen, IN | LEG | 5 | 2:19:39 |
| 9 | 090 | Rob Weis | Strafford, WI | POL | 5 | 2:20:47 |
| 10 | 651 | Mike Knight | East Palestine, OH | LON | 5 | 2:23:41 |
| 11 | 189 | Brandon Sturdivant | Montrose, WV | YAM | 5 | 2:28:52 |
| 12 | 227 | Brad Whitehead | Sinking Spring, PA | LEG | 4 | 2:03:28 |
| 13 | 808 | Brian Shaw | Franklin, PA | YAM | 3 | 1:13:10 |
| 14 | 203 | Wesley Fruits | Crawfordsville, IN | POL | 3 | 2:09:23 |
| 15 | 232 | Joshua Ribley | Martinsville, IN | HON | 2 | 0:41:47 |
| 16 | 141 | Kyle Kessler | Crawfordsville, IN | POL | 2 | 1:41:50 |
| 17 | 173 | Dave Grimm | New Castle, PA | SUZ | 1 | 0:11:53 |
| 18 | 047 | Eric Davis | Harrogate, TN | HON | 1 | 0:12:20 |
| 250 A | | | | | | |
| 1 | 738 | James Wahl | Sinking Spring, PA | LEG | 5 | 2:10:17 |
| 2 | 051 | Todd Rothermel | Shamokin, PA | LEG | 5 | 2:13:51 |
| 3 | 094 | Ray Lippencott | New Philadelphia, OH | LON | 5 | 2:14:39 |
| 4 | 050 | Todd Demaree | Varsailles, IN | HON | 5 | 2:16:02 |
| 5 | 434 | Andy Klingworth | Oldenburg, IN | HON | 5 | 2:18:14 |
| 6 | 030 | Blaine Shick | Cranberry, PA | LEG | 5 | 2:19:24 |
| 7 | 085 | Josh Whitehead | Sinking Spring, PA | LEG | 5 | 2:21:41 |
| 8 | 032 | Casey Fox | Cameron, WV | ROL | 5 | 2:25:13 |
| 9 | 694 | Derek Litterini | Sutersville, PA | HON | 4 | 1:43:22 |
| 10 | 372 | Mark Thompson | Morristown, NJ | HON | 4 | 1:50:02 |
| 11 | 045 | Sean Neidlinger | Flagtown, NJ | LRD | 4 | 2:08:57 |
| 12 | 144 | Daman Causey | Camby, IN | ROL | 4 | 2:12:32 |
| 13 | 041 | Dirk J. Decesare | Mineral Ridge, OH | HON | 3 | 1:11:12 |
| 14 | 025 | Tom Hertz | Brookhaven, PA | LRD | 3 | 1:16:45 |
| 4 St A | | | | | | |
| 1 | 043 | Gregg Stewart | London, KY | HON | 5 | 2:11:21 |
| 2 | 867 | John Rowling | La Grange, KY | CAN | 5 | 2:11:47 |
| 3 | 042 | Rick Cecco | Shamokin, PA | CAN | 5 | 2:14:45 |
| 4 | 044 | Ryan Lane | Bicknell, IN | HON | 5 | 2:16:03 |
| 5 | 076 | Jared Graves | Bedford, IN | YAM | 5 | 2:17:12 |
| 6 | 060 | Ryan Wuebbeling | St Charles, MO | KAW | 5 | 2:17:55 |
| 7 | 093 | Travis Styles | Marietta, SC | HON | 5 | 2:17:59 |
| 8 | 652 | Randy Shilling | Claypool, IN | HON | 5 | 2:20:42 |
| 9 | 304 | Jason Gudde | Holden, MO | HON | 5 | 2:20:44 |
| 10 | 653 | Duane Johnson | Spickard, MO | HON | 5 | 2:21:17 |
| 11 | 573 | Lee Dickerson | Middletown, PA | SUZ | 5 | 2:21:43 |
| 12 | 200 | Harlen Foley | Westminster, MD | SUZ | 5 | 2:22:04 |
| 13 | 114 | Cory Vickerd | Holland, NY | HON | 5 | 2:23:45 |
| 14 | 117 | Scott Smalley | Tarentum, PA | HON | 5 | 2:26:35 |
| 15 | 559 | Timothy Gale | Orion, MI | HON | 5 | 2:35:27 |
| 16 | 668 | Doug Flinner | Gallipolis, OH | CAN | 4 | 1:54:18 |
| 17 | 095 | Brock Lyons | Lebanon, IN | HON | 2 | 0:43:26 |
| 18 | 686 | Charles Mullett | Crawfordsville, IN | POL | 2 | 0:50:47 |
| 19 | 319 | Jeff Wagoner | Hillsboro, IN | SUZ | 2 | 0:57:46 |
| 20 | 351 | Joshua Wilkin | Hillsboro, OH | YAM | 1 | 0:11:48 |
| 4 St B | | | | | | |
| 1 | 140 | Josh Beavers | Medora, IN | YAM | 5 | 2:21:40 |
| 2 | 552 | Kevan Thomas | Brookfield, OH | YAM | 5 | 2:22:21 |
| 3 | 229 | Josh Cristofori | Wiley Ford, WV | HON | 5 | 2:25:45 |
| 4 | 394 | Jeremy Wisdom | Pewee Valley, KY | CAN | 5 | 2:27:53 |
| 5 | 251 | Tom Bratcher | Clinton, TN | SUZ | 5 | 2:28:23 |
| 6 | 679 | Bryon Hampshire | Pataskala, OH | YAM | 5 | 2:28:41 |
| 7 | 356 | Michael Novak | Commerce Twp, MI | YAM | 4 | 1:55:49 |
| 8 | 687 | Zach Skinner | New Bethlehem, PA | HON | 4 | 1:56:47 |
| 9 | 940 | Marc Marshall | Graysville, OH | HON | 4 | 1:59:03 |
| 10 | 210 | Bron Walker | Poca, WV | HON | 4 | 2:00:02 |
| 11 | 148 | Jeremy Rummer | Columbus, OH | HON | 4 | 2:00:12 |
| 12 | 154 | Michael Props | Akron, OH | SUZ | 4 | 2:00:33 |
| 13 | 574 | Andrew Stafford | Martinsville, IN | HON | 4 | 2:00:54 |
| 14 | 121 | Mike Dyer | Lower Burrell, PA | HON | 4 | 2:00:55 |
| 15 | 988 | Richard Sweatt | Groveland, FL | SUZ | 4 | 2:01:25 |
| 16 | 198 | Ralph Johnson | Blakely, PA | HON | 4 | 2:01:45 |
| 17 | 805 | Brian Blosser | N. Liberty, IN | CAN | 4 | 2:01:52 |
| 18 | 168 | Chris Conklin | New Martinsville, WV | HON | 4 | 2:02:29 |
| 19 | 675 | Joshua Boyer | Daniville, IN | YAM | 4 | 2:02:44 |
| 20 | 453 | Robert Stamper | Walton, KY | HON | 4 | 2:04:11 |
| 21 | 697 | Adam Mallett | New Concord, OH | HON | 4 | 2:04:54 |
| 22 | 587 | Jeremy Knox | Holden, MO | HON | 4 | 2:05:28 |
| 23 | 677 | Derek Fisher | Evansville, IN | YAM | 4 | 2:06:44 |
| 24 | 724 | Craig Gaines | Walton, KY | HON | 4 | 2:16:50 |
| 25 | 659 | Ben Wrightsman | Anderson, IN | CAN | 4 | 2:16:57 |
| 26 | 658 | Joey Stankus | Fort White, FL | HON | 4 | 2:22:49 |
| 27 | 671 | Broc Booth | Brownsville, KY | SUZ | 4 | 2:23:31 |
| 28 | 698 | Shawn Beavers | Bedford, IN | SUZ | 3 | 1:16:58 |
| 29 | 656 | Taylor Kiser | Alva, FL | SUZ | 3 | 1:18:04 |
| 30 | 138 | Ben Nuckols | Glasgow, KY | HON | 3 | 1:24:43 |
| 31 | 676 | Benjamin Smith | Evansville, IN | YAM | 3 | 1:30:13 |
| 32 | 701 | Michael Franklin | Martinsville, IN | HON | 2 | 0:49:50 |
| 33 | 670 | Michael Johannigman | Grensburg, IN | HON | 2 | 0:53:13 |
| 34 | 678 | Jeremy Griffin | Dry Ridge, KY | YAM | 1 | 0:14:19 |
| 35 | 602 | Nate Beyers | Cumberland, IN | SUZ | 1 | 0:15:19 |
| 36 | 390 | J.d. Miller | Avon, IN | HON | 1 | 0:15:58 |
| 37 | 134 | Brad Mason | Bedford, IN | HON | 1 | 0:17:15 |
| 38 | 136 | Shane Bonnell | New Martinsville, WV | HON | 1 | 0:17:38 |
| DNF | 171 | Seth Cramer | Rockbrige, OH | HON | 0 | 0:00:00 |
| Open B | | | | | | |
| 1 | 404 | Mark Notman | Hubbard, OH | HON | 5 | 2:19:57 |
| 2 | 127 | Jeffrey Pickens | Lemont Furnace, PA | YAM | 5 | 2:20:38 |
| 3 | 909 | Rusty Richards | Glouster, OH | SUZ | 5 | 2:23:25 |
| 4 | 161 | Shane Benson | Bruceton Mills, WV | SUZ | 5 | 2:29:07 |
| 5 | 209 | Matt Sillery | Greencastle, IN | HON | 5 | 2:29:15 |
| 6 | 693 | Shawn Stewart | Chillicothe, OH | HON | 5 | 2:33:34 |
| 7 | 440 | Douglas Hovermale | Lebanon, IN | HON | 4 | 1:54:50 |
| 8 | 878 | Steven D. Miller Jr | Lykens, PA | YAM | 4 | 1:57:39 |
| 9 | 484 | Charlie Dodson | Glouster, OH | HON | 4 | 1:57:47 |
| 10 | 562 | Seth Mishler | Greencastle, IN | HON | 4 | 2:00:31 |
| 11 | 607 | Michael Pellegrini | Monongahela, PA | YAM | 4 | 2:05:07 |
| 12 | 135 | Ben Copass | Foutain Run, KY | YAM | 4 | 2:06:24 |
| 13 | 526 | Mark Chmielewski | Willis, MI | YAM | 4 | 2:23:54 |
| 14 | 436 | James Whitlatch | Kingmont, WV | HON | 4 | 2:28:23 |
| 15 | 696 | Ben Beesley | Thorntown, IN | POL | 4 | 2:40:24 |
| 16 | 265 | Michael Trapp | Pataskala, OH | GAS | 2 | 0:53:24 |
| 17 | 639 | Ronald Neibel | Gosport, IN | YAM | 2 | 1:04:47 |
| 18 | 774 | Jeff Haubner | Dry Ridge, KY | HON | 2 | 1:26:06 |
| 19 | 311 | Jonathan Shaff | Green Castle, IN | HON | 1 | 0:20:52 |
| DNF | 535 | Scott Stutzman | Goshen, IN | YAM | 0 | 0:00:00 |
| 250 B | | | | | | |
| 1 | 128 | Kyle Helmick | Fairmont, WV | HON | 5 | 2:16:51 |
| 2 | 175 | Bruce Marshall | Indianpolis, IN | HON | 5 | 2:20:38 |
| 3 | 122 | Donald Van Dyke | Shadyside, OH | LEG | 5 | 2:21:04 |
| 4 | 373 | Marquis Dungan | Greenfield, IN | LON | 5 | 2:21:15 |
| 5 | 118 | Ryan Schockling | Zanesville, OH | HON | 5 | 2:24:18 |
| 6 | 079 | Luke M. Decesare | Mineral Ridge, OH | HON | 5 | 2:26:06 |
| 7 | 326 | Matt Hendrickson | Indianapolis, IN | HON | 5 | 2:28:40 |
| 8 | 185 | Brian Vasko | Eighty Four, PA | LEG | 5 | 2:31:10 |
| 9 | 655 | Brian Edwards | Richview, IL | HON | 4 | 2:00:11 |
| 10 | 142 | Zach Malone | Danville, IN | HON | 3 | 1:19:38 |
| 11 | 938 | Victor Mckinney | Roebuck, SC | HON | 3 | 1:34:22 |
| 12 | 826 | Steven Reintjes | Indianapolis, IN | HON | 2 | 0:46:53 |
| 13 | 692 | Eric Thiem | Mcdonald, PA | LEG | 1 | 0:18:22 |
| Sport | | | | | | |
| 1 | 277 | Jeremy Benson | Bruceton Mills, WV | HON | 4 | 1:56:40 |
| 2 | 116 | David Mccarroll | Danville, IN | HON | 4 | 1:58:11 |
| 3 | 650 | Matthew Clapp | Sipio, IN | HON | 4 | 2:00:58 |
| 4 | 288 | Dustin Pigott | Belleville, WV | HON | 4 | 2:02:45 |
| 5 | 156 | John Cunningham | Baltimore, MD | HON | 4 | 2:05:12 |
| 6 | 684 | Brian Keasling | Oaktown, IN | HON | 4 | 2:07:12 |
| 7 | 880 | Bradley M. Dubois | Connersville, IN | YAM | 4 | 2:13:37 |
| 8 | 633 | Jacob Jones | Martinsville, IN | HON | 4 | 2:19:48 |
| 9 | 699 | Justin Ryan | Scipio, IN | HON | 4 | 2:25:34 |
| 10 | 567 | Levi Jones | Greencastle, IN | HON | 4 | 2:35:32 |
| 11 | 420 | Gregg Bourne | Baton Rouge, LA | YAM | 3 | 2:03:57 |
| 12 | 147 | Terry Rowh | Poca, WV | YAM | 2 | 1:02:23 |
| 13 | 170 | Nathan Hankins | Burlington, KY | HON | 2 | 1:03:57 |
| 14 | 672 | Kevin Farley | Gerogetown, KY | YAM | 2 | 1:06:51 |
| 15 | 139 | Jerry Ellard | Poca, WV | HON | 2 | 1:21:12 |
| 16 | 146 | Mathias Rowell | Commiskey, IN | HON | 1 | 0:14:55 |
| 17 | 799 | Dalen Schoolcraft | Martinsville, IN | HON | 1 | 0:15:01 |
| DNF | 384 | Brian Tharp | Lebanon, IN | KAW | 0 | 0:00:00 |
| Junior | | | | | | |
| 1 | 695 | David Hicks | Maryville, IL | HON | 5 | 2:14:05 |
| 2 | 034 | Chad Wallace | Bannock, OH | SUZ | 5 | 2:19:43 |
| 3 | 735 | James Wright | Glen Easton, WV | HON | 5 | 2:20:12 |
| 4 | 088 | Peter Stadtmueller | Erie, PA | LEG | 5 | 2:24:28 |
| 5 | 780 | Sean Delaney | Corinth, KY | HON | 5 | 2:24:45 |
| 6 | 186 | Shane Cox | Tazewell, TN | HON | 5 | 2:29:20 |
| 7 | 925 | Dennis Switzer | Crittenden, KY | HON | 5 | 2:30:16 |
| 8 | 323 | T J Whited | Waterford, MI | HON | 5 | 2:30:44 |
| 9 | 066 | Mark Lane | Fresno, OH | HON | 5 | 2:32:26 |
| 10 | 661 | Brian Kopec | Fort Myers, FL | HON | 4 | 1:51:49 |
| 11 | 123 | Chad Miley | Marengo, OH | HON | 4 | 1:58:44 |
| 12 | 685 | Chris White | Oaktown, IN | YAM | 4 | 2:04:47 |
| 13 | 109 | Kyle Miley | Waldo, OH | HON | 4 | 2:07:44 |
| 14 | 746 | Jimmy Hundspeth | Connelly Springs, NC | HON | 3 | 1:39:31 |
| 15 | 798 | Charles Welch | Salem, OH | SUZ | 1 | 0:17:25 |
| Vet | | | | | | |
| 1 | 036 | Ronald Martin | Morgantown, IN | HON | 5 | 2:15:03 |
| 2 | 160 | Bobby Ousley | Cumberland Gap, TN | CAN | 5 | 2:16:22 |
| 3 | 018 | Bryan Hulsey | Villa Ridge, MO | KAW | 5 | 2:16:27 |
| 4 | 048 | Mark Kunkel | Ft. Myers, FL | HON | 5 | 2:16:53 |
| 5 | 046 | Chris Neal | Bidwell, OH | ROL | 5 | 2:20:21 |
| 6 | 061 | Curtis Forrester | Elkton, MD | HON | 5 | 2:22:02 |
| 7 | 086 | Richard Yaslik | Youngstown, OH | LON | 5 | 2:22:05 |
| 8 | 082 | Kevin Wall | Poland, IN | ROL | 5 | 2:23:30 |
| 9 | 078 | Scott Gibson | Diamond, OH | HON | 5 | 2:24:33 |
| 10 | 919 | Jon Chambers | Columbus, IN | HON | 5 | 2:25:55 |
| 11 | 817 | Brian Hess | Kossuth, PA | HON | 5 | 2:26:37 |
| 12 | 084 | Raymond Marshall | Wilkinson, IN | HON | 5 | 2:31:50 |
| 13 | 071 | Bryan Davis | West Union, WV | POL | 5 | 2:32:43 |
| 14 | 317 | Jon Swanson | Leesburg, IN | KAW | 4 | 2:02:33 |
| 15 | 565 | Gary Richey | Marshall, IL | HON | 4 | 2:03:50 |
| 16 | 531 | Steven Wilcox | Kingsville, OH | HON | 4 | 2:04:00 |
| 17 | 741 | Jeff Shaffer | Akron, OH | LEG | 4 | 2:06:13 |
| 18 | 352 | Cain Smead | Quartz Hill, CA | KAW | 4 | 2:07:52 |
| 19 | 103 | Jim Pinkston | St Clairsville, OH | YAM | 4 | 2:08:41 |
| 20 | 283 | Kevan Logston | Belpre, OH | HON | 3 | 1:17:47 |
| 21 | 335 | Gary Belbeck | Gahanna, OH | SUZ | 2 | 1:01:54 |
| Senior | | | | | | |
| 1 | 143 | Richard Stanley | Corydon, KY | LON | 5 | 2:21:22 |
| 2 | 063 | Jim Vanloockie | Ashtabula, OH | YAM | 5 | 2:25:58 |
| 3 | 070 | John Cunninghan  Jr | Newville, PA | GAS | 5 | 2:26:14 |
| 4 | 223 | Robert Conkle | Chester, WV | HON | 5 | 2:28:59 |
| 5 | 104 | John Houser | Knoxville, TN | HON | 4 | 1:53:49 |
| 6 | 108 | John Coulter | North Royalton, OH | YAM | 4 | 1:57:41 |
| 7 | 527 | Warren Remick | Martinsville, IN | HON | 4 | 2:03:52 |
| 8 | 191 | Robert Fassinger | Elizabeth, PA | HON | 4 | 2:04:16 |
| 9 | 663 | Kevin Carroll | Louisville, TN | HON | 4 | 2:11:01 |
| 10 | 920 | Wayne A. Remick | Martinsville, IN | HON | 4 | 2:22:11 |
| 11 | 129 | Daniel Koenig | Grove City, PA | GAS | 4 | 2:27:28 |
| 12 | 355 | A Terry Brooks | Hiram, OH | YAM | 3 | 1:17:39 |
| 13 | 683 | Ronadl Elmore | Indianapolis, IN | HON | 3 | 1:20:11 |
| 14 | 087 | James Mantz | Ellwood City, PA | HON | 3 | 1:26:17 |
| 15 | 443 | Kevin Lane | Pekin, IL | YAM | 2 | 0:46:05 |
| 16 | 688 | Robert Powell | Greenfield, IN | YAM | 2 | 0:49:48 |
| 17 | 657 | Mark Kiser | Alva, FL | SUZ | 1 | 0:14:19 |
| DNF | 820 | Andy Seefeldt | Cato, WI | HON | 0 | 0:00:00 |
AM OVERALL
| Place | Racer | City, State | Class | Nbr | Brand | Laps | Elapsed |
| --- | --- | --- | --- | --- | --- | --- | --- |
| 1 | Tyler Lenig | Shamokin, PA | 4 St Stock | 454 | CAN | 5 | 02:21:47 |
| 2 | Robert J. Welsh | Pittsburgh, PA | 2 St Novice | 766 | HON | 5 | 02:33:05 |
| 3 | Jason Lindsey | Perrypoplis, PA | 2 St Novice | 272 | YAM | 5 | 02:36:47 |
| 4 | Trevor Rockwell | Conneaut, OH | Utility Modified | 498 | HON | 5 | 02:36:47 |
| 5 | Roy Lippencott | Tuscarawas, OH | Utility Unlimited | 382 | KAW | 5 | 02:38:58 |
| 6 | Michael Sroka, Jr | Smithfield, PA | 4 St Stock | 303 | POL | 5 | 02:40:29 |
| 7 | Scott Johnson | Indianapolis, IN | 4 St Novice 25+ | 357 | HON | 5 | 02:40:37 |
| 8 | Michael Allgeyer | Burlington, KY | 4 St Stock | 188 | HON | 5 | 02:41:29 |
| 9 | Brian Robey | Needham, IN | 4 St Stock | 228 | HON | 5 | 02:42:32 |
| 10 | Jesse Way | Falmouth, VA | 4 St Novice 25+ | 252 | HON | 5 | 02:42:37 |
| 11 | William Howell | Morgantown, IN | 4 St Stock | 466 | KAW | 5 | 02:47:07 |
| 12 | Traci Cecco | Shamokin, PA | Women | 202 | LON | 5 | 02:47:34 |
| 13 | Stephanie Parton | Dayton, OH | Women | 201 | LRD | 5 | 02:47:40 |
| 14 | P.j. Loy | Bryant, IN | 4 St Stock | 502 | YAM | 5 | 02:50:51 |
| 15 | Dan Mcconnaughey | Holly, MI | Utility Stock | 363 | KAW | 5 | 02:52:15 |
| 16 | Eric Randle | Delphi, IN | 4 St Stock | 339 | CAN | 5 | 02:52:54 |
| 17 | Adam Howell | Morgantown, IN | 4 St Stock | 800 | KAW | 5 | 02:54:36 |
| 18 | John Wright | Wellsville, OH | 4 St Stock | 316 | HON | 5 | 02:54:38 |
| 19 | Doug Henke | Parkersburg, WV | 4 St Stock | 870 | KAW | 5 | 02:54:40 |
| 20 | Donald Wilson | Smithfield, PA | 4 St Stock | 840 | POL | 5 | 02:54:44 |
| 21 | Scott Kilby | Waynesville, NC | Utility Modified | 204 | KAW | 5 | 02:56:05 |
| 22 | Mike Penland | Rabun Gap, GA | Utility Stock | 219 | KAW | 5 | 02:58:35 |
| 23 | Richard Travalena | Perryopolis, PA | 4 St Stock | 206 | POL | 5 | 02:58:45 |
| 24 | Will Cashion | Marietta, SC | 4 St Novice 16-24 | 266 | HON | 5 | 02:58:46 |
| 25 | Jesse Brunton | Glouster, OH | 4 St Novice 16-24 | 555 | HON | 5 | 02:59:12 |
| 26 | Jonah Davis | Crawfordsville, IN | 4 St Novice 16-24 | 214 | SUZ | 5 | 02:59:40 |
| 27 | James Lawson | Medora, IN | 4 St Novice 16-24 | 914 | HON | 5 | 02:59:44 |
| 28 | Luke Cox | Petersburg, IN | 4 St Stock | 469 | HON | 5 | 03:00:02 |
| 29 | Erik Haspel | Burgettstown, PA | 4 St Novice 16-24 | 600 | HON | 5 | 03:00:14 |
| 30 | Ty Huth | Marienville, PA | 4 St Stock | 978 | HON | 5 | 03:01:15 |
| 31 | Frank Scheidi | Fenton, MO | 4 St Novice 25+ | 540 | HON | 5 | 03:01:43 |
| 32 | Randy Albright | Ravenna, OH | 2 St Novice | 395 | YAM | 5 | 03:01:44 |
| 33 | Jason Shinpaugh | Mc Caysville, GA | 4 St Novice 25+ | 935 | YAM | 5 | 03:01:55 |
| 34 | Tyson Helton | Medora, IN | 4 St Novice 16-24 | 307 | YAM | 5 | 03:01:56 |
| 35 | Harry Bodine | Carbondale, PA | 4 St Novice 16-24 | 989 | HON | 5 | 03:02:20 |
| 36 | John Hines | Lyles, TN | Super Senior | 819 | YAM | 5 | 03:03:03 |
| 37 | Shane Nash | Thorntown, IN | 4 St Novice 25+ | 424 | YAM | 5 | 03:03:04 |
| 38 | George Prange | Quarryville, PA | 4 St Novice 25+ | 437 | SUZ | 5 | 03:03:05 |
| 39 | Dustin Stricker | Greenwood, IN | 2 St Novice | 734 | HON | 5 | 03:03:34 |
| 40 | Brian Keane | Plainwell, MI | 4 St Novice 25+ | 825 | HON | 5 | 03:03:36 |
| 41 | Chuck Dunn | Burtonsville, MD | 4 St Novice 25+ | 365 | SUZ | 5 | 03:03:50 |
| 42 | Charles Ellis | Mulberry, IN | 4 St Novice 25+ | 640 | YAM | 5 | 03:04:09 |
| 43 | Kyle Heavin | Coatesville, IN | 4 St Novice 25+ | 841 | HON | 5 | 03:04:11 |
| 44 | Lazarus Sommers | Millersburg, OH | 4 St Novice 25+ | 467 | HON | 5 | 03:04:16 |
| 45 | Darrell Thomas | Pylesville, MD | Utility Stock | 516 | HON | 5 | 03:04:32 |
| 46 | Frank Branhan | Bainbridge, IN | 4 St Novice 16-24 | 842 | HON | 5 | 03:04:35 |
| 47 | Jonathan Hughes | Stratford, WI | 4 St Novice 25+ | 635 | HON | 5 | 03:04:41 |
| 48 | Ken Robey | Martins Ferry, OH | Utility Modified | 508 | KAW | 5 | 03:05:05 |
| 49 | Anthony Hill | Vincent, OH | 4 St Novice 16-24 | 289 | HON | 5 | 03:05:06 |
| 50 | Johnny Wells | Indianapolis, IN | 4 St Novice 25+ | 960 | HON | 5 | 03:05:13 |
| 51 | Jonathan M. Bowers | Middleport, PA | 4 St Stock | 446 | YAM | 5 | 03:05:22 |
| 52 | Steven Kaylor | Warsaw, IN | 4 St Stock | 701 | HON | 5 | 03:05:27 |
| 53 | Mike Blanton | Overland Park, KS | 4 St Stock | 622 | HON | 5 | 03:05:29 |
| 54 | Mike Mellott | Williamstown, WV | 4 St Stock | 644 | POL | 5 | 03:05:46 |
| 55 | Brent Williamson | New Ross, IN | 4 St Novice 16-24 | 716 | SUZ | 5 | 03:05:51 |
| 56 | Brad Lambert | Martinsville, IN | 4 St Stock | 943 | HON | 5 | 03:06:08 |
| 57 | Dan Dayak | Avella, PA | 4 St Stock | 666 | POL | 5 | 03:06:11 |
| 58 | Marc Ansley | Duncansville, PA | 4 St Stock | 388 | HON | 5 | 03:06:14 |
| 59 | Lynn Smith | Hanover, MI | 4 St Stock | 703 | HON | 5 | 03:06:15 |
| 60 | Jennifer Fulkerson | Bowling Green, KY | Women | 731 | KAW | 5 | 03:06:26 |
| 61 | Heidi Landon | Tyrone, GA | Women | 429 | KAW | 5 | 03:06:38 |
| 62 | Brad Gale | Orion, MI | Super Senior | 982 | YAM | 5 | 03:06:40 |
| 63 | Jeffery Phillips | Little Hocking, OH | 4 St Stock | 343 | YAM | 5 | 03:07:02 |
| 64 | Chris Slocum | Clayton, IN | 2 St Novice | 504 | HON | 5 | 03:07:07 |
| 65 | Robert  . Obrick | Shamdein, PA | Utility Unlimited | 844 | KAW | 5 | 03:07:21 |
| 66 | Randy Huxhold | Muncie, IN | 4 St Novice 25+ | 458 | HON | 5 | 03:07:36 |
| 67 | Michael Wawzysko | Plymouth, MI | 4 St Novice 25+ | 850 | HON | 5 | 03:07:44 |
| 68 | Scott Davis | Lebanon, IN | 4 St Novice 25+ | 457 | HON | 5 | 03:07:52 |
| 69 | Andy Derrick | Etowah, TN | 4 St Novice 25+ | 537 | YAM | 5 | 03:07:58 |
| 70 | Kevin Reichard | Martinsville, IN | 4 St Novice 25+ | 786 | SUZ | 5 | 03:08:09 |
| 71 | Nathan Smith | Slippery Rock, PA | 4 St Novice 25+ | 495 | HON | 5 | 03:08:16 |
| 72 | Travis Ritz | Brownstown, IN | 4 St Novice 25+ | 408 | HON | 5 | 03:08:29 |
| 73 | Justin Hess | Burton, OH | 4 St Stock | 376 | KAW | 5 | 03:08:42 |
| 74 | Jonathan Green | Wilmington, OH | Utility Modified | 993 | KAW | 5 | 03:08:56 |
| 75 | Tye Hooten | Indianapolis, IN | 4 St Stock | 297 | YAM | 5 | 03:09:27 |
| 76 | David Kelsch | Liberty, IN | Utility Unlimited | 470 | POL | 5 | 03:09:46 |
| 77 | Russel Brenan | Irvine, CA | Utility Unlimited | 641 | KAW | 5 | 03:10:00 |
| 78 | John Ribley | Martinsville, IN | Utility Unlimited | 274 | KAW | 5 | 03:10:03 |
| 79 | Donald Robey | Indianapolis, IN | 4 St Novice 25+ | 240 | HON | 5 | 03:10:04 |
| 80 | Richard Richtsmeirer | Newton, IA | Utility Stock | 579 | HON | 5 | 03:10:40 |
| 81 | Chad Lowe | Mooresville, IN | Utility Unlimited | 802 | KAW | 5 | 03:10:58 |
| 82 | Robert Bell | Brazil, IN | 4 St Stock | 468 | HON | 5 | 03:11:51 |
| 83 | Mike Stewart | Jamestown, IN | 4 St Stock | 654 | HON | 5 | 03:12:47 |
| 84 | Thomas Waybright | Caledonia, OH | Super Senior | 218 | YAM | 5 | 03:13:09 |
| 85 | Jim Blasko | Cranberry, PA | 4 St Stock | 616 | HON | 5 | 03:13:13 |
| 86 | David Coffing | Crawfordsville, IN | Super Senior | 649 | SUZ | 5 | 03:13:38 |
| 87 | Jean Lovely | Middletown, OH | Women | 302 | HON | 5 | 03:14:01 |
| 88 | Shawn Smith | Crawfordsville, IN | Utility Unlimited | 239 | POL | 5 | 03:15:41 |
| 89 | Nathan Canaan | Hamilton, OH | 4 St Stock | 340 | YAM | 5 | 03:16:05 |
| 90 | John Kellison | St. Joseph, MO | 4 St Stock | 625 | POL | 4 | 02:02:18 |
| 91 | Mark Cox | Crawfordsville, IN | Utility Unlimited | 494 | POL | 4 | 02:06:24 |
| 92 | Gerold Salsbury | St Joseph, MO | 4 St Novice 25+ | 629 | CAN | 4 | 02:06:40 |
| 93 | Rodney Baker | Ranger, WV | 2 St Novice | 224 | HON | 4 | 02:15:53 |
| 94 | Michael Stephens | Martinsville, IN | 4 St Novice 16-24 | 794 | YAM | 4 | 02:17:34 |
| 95 | Chad Giffen | Belpre, OH | 2 St Novice | 264 | HON | 4 | 02:18:19 |
| 96 | David Mclaughlin | Harrisville, PA | 2 St Novice | 811 | HON | 4 | 02:18:24 |
| 97 | Bryan France | Crawfordsville, IN | 2 St Novice | 917 | HON | 4 | 02:18:38 |
| 98 | Richard Heitz | Highridge, MO | 2 St Novice | 541 | YAM | 4 | 02:19:23 |
| 99 | Kevin Patterson | Centralia, IL | 4 St Novice 16-24 | 623 | HON | 4 | 02:20:34 |
| 100 | Phillip Toney | Thorntown, IN | 4 St Novice 25+ | 245 | SUZ | 4 | 02:20:44 |
2003 Ironman GNCC, Adam Howell, Bill Ballance, Bonnie Hamrick, Brad Page, Bryan Cook, Chad Duvall, Crawfordsville, Doug Henke, Greg Trew, Gregg Stewart, IN, James Wahl, Jeff Stoess, Jeremy Rice, Michael Houston, Rodney Baker, Santo DeRisi, Stephanie Parton, Traci Cecco, Tyler Lenig, William Yokley
Comments
comments