The Making of Huevos 6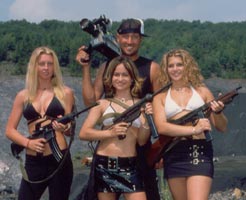 By Jamie Rupert
Part 1

You better recognize! H-6 is on the way soon! Well to start this is two weeks I will never forget. But to understand it you will have to know how it happened. It all started last summer in Pa. where I live. Rumor started circulating that Wes Miller was filming Huevos 5 somewhere in Pa. I was working at Jack frost motor sports track telling everyone how cool it would be to get Wes there. But what is the chance of that? Well out of nowhere I get a call from team Safari and Joey Borich (Chris Borich's Dad ) that Wes is looking for a place to film the cross country section. This is how it started….
The two days he planned to film turned out to be one day because of the weather. Which made the segment short. So I felt I needed to try to make up for it. Don't get me wrong the scene was great and a lot of great stuff came out of it for me. Like becoming friends with John "Doogie" Howell from ATV Rider who has helped me out a great deal and I started free lance photography for ATV Sport magazine. Which leads me to the present and about two months ago. I called Wes and I told him I would like to do a story. He called me back and said about putting a free ride and cross country section together for me I had a couple days to get to get it together.
Wes and Jamie rigging up different camera angles on Farr's machine.
Nice guns Michelle! Bad-ass looking AK too.Since I was covering the Cody Hurst Memorial event and the first thing he was filming was the Tim Farr at his own track. Which was 15 minutes away from Orrville. So it worked out perfect. Wes told me he wanted 3 sections in 15 days or less so timing was everything. I was suppose to pick up Wes in Cleveland on Friday but that fell through so now it was Monday and I had nowhere to stay but I forgot (John Pellan) lives in Cleveland. So I found him at Orrville running around like a crack head and asked him if I could squat for a couple days. He said no problem. So I got to hang in Cleveland for a couple of days. John showed me all of Cleveland and I mean all of Cleveland one night about 3 in the morning I ended up pan handling with the homeless dudes. I was a little fuzzy with the details but "Cleveland Rocks". Well Monday night we picked up Wes from the airport and the journey started or maybe it already started, I just don't remember. so the next day we Wes, John, and myself ended up at Tim Farr's track. Shane Hit joined in for filming which was cool as hell. The one thing we ran into was that Tim had medical appointments that he had to go to, due to the wreck he had at Orrville. Like the champ he is he still rode for Wes and Shane had to go to Walmart which took 4 hour's not even my girl can spend 4 hour's at Walmart (o'kay).
Quads, guys, gals and guns. Dunk and Ironman pose for the camera.
Wes and Jamie without sleep and busy at the shoot.I remember Tim coming back from shooting and he told me his thumb hurt so bad he used his fingers on the throttle. I got to tell you working with Tim and Shane was a definite high point of the trip. Those guys are great. Two days of shooting and we were leaving Ohio and on the way to central Pennsylvania to shoot John Natalie and Jason Dunkelberger. Wes and I ended up in the middle of nowhere. Thursday we started shooting the free ride which means all natural terrain. So John Natalie took us even further into the middle of nowhere, if that's possible? We pulled into this field with huge elevation changes and muddy water holes. This is a good start even though it was so damn hot out and bugs were everywhere. It sucked but like a good little trooper I dealt with it. Halfway through the shoot Natalie broke his head pipe on a CRF 450 with no welder in sight. he started his new YZF 450 that was comp stock! Let's see stock bike and Natalie (UT OH!) Well anyway it took the abuse pretty good. I'm impressed!
Shane "Dog" on his new YFZ
Wes waters the track.That day ended and onto the next day at Raush Creek Motor sports Park. Friday we had Jason and John hitting some big air jump. but Quinn Lickman, the owner of Rausch Creek, had a special treat for Wes and I. Girls, guns, and did I mention Girl's. How cool was this day going to be? At this point I sleep maybe 5-6 hours in 8 days so things are getting a little weird but I am not missing this. We found ourselves to be in a disclosed location for this part. We pulled in and girls quads sitting around I'm not going to tell you much about this part but check out the pix after that . Back to Rausch Creek where John and Jason jumped a big double and I mean a BIG. Saturday we started the cross country section with Chris Borich, Matt Smiley, Traci L Cecco, Rob Hertz and Mike Kreachen. We used the GNCC course from this year at Rausch Creek. Some of the things that I remember about this is the narley terrain and all of the water crossings. I probably had the most comfortable form of transportation, sharing a Honda Recon with Wes. I was sitting on the rack. Man, my ass was sore. There was this one point where we had a tunnel with water flowing through it and the water was about 4-5 inches deep and Joey Borich (Chris's dad) was walking through it in jeans and boots and out of nowhere he's up to his sack in the water. He just stood there wondering what the hell was that I wish you could of seen the look on his face.
Farr goes big on his Z400
Wes always makes new friends wherever he goes.The next day Matt and Mike didn't show up so Traci, Rob and Chris ripped up another day. Filming went pretty smooth for the last day. We still had one more adventure left. Wes was leaving from JFK airport in New York City. So we decided to spent the last night in New York City. Unfortunately I don't have any pictures of what happened their but I'm sure you can use your imagination on that one. Finally I was one my way back home for a good nights sleep . I would like to thank Wes Miller for a great time filming and partying and dealing with my shit for two weeks. I would as like to thank John Pellan for a place to crash and showing me around Cleveland. And last but not least I would like to thank all the riders for being so cool and down to earth. They showed the talent they have for us to enjoy.
Part 2

We couldn't resist showing another shot from the last behind the scenes making of H6. You don't mind right?Part two of my journeys with Wes Miller and his H Bomb mission was shorter than my first gig with him. This time out it was just five days of project shoots. We mainly shot the final round of the GNCs and some freestyle stuff. This time I'll take you guys deeper into the guts of the real behind the scenes hoopla. You know, the stuff you will never see on the video.
It all started a few days before the Southwick GNC. I got a hold of Quinn Lickman of Rausch Creek Motorsports Park. I told him Wes Miller is shooting in Mass. with John Chandler, Dana Creech, and Mike Walsh . Since he is a big fan of Huevos he said he would drive out with me to hang out and help us. When he fell a sleep on the ride out I turned the heat all the way up and closed the windows. After about two minutes I thought the dash was going to melt it was so hot. I amused myself by watching Quinn sleep through the African Jungle car ride. He sweat his ass off before finally waking. I bet he was dreaming of a hot summer day or a trip to hell. Finally he woke up and looked like he had been doing laps in a pool.
Dana Creech, — up to his old tricks again.
Criminal at large – John Chandler.It was kind of two birds with one stone for me. I was there to help Wes and cover the race for ATV Sport Magazine. Wes was just getting back from Spain with the Bomb Squad. Earlier he was shooting at the 12 Hours of Pont de Vaux in France. While there he, Dana Creech and a golf cart came together as one. It was one hell of a crash. Dana might be an ATV expert but he lacks golf cart driving skills. Luckily Wes only broke his arm. From what I hear he could have ate it hard in the roll over.
Anyway, Chandler picked up Wes from Boston on Saturday. On Sunday they showed up to film the final round of the national. Later that night, we all left to go back to Chandler's house. John said it took forty five minutes but it really took two hours. Chandler's not very good with time. Always multiply by three if you ever talk with him about time. Anyway, after some strip-joint inspections in Springfield Mass. we decided to get some rest. Then it was off to Mike Walsh's house for another segment.
Wes rolls tape on Joe Byrd as he ponders a national championship while on the line at the Southwick GNC.Monday rolled around and Mike and Dana were M.I.A. So Chandler decided to give us a tour of his hometown in his Jeep while we waited on them. We didn't make it out of the driveway with out hitting something. Note: Another John Chandler lesson – DO NOT drive anywhere with him! Consider this an important warning! First off, he backed into his wood wall along his house. Then he purposely got sideways whenever he saw a little sand covering the roads. It kind of felt like I was in a Rally car. But that was nothing, somehow we ended up at a sand dune area next to some power lines and Chandler couldn't just pass by. He didn't care that we were carrying gallons of gasoline, water and antifreeze in the back. Afterall, he and Wes were up front, Quinn and I in the back. First let me tell you, Wes isn't scared of much. But when I heard Wes yell "John, NO! Don't Do It!", I knew we were all in for one heck of a ride. John hit the gas and all I saw was a thirty-foot sand dune approaching us really fast. Chandler thinks he's Ivan Stewart and his clapped our stock Jeep is a $500,000 Baja truck. Hang time felt pretty long as we flew through the air. I knew we were in for a rough landing. The abused Jeep nose-dived into the sand hard like we were dropped from a plane. My head smashed off Quinn's head and three gallons of antifreeze splashed all over me and down my pants.
John Chandler shows off his dedication to the Bomb Squad.
Several members of H Bomb's Bomb Squad traveled to Africa for some exotic footage for H6.
Left to right is Ryan Bemis, Jon Guetter, Hugo Arriazu, Dana Creech and Sheldon Riggs.After the Jeep limped away and I came to, I collected myself at what had just happened. I was wet but happy to be alive. Everything seemed OK. It looked like Chandler had his fun and we were on our way. I breathed out a sigh of relief but moments later I realized that this agony had only just begun. I got a burning sensation up my ass like you wouldn't believe! I was having a severe reaction to the antifreeze. I told Chandler to get me back to his house to wash it off fast! It felt like my flesh was burning off. I never thought I would want Chandler to drive faster than he already does, but this was pure torture – I couldn't stand the burning. I sprinted to the shower where I found that I cut my butt cheek on the seat buckle and antifreeze seeped into the wound.
After I cooled my burning ass, Chandler took us to the Cranberry Bog near his house, where he practices his jumps. We went with some crazy dude who has a weird hat fetish (you probably had to be there to understand this) nonetheless, I got to see where the freestyle segment was going to be shot. Finally we decided to head down to Road Island without Chandler to party at some college town. It was nice to not fear for my life on the way there. On the way down there we stopped at some Uni-Mart to piss and the lady told us the bathrooms were closed because somebody got killed in there last night. Not what you want to hear when you ask why you can't use the bathroom.
It's safe to say that this guy just might be a Huevos series fan.
Wes and Melissa, ATV Scene Girl Miss November 2003.The next day we had to deal with rain for most of the morning. When lots of money and time is spent to do a video shoot, it's pretty disturbing to sit there and wait for rain to go away. This being our last day there it made it even more frustrating. So it was time to get back on the road and head home to PA. As Quinn and I were heading home I was thinking of how weird these five days were and wondering why the hell everyone that passed by on the road constantly pointed and shook their heads at us all week. About three hours later in the trip we decided to grab a bite to eat. As I went around to the back of the truck I noticed "WE ARE GAY" in big bold letters on the back tailgate. Paybacks are a bitch guys!
Comments
comments