Yamaha Special Edition Sport Quads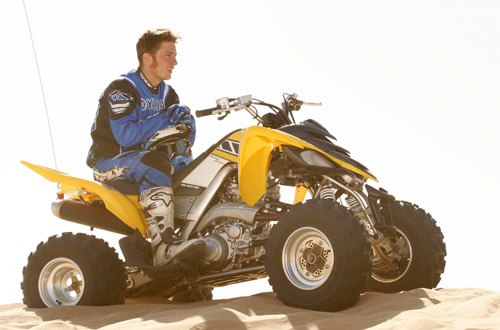 We recently took Yamaha up on their gracious offer to participate in their 4th Annual Goons on Dunes Ride at the Glamis Sand Dunes for a few fun-filled days in the sand.
Upon arrival, we were greeted with a tractor-trailer full of their 2006 Special Edition Sport ATVs, which included their newly improved YFZ450, their end-of-an-era Banshee (2006 marks its final year) and their impressive new Raptor 700R , which we'll go ahead and refer to as the best dune quad we've ever swung a leg over.
Mind you, these aren't your ordinary run-of-the-mill SE Yamahas. The 2006 Yamaha models mark their 50th anniversary, and the yellow and black vintage Yamaha theme appropriately made these 2006 models dramatically stand out bolder than ever. If you have any inclination to purchase a new ATV and want something a little less ordinary, you might want to check out our photo gallery and get an eyeful of what Yamaha offers in their 50th Anniversary Special Editions. But be warned, Yamaha only produced a limited amount of these babies, they'll surely go fast.
Comments
comments