American Star Racing A-Arms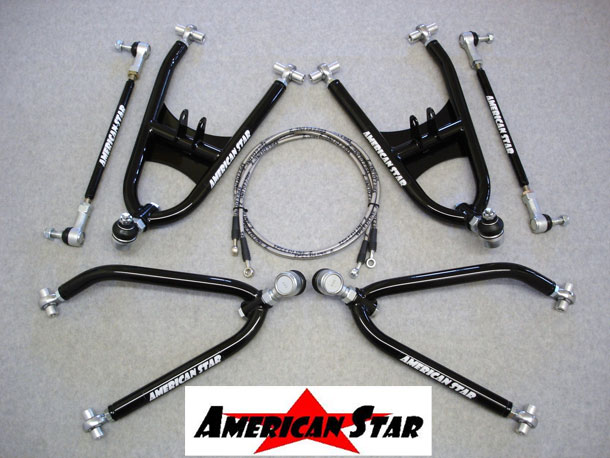 By Mike Ladnier
Photos by John Blecker of Throttle Junky Films
Many ATV rec riders tend to not want suspension hop ups for their machines because they're under the impression that it will cost too much, take too much work to make the changes and the improvements won't be significant enough. I'm here to tell you to re-think that notion.
I've found that bolting on a set of ASR (American Star Racing) arms was far more affordable than any on the market. After just one ride I can honestly say that bolting on a set of ASR arms, which was far easier than I expected, would be my first choice if I were told that I could only choose one and only one aftermarket product for my 2006 Yamaha Raptor 700R.
Fortunately I'm allowed to have more than one aftermarket product, so I decided to improve the handling of my Raptor with a few performance and handling upgrades.  After careful research I ordered a set of stock length Fox Float X shocks and +2″ American Star A-Arms in standard travel. Fox Shox are known as one of the best performance shocks money can buy. Champions Chris Borich, Dustin Wimmer, Josh Creamer and many other top professional racers prove that case quite well. The Fox shocks certainly exceeded my expectations and I couldn't be happier with them, but since the focus of this article is to review American Star Racing's MX Pro +2″ A-Arms, I won't go too much further on the Fox shocks other than simply saying that one ride and you'll want a set of your own.
Careful Consideration
I called and talked with ASR's CEO Kip Kilburn. I learned that ASR had been working over a decade in the quad suspension industry. After talking with Kip it was obvious that he was passionate about the sport and knew what he was talking about. I also learned that each and every one of their employees either race or ride quads, so it was nice to know that my performance needs were in the hands of fellow ATV enthusiasts that know their stuff.
After several questions about the terrain I ride, my weight, my shocks, wheels, tires and more Kip suggested a set of American Star MX Pro +2" A-Arms. He explained that the arms would come with heim joints and extended length ProX tie rods, which also included heim joints. I also opted for a set of high pressure braided steel brake lines. The arms included my choice of powder coating colors. I was thrilled to hear that the total cost, including Speedlinez braided brake lines, was just $550 and that included shipping! I priced other A-Arm kits with similar set-ups at $800 and up! Kip explained that unlike some arms available, my new American Star Racing arms and tie rods would also come with a lifetime structural warranty.
When I thought about the great price, I was a little worried that I might be getting a sub-par product so I asked how ASR arms compared to higher priced solutions on the market. He said they're actually better because they offer full camber and caster adjustability and they use high strength automotive sealed ball joints and heim joints. And there's no skimping on material. ASR uses .083 Aircraft Grade 4130 Chromoly tubing and their tie rods are made of a beefy 5/8 inch .120 Wall 4130 Chromoly with 303 stainless steel threads. Kip said they're able to offer quality products for less because they don't mark them up as much and their material cost is less because they buy enormous quantities.

Installation
10 days after my informative phone call order with Kip, the UPS truck pulled up with my package. I wasted no time and took the box right to the garage and started in on the project – making sure everything was there before I started the tear-down.
First, before I removed the stock arms, I measured the stock caster and camber so I would have a baseline for setting up my new aftermarket suspension. Sure enough ASR included heim joints at all attachment points, and they looked fantastic. When installing anything with heim joints, start the heims threaded all the way in, measure the caster and camber of the newly installed suspension and make any adjustments from there.
It's best to test the suspension out in the same stock caster and camber angle before making any drastic changes to the angle of the wheel camber and caster. As suggested, I assembled the arms from the frame to the spindle and the tie rods from steering stem to the spindle –leaving all setting nuts finger tight to allow for an easier installation process. Once everything was bolted up I put a wrench on all the bolts and tightened to specs.
ASR suggested I use their three-piece steel braided brake lines by Speedlinez for the front and one piece line for the rear. The larger lines allow for better braking with less chance of brake fade. This is done by increasing brake fluid pressure and allowing for cooler brake fluid temps.
Before I knew it the install was complete. The American Star arms went on with ease and with the heims threaded full in I achieved the same camber and caster angles that I measured with the stock arms. Like I said, I was especially impressed with ASR's use of high quality 3/4″ and 5/8" stud spherical heims, which give the arms full adjustability, much smoother movement and superior strength. I also admired the TIG welds on the arms. Their welders are obvious professionals. The welds were top notch and they're smoothly blended into the joints which makes the arm look like one solid piece of tubing. In short, craftsmanship is outstanding! Also worth noting is the Yamaha blue powder coating. It's obvious that ASR uses a professional powder coating system for their products.
The Ride
No doubt my Raptor never looked better, but that's not why I spend time and money on my quad. I'm mostly a duner so we took off for a small sand box ride spot in Lucerne V
alley, California.  The Lucerne Valley dunes layout looks as if someone came in and built a race course in the sand. There are plenty of winding turns, a series of high banked turns, switch-backs, a few steep step up jumps and some nice rolling dune faces which make for great jumps.
As I mentioned before, I started with the caster and camber set to factory specs. I started running the quad up and over the nice rounded table top dune faces — letting the suspension fully extend and compress evenly.  The feeling was like floating on water. I'm happy to report that there was no binding or stiffness whatsoever. Next I kicked it up a little and aggressively rode through the switchback turns, allowing for some serious off-camber turning. The quad really stuck to the ground and handled like it was on rails, turning effortlessly!
The shock mount locations were moved slightly from the stock location allowing the shock to have a better mounting angle of 65 degrees instead of the 75 degrees with stock arms. This made the front suspension feel more responsive and smoother. Aggressively sliding the quad around the sand was a blast since the tipsy stock feeling was no longer there. Exiting a turn and gassing up to full throttle was just as impressive. I was able to run wide open through a long straight-stretch of choppy bumps with no problem at all. The ride felt as smooth as if the quad was running all-out on flat wind-groomed sand. As I said, and worth repeating, turning was effortless. I found I was able to go way faster while having a much better feeling of control.
Lastly, I brought tools and was prepared to make some camber and caster adjustments but I didn't want to change a thing. It just felt too good to mess with, but I have to say it's nice to know I have the ability to fully adjust the camber and caster when needed.

Summing it Up
In conclusion, American Star Racing arms exceeded my expectations of what a race designed suspension should be in both looks and performance.  Other than not being more commonly known, American Star Racing can most definitely compete on all levels and exceed on cost savings and warranty.
ASR is priced from 20-40% less on A-arms kits and they include a lifetime no-questions-asked-warranty on their A-arms.  If you break or bend your arm, just send it back and ASR will rush a new arm back to you so you don't miss that upcoming race or riding trip. As far as I know, no other suspension company offers such a warranty. I was also very impressed with their customer service.  ASR prides themselves on knowledgeable employees, if they don't ride, then they don't work for ASR. When you have a question, you are getting a professional and well explained response by a tech who rides and can understand your issue. Not some salesman relaying ride info from some professional rider they use to test their suspension, it's all in house at ASR!
American Star products are an excellent choice for serious racers or weekend riders who are looking for that race quad look with performance to match. So before you shell out a thousand or more dollars on new suspension you really should consider giving American Star Racing a second look. ASR will definitely set you up with a great product for less money. Just because some Joe Shmoe Pro swears by a particular brand doesn't mean it's the right choice for everyone.
Also worth mentioning is ASR offers one stop shopping. A-arms and tie rods aren't their only products. They have anti-vibe steering stems, swing arms, braided brake lines, shocks, axles, many aluminum dress up parts and more.
ASR MX Pro A-Arm Key Features and Points


• A-Arms: One Inch .083 Wall Aircraft Grade 4130 Chromoly Tubing• Tie Rods: 5/8 Inch .120 Wall 4130 Chromoly With 303 Stainless Steel Threads• Full Caster Adjustability Via ASR's Chrome Plated 16,200 lb Rated 4130

• Chromoly Rod Ends And Billet Aluminum High Misalignment Collars

• Full Camber Adjustability Via ASR's High Strength Automotive Sealed Ball Joints And Heims

• 6061 T6 Billet Aluminum Hardware and 100% Liquid Injected Delron Bushings

• Precision Fabricated and TIG Welded by Certified In House Professional Welders And Fabricators

• Lifetime Structurally Warranted!

• Color Choice of Gloss Black, Bright Red or Blue and Charcoal Hammertone

• Pro X-Series A-Arms All Take A Standard Length Shock Unless Otherwise Noted

• Up to 20% Less Coast

Contact American Star Racing at amstarmanufacturing.com or call (435) 577-2266
Comments
comments