EVS Takt Bling Helmet Review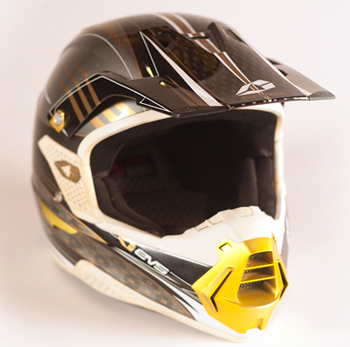 I'm pretty picky when it comes to my helmets, and demand that a helmet meets three specific criteria before putting it on my mostly empty head; comfort, safety, and style.
In the comfort department the feather light Takt weighs in at only 3.3 lbs, and is so comfortable you barely feel it on your head. The visor is only visible when in full on goon position (down all the way), and the chin bar doesn't feel like you might swallow it in the event of a crash. The cheek pads feel a little snug at first, but quickly break in.
Safety wise, the Aramid-Kevlar-Carbon-fiberglass composite shell is strong enough to meet DOT & ECE approval, as well as the SNELL 2005 Certification. The ProtEdge soft impact zone (the entire lower edge of the helmet) is said to reduce neck and clavicle injuries, which makes the Takt even more appealing.
As far as styling goes, the Takt Bling model is among the best looking helmets out there, the styling is sleek, and the colorways are clean and well designed. Part of the cool look can be attributed to the large gold anodized vents which are not only fashionable, they're extremely functional. The oversized intake and exhaust ports provide maximum airflow to the Internal EPS ventilation channels resulting in an extremely breathable helmet. If you live in the deep South where temperatures can get ridiculously hot, you'll develop an appreciation for good ventilation. The Takt's moisture wicking liner is removable for easy cleaning which will keep it from smelling like road kill after a few rides. The icing on the Blinged out Takt is the spare visor, at $250 you can't ask for much more in a helmet.
Gear
Style 19/ 20
Comfort 46/ 50
Function 10/ 10
Wash/ Care 10/ 10
Price 10/ 10
Bottom Line: The EVS Takt helmet is a comfortable, light-weight, stylish top-shelf helmet, at a bottom dollar price.
EVS Sports: 800.229.4387
Comments
comments