Battery Relocator for KTM SX from Action Motorsports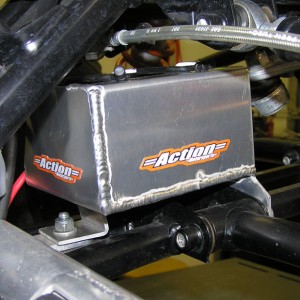 Action Motorsports out of Decatur, Texas is a huge KTM, Husaberg and Kymco dealer. They also sell used bikes and quads, and have a complete repair and performance department, but it's their own line of KTM racing products that has me most impressed. Their love for KTM stems from owner Craig Martin, who is a KTM Certified Master Orange Level Technician. He and Action Motorsports also heavily supports bike and quad racing in Texas, including the TORN, ATVCCS, TCCRA, TORCO, TQRA, TSCEC series and more, so when they create a new bolt on for the KTM XC or SX ATV it comes with plenty of experience and passion. I recently featured their Dual 24 Volt Battery System for the XC. As not to leave out you SX riders, Action Motorsports also has a crafty battery relocation solution for the SX. This kit allows you to relocate the battery to a lower place in order to lower the center of gravity. Also, since the stock battery is out of the way, it allows you to mount the rear shock reservoir away from the hot exhaust pipe – a cooler shock performs better.
The SX Battery Relocator Kit comes complete with all the wiring needed, the aluminum battery box, fasteners, straps and ties, but it does not include the starter relay relocation bracket, which is another $22.99. You'll also need to replace the stock battery. Action Motorsports suggest the Yuasa YTZ 7S, which they have in stock for $131. Be sure to surf their website. They have an impressive online shopping solution that features stock KTM and Kymco parts and just about every aftermarket product available for the KTM and Kymco ATVs. Other products for KTM ATVs from Action Motorsports include: Shock Covers $39.99 Oil Coolers XC only $479.99 Rear Disc Guards $149.99 Rear Sprocket Guards $149.99 540cc kit – XC only $999.99 High Comp. CP Pistons $229.99 Dual Radiator Fan Kit $155.99 … and more.
Source: actionmotorsportsktm.com
Comments
comments