Houser Suspension Nerfs, Goodman Demonstrates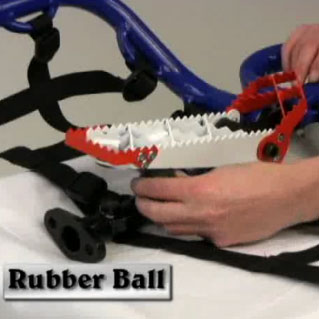 If you haven't seen Houser Racing's new ground breaking product, you really need to watch the video below and let Harold Goodman give you the run down on what Houser's new Suspension Nerf Bar System is and how it works. We first found out about this innovative new product at Houser Racing's booth at the Dealer Expo. After checking it out and seeing this wasn't a quick gimmick we voted it Best of Show in our Dealer Expo feature. First off Jeff Houser told us that the Houser Racing Suspension Nerf Bars (which is still the unofficial name since Houser hasn't figured out a crafty name just yet) feature an industry first shock absorbing suspension system which has been in the works for the last two years. No quick-to-market gimmicks here! Although we haven't tried them out for ourselves, Jeff tells us the Suspension Foot Pegs improve rider comfort and endurance. We also like the fact that they offer a wide stance, are convex and allow mud to fall through. The nerfs are large diameter aluminum tubing and look to be very high quality. The Heel Guards are attached to factory frame or sub frame points without modifications with Chromoly or rubber isolation mounts depending on the model of the ATV. We also love that they come with netted heel guards so there's no chance of running your leg over. The Nerf Bars have a slightly raised, up-swept design that will help keep competitor's tires from getting to the rider's legs. All the welds are TIG welded by hand to ensure quality. The Houser Racing Nerf Bars feature an industry first, Patent Pending, "suspension" Foot Peg. The "Suspension" feature works similar to a Swing Arm with a rubber isolated pivot point and replaceable cushion ball that is Pre-Load adjustable. The Pegs are made of TIG welded Chromoly with end caps that are attached with high strength, Air Craft grade rivets, rated at 4,000 pounds of shear strength each.
The Nerf Bars and Heel Guards use nets to help prevent mud build up while riding. The nets are installed over welded loops on the tubing using plastic buckles instead of the traditional lacing system to make assembly and adjustments much easier. Jeff tells us they'll be available in 30 colors, wow! But perhaps the best reason to really love these bad boys is the price. $400 gets you the nerfs, nets and shock absorbing pegs, now that's a deal. We can't wait for the opportunity to ride test Houser's coolest new product, but from the looks of it, and what Harold and Jeff say, they look to be a winner especially when you run through all the travel on your suspension and end up with sore heels from the impact. Anyone been there, done that?
Source: houser-racing.com
Comments
comments