HUEVOS 8 Video Review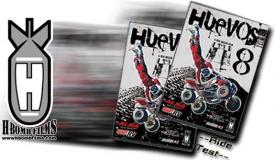 The latest H Bomb video release is the seventh installment to the original Huevos Grandes. It's called Huevos 8. H Bomb's founder Wes Miller has proven to be more than just a film director over the years. He has pioneered and presented ATV freestyle to the masses, promoted incredible racing events such as the Huevos Dirt Riot and launched Division 4, a clothing line specific to ATV racers and riders. Oh, and did we mention, he's also an established racer himself. But with all these things brewing in the kettle, has he spread himself too thin and has Huevos 8 suffered because of it?
With Wes having diversified himself so much, we couldn't help but ask ourselves if it was possible for Huevos 8 to provide the same exhilarating viewing experience as the previous Huevos movies. For the low down, read on and find out what this movie has in store before you plop down your hard-earned cash.
What's In It?
We opened the door on the DVD player, popped the disc in and moved into our best movie-critic-role. We were told H8 represents a little of every segment of ATVing. We watched with that in mind. The intro alone had us at the edge of our seat. We couldn't have been more excited about what was to come. The first segment takes us to the beginning of the 2005 GNC series opener at Glen Helen Raceway. Even though it was wet and rainy that day, the Glen Helen action flat out blows away the Glen Helen footage from Huevos 7. In fact, The H Bomb crew put their best foot forward if you ask us. The first segment ended up being our favorite part of the flick. The unique camera angles in slow mo and real time combined with incredible footage shot from two different helicopters, do one of the finest jobs we've seen of capturing the essence of ATV racing. This segment alone is worth the price of admission and is an absolute must see for every ATV enthusiast on the planet.
From there, the movie takes us to several more GNC events, Jason Luburgh's track, the Great Outdoor Games in Orlando, FL and on to some insane action on a pair of Cobra ECX70 mini race quads. You won't believe what these little Cobras are capable of until you see it with your own eyes. It's hard to believe just how capable these mini race machines are in the hands of pro level adults and expert level up and comer, Tyler Pittman. Whether you are into the minis or not, you'll probably be considereing coming up with eight grand to put one in your garage after you see these things in action. In addition there's another segment completely dedicated to Jeremiah Jones. They did this in Huevos 7 as well. We're down with JJ, so we weren't dissapointed, but we still like the Jones H7 segment a little better. Nonetheless, the part where Jeremiah wipes out the camera lens will have you ducking for cover under your coffee table.
As we said, Wes has been inspirational as far as the quad freestyle movement goes – so you know that there's plenty of freestyle footage to see in his films. This time he takes us to Missouri for some big-air freestyle with a splash of 4×4 truck-jumping and mud-bogging mixed in to keep things from being mundane. Near the end of the movie, there's a Bomb Squad segment featuring more steel ramp to dirt jumps. We like freestyle, but we have to ask, is it starting to lose a bit of its original shock value? Or is it just us? Since the Jon Guetter back flip in Huevos 7, we can't help but feel that there is no where else to go. Maybe we're wrong on that, we'll see. We certainly don't want to see freestyle disappear from the Huevos movies, but for the next installment we would like to see freestyle footage featured in a natural free ride environment, maybe somewhere like California's Ocotillo Wells.
There's plenty of off-track action to be seen in this latest addition. In "The Heights" segment, we catch up with legendary ATV racer Doug Eichner, Levy Mara, Mike Cafro and Cyle Chislock in what resembles a Works Series race environment. Later the boys from Gorilla Axle take us on a ride with their jacked-to-the-hilt 4×4 mud bog machines. It's Big Foot meets the ATV to put it bluntly. These have to be the largest ATV machines we have ever seen. From there, we're taken south of the border for the Baja 500. There's more truck and buggy footage from Baja than anything, but with the race being so spread out, it would be virtually impossible to just follow the quads.
The movie also features some east coast street riding with a group of riders known as the "Suburban Psychos". They perform some pretty cool stunts on the pavement using both quads and bikes. The only complaint we had was a lone helmetless rider. Maybe it was only one, but that's one too many in this sport. There's also sand-roosting-action to see from Glamis, a visit to the Harley-infested Sturgis and an encounter in a very strange and unexplainable event in Europe -you'll have to see this one to believe it.
Anything New?
Huevos 8 has a few new surprises never before seen in an ATV movie. While there is no TT (or as they call it now, "Extreme Dirt Track") footage, Wes makes up for it with a Super Moto section. All those years you read that ATVs are not for use on paved surfaces just went out the window. Also somewhat new to hard core moto movies is the unbelievably insane Yamaha Rhino footage. There's been an ocational Rhino in other videos recently, but have you ever witnessed a fully modified Rhino with the seats dropped ten inches and super long A-arms hit a metal freestyle ramp? Neither have we, and we're here to tell – seeing these Rhino Craft built machines is yet another must see.
Editing and Production
If you truly want to enjoy the full cinematic quality of this movie, if possible, watch it on a projection television, or better yet an LCD or Plasma wide screen. Aso crank the volume on the surround sound system and be prepared to be wowed! This entire movie is visually stunning and crystal clear. We'll describe it as high-tech art that happens to feature the sport of ATVing along the way. It's not easy to get these results. H Bomb shoots with $30,000 video cameras to ensure the highest quality video possible. Editing and transitions are super smooth and beautifully mastered with the same artful presentation. In addition the use of color filtration makes things visually more interesting without being overdone. The movie's soundtrack still favors the rock crowd, but this time it doesn't feature as much hard-thrashing head-banging metal, so you may be able to convince your parents to sit down and watch it with you this time.
The Verdict
Wes Miller's Hollywood style production and equipment, combined with some of the wildest footage ever shot, make this the most visually striking ATV movie ever produced. There's very little in the way of funny antics and behind the scenes pranks like videos of the past. Instead, this movie picks up where Huevos 7 left off and captures the essence of ATV riding and racing in an artistic and respectful manner. Wes and the H Bomb crew may be spreading themselves thin as of late but it certainly doesn't show, as they've kicked it up another notch with Huevos 8.
Comments
comments