Seat time on Cycra's NEW Pro Mechanic Rollercart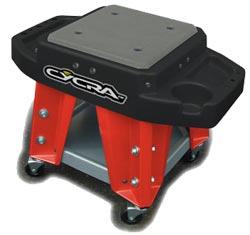 Most ATV enthusiasts will do whatever it takes to get out and ride. While we're happy taking time out of our busy schedules to go riding, too often a good days riding comes to an early end due to unnecessary mechanical failure. There's no way around it, if you want a reliable machine, you have to perform a little routine maintenance.
Whats the problem?
Unfortunately, cleaning and working on your machine isn't nearly as exciting as riding it. In fact, it can be frustrating and quite uncomfortable. How many times have you laid a small nut or socket on the floor next to your machine so it would be within easy reach? We've done it, and all too often we've wound up searching the garage floor for lost parts and tools. Besides losing things, kneeling on concrete hurts the knees, and nothing is less flattering then a horrendous case of wafflebutt, caused by sitting on a milk crate.
The Cycra solution
With these issues in mind, Cycra has developed their new Pro Mechanic Rollercarts. Cycra's Rollercarts are designed to give you a comfortable place to sit and maneuver around your machine. It also provides some on board storage for your most commonly used tools and small parts.
Design and construction

Cycra didn't go skimpy on details. As you can see above, there's plenty of place to put things. The injection molded rubber seat resists gas, oil, and other chemicals, and is extremely comfortable. Sit on one and you'll agree. When you look at the Cycra Rollercart, the first thing you notice is how similar it looks to a bike stand. The cart is primarily constructed of a high strength plastic, making it both light and durable. The injection molded rubber seat resists gas, oil, and other chemicals, and is designed to remain soft. On either side of the seat is a tool tray for small to medium size hand tools. One side even has a built in drink holder, something we really appreciate. Below the seat is a larger tool and part tray, giving you even more onboard storage. For easy maneuvering around your machine, Cycra equipped the cart with a set of heavy-duty wheels and wheel brackets.
Performance tested, ATV Scene approved
Having used the Cycra Rollercart for several weeks we're not willing to part with it. While we still don't love working on our machines, the Rollercart has made the experience much more tolerable. To test the rider weight capacity, we put ATV Scene's super heavyweight Joe Tolle on board to see how it would hold up. Even with his 240lbs on board the cart felt solid with little feeling of flex and the wheels showed no signs of drag.
Overall we felt the cart performs better than advertised. The seat is comfortable, even after an hour of polishing wheels and nerf bars. The two upper tool trays do a great job of keeping both tools and small parts close at hand and with the extra space provided by the lower tray, the Cycra Rollercart can hold a lot more then you might expect. We're glad to report, since using the cart, we haven't had any annoying incidents looking for lost parts left on the floor.
As much as we spend on our machines and knowing the importance of regular maintenance, we think that any product that makes work time more enjoyable is a good investment. With its quality construction it should last for years. The bottom line is, we're glad to have the new Cycra Pro Mechanic Rollercart in our garage and we think you will too.
Comments
comments