Troy Lee Design SE Helmet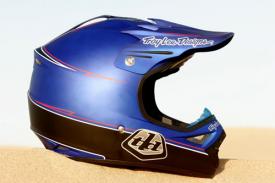 The TLD SE is $425 but looks like a million bucks. The Troy Lee Design SE Helmet is one of the finest pieces of protection you'll find in the moto industry.
At $425 it's one of the more pricey helmets on the market, but we feel that your head is worth being spoiled a little.
Available from sizes small to XL, each of Troy Lee's SE helmets comes complete with their patent pending flow-through ventilation system, a washable liner, integrated goggle strap alignment guides, titanium visor screws, a trick helmet bag and they even toss in an extra visor.
Troy Lee's SE helmets have become the helmet of choice for many moto professionals. In fact when Tim Farr moved sponsorship to a new clothing line that didn't make helmets, he proudly took his choice Troy Lee Designs skid lid with him. For three years now Farr claims his TLD helmet is the best he's ever worn.
Ride Test
Troy Lee's SE helmet is fully approved by DOT and Snell. Its first rate quality and super-light-weight is apparent the moment you pick it up. TLD shaved weight without sacrificing protection by utilizing an aerospace composite fiberglass with carbon fiber and Kevlar reinforced shell. After sliding it over your head you'll agree that this is one of the most comfortable and lightest helmets available.
The SE also has an impact-absorbing EPS liner in the chin bar. Perhaps our favorite feature is the ultra trick venting system. We tested it at the Glamis Sand Dunes in April. Its shell and liner feature multiple cooling vents, which kept us cool even in the hot desert sun.
Some helmets hinder your peripheral vision with bulky sides and a small eye port area. Not the case here, the TLD SE eye port is wide allowing you to see the guy trying to slip to the inside and take your line.
Our only complaint was a minor problem with the strap. While in a hurry it was a little difficult to run the strap through the metal loops. We solved our in-a-rush problem by trimming a little material off each side of the strap-end. Now the strap can easily and quickly be sent through the loops.
The Paint
The TLD SE comes in several different stock graphics. All are pretty darn sharp if you ask us. The blue and black suited us perfectly, but if you really want to stand out in a crowd and you've got another $500 bucks handy, you might consider a genuine Troy Lee Design custom paint job with your name and number. After all, there's no one in the industry that's done it longer and better than good ole Troy Lee. And how convenient – you won't have to send your helmet to your paint man since your paint man is the one and only Troy Lee – and he's already got your new skid lid on the shelf ready for your custom paint job.
Conclusion
We'll go ahead and give the TLD SE five stars. From the sick graphics, to the light weight comfortable feel, to the patent pending ventilation system – this helmet is second to none!
Actually they might consider calling the TLD SE helmet a helmet kit. You don't get a helmet and a cheesy helmet bag when you fork over the $425 for this bad boy. The SE comes complete with two matching spare visors and a really nice faux-fur lined helmet bag with a durable zipper opening and a handy handle to make pulls from your gear bag that much easier.
In our opinion, by paying attention to detail and putting the highest quality possible into their helmet this Troy Lee Designs SE is well worth the $425.
Features:
Exceeds Snell M2000, M2005, US DOT, and ECE standards
Multiple U.S. patents pending
World famous eye-catching TLD graphics
Aerospace composite fiberglass shell with carbon fiber reinforcements
Innovative ventilation system ensures cooler head temperatures
Ventilation ports incorporate mesh screens to allow air in while keeping dirt out
Cool Max® comfort liner and cheek pads are removable and washable
Removable roost guard provides added protection to the nose and face area
Extra wide eye port allows for increased peripheral vision
Removable, replaceable mouthpiece
Titanium visor screws attach the TLD Orbit Visor
Titanium D-rings
Large tri-star set screw for easy adjustment of the visor
Comments
comments